In The Raw Beachgarden - one of Canggu's most tropical spots
In this month's edition of Hot New Tables: Luigi's Hot Pizza, Restaurant Nusantara, KYND Community, In the Raw Beachgarden, Pablo's & more!
Hold onto your hats, fellow foodies. August is proving to be one helluva delicious ride when it comes to new gourmet digs on the island. From Seminyak and Canggu to Ubud and beyond, there's all sorts of new culinary concepts to tuck into this month, from plant-based vegan cafes to meat-focussed boutiques, and award-winning chefs adding new notches to their cooking posts. So pull up a chair and get ready to feast – it's Bali's Hot New Tables for August 2017. 
Luigi's Hot Pizza
Less than a year after opening Da Maria, the unstoppable duo behind this Italian icon are at it again. Yup, Australian restaurateurs Maurice Terzini and Adrian Reed are once again joining forces in Bali, this time in the epicentre of Canggu. Introducing: Luigi's Hot Pizza. Off the back of their Da Maria success, Terzini and Reed haven't hesitated to celebrate Italo dining in Bali once more, this time with a more affordable, low-fi and non-pretentious twist. Don't get us wrong, the food and drinks are still as addictive as the flagship [the pizzas are traditionally cooked in a custom-made oven direct from Naples, and the drinks use the same numbered concept as Da Maria], these creations are just served in pizza boxes and paper cups to keep things more casual and more at home in bohemian Canggu. Try the sashimi tuna pizza with red onions, tomato and basil, and wash it down with the No.8 – Da Maria's Bitter Apperitivo with Vodka and Grapefruit. Oh, and stick around for the after-party. It's guaranteed to be a good'un.
Luigi's Hot Pizza, Jl Batu Mejan No.2, Open daily from 5pm 'til late.
KYND Community
The vegan movement in Bali is proving stronger than ever with the opening of this pinch-me-cute pink new cafe on Petitenget. If you think that the island's vegans only hang out in hippie-fied Ubud and Canggu, you'll want to think again. KYND Community has had a queue out the door ever since opening on Seminyak's hippest strip, and this plant-based cafe, salad bar, juice & smoothie shop is showing us all just how good cruelty-free food can be. Try the Gourmet Toasts for brekkie [all named after famous vegans or environmentalists, like the Leo or the Gandhi], then tuck into the KYND Cheese Burger for lunch [yup, it ain't just alfalfa sprouts and kale here] and finish it all off with some oh-so-sweet waffles – just because.
KYND Community, Jl Raya Petitenget No12x, Seminyak, p. +62 859 3112 0209, e. [email protected]. Open daily, 6am – 4pm
Restaurant Nusantara
Set to follow in the award-winning footsteps of Restaurant Locavore [officially Indonesia's best restaurant as voted by the Asia's 50 Best Restaurants Awards] Restaurant Nusantara is a "spin off" from the Locavore mothership, and the second restaurant from the unstoppable kitchen duo, Eelke Plasmeijer and Ray Adriansyah. And while Locavore is more about uber-gourmet, modern European cooking using hyper-local ingredients, Restaurant Nusantara is all about its namesake, which means "archipelago" in Indonesian. Going totally authentic by offering unique versions of the country's rich culinary signatures, the menu is all about original flavours from across the archipelago. And much like the Locavore philosophy, the kitchen uses only fresh, seasonal Indonesian ingredients. Book your seats soon, because this one's likely to be another year-round sellout.
Restaurant Nusantara by Locavore, Jl Dewisita, Ubud, +62 361 972 973, e. reservation[email protected]. Open Mon – Sat 6pm – 10pm
In The Raw Beachgarden 
Remember the quaint cold-pressed juice bar that once sat on the corner of Canggu's main intersection? Well that healthy little hotspot has just gained itself some tropical new digs, and they're bigger, brighter, and better than ever before – right by the beach. That's right, you healthy folk you, In The Raw has evolved to become In The Raw Beachgarden, and it sits just a few sandy-footed steps from the Batu Bolong waves. You can spot it by the open-air, traditional wooden joglo that's sheltered by exotic blooms, and if you're lucky, you'll also spot Wolfie lazing on the lush green grass – the huggable, Wolfdog-hybrid of ITR owner, Mark Baker. Wander inside this breezy space and In The Raw Beachgarden brings all the fresh-pressed goodness of its juicy predecessor – and then some. Now serving up a mouthwatering menu of organic, healthy treats, like the BBQ Tempeh Rib Burger with coffee honey and BBQ rib sauce, or the Chai Spice Grilled Pineapple on multigrain with toasted coconut, pink himalayan salt and lemon cashew cream, as well as crispy duck, beef burgers and coconut tiger prawns thrown in for good measure. After all, life is all about balance. In The Raw Beachgarden doesn't stop there. It also features an organic market, making this gorgeous spot your one-stop-health-shop for juicing, organic munching, coffee sipping, and, of course, Wolfdog cuddling.
In The Raw Beachgarden, Jl Batu Bolong No.103-107, Canggu, p. +62 812 3749 6861 e. [email protected]. Open daily 7am – 11pm.
Boy'N'Cow
Carnivores, dig out your best steak knives and set aside that salad dressing [you ain't gunna need that here] because Boy'N'Cow is Bali's latest and most exciting new meat-focussed restaurant since sliced bread met a juicy ribeye. This industrial-style, dry-aged meat boutique and cocktail lounge is swinging open its predatory doors this month to serve quality produce – from scratch – to the island's cavemen. Founder & fellow Beef Whisperer for Boy'N'Cow, Danny Chaney, believes in staying true to great ingredients. Quite simply, he LOVES meat, and specialises in dry-ageing all of the beef on site to create a share-style menu alongside handcrafted cocktails. Got beef? You betcha.
Boy'N'Cow, Jl Raya Kerobokan No 138, p. +62 361 9348468, e. [email protected]. 
BLANCO Par Mandif
Any Bali-based, self-respecting foodie knows full well that BLANCO Par Mandif is no new name on the fine dining scene [the ten-seat restaurant is actually one of the island's very best, with its sights set on Michelin stars, no less] but what you might not know is that this intimate, award-winning resto is currently in the expansion stages to seat more foodie fanatics. Yup, the ten lucky seats in the house just weren't enough to cater to the BLANCO demand, so Indonesian celeb chef and restaurateur, Mandif Warokka, is upping BLANCO's game by doubling in size. We've done the maths, and that should mean the waiting list halves in size. We hope so anyway, because we're hungry for more!
BLANCO Par Mandif, Komplek Museum Blanco, Jl Raya Tjampuhan, Ubud, p. +62 361 479 2284. Open daily from 6pm.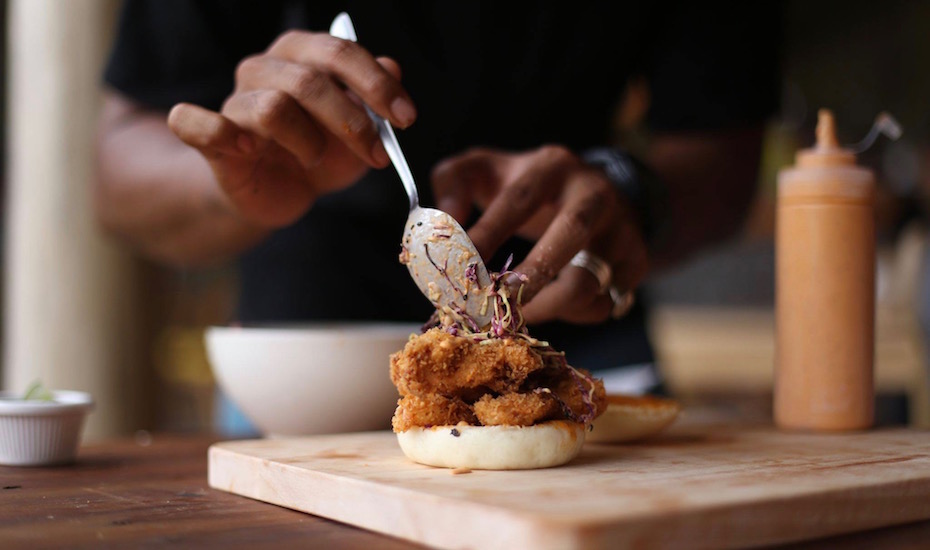 Street Boi
Word on the street is, Street Boi on Petitenget is home to the best steamed buns on the block, with killer fillers and homemade sodas to kick your cravings to the kerb. The signature bao buns include the crispy fried chicken with spicy kimchi mayo, and the beef & wasabi bao with grilled onions, leeks and cabbage. This humble little hole-in-the-wall style eatery might be small in size but it's seriously big in flavour, bringing slow cooked meats and deep Asian flavours to the Seminyak streets. Bao down to Street Boi!
Street Boi, Jl Petitenget No 18AA, Seminyak, p. +62 858 5737 3308 e. [email protected]. Open daily 12pm – 12am.
Ritual Boutique & Coffee Shop
What was once a hip boutique brimming with unique island-based labels and alternative designers, has recently become so much more. Still stocking stunning collections from Sisca the Label, Rik&Reg, Eyelike sunglasses and Tova jewellery, now this quirky little boutique has grown to become a quality coffee shop, too. And it's not just any old cuppa Joe served here, either. For starters, Ritual uses a specialty coffee blend from Simple Brew [a house blend from Toraja] and they've even gone above and beyond on what's outside the brew, too. Special takeaway cups have been specifically designed by Riklee Illustration, whilst the in-house ceramic mugs have been handmade by a local artist in Ubud. And did we mention there's home-baked desserts and juices from Remix Juice Bali? See you in the boutique!
Ritual Boutique & Coffee Shop, Jl Kayu Aya, Seminyak [opposite Hank's Pizza & Liquor]. Open daily 9.30am – 9.30pm.
Pablo's
At this hot new watering hole, South American latino vibes meets old school hip hop, Columbian-style cuisine and cocktails with a serious kick – yup, Pablo's in Canggu had us at "hola!" This brand new late night spot is located in the heart of Canggu, and together with its colourful, crazy atmo, hopping hip hop tunes and wild parties that draw in Canggu's coolest crowds, this is the new spot to see and be seen in the 'Gu. And what's even better is this place won't break the bank either – the regular "50k for absolutely everything" nights keep us comin' back for more. Si mi amigo!
Pablo's, Jl Batu Bolong No. 58, Canggu, e. [email protected]. Open daily from 5pm – 1am.

Jikaa Coffee x Eatery
Loosely translating to mean "what if" in Bahasa, Jikaa comes to Bali after its Jakartan founders decided to answer one simple question: What if we open a humble and homely coffee shop in Canggu, serving great food and even better coffee? Well, the answer to that question brought us this petite and cute cafe in Berawa, with top notch all-Indonesian coffee beans from Hungry Bird, alongside some special single-origin beans of the day. As for the munch, there's Instagram-friendly smoothie jars and bowls, as well as sandwiches, pastas, salads and meats. The standouts? Don't miss the Pork Ham and Egg Sandwich and the Sunshine's Smile Smoothie Bowl. What if? How about, why not?!
Jikaa Coffee x Eatery, Jl Raya Pantai Berawa No.1A, Canggu, p. +62 8121 8600 978, e. [email protected]. Open daily 7.30am – 5pm.
Hungry for more? Sign up to our newsletter and stay up-to-date with everything hot on the island!