Not sure what to do at home this Easter weekend? From egg hunts in the house to home-delivered hot cross buns - here's how to spend Easter 2020 in Bali.
Easter is just around the corner (this year it falls on Sunday 12th April 2020) and if you're as egg-cited about the long-weekend as we are, then you'll already be planning your hopping Easter activities. Of course, this year we won't be feasting at Bali's best beachfront family brunches, or heading out on chocolate-stocked Easter egg hunts to find gourmet goodies for the kiddos. But we do still have fresh-outta-the-oven Hot Cross Buns, and plenty of at-home Easter feasts to tuck into. So without further adieu, here's everything you need to know about spending Easter in Bali in 2020. 
Happy Easter Honey bunnies!
EGG-CELLENT AT-HOME EASTER FEASTS IN BALI
A six-star Easter with Mauri
Bringing the sublime flavours and culinary excellence of Mauri to your kitchen, this Easter you can order an at-home feast from this Seminyak showstopper. Choose from the signature multi-course Easter menu (a vegetarian option is available too!) or go a la carte to create your own. The set menu includes three signature amuse bouche, an appetiser, main and dessert, plus two petit fours. You can even add on a bottle of wine too, with a very special 30% discount!
Contact +62 817 776 177 to order. Free delivery for orders over IDR 300k. Available from 10th – 13th April 2020.
Easter hampers from Hotel Tugu
This year's stay-at-home Easter is set to be just as sweet as any other, thanks to the Easter hampers at Hotel Tugu. From elegant quiches and signature slow roasts, to Easterlicious cakes and goodies – simply order your Easter treats and they'll be delivered to your door. And the kicker? Everything is organic and made fresh from scratch.
Contact +62 8138 8294 808 to order. Free delivery in and around Canggu for orders over IDR 300k. Available from 10th – 30th April.
THINGS TO DO AT HOME THIS EASTER IN BALI
Hunt for eggs at home
While we can't go wandering the streets or attend Easter parties right now, we can make our own egg hunts at home. Hide chocolates around the house and leave clues on where to find them. And psst – this one's not just for kids!
Get crafty
This one's a must-do Easter activity – stock up on all of those essential arts and craft supplies and get busy! The kids can paint Easter bunnies, decorate eggs, fold origami chicks and even make cute cards for friends and family. And as for Mum and Dad? Well you may as well get stuck in too…
Make your own Easter cards
Since you won't be out shopping for Easter cards this year, why not make your own at home and send them to friends and family via GO-JEK? You can paint, decorate and even glue glitter – whatever tickles your Easter bunny.
Get baking
Easter is the perfect excuse to scoff cakes, chocolates and cookies all day, and since you've got plenty of time to spare at home, why not get baking and make some fresh-outta-the-oven cookies? It's a win-win for the whole household, and everyone can get involved.
Get the board games out
Ain't nuthin' like some good old fashioned family fun, so round up the kids and dust off those old classic board games, like Scrabble, Monopoly, Rummikub, Game of Life, or Ludo. Hot tip: you can stock up on games and puzzles by shopping online…
WHERE TO BUY HOT CROSS BUNS IN BALI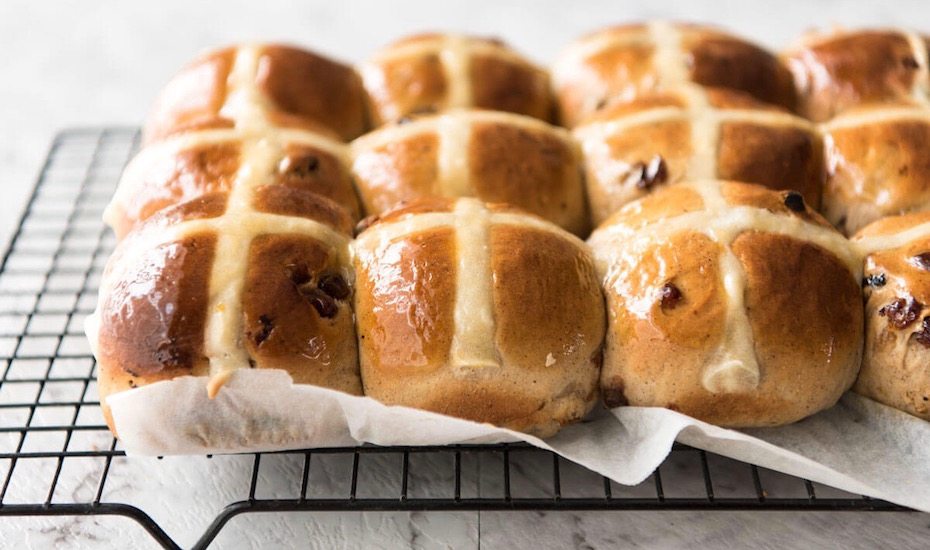 If you've ever spent Easter in Bali, you'll know that the struggle to find authentic Hot Cross Buns is oh-so real. So, we've hunted down the real deal for you – the kind that are freshly baked, lightly spiced and made true-to-tradition using real butter. You'll want to get your orders in quick, because these babies sell like hotcakes!
Farine Bakery:    Jl Pantai Berawa No. 23, Berawa, e. [email protected]
Honeymoon Bakery:   Jl Raya Ubud, Ubud, e. [email protected]
Delicioso Bali:   Jl Raya Semer No. 168, Kerobokan, e. [email protected]
Nourish:   Jl Raya Uluwatu, Ungasan, [email protected] – until stocks last!
Senin Bakery:   Ubud, e. [email protected]com.
Dijon:   Jl Setiabudi, Simpang Siur Square A1-A2, Kuta, e. [email protected]
EXPAT. Roasters X Starter Lab:   Jl Petitenget No1A, Seminyak, p. +62 812-4614-0493.
Mini Munchers:  Jl Raya Anyar No. 30, e. [email protected]
Biku:    Jl Petitenget No. 888, Seminyak, p. +62 851 0057 0888.
Pison:   Jl Petitenget No. 19, Seminyak, e. [email protected]
Coffee 'n' Oven:   Jl Pantai Berawa No. 51, Canggu, p. +62 853 3840 4434.
Happy Easter Honey Bunnies!
Keep your eyes peeled for more Easter announcements –  more TBA!