Get up close & fiery at SONO Teppanyaki!
Clitter, clatter, sizzle & whoosh! More than just delicious Japanese food, these Teppanyaki restaurants in Bali will set your dinner plans on fi-yah!
Everyone loves a good ol' barbecue, but the Japanese have it down to an art – a performance art at that. With a clatter of steel here and a colossal whoosh of fire there, authentic Teppanyaki is one of the most theatrical dining experiences around. 
If you've been lucky enough to dine at an authentic Teppanyaki restaurant, you've no doubt been bedazzled by the chefs' sleight of hand, acrobatic teppan tricks, and (literally) explosive charisma that takes place right in front of your very eyes.
High-ticket ingredients like Wagyu beef and ocean-fresh lobster sizzle on the Teppan just an arm's length away, set ablaze in a burst of flames and cleverly whipped, flipped and tossed with garlic fried rice as this smoky Japanese feast spits and crackles until tender and juicy. Want in? Of course you do, so we tested out 8 of the best Teppanyaki restaurants in Bali to help set your next date night on fi-yah.
SONO Teppanyaki at Anantara
Juggled and drummed pepper shakers, flipped spatulas and flashy fireballs – SONO Teppanyaki at Anantara Uluwatu Bali Resort ticks all the boxes when it comes to a fiery Teppan feast – and the impeccably trained chefs know exactly how to put on an explosive show. Glamorously set on the top floor of the five-star clifftop resort with just 14 hot seats positioned around two steel griddles, the chefs take to the stage. A rat-a-tat-tat of spatulas and chitter-chatter of knives marks the start of the show, with a constant beat of pepper shakers and intermittent hollas from the kitchen cast. Eggs are spun and juggled, vegetables are chopped and diced at lightning speed and – POOF – a circle of oil around a stack of onions is set ablaze in a ring of fire. Top-shelf produce is then whipped onto the Teppan. Whole bamboo lobsters turn a vibrant red while plump scallops glow golden as they sear in drool-inducing lashings of butter. Hot-off-the-grill, try the juicy 300g black Angus beef, enormous Tiger Prawns and black cod teriyaki, and whatever you do, don't miss the thick and tender slab of Tokusen Wagyu Beef Tenderloin. Compliments to the chef indeed…
SONO Teppanyaki at Anantara Uluwatu Bali Resort, Jl Pemutih, Labuan Sait, Uluwatu, p. +62 361 895 7555, e. [email protected]. Open daily 6.30pm – 10.30pm.
Rayjin Teppanyaki
From the same people who brought us Musubi, Kajin, Fujin, and Dahana (AKA four of Bali's best Japanese restaurants) Rayjin Teppanyaki is very well versed in the art of impeccable Japanese dining. Leading the pack when it comes to an affordable and utterly delicious night out, Rayjin Teppanyaki is without doubt one of our fave Bali restaurants. Why do we love it so much? Where do we start…. From the modern-chic vibes and lively atmo, to the "Omotenashi" Japanese hospitality and consistently creative, exquisite cuisine, Rayjin should be high up on your list for a fiery feast you won't forget.
Rayjin Teppanyaki, Jl Petitenget No.98x, Seminyak, p. +62 81 339 181295, e. [email protected] Open daily 11.30am – 3pm & 6pm – 10pm.
Shima Teppanyaki & Shabu Shabu
Not only focused on the theatrics of Teppanyaki (though there's plenty of that too) Shima is all about the ingredients – top notch produce that's handled with precision. Letting pure, natural flavours speak for themselves, only a grind of salt or swift sprinkle of pepper is needed to refine the enormous fillets of high-grade Wagyu or juicy Australian lamb cutlets. Let the internationally trained chefs take the reigns of the doneness, or get involved and have your plate of choice cooked exactly how you like it.
Shima Teppanyaki & Shabu Shabu, Jl Petitenget No. 5E, p. +62 361 738582, e. [email protected] Open daily from 12pm – 3pm & 6pm – 11pm.
Edogin
The crème de la crème of Japanese fine dining, Edogin at The Mulia is perhaps the most refined Teppanyaki experience on the entire island. For starters, this ultra-luxe restaurant is set within the palatial grounds of what's been ranked the world's best beachfront resort multiple years running, so naturally, first-rate cuisine and expert service comes as standard. On top of that, expect lavish gourmet delicacies and the most flamboyant theatrics, and swing by on a Friday or Saturday night to experience an uber-indulgent Teppanyaki buffet.
Edogin at The Mulia, Mulia Resort & Villas, Jl Raya Nusa Dua Selatan Kawasan Sawangan, Nusa Dua, p. +62 361 3017777. Open daily 11am – 3pm & 6pm – 11pm.
Tenkai Japanese Restaurant
A firm favourite for Bali's Teppan fans, the chefs at Tenkai Japanese Restaurant whip up a performance as engrossing as the feast they lay in front of you. There are flips, tricks and explosive stunts, and that's before we even mention the food. The tuna medallion alone is worth making the trip into town, as is the Bamboo lobster that's as big as it is juicy. Wrap it all up with stunning interiors and an uber romantic setting and you'll see exactly why Tenkai has hit this list.
Tenkai at Padma Legian, Jl Padma No.1, Legian – Kuta, p. +62 361 752 111, e. [email protected] Open Monday, Wednesday, Friday & Sunday 6pm – 11pm.
Shiki Japanese Restaurant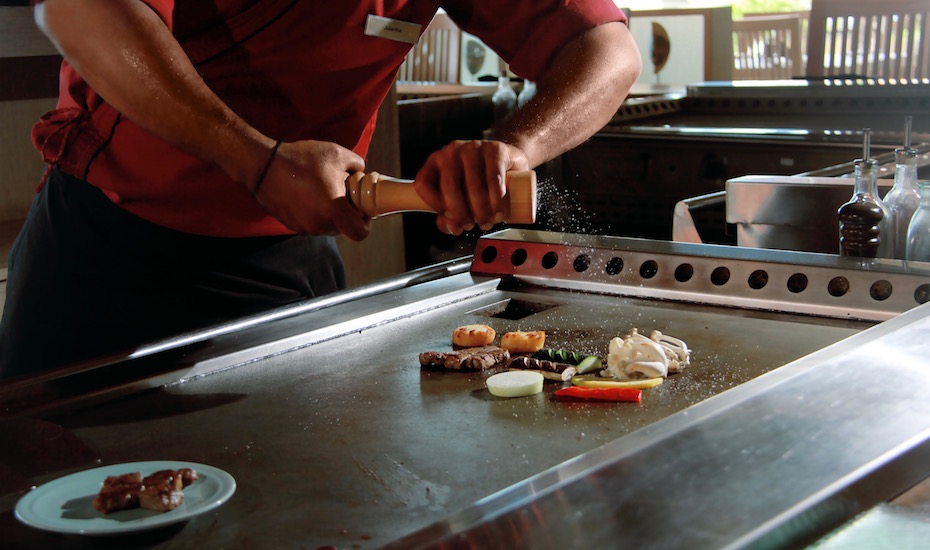 Come for the deliciously authentic Japanese cuisine, stay for the culinary spectacle – when the Hilton Bali Resort said that Shiki Japanese Restaurant is a "feast for all the senses", they weren't lying. It's not only the immaculately presented Japanese delicacies here that'll have your eyes wide and your jaw to the ground. This stunning new restaurant sits at the hotel lobby with awesome views of the ocean out yonder, and the theatrical Teppanyaki display of fire and smoke will have you tossing your chopsticks into the air for more. Try the set menu to get a real taste of Shiki's culinary repertoire, featuring whole lobster, beef sirloin, assorted seafood or chicken, three different sauces, an appetiser, fresh salad, sautéed vegetables, garlic fried rice, miso soup and sliced fruits too – wowza!
Shiki Japanese Restaurant at Hilton Bali Resort, Jl Raya Nusa Dua, Seletan, Nusa Dua, p. +62 361 773 377, e. [email protected]
Hamabe
Not only famous for its Teppanyaki tables (yes, there are more than one) Hamabe at The Westin Resort knows exactly how to entertain its diners with culinary performances galore. On one side of the dazzling dining room sits a long sushi and sashimi counter, whilst on the other, two Robatayaki stations sizzle and smoke as delicacies are seared on the grill. Then as the main event, the calls and clatters of the Teppan are ever-present, alongside the oohs and aahs from the audience and the sounds of very satisfied stomachs. And did we mention there's an extensive selection of sake too?
Hamabe at The Westin Resort Nusa Dua, Kawasan Pariwisata Nusa Dua, Lot N-3, Benoa, p. +62 361 771906, e. [email protected] Open daily 5.30pm – 10pm.
KO Japanese
At the InterContinental Bali Resort's award-winning Japanese restaurant, the focus here is on contemporary yet authentic cuisine served up in an unconventional atmosphere – unconventional because unlike most Japanese restaurants, this one features a subtle infusion of Balinese architecture. In true Japanese style however, two Teppanyaki counters sit at the restaurant's heart, helmed by an Executive Chef who's been trained under the guidance of famed Japanese kitchen gurus and has worked at several of the world-renowned Nobu restaurants. Try his "KO Experience" set dinner menu and feast your way through multiple courses of prawns, scallops, tuna, salmon, Wagyu beef and even foie gras.
KO Japanese at InterContinental Bali Resort, Jl Uluwatu 45, Jimbaran, p. +62 361 701 888, e. [email protected]. Open daily 6.30pm – 10.30pm.
See you beside the Teppan, Honeys!
Like this story? Check these out:
50 best restaurants in Canggu for your hit list
Tough gig! We tested out Bali's best brunches
The Bukit List: Where to eat in Uluwatu
Our pick of Bali's very best restaurants
Or, sign up to get more Bali bucket list ideas straight to your inbox!