Javaheads and latte-holics rejoice! We hunted down Bali's best coffee spots for your daily caffeine hit - strong, locally-sourced, and everything in-between!
If the struggle is oh-so real to get through each day without your morning coffee fix, we hear you. But luckily for our fellow coffee-holics, Indonesia is home to some of the best beans around, and Bali is fast becoming Asia's coffee capital, with straight-up strong espressos from award-winning baristas, to three-quarter double shot lattes with organic beans from Aceh. So, to help you curb your coffee cravings with a really good (and we mean REALLY good) caffeine hit, we've hunted down the very best coffee spots in Bali – the best brew bars and coffee-serving cafes across the island, from Seminyak and Ubud, to Canggu and Uluwatu. You're welcome!
THE BEST COFFEE IN BALI:  SEMINYAK
1. Expat. Roasters
Taking Bali's coffee-sipping scene to revolutionary new heights, Expat. Roasters is one of the coolest coffee shops on the Seminyak block, and it's not your average island cafe. Brought to us by International award-winning Barista, Shae Macnamara Expat. Roasters takes its caffeinated clientele on an exploratory 'from-the-ground-up' journey, to understand the complex flavours of the Expat blend – one cup at a time. This urban and funky little spot is making waves on the island as the place for coffee, and you won't want to miss a slice of their freshly baked banana bread, either.
Expat. Roasters, Jl Petitenget No. 1A, Seminyak, p. +62 812 4614 0493; Open daily 7am – 7pm.
2. Revolver Espresso
Arguably one of the first specialty cafes in Seminyak to kick-start Bali's coffee craze, Revolver is the OG when it comes to boutique bean brands and expert espressos. This tardis of a café, tucked down a little laneway in downtown Seminyak, makes seriously good cuppas, with interiors that take you back to 1980s New York. The vibe is inner-city cool and you could very easily forget you're in Bali with its slightly grungy warehouse feel. Unsurprisingly so, other Bali cafes have jumped on the Revolver bandwagon, meaning you can find these specialty brews in hip cafes like Watercress and Milk & Madu. And psst – they have Baby Revs on Petitienget too!
Revolver Espresso, Jl Kayu Aya Gang 51, Oberoi, Seminyak, p. +62 812 3842 8343; Open daily 7am – 11pm. 
3. Coffee Cartel
With a name like Coffee Cartel, it's no surprise that this boutique coffee house in Seminyak means serious business when it comes to your daily cuppa. These top dogs are dominating Petitenget's caffeine scene with their unique latte art seen on Instagram feeds around the world. Using their specialist Ripple Machine and using patented printing technology, Coffee Cartel can recreate any image or text right on top of your cappuccino or latte foam. In fact, Coffee Cartel has become such a cool cult cafe, they've opened a second location in Legian, which is where they roast their very own blends using both local and imported beans. We love Coffee Cartel's signature pink interiors, dotted with cute potted cacti, subtle Mexican aesthetics and adorbs golden cutlery.
Coffee Cartel, Jl Lebak Sari No. 8, Petitenget, p. +62 812 3707 4458; Open daily 7.30am – 6pm. 
4. Pison Coffee
What looks like a humble red brick café from the outside, is a serious specialty coffee house inside, complete with live music in the evenings and an addictive-as-caffeine Asian-Western fusion menu that mixes the best of Indonesia with stylish Sydney. As for the coffee, their house-roasted beans are from Sumatra, and it's the classics that Pison does best. Try the Affogato, the cappuccino, and the signature single origin Sumatra Bluebatak – slightly sweet and syrupy yet with a serious coffee kick. Oh, and if you get a chance between brews, chat with Pison's friendly owner, Arlini Wibowo, who'll happily share plenty of coffee insight and awesome stories to accompany your afternoon cuppa.
Pison Coffee, Jl Petitenget No. 19, Seminyak, p. +62 821 4456 0066, e. [email protected]; Open daily from 7am. 
5. Titik Temu Coffee
Sitting on one of Seminyak's most buzzing urban strips, you'd never know that inside Titik Temu sits a lush, tropical garden designed for sipping top-notch brews in a traditional, community-style setting. Titik Temu is bringing back the age-old experience of a localised Warung Kopi – a traditional coffee stall with long tables for catching up with neighbours, and space on the ground where workers would sit and refresh before another shift. Well, Titik Temu has nailed that laid-back, nostalgic atmosphere, bringing it into the twenty-first century with a more modern setting, serving top-quality food and coffee. All of your favourite coffee names can be found here, and they're served up just how you like it – hot, cold, long or even extra strong.
Titik Temu Coffee, Jl Kayu Cendana No. 1, Seminyak, p. +62 811 158 3003; Open daily 8am – 9pm. 
6. The Koop Roaster & Cafe
Paying homage to local creators in Bali, The Koop in Seminyak is a roaster and cafe that's all about extremely fresh and home-roasted specialty grade beans from farms in Kintamani. They share their love of Bali in the best way possible: through quality, handcrafted coffee and homemade bites. They roast and brew their own coffee, they bake their own bread and cakes, and most importantly, they're a humble, homely and comfortable cafe for people to get together over really great cuppa. All of their coffee is brewed in a semi-automatic roaster, ranging from paper drip and flannel drip, to Aeropress and cold press – all handcrafted cup-by-cup with love by The Koop's baristas.
The Koop Roaster & Cafe, Jl Drupadi No. 66, Seminyak, p. +62 361 934 7987, e. [email protected]; Open daily 7am – 4pm.
7. Djournal Coffee
Djournal Coffee came to Bali from Jakarta and Bandung (there are more than 20 Djournal addresses in Indonesia!) and this nationwide brand is all about bringing you a great cup of coffee using Indonesian-origin beans. With a whole collection of artisan brews ranging from espresso based coffees, to pour over, syphon and even cold drip, Djournal is a coffee-sipping Nirvana, overlooking an emerald green rice paddy to top it all off. And if you're not into caffeine, there's plenty more on the menu, like the cold-as-ice Nutella Blast, or the Green Tea Freeze, best paired with Djournal's famous Martabak Croissant.
Djournal Coffee, Jl Petitenget (next to Ibis Styles Hotel), Seminyak, p. +62 361 934 6363, e. [email protected]; Open daily 10am – 8pm.
---
THE BEST COFFEE IN BALI:  CANGGU
Word on the street is, BGS serves the best Almond Milk Latte on the island – and after knocking back hundreds (if not thousands) of these thick, creamy and vanilla-roasted cups of gold, we can confirm this big coffee claim. You won't wanna just grab-and-go either, because BGS is also where you'll find friendly faces in a community-driven space that also sells all of your surf essentials, from boards and fins, to wax, tees and bikinis too. Just don't be surprised if you're still propping up the bar 'til late, buzzing off their brilliant brews and discussing the morning's surf report with locals, resident expats, and even their Bali dogs. Psst – for more BGS brews, check out their flagship store in Dreamland and Uluwatu too.
BGS Bali, Jl Munduk Catu No. 1, Canggu, p. +62 878 6181 3103 / +62 821 4462 1907, e. [email protected]; Open daily from 8am.
9. Blacklist Coffee Roasters
So much more than just a specialty coffee shop, Blacklist Coffee Roasters in Canggu is where you can sip and sample your way through an entire coffee tasting experience. Yep, you read that right: a degustation of different brews and blends that take you on a flavourful coffee journey. You'll want to try the special-edition Canggu Blend, as well as the specialty Pitch Blend – a full-bodied coffee with dark chocolate and nut flavours, balanced with prominent fruity notes. But that's not all. This multi award-winning coffee roastery is a leading name in Australian Specialty Coffee, and after making their second home here in Bali, they've brought this stellar reputation to the island. The secret to their success? An abiding passion for good coffee, good food and good times.
Blacklist Coffee Roasters, Jl Tanah Barak No. 6, Canggu, p. +62 813 3872 8664; Open daily 7am – 8pm.
10. Hungry Bird
A temple of coffee enthusiasm, Hungry Bird is a real-life coffee fairytale. The owner, a young Indonesian guy called Edo, used to roast beans in his bedroom when he fixed – with his bare hands – a broken coffee machine that he bought online. Self-taught and quite literally self-made, he then opened Hungry Bird, previously a teeny tiny hole-in-the-wall style coffee shop. Eventually, it became uber-popular with the local surfers (the breakfasts were the most affordable around) with the coffee as the real kicker. Edo kept his clientele well-and-truly hooked with beans from all over Indonesia, and now, as one of the most popular spots in the 'Gu, Hungry Bird sits in a proud new location right beside the famous Canggu shortcut, complete with its own micro-roaster and cupping room. A great reward for true passion.
Hungry Bird, Jl Raya Semat No. 86, Canggu, p. +62 812 5000 4643, e. [email protected]; Open daily 8am – 5pm.
11. RUKO Cafe
Everyone knows that any hip Canggu resident wouldn't be seen dead sipping on a conventional, run-of-the-mill coffee brand. So RUKO Cafe in Berawa custom-makes its own Indonesian blend for the perfect cup of strong, bittersweet magic. And the cups themselves are a work of art, too, artisan-made by a local ceramics artist. In fact, everything in this cool neighbourhood coffee shop screams creativity: the hip urban vibe, the sketch books on the tables, murals on the walls (inside and out), and a cool crowd that keeps you sticking around for one, two, or maybe even three more premium piccolos.
RUKO Cafe, Jl Pantai Berawa No. 99, Canggu, p. +62 812 396 3077; Open daily 7.30am – 4pm.
12. Satu-Satu Coffee Company
Satu-Satu in Berawa opened in honour of the Sudana family, who are well-known in Bali for producing some of the island's finest quality coffee since 1985. They have family-owned coffee plantations in Lawak, Belok, Sidan, Petang and Badung, and have always focused on producing coffee the natural way. They use only traditional Balinese methods to ensure the highest level of organic coffee, and to guarantee superior freshness and flavour. In fact, the coffee here is so esteemed, the Government of Indonesia actually provided the Sudana family with machinery and equipment to help facilitate its growth and expansion, including the opening of Satu-Satu cafe in Berawa, where you can sip on these legendary, government-approved brews!
Satu-Satu Coffee Company, Jl Raya Pantai Berawa No. 36, Canggu, p. +62 878 6207 7011; Open daily 7.30am – 4pm. 
13. Bootstrap Cold Brew Coffee
Apparently, cold brew is the fastest-growing coffee trend in the world, which suits us just fine considering Bali's balmy climate. And there's one island brewer that's been one step ahead of the rest, because Bootstrap began brewing quality cold brew coffee in Bali back in 2014, and it's so good, it's now bottled up and sold to other top spots across the island – including Singapore, too. Using Kintamani Single Origin Arabica beans, the cold-brewed result is a low-acid, high-caffeine coffee that's both smooth and refreshing. Not only that, it's sugar-free, dairy-free, healthy and organic – because this is Canggu after all.
Bootstrap Cold Brew Coffee, Jl Tumbak Bayuh, Pererenan, Canggu, p. +62 812 3848 9121; Available for delivery. 
14. Miel Coffee
Specialty coffee brewed from the finest beans, Miel Coffee brings people together with a shared passion for caffeine. We love the hot coffee served in the cute cups, the chic white interior and high ceilings, the potted plants in every corner and the warm family friendly vibes. Pair your cuppa with the tasty brunch menu that ranges from sweet to salty. Nurture your sweet tooth with the French Toast: toasted brioche, vanilla poached pears, gooey caramel sauce, cinnamon powder, whipped cream, sliced almonds and a sprinkle of icing sugar. If you're filling up for a whole day of surfing, choose the wholesome Big Breakkie – a full plate of toasted sourdough, poached eggs, wilted kale, Amaranth spinach, crispy bacon, balsamic apple jam, portobello mushroom, and Butifarra sausages.
Miel Coffee, Jl Pantai Batu Bolong No. 5, Canggu, p. +62 853 5656 8800; Open daily 7am – 7pm.
15. Sunday Kitchen
Let Sundays (or really, whenever you need a caffeine fix…) bring you to Sunday Kitchen. This Canggu cafe is where the boho crowds flock for a little coffee adventure. Sure, you can go with the classic brews, or why not try the fun brews, like Bulletproof with an espresso shot, ghee butter, virgin coconut oil and cinnamon. Or the special lattes you can't find anywhere else – we love the earthy flavour of the ceremonial-grade matcha in the Instagrammable Japanese Matcha Latte, or the herbaceous Mushroom Latte with chaga, cordyceps, lion's mane and reishi. All this best sipped with the kitchen's Brazilian-inspired dishes.
Sunday Kitchen, Jl Pantai Batu Bolong No. 60, Canggu, p. +62 813 3857 0957; Open daily 8am – 10pm.
16. Neighbourhood Food
Showcasing the best of artisanal produce, Neighbourhood Food is a cosy coffee shop in the boho-chic Berawa inspired by the world-famous Aussie cafe culture. Think slow breakfasts, laid-back afternoon nibbles and weekend brunches that are fresh and wholesome – all best enjoyed with Neighbourhood's epic house-blend coffees. All the classics are here, from piccolo, flat white and cappuccino, to the special brews like Bulletproof with a hint of cinnamon. And while you're at it, add on a scoop of the vegan vanilla protein… it's Canggu after all!
Neighbourhood Food, Jl Pantai Berawa No. 99BB, Berawa, p. +62 818 0877 4367, e. [email protected]; Open daily 7.30am – 10pm.
---
THE BEST COFFEE IN BALI:  UBUD
17. Seniman Coffee Studio
All your coffee Christmases come at once when you visit Seniman Coffee Studio. Located just off the main drag in Ubud, this place is an absolute mecca for coffee lovers. Not only an awesome cafe with world-class beans from all over Indonesia, Africa, South and Central America, there is also an on-site micro-roastery, a brew bar, a shop with every piece of coffee equipment you could possibly wish for, and tasting workshops at the studio on how to home-brew, roast, make the perfect espresso, and even a 101 on latte art.
Seniman Coffee Studio, Jl Sriwedari No. 5, Ubud, p. +62 812 8338 6641, e. [email protected]; Open daily 7.30am – 10pm.
18. Tucky
It's no surprise that the guys that created Ubud's first wine bar soon took on Bali's growing specialty coffee scene with Tucky – a specialty coffee and brunch shop located in the charming eat-street of Jalan Goutama. Using only Single Origin and Single Estate coffee beans brewed in a state-of-the-art coffee machine, Tucky has fast become Ubud's go-to pick me up spot. One cup is not enough, so we tried their cold brew after a much-talked about flat white (we took ours with oat milk and it did not disappoint). For non-coffee lovers, try their specialty teas sourced from family-run tea estates in Java and Sumatra. And it goes without saying, you'll wan to stick around until late for when this 22 seater transforms into its sister establishment and fine wine hub, Bacari.
Tucky, Jl Goutama No. 15, Ubud, p. +62 811 3811 7613; Open daily 9am – 4pm.
19. FREAK Coffee
Wholly dedicated to Bali-born beans, FREAK stands for Fresh Roasted 'Enak' Arabica from Kintamani. Enak means delicious in Indonesian, and this coffee really is yum. It is all organically grown and roasted daily so it's about as fresh as it gets. The result? A sweeter, less bitter and much, much richer brew. And it's certainly no accident, either. They use the best equipment around (like Rancilio espresso machines and Mazzer grinders for all the gadget geeks out there) and most importantly, they verse their baristas in the craft of espresso – a tradition to be learned, practiced and honoured. Amen to that!
FREAK Coffee, Jl Hanoman No. 19, Ubud; Open daily 7am – 8pm.
20. Anomali Coffee
If you're in the market to road-test some really great Indonesian coffee blends, then you need to make a pit-stop at the very funky Anomali Coffee. At their Ubud address, you can sip on beans from Papua, Java, Sumatra, and even a good-old local Balinese Kintamani roast, with expert baristas and regular training sessions on-hand to get your coffee sipping up to scratch. Not only that, the espresso machines are top notch, too, pumping out strong and creamy cappuccinos on the regular, as well as a cold drip, French press, plunger, and the very snazzy syphon coffee.
Anomali Coffee, Jl Raya Ubud No. 88, Ubud, p. +62 361 972 263; Open daily 7am – 9pm.
21. Ubud Coffee Roastery
Ubud Coffee Roastery is one of the coolest cafes in Ubud for your daily caffeine fix. The fine beans are locally sourced from coffee plantations in breezy Kintamani, which are then roasted and brewed to perfection on-site within the cafe's garden. Love Ubud Coffee Roastery's signature brews? You can nab a bag of beans to take home… Double win!
Ubud Coffee Roastery, Jl Goutama Selatan, Ubud, p. +62 811 3800 8001, e. [email protected]; Open daily 7am – 6pm.
22. Pubas Coffee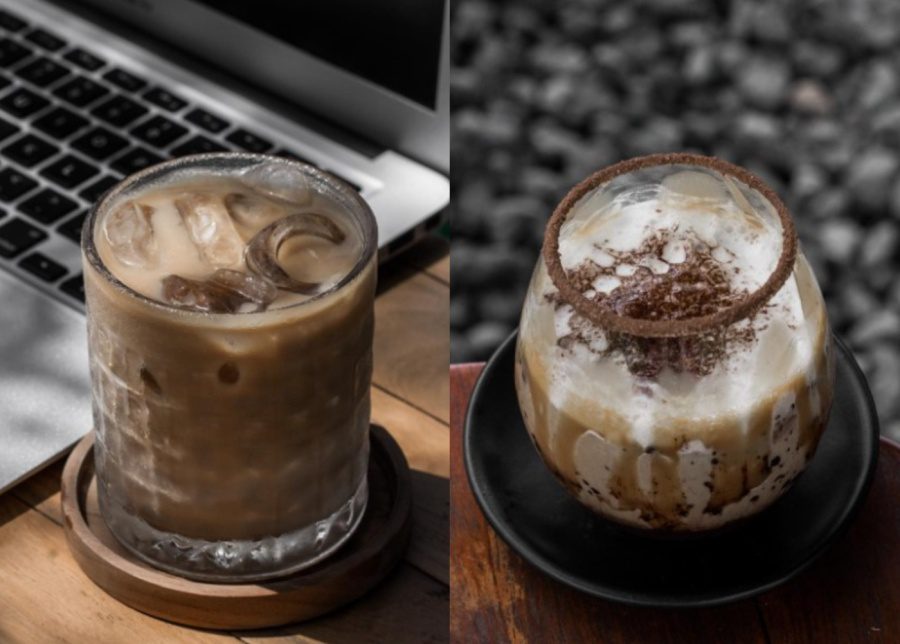 Chic interiors, industrial decor and epic brews: this modern cafe and coffee shop sits in the beating heart of Ubud, and is unsurprisingly popular for its great coffee. Pubas Coffee is where you'll want to go for a serious caffeine hit. You'll find all the classics here, like piccolo, long black or cappuccino, best enjoyed with buttery croissants and danish pastries. For the adventurous bunch, try one of the creative brews, like the Pubas Iced Coffee with chocolate, caramel and a hint of salt, or the Misty Tarz – a single shot of espresso with mint, cassava, a scoop of ice cream and a sprinkle of salt. Best part is, you can stop by at night for an Espresso Martini too…
Pubas Coffee, Jl Sri Wedari, Tegallantang, Ubud, p. +62 812 4643 1232; Open daily 8am – 10pm.
---
THE BEST COFFEE IN BALI:   ULUWATU
23. Drifter Surf Shop & Cafe
Though Drifter's flagship location is in Seminyak, Uluwatu is a more natural home for this surf-shop-cum-coffee-haven. It's a laid-back oasis to chill out, kick back, and to appreciate the surf-inspired clothing, the large library of hand-selected books, the artwork, the surfboards, the myriad of memorabilia, and of course, the freshly ground coffee that goes just right with a post-surf feed. Brewing Indonesia's finest Mandaling Estate coffee beans from Sumatra (famous for their unique flavour thanks to the volcanic soil and humid jungle climate) the Drifter baristas know just how to handle these beans, served in the coolest surf-inspired ceramics we've ever seen.
Drifter Surf Shop & Cafe, Jl Labuan Sait No. 52, Uluwatu, p. +62 877 7755 0001, e. [email protected]; Open daily 7am – 10pm.
24. Suka Espresso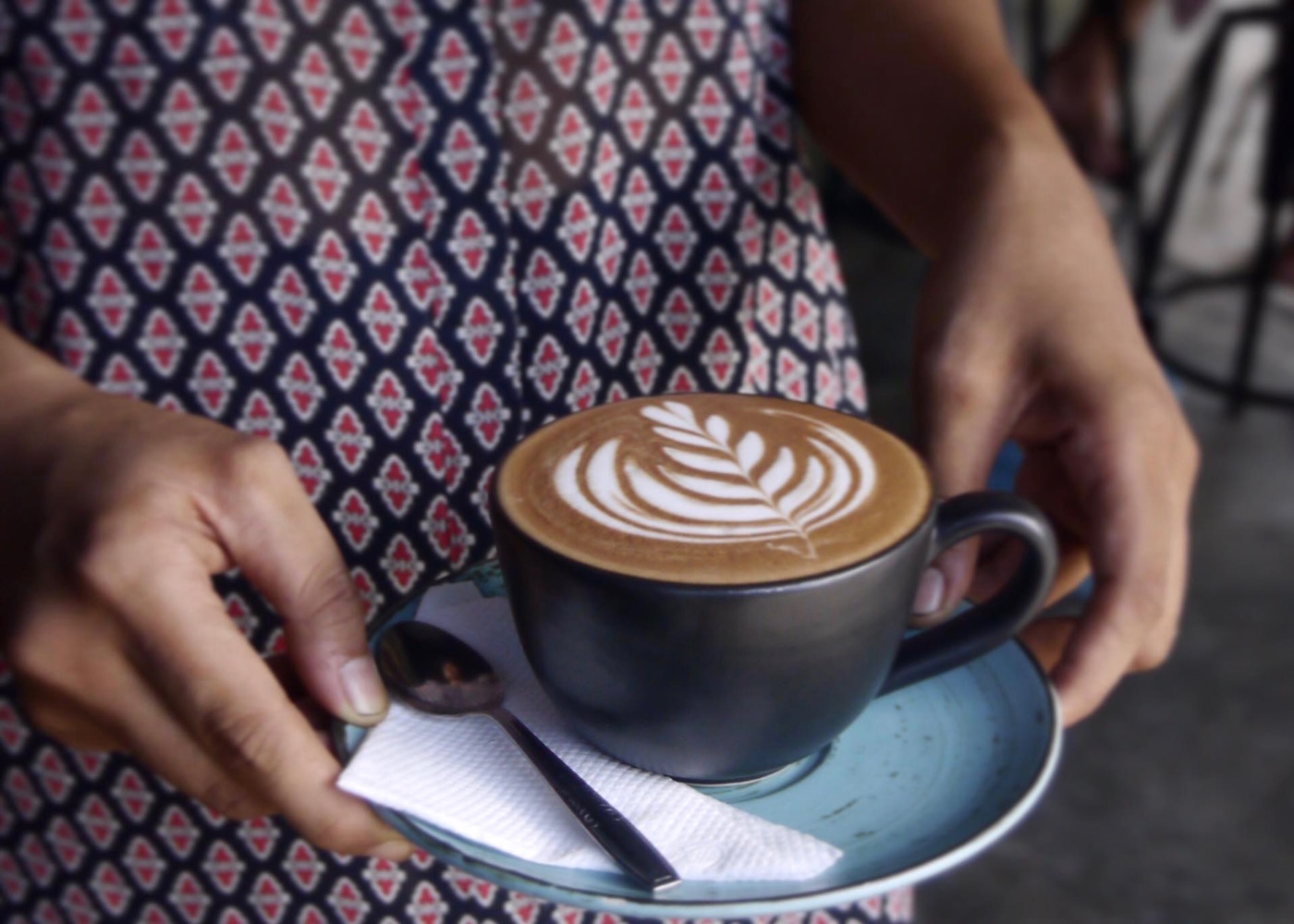 Coffee fanatics flock to this little Bukit gem thanks to its long-standing rep for serving one of the best brews in the Bukit – not to mention its epic menu of wholesome cafe munch. But back to the coffee. They source their beans in small batches from Indonesia and South America for the perfect cuppa joe, served up in the humble surrounds of this breezy, tropi-cool Australian-style cafe, and best enjoyed alongside those scrummy brunch staples (the avo on toast here is our fave, which comes with slow-roasted balsamic cherry tomatoes). Yup, for any coffee or food fix in the Bukit, Suka Espresso is a must-try stop-off – open in Ubud too!
Suka Espresso, Jl Labuansait, Badung, p. +62 812 4652 7605; Open daily 7.30am – 9.30pm.
25. JinjeRoot Coffee
A lesser known caffeine pitstop, JinjeRoot Coffee is tucked away on the main hill to Uluwatu, with just a few seats in the house and a modest collection of handmade leather goods. But it's behind the bar where you'll want to direct your attention. Strong and seriously good, the coffee here is the best around – made with love and served alongside some of the best croissants we've found. Top tip: if there's no space to sit down, ask for takeaway (it comes in a recycled milk carton!) and enjoy your creamy latte or strong espresso at the nearby GWK Cultural Park instead.
JinjeRoot Coffee, Jl Raya Uluwatu No. 4, Ungasan, p. +62 812 3793 0026; Open daily 7.45am – 5pm.
THE BEST COFFEE IN BALI:  KUTA
26. Crumb & Coaster
We thought we'd accidentally transported to Canggu when we first saw Crumb & Coaster – one of the most stylish cafes in Kuta where you can sip on signature cold brews and specialty hot coffee the whole day long. Enjoy your caffeinated sips as you browse through the menu that caters to everyone… Big Surfer Breakfast, anyone?
Crumb & Coaster, Jl Benesari No. 2E, p. +62 819 9959 6319; Open daily 7.30am – 11pm.
27. Dijon Cafe
What started out as a charming deli stocking imported cooking ingredients, Dijon Cafe has become a go-to for casual hangouts, meetings and lunchtime pit stops. It sits at one of the main intersections into Kuta, with comfy sofas, cold air-con and great customer service. On the menu, you'll find brunch staples like buttermilk pancakes, sandwiches and burgers, and light lunches like the vegetarian friendly halloumi salad – all best enjoyed with the barista's special brews.
Dijon Cafe, Jl Setiabudi, Simpang Siur Square, p. +62 361 759 640 / +62 821 2700 0200, e. [email protected]; Open daily from 9am.
28. Inlaws Coffee
Inlaws Coffee is a cosy hangout with cute modern interiors, and of course, expertly brewed coffee. For late risers, you'll be happy to know that all-day breakfast is on the menu. Choose one of the classic brews, and pair it with a buttery croissant, or the selection of perfectly baked cakes. And psst… Fancy yourself a budding barista? Look out for the cafe's Latte Art Classes and Barista Courses.
Inlaws Coffee, Jl Kediri No. 88, Kuta, p. +62 812 3665 5110, e. [email protected]; Open Mon – Fri 8.30am – 11pm, Sat & Sun 9am – 11pm.
29. % Arabica
Need a caffeine hit before your shopping spree? Make a stop at % Arabica, an independent coffee brand from Kyoto that's made its home in Beachwalk Shopping Centre, and most recently, in Uluwatu too (here are more than 100 worldwide!). Just a short stroll from Kuta Beach, this comfy and stylish cafe is where fashionistas energise pre-shopping or post-beach day. While we love the classic brews, you can't leave without trying the % Soft Cream Affogato – the cafe's smooth and creamy soft-serve ice cream, perfectly contrasted by the bold taste of the signature % Arabica Blend Espresso…
% Arabica at Beachwalk Shopping Centre, Jl Pantai Kuta, Kuta, p. +62 811 1918 0736; Open daily from 8am.
30. Kopi Zeen
Night owls, this one's for you! Open 24 hours, Kopi Zeen is where you can hangout with a coffee in hand, all day and all night. Spark your brain with a piccolo latte or iced cappuccino. But if you're looking for something different, try the Vietnam Drip, the Single Origin Batak Tolu, or the Single Origin Honey with a hint of sweetness.
Kopi Zeen, Jl Patih Jelantik Komplek Pertokoan Central Park, Kuta, p. +62 811 389 2017; Open daily.
31. Bella Vista Restaurant Coffee & Juice Bar
Bella Vista Restaurant Coffee & Juice Bar is a casual lounge that combines Australian, European and Indonesian flavours. Relax in the comfort of the air-conditioned ineriors, or grab a cuppa and head outside to the tranquil Buddha Garden, where you can sip in peace. The coffee beans are sourced from Sumatra and roasted weekly right here in Bali, best paired with the cafe's breads and cakes which are freshly baked each day.
Bella Vista Restaurant Coffee & Juice Bar, Jl Padma Utara No. 2B, Legian, p. +62 361 768 053.
THE BEST COFFEE IN BALI:  SANUR
32. Over the Moon Cafe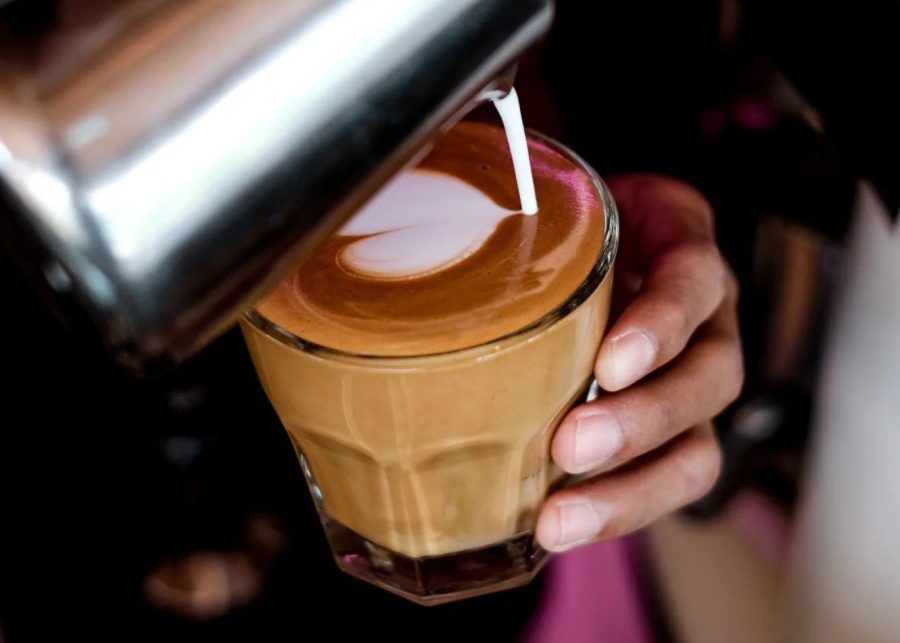 At Over the Moon, it's all about cosy, family-friendly vibes where you can enjoy a laid-back morning with wholesome food, and of course, a great cup of coffee. The beans are locally sourced and roasted by Seniman and Arca for that signature full flavour. Start your day right with an Americano, best sipped with French Toast for brekky. Then, stop by for an afternoon cappuccino and a slice of the ultra indulgent burnt cheesecake. You won't regret it.
Over the Moon Cafe, Jl Danau Tamblingan No. 19, Sanur, p. +62 822 2551 1012; Open daily 8am – 9pm.
33. Café Bloom
A cute coffee and tea house, Café Bloom is a friendly neighbourhood hangout spot fuelled by great coffee and conversation. The name tells you everything: homey cafe vibes and beautiful blooms courtesy of the adjoining The Bali Florist. Sip classic cuppas that are brewed from Indonesian Arabica beans, sourced from Kintamani, Sumatra and Flores. Munch on perfectly baked pastries, and psst… if you're looking for an alternative to coffee, the cafe stocks local tea blends from Ubud's Made Tea.
Café Bloom, Jl Danau Toba No. 12, Sanur; Open Mon – Sat 7am – 4pm.
34. Simply Brew Coffee Roasters
One of the island's experts in coffee roasting, Simply Brew is where you can sip coffee classics and unique signatures too. Start with the staples, like Americano, flat white and cappuccino, or go wild with the Durian Affogato or Vietnam Drip. If you have an extra sweet tooth, try the avocado, espresso and stracciatella ice cream combo. And if you just can't get enough, pick up a bag of Bali-roasted beans to take home.
Simply Brew Coffee Roasters, Jl Bypass Ngurah Rai No. 127A, Sanur, p. +62 823 5935 1844; Open Mon – Sat from 8am.
35. Milestone Coffee
Milestone Coffee is not just a cafe, it's also a cosy working space for those who need to be powered by both caffeine and fast WiFi. You'll find all the classic brews here, complete with latte art and high-quality beans. For a taste of Indonesia, try the Aceh Gayo brew, sourced from Sumatra island. This fresh brew gives you a unique, fruity aroma of red grape, Sunkist orange peel and cranberry. If you love a sweet treat, go for a latte with an almond choco cookie on the side, or even a Banana Caramel Waffle.
Milestone Coffee, Jl Bypass Ngurah Rai No. 274, Sanur, p. +62 896 7075 0333; Open Mon – Fri from 9am, Sat & Sun from 8am.
Whether you're an espresso sipper, a cappuccino guzzler or you simply love the smell of freshly brewed beans, consider your caffeine cravings – fixed!