Photography: H&M via Facebook
The Y2K fashion trend is having a moment, and we're so here for it. These are the wardrobe staples you need to steal the show.
The 2000s aesthetic is trending right now, and we can't get enough of it. We never thought it'd make such a big comeback in 2021 and 2022, but it's taken over the shelves and storefronts of shops around the world. Dubbed Y2K fashion (as in, the year 2000), this trend is influenced by the hottest looks from the mid-90s to the early 2000s. Think back to the baguette shoulder bags and flared pants we were all so obsessed with.
But why Y2K fashion?
Sure, fashion is cyclical and trends come back in full swing every few decades. But why are Gen Zs and younger millennials so hung up over Y2K fashion in particular? The online consensus seems to be that everyone's missing the good old days. Some fashion experts believe that the pandemic drove us all to seek comfort in nostalgic music and entertainment from childhood. Think along the lines of Gossip Girl, White Chicks and Legally Blonde.
TikTokers and content creators have spared no time putting a modern spin on 2000s-inspired outfits. Everyone, from Hollywood celebs to Singaporean influencers, is rocking the Y2K fashion trend. Want to step up your drip? Check out these fashion tips.
How to rock the Y2K fashion look
1. Ditch your skinny jeans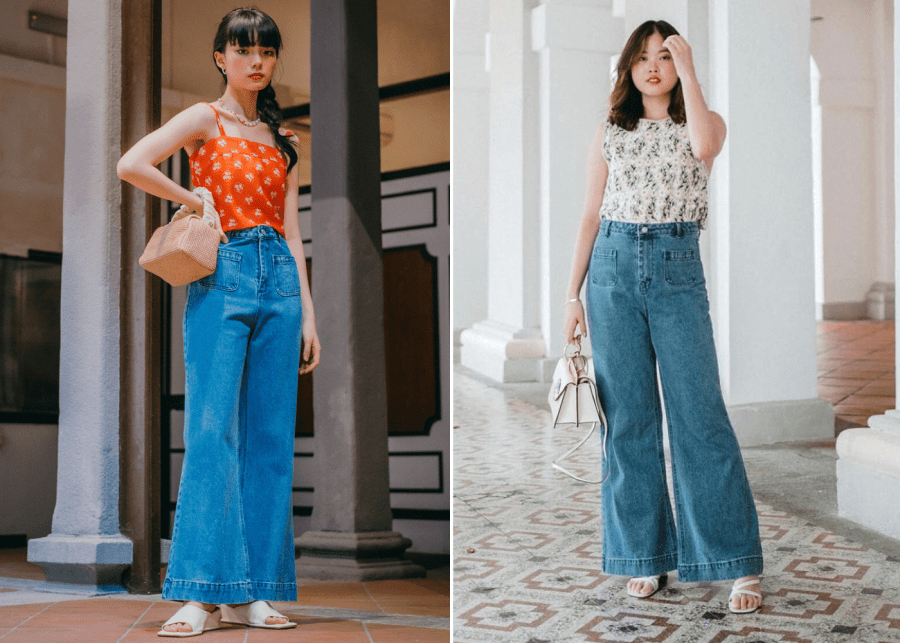 You might have your denim skinny jeans on a weekly rotation. But there's no space for that in Y2K fashion. Ditch those figure-hugging tights in favour of loose and comfy wide-leg or flared pants. Extra points if you can pull off the low-rise version since that's authentic to fashion in the 2000s. But if your body shape requires clothing that accentuates your waist, we'd suggest investing in high-waisted alternatives for a more flattering 'fit. Need a recommendation? We love those Archie jeans from Mod Parade.
2. 'Less is more' is no more
Minimalist outfits in neutral shades may have been trendy a couple of years ago. But in Y2K fashion, more is more. We're talking about colours, shine, prints and textures. If you're not sure where to start, invest in cute and colourful cropped tops. Think midriff-baring t-shirts that boast quirky quotes and illustrations. These will pair well with your brand new wide-leg pants. H&M in Singapore has a range of Y2K-inspired baby t-shirts and sleeveless tops we love sifting through.
3. Get cosy in a ribbed cardigan
Stay cosy in class or the office with a ribbed cardigan over a comfy bralette or cami. OG 90s kids will remember how Cameron Diaz absolutely slayed this look in the 1998 film There's Something About Mary. The current Y2K fashion trend sees individuals pairing these cardigans with adorable mini skirts and flowy pants. Love, Bonito stocks these in the colour sage – we're obsessed.
4. Velour tracksuits are in again
Remember the Juicy Couture velour tracksuit worn by Regina George's overly-permissive mum in Mean Girls? We all wanted one back then. It's truly not a 2000s revival without this wardrobe staple. To achieve that nostalgic Y2K throwback effect, splurge on neon colours like hot pink or aqua blue. It might not be easy to find this in a physical shop in Singapore, but you can order your own velour tracksuit from online fashion retailers like Asos.
5. Accessorise. Accessorise. Accessorise.
Complete your Y2K fashion look with kitschy accessories like rainbow butterfly hair clips, beaded bracelets and paisley bandanas. Of course, we can't forget the iconic baguette shoulder bag that was all the rage in the Sex and the City film. It might only be large enough to store your smartphone and a couple of lipsticks, but you'll look so cute – it'll be worth it. You can find these accessories at most fashion retailers in Singapore like Cotton On, Forever 21 and H&M. But we also recommend rummaging around in thrift shops for some retro finds.
Stick to our tips and you'll be rocking the Y2K fashion look in no time.