Illustration: Emily Rosadi
Want to slay the fashion game? We share clothing tips that work best for your unique body shape!
Have you ever put on a trendy outfit you've seen somebody else wear, and wonder why it doesn't look as good on you? Don't beat yourself up about it – it's likely you're not dressing for your body type. Different people come with different body shapes, but we're all beautiful in our own unique ways. Once you figure out what you're working with, it'll be easy to find clothes that fit you like a dream and perfectly flatter your curves and edges. That's why we've put together this handy guide to help you dress right!
How to dress for your body shape
1. Hourglass
If you've got an hourglass figure, you're in luck! You'll pretty much be able to pull off any outfit. Women with hourglass figures will find that their hips and bust are the same width (more or less), with a narrow or defined waist. Some famous women who have hourglass body shapes include the likes of Marilyn Monroe and Brigitte Bardot.
What works: Figure-hugging clothes that emphasise your curves. This includes structured tops that highlight your waist, belted or cropped jackets, high-waisted jeans, and belted pants.
What doesn't work: Avoid shapeless clothes or baggy and boxy fits that hide your figure. We'd also recommend staying away from low-waisted skirts or pants as they can make you look top-heavy.
2. Pear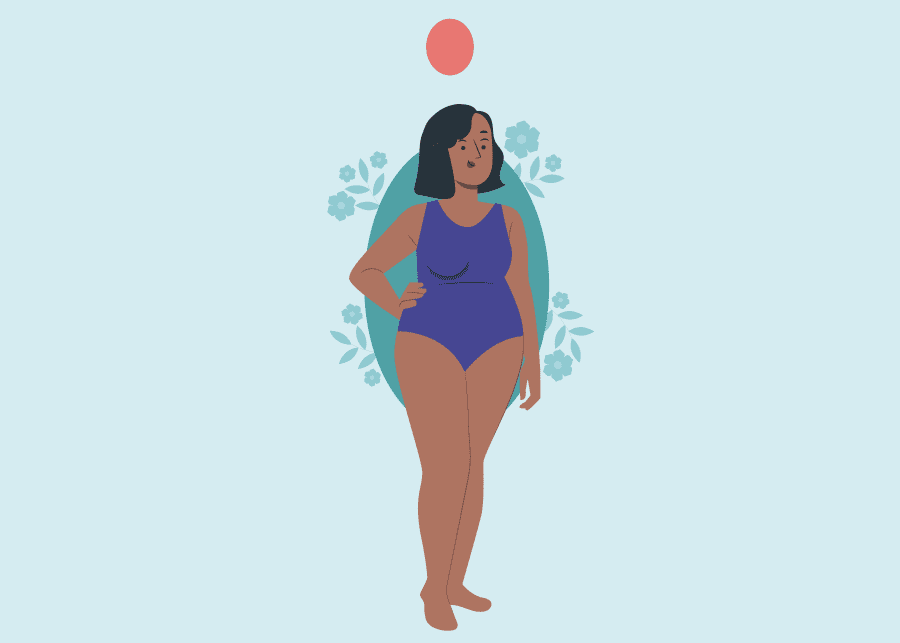 Find that you're heavier on the bottom than you are on top? You're likely a pear. This differs from the triangle body shape as pear shapes have a bigger bust. Some other defining characteristics include your shoulders and bust being narrower than your hips and thighs. Think celebs like Rihanna and Kim Kardashian.
What works: Clothes that accentuate your bust while defining your waist. Peplum and cowl-neck tops will look amazing paired with high-waisted straight or bootcut jeans and pants. Look for A-line dresses with a little flounce, and wrap jackets or coats.
What doesn't work: Avoid wearing pastel-coloured bottoms and skinny jeans or tight-fitting pants that highlight your hips and thighs.
3. Triangle
Similar to the pear, those who have a triangle body shape are heavier set on the bottom. This means narrower shoulders and a wider hip. The difference between this and a pear shape? If you're a triangle, you'll notice you have a smaller bust than a pear. Think along the lines of Reese Witherspoon and Kate Hudson.
What works: Similar to the pear, you'll want to balance your top half by accentuating your bust. As you have a smaller chest, you're better able to pull off embellished or ruffled tops. Go for flared jeans or pants, and tops or dresses that define your waist and billow outwards towards the end (like an A-line skirt, for example).
What doesn't work: Avoid cigarette pants or skinny-fit bottoms that draw attention to your hips and thighs.
4. Rectangle
If your body shape is on the athletic side, and your shoulders, hips and bust have more or less the same width, you're probably a rectangle. You'll find that your waist doesn't have as much definition – it's more on the straight side. Celebs like Anne Hathaway and Natalie Portman have this body type as well.
What works: Choose v-neck or scoop neck tops that draw attention to your collarbones. We'd also recommend peplum tops to highlight your waist. For bottoms, think high-waisted wide-leg or straight-leg jeans that help to create a more proportional look. But, if you're wearing a roomier top, balance it out with slimmer-fitting bottoms. Pick belted jackets or dresses that fit at the waist and flare at the bottom to give your body some shape.
What doesn't work: It's important to focus on your waist, so avoid low-rise bottoms. Refrain from wearing square neck tops and fitted sleeves that emphasise the squareness of your body.
5. Inverted triangle
Are your shoulders the broadest part of your body? You probably have the inverted triangle body shape. You'll find that your waist and hips are narrower, and you have a larger bust. Just like Angelina Jolie and Demi Moore.
What works: Reach for scoop neck and v-neck tops that emphasise your neckline, or go for peplum tops that give you the illusion of having an hourglass figure. Cropped jackets and high-waisted wide-leg jeans help balance your body by accentuating your waist and bringing out your curves. Structured A-line, sheath and midi dresses or skirts also help to give you some shape.
What doesn't work: Stay away from boat neck and halter tops that draw attention to your broad shoulders. You'll want to balance your bottom half by adding more width, so avoid skinny-fitting jeans or pants.
6. Apple
Also known as the round shape, the apple body type sports narrow shoulders and hips with a large bust, undefined waistline, and slim arms and legs – think along the lines of Drew Barrymore and Kate Winslet.
What works: Create a more defined waistline with wrap tops and airy sleeves. Skinny jeans do a great job of highlighting your legs. We'd recommend investing in a good pair of bootcut pants that are relaxed yet flatter your curves. Draw attention to your shoulders while accentuating your waist with empire-waist dresses or off-shoulder tops.
What doesn't work: Avoid fitted sleeves, cropped tops and clothes with horizontal lines that will make you look wider in the middle. We'd suggest going for mid-rise bottoms (instead of high-waisted pants) that don't draw attention to your torso.
Now that you know what clothes flatter your body shape, it's time to shop smart!