Badass, cheeky and funny AF, Blue Q has landed on our shores and we've got Two Burds to thank
Haters gonna hate. If you ask us, there's way too much of that flooding the internet. It's no wonder we're gravitating towards humour more than ever before. Silly, dark, parodic, satirical, ironic – we'll take what's served. Especially if it comes in cute colours and generously spiked with retro nostalgia.
So when this slid into our inbox, you know it gave us life. In today's edition of 'things that spark joy' is Blue Q – a 30-year-old American label with a cult following. Bringing Blue Q's unique brand of quirk to the island is Jeri Chua of Two Burds (you might know her from Red Dot Running Company – a store in Joo Chiat specifically for runners).
Why do we like it? Think of Blue Q's merch as memes IRL. Cheeky x bold, design-savvy, clever and in their own words 'life improving'. One look at the e-store and you'll know what we're talking about – right now, Two Burds is serving up Blue Q's bags, kitchenware and socks featuring retro illustrations and words of wisdom. Oh, and they are affordable too and make perfect gifts for friends (or you) and family (or you).
Attention, laughs and annoying questions about where to find them are perhaps the most commonly known side-effects of owning a Blue Q. Consider yourself warned.
Razor sharp oven mitts
Pink, pretty and punchy: These home chef essentials are on fyahhh! Screen printed and extra quilted, these all-cotton oven mitts say what you really feel.
Tea towels that ought to be T-shirts
Can't handle. Where can we submit a petition to turn these tea towels into tops, dresses and signboards?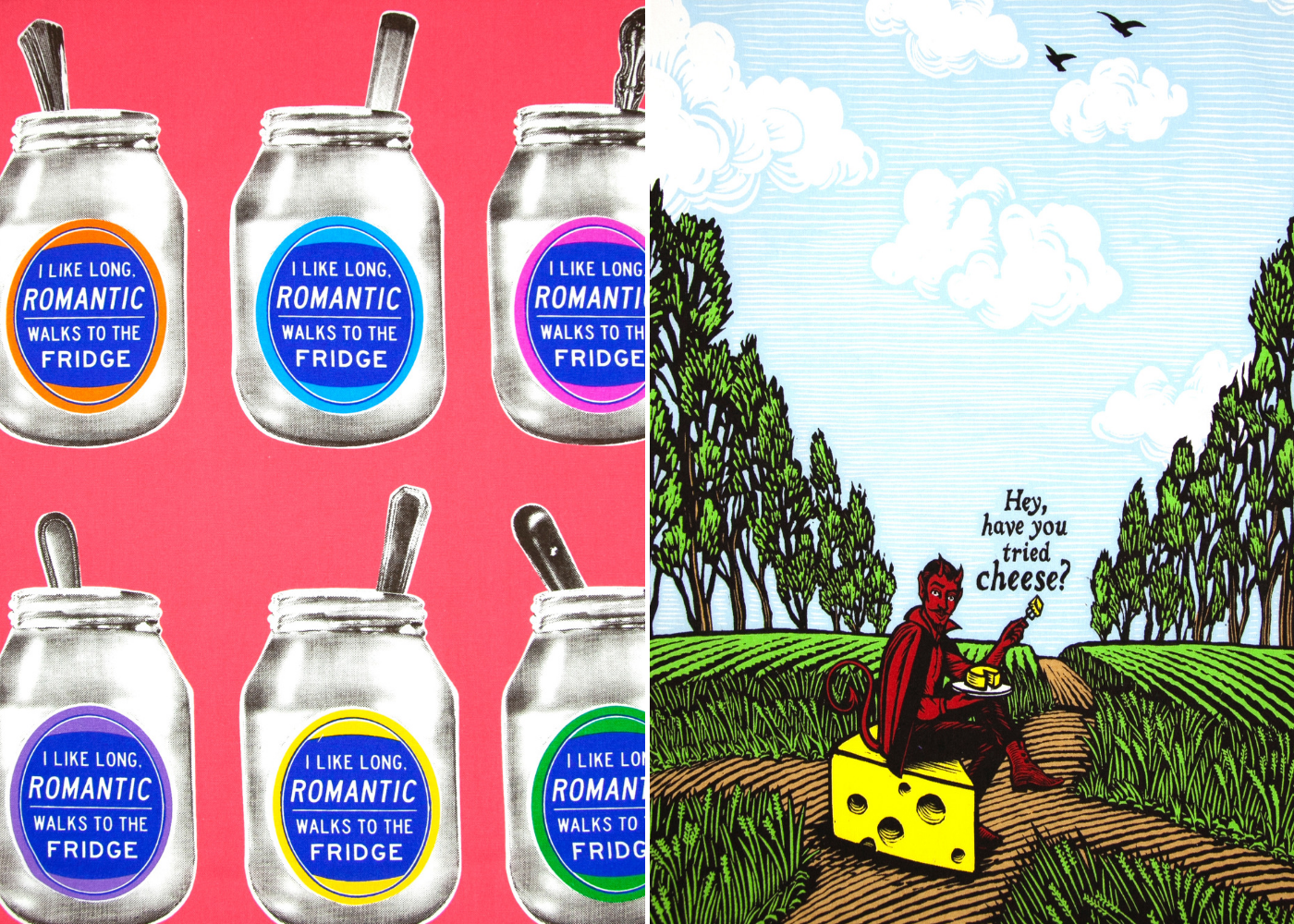 You know all those things you don't want to say 'cos you think you're a nice person. Let these tea towel do the talking. No one will know it's you.
Also, these tea towels are all made of super absorbent cotton and are either screen printed or woven jacquard.
Socks when you can't afford therapy
Sh*t hit the ceiling kinda vibes bringing you down? These socks double up as affirmations forever calming you down with words of wisdom.
These magical socks also tend to give you the courage to stand up for your true purpose. Embrace the crazy.
Bags that speaketh the truth
Also on the menu are totes, zipper pouches and shopping bags made of 95% post-consumer recycled material. The highlight of these carry-ons is their inability to lie. Honesty saves lives y'all.
TBH, if we search our handbags hard enough we'll probably hit oil or find ancient relics. Till then, it's just the right size to hold all the crap that we need and will never really use.
Blue Q at Two Burds, now available in Singapore, online
Psst: We hear Two Burds might just have more tricks up their sleeves and plan on curating more fun products from around the world. We're watching you!