Photography: Maddi Bazzocco via Unsplash
Wanna know what the month has in store? Here's our definitive list of things to do in Singapore this July!
We've passed the mid-year mark! How insane is that? 2022 is flying by, but we're determined to ensure you spend every moment well. If you're thinking of filling your time with memorable programmes (aside from dining in the coolest new restaurants and cafes), we've got your back. Check out all the exhilarating things to do in Singapore this July.
Best things to do in Singapore this July
1. Entertainment: Esplanade – Theatres on the Bay's Mosaic music series
8, 15 – 16 July
We're super excited for the return of Mosaic after a two-year hiatus. If you've missed live music, this event is perfect for you. Head down to the bay and #SupportLocal, because the series is kicking off with Singaporean artists and bands like Forests, Coming Up Roses, and brb. Aside from stellar local acts, Mosaic will also be welcoming international artists later this year. This includes indie-pop icon boy pablo and Bangkok-based singer-songwriter Phum Viphurit. Keep your eyes peeled for updates!
Esplanade – Theatres on the Bay's Mosaic music series, 1 Esplanade Drive, Singapore 038981
2. Eat and Drink: The Melbourne Brunch Festival
All month
The cafes in Singapore might be the gold standard for us, but they're nothing like what you can find on the streets of Melbourne. If you're holding off a trip to the land down under, we're pleased to share that you can still experience it at 11 top restos and cafes in Singapore. During the Melbourne Brunch Festival all throughout July (organised by Global Victoria and Agriculture Victoria) these dining concepts (that include the likes of The Kongsee, Tess Bar & Kitchen, Tolido's Espresso Nook, Punch and Terra Madre) will dole out luxurious brunch menus. Fragrant coffee, brioche french toast, and summery cocktails, here we come.
The Melbourne Brunch Festival, multiple locations
3. Nightlife: Parties at Marquee
All month
Hey, party people! Are you ready to return to the dance floor of this iconic nightclub? Marquee is officially re-opening its doors on 1 July. We can't wait to step foot into the grand space, snap pics with friends on the Big-Q, and party till dawn with the hottest DJ names in town. Tickets are available at the door starting 10pm – what are you waiting for?
Parties at Marquee, B1-67, The Shoppes at Marina Bay Sands, 2 Bayfront Avenue, Singapore 018956
4. Eat and Drink: Conversations fine dining pop-up
15 – 16, 22 – 24 July, 29 July
Good food and heart-to-heart talks are the backbones of a memorable meal. This July, you can experience both at a unique dining pop-up by chef Derrick Kwa. He's trained at several Michelin-starred restaurants, and one listed on the World's 50 Best. Head down to Crane at Kim Yan for this limited time seven-course tasting menu that seeks to deepen connections. Before the night begins, you'll get to choose from seven out of 12 personal values that resonate with you. These values then manifest into the dishes you sample over dinner. As you savour each one, you're encouraged to have conversations with your date about your chosen values and what they mean to you. Sounds pretty enticing to us!
Conversations fine dining pop-up, #01-06, [email protected] Herencia, 46 Kim Yam Road, Singapore 23935
5. Experience and Shop: Heveya sleeping pod pop-up
11 – 17 July
We know good mattresses don't come cheap, and it can be such a disappointment to buy one only to realise it isn't as comfortable as you thought it would be. If you've ever wanted to give a mattress a proper test-run before purchase, you'll be pleased to know you can do so at Heveya's sleeping pod pop-up in July.
Each 30-minute napping session within the pods will allow you to experience two of Heveya's most-loved king-size natural organic latex mattresses with dual-firmness. Catch some Zs on the Heveya II atop a motorised ergonomic bed frame; or rest your eyes on the Heveya III above a solid teak bed frame. The experience even comes with luscious bedding, soothing music, and relaxing essential oils for the ultimate sleepytime indulgence.
Book your slots in the pods today – the first 30 bookings will receive a free goodie bag. While you're there, you can participate in a lucky draw for a chance to win a single size Heveya II mattress!
Heveya sleeping pod pop-up, Atrium level, Great World, 1 Kim Seng Promenade, Singapore 237994
6. Eat: Tiong Bahru Bakery Drunken Baker takeover
8 – 31 July
As part of its 10th anniversary celebrations, Tiong Bahru Bakery is holding a sundown takeover at its gorgeous Foot Hills outlet. The bakery will pay homage to its beloved croissant and sourdough every Friday and Saturday of the month, with natural wine pairings by the experts at Drunken Farmer. Drop by to savour scrumptious artisanal sourdough pizzas, indulgent hotdogs and wild croissant waffles.
Tiong Bahru Bakery Drunken Baker takeover, #01-05, The Foot Hills, Fort Canning Park, 70 River Valley Road, Singapore 179037

7. Watch: Reciprocal by the Asian Film Archive
All month
Need something new to watch? The Asian Film Archive has launched the inaugural edition of Reciprocal – a collaborative film programme that spotlights archival collections of AFA and a partnering film archive. You can expect a curated lineup from the AFA and Thai Film Archive that explores the intellectual processes that govern archival selection decisions. In this installation, expect a selection of women-oriented stories and works screened at the Oldham Theatre, that interrogate the female representation in film.
Reciprocal by the Asian Film Archive, Oldham Theatre, 1 Canning Rise, Singapore 179868
8. Exhibition: Stargazing and digital planetarium live show at Science Centre Singapore
All month
Why not experience an astronomical July? Every Friday night, you'll have the opportunity to tour the night sky and marvel at starry constellations in the Science Centre's ongoing live show. Plus, if you're hanging around on the third and fourth Friday of the month, don't forget to sign up for the Astronaut Experience at the observatory to make your own Galileo telescope, or even embark on an Apollo mission.
Stargazing and digital planetarium live show at Science Centre Singapore, 15 Science Centre Road, Singapore 609081
9. Shop: Green-house by Pass It On: Singapore's first immersive retail experience
23 – 24 July
Are you an eco-conscious shopper? You simply can't miss this immersive retail experience. You'll have the opportunity to discover local sustainable businesses that prioritise sustainability and positive social impact. If you like hands-on activities, look out for workshops that'll impart useful knowledge like upcycling, composting and tips to living a low carbon footprint lifestyle. Sustainable local brands will also debut a number of firsts like customisable soaps at Clean Folks Club, book-binding workshops by Offcut by Allegro Print, and a first physical pop-up by The Breakfast Club.
Green-house by Pass It On: Singapore's first immersive retail experience, 11 Lorong 24A Geylang, Singapore 398545
10. Eat and Drink: Bastille Day semi-buffet brunch at Sofitel Singapore City Centre
17 July
We love the touch of French decadence at Sofitel Singapore City Centre. Trust us when we say this hotel is always top of mind when we're looking for a luxe staycation in Singapore. If you've never paid it a visit, here's a great reason to go. This July, it's celebrating Bastille Day (aka the National Day of France) with a spectacular semi-buffet brunch. Reserve a seat at Racines on 17 July and partake in French favourites like crepes, waffles, baked escargots, beef tartare, sauteed mussels, and coq au vin. Delish!
Bastille Day semi-buffet brunch at Sofitel Singapore City Centre, Racines, 9 Wallich Street, Singapore 078885
11. Entertainment: Hendrick's Sunset Cinema
Until 10 July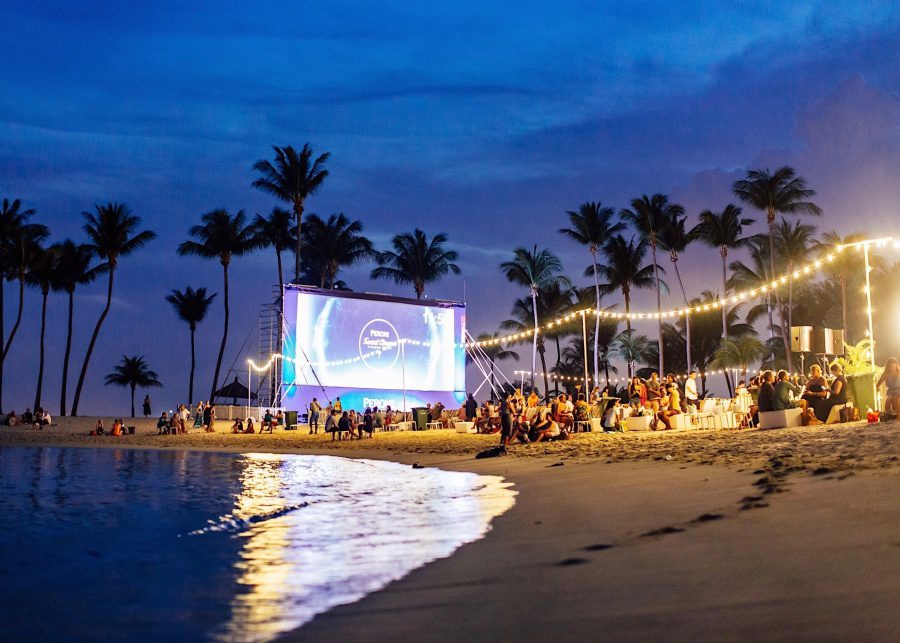 If you've never been to Asia's most beautiful outdoor cinema, now's the time! Hendrick's Sunset Cinema has made its return to the sandy shores of Tanjong Beach. Gather your best pals and chill out with gin cocktails, mouthwatering grub, and award-winning films under the stars. Upcoming movies for July include Spencer, A Quiet Place, Dog and Respect – book your seats before the sun sets yet again on this annual event.
Hendrick's Sunset Cinema, Tanjong Beach Club, 120 Tanjong Beach Walk, Singapore 098942
12. Arts & Entertainment: Kwa Geok Choo
Until 31 July
Most Singaporeans know her as Lee Kuan Yew's wife and Lee Hsien Loong's mother, but what do we actually know about Kwa Geok Choo? Directed by Toy Factory Productions' chief artistic director Goh Boon Teck, this performance celebrates Kwa Geok Choo as an inspiring pioneer and phenomenal woman.
Get ready to be immersed in Singapore's rich history as seen from the lens of this remarkable woman. Learn how her actions and influence were responsible for directing waves, currents and tides that shaped lives and paved the way for modern Singapore. With a combination of projections and creative lighting, this moving theatrical piece has the right mixture of jokes, thought-provoking questions and moments that will leave you in tears.
Pro tip: due to popular demand, more dates have been released for Kwa Geok Choo till 31 July (tickets from $58). Be sure to book your tickets early so you don't miss out on this local play!
Kwa Geok Choo, until 31 July, Victoria Theatre, 11 Empress Place, Singapore 179555
13. Book ahead: The Sound of Music musical
All month
Did you know The Sound of Music is set to be the first international musical to take the stage in Singapore since the pandemic? It's making its triumphant return right at the grand Sands Theatre. If that's not cool enough, it'll be directed by three-time Tony Award-winner and Broadway veteran Jack O'Brien. It'll even feature 18 girls and boys from Singapore itself to play the roles of the von Trapp children. The show begins in November, but ticket sales have already started, so snag those good seats right now.
The Sound of Music musical, B1, Sands Theatre, The Shoppes at Marina Bay Sands, 4 Bayfront Avenue, Singapore 018973
It's looking like a fun July with all these fab things to do in Singapore!