Think there's nothing in Tai Seng? Think again!
There's more to Tai Seng than a dusty industrial estate! Here are our top picks for food and things to do in this enclave.
What comes to mind when we mention Tai Seng? If you're thinking of the Breadtalk headquarters, you're not wrong. *Glaring intensifies* Sure, this neighbourhood in the East is not as exciting as Paya Lebar, Tampines, or Joo Chiat, but it does have its charm. Did we manage to convince you? Otherwise, we'll let our guide do the persuading. Presenting… the best food places and things to do in Tai Seng!
Tai Seng guide: Eat at the best food spots
1. Alchemist
If your life mantra is "coffee all day long", make this joint your absolute go-to. Taking up space on the first floor of the Khong Guan Building, the flagship store boasts gorgeous decor that pairs dark blue and white shades alongside contemporary elements and thriving plants. Sip on a fresh brew made with beans from countries like Brazil, Colombia, and Nicaragua. Pair your coffee with an almond croissant or forest berries Danish, and your day is settled.
Alchemist, #01-01, Khong Guan Building, 2 Mactaggart Road, Singapore 368078
2. Folke Cafe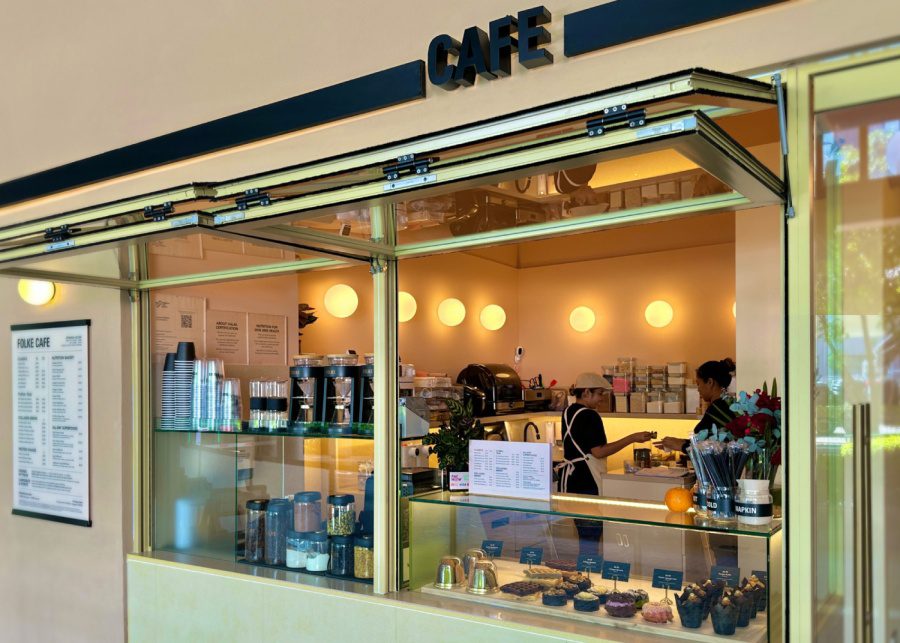 You know the latest TikTok filter that shows your appearance when you're older? Apparently, dermatologists claim it's an accurate depiction, leaving everyone shooketh. If you want to age gracefully, now's a good time to care for your skin's health. Enter Folke Cafe with its healthy, nutritious food offerings, including floral teas for skin rejuvenation and coffee with collagen. Pop over to the nearby skin clinic for facial treatments and skincare products.
Folke Cafe, #01-04, Tai Seng Centre, 3 Irving Road, Singapore 369522
3. A Brief Respite
We'll refrain from stating the obvious… But really, if you're looking for a sweet escape from the mundanity, this artisanal bakery hits the spot. We love that these folks put a lot of heart and soul into everything they do, which truly shows. One thing we highly recommend getting is the three-layer strawberry rose watermelon cake. You can also customise it to your favourite number and even add a gift card if the cake is for a special occasion. Those who are bad at making decisions should grab the spring box, which comes with two signature tarts and two new creations.
A Brief Respite, #02-21, The Commerze@Irving, 1 Irving Place, Singapore 369546
4. The Good Boys
For those who treat their body like a temple, here's another healthy food spot in Tai Seng. The menu runs the gamut, from milkshakes and yoghurt smoothies to oatmeal and chia puddings. Everything is made using the freshest ingredients and served in heart-shaped bowls, which we totally adore! Active folks should definitely get the protein shakes for their post-workout nourishment. As John Mayer said: Your body is a wonderland, and this cafe ensures you maintain it well.
The Good Boys, #01-26, The Commerze@Irving, 1 Irving Place, Singapore 369546
5. The Boiler
The name may sound intimidating, but we assure you, The Boiler is anything but. This food joint in Tai Seng got its name from the seafood boil, where fresh produce is served with bold sauces infused with Asian and Western spices. Have some wet tissues handy, because eating here will be messy! Great music, booze, and the finest seafood make this place a top destination for foodies in the East. P.S. there are monthly limited time offers by the chefs, so be sure to check before you head down.
The Boiler, #01-06, Novelty Bizcentre, 18 Howard Road, Singapore 369585
6. The Boneless Kitchen
A Korean restaurant serving meatless options? That's right, read that line again. Everything on the menu is vegetarian-friendly; the team will go the extra mile by modifying its offerings to accommodate vegans! Diners can enjoy familiar dishes such as kimchi stew, black soy bean paste noodles, spicy pan fried tofu, and rice rolls to their hearts' content without worrying about their dietary restrictions. Who knew meat-free Korean food could taste so good?
The Boneless Kitchen, #01-31, The Commerze@Irving, 1 Irving Place, Singapore 369546
7. Laurent Bernard Chocolatier
One thing the French are really great at is chocolates. So, imagine our pleasant surprise when we came across this sweet shop in Tai Seng! Since 2006, Laurent Bernard has left an indelible mark on our sunny shores with its award-winning crafted chocolates. Each decadent piece is painstakingly made to perfection with the finest ingredients from all over the world. We're told the hazelnut praline is its bestseller, so make a beeline for this goodie when you're here.
Laurent Bernard Chocolatier, #06-00, 5 Burn Road, Singapore 369972
---
Tai Seng guide: Things to do in this 'hood
8. Make your home green (not with envy)
There's no such thing as too many plants in the house. We're sure many plant parents can agree with us on this. Well, you're in luck: we found two botanical stores selling myriad plants and planters for you to swoon over and lug back home. Plunt.co is an aesthetically pleasing nursery stocking a wide selection of potted planters. You can request your new purchase to be repotted there and then if you don't want to do it yourself. See if you can spot the resident dachshund when you pop by!
Technically, Green Chapter is not just a plant store, but we're still including it in our list. This predominantly aquarium shop also sells plants you can have around your humble abode, such as succulents and terrariums.
Plunt.co, #01-03, 16 Shaw Road, Singapore 367954; Green Chapter, #01-00, 565 Macpherson Road, Singapore 368234
9. It's the climb (to the top)
Make like Spider-Man and take up bouldering! It's rock climbing without the ropes and harnesses, but don't worry: the walls are low enough and there are safety mats to cushion your falls. Interested? Boulder Movement is open to everyone, regardless of experience. It'll be easy-peasy once you get the hang of it. Routes are reset twice weekly, so climbers can look forward to a fresh course the next time they drop by.
Boulder Movement, #01-09, 18 Tai Seng Street, Singapore 539775
10. Step back in time at this vintage store
Are you an old soul or into classic collectibles? Perhaps you identify with both. Well, Red Point Record Warehouse is where you should head to. This music store has the most extensive collection of records, vinyl, and compact discs from the 1960s all the way to the 1990s. There's even a testing station on-site, so you can preview the records you're interested in before purchasing. We bet you'll end up spending a good chunk of time at this cosy shop.
Red Point Record Warehouse, #06-11, Kapo Factory Building, Blk B 80 Playfair Road, Singapore 367998
And there you have it, the best food and things to do in Tai Seng. Have fun exploring!