Photography: Marta Dzedyshko via Pexels
It seems like everyone in Singapore has attempted to bake sourdough bread. 'Cos I'm a whisk-taker, I finally signed up for a class…
Unlike most people, I learned to bake before I got into cooking. I baked my very first cake when I was 14, and it was no banana bread or classic chocolate cake. I went all out to bake my mum an overly sweet black forest cake for her birthday. My mum always encouraged me throughout my kitchen journey… until I got older and started to receive more harsh feedback. That's every mother's love, right? Since then, I've gone through numerous baking recipes. One of my latest obsessions? Making bread.
Bakers make the world smell better
Bless all the home bakers who've gone through countless trials and errors to bake the perfect sourdough baby. As a home baker myself, I much prefer taking the easier route and learning from a professional. Did I mention my family officially hates brownies now? I went through almost 20 batches before getting the perfect recipe!
Recently, I came across Tiong Bahru Bakery's sourdough baking workshop in Singapore and just knew I had to sign up. However, every class was sold out, so it nested under my "things to do" list. A few months and a failed holiday later (thanks to the pandemic), I decided to dedicate a block of annual leave to this class – because why not?
Sourdough for dummies
Before I rave about the workshop experience, let me try my best to explain this tedious process of bread making. Unlike other types of bread, sourdough doesn't require commercial yeast to rise. Instead, we have to create our own "starter". It's a mix of flour and water left to ferment in a glass jar for at least seven days. This is essentially what gives your bread that sour taste. And no, you can't buy this off the shelf from Redman.
Once you've successfully created yours, start on the bulk fermentation process known as autolyse. This is when you mix flour, water, salt and the starter, and let it rest for at least 30 minutes. Next, go through the first and second folding of the dough, letting it rest for up to an hour per fold.
Are you still with me? Now, we shape the dough and let it rest for at least 30 minutes before leaving it in the fridge for a minimum of 12 hours. That's for the dough to develop that tangy flavour. Lastly, bake it for around 30 minutes and let it cool for at least an hour before slicing through. I almost cried when I finished my loaf in less than two days. In case you stopped counting, it takes almost 48 hours of preparation (excluding the time needed to make your starter) just to bake a loaf!
Yeast mode on: My sourdough baking experience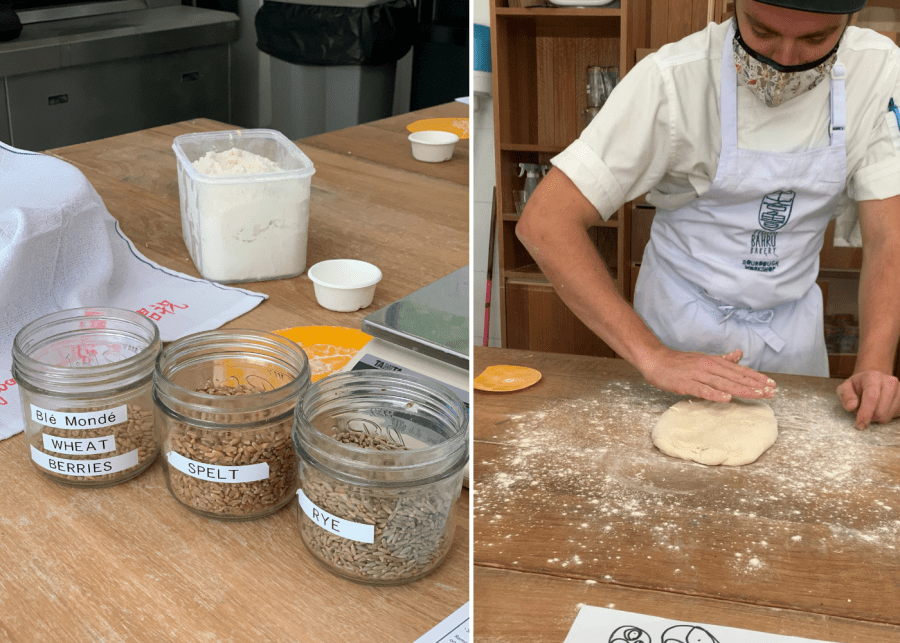 On a sunny Thursday at Tiong Bahru Bakery Foothills, I started my sourdough workshop. I was greeted by chef Paul and had the biggest surprise – a private workshop! By a stroke of luck, everyone else had rescheduled. I was so thankful chef Paul continued with just me in the class.
He kickstarted the workshop by introducing his prized possession: a 160-year-old starter that he brought all the way from Brazil where he used to work. Now, if you remember, it takes at least seven days to create a starter. This one was ancient!
We went through the basics: how the temperature and humidity affect sourdough, and how to tweak the recipe to suit the humid weather in Singapore. Every fibre of my being loves food science, so I enjoyed geeking out to the food facts. He talked about the anatomy of a grain, and how the endosperm, germ and bran play a part in the sourdough.
The workshop also includes a quick refreshment break, plus a pastry and drink of my choice from the menu. I had a glass of grapefruit tea, a canele, and some time to organise my notes. Tip: bring extra paper to take notes if you're a meticulous note-taker like myself.
One of the highlights from the sourdough class was when chef Paul switched on this beautiful wooden grain mill that I honestly thought was just a decor piece on the counter. Look, freshly milled flour! Throughout the workshop, he handed me multiple sheets of hand-drawn cartoon instructions. I really appreciated the effort and his never-ending patience. After about a gazillion steps and questions for chef Paul, plus two sheets of handwritten notes and a kitchen tour by one of the local chefs, we finally got to enjoy our freshly baked sourdough.
No more loaf-ing around: The sourdough journey continues
My class ended with some great gifts: a sourdough starter kit and two freshly baked loaves. The kit contained the ancient starter, an apron, banneton, razor, a dough scraper and basic ingredients. I only wished I could purchase a Dutch oven and freshly milled flour, too.
Chef Paul also shared with me his exciting plans for Tiong Bahru Bakery's upcoming workshops, including classes to make cheese and croissants. Fingers crossed they consider class subscriptions for enthusiastic individuals like myself! I'd highly recommend this experience for anyone who's just as lost as I was, drowning in the plethora of "sourdough for beginners" YouTube videos and articles.
Confession: I'm embarrassed to say that even with all this excitement, I haven't baked a sourdough loaf at home yet (I still don't have a Dutch oven). I have, however, saved a ton of recipes on what I can do with my sourdough loaf. I'm thinking of a classic grilled three-cheese toast with homemade tomato soup, French toast, or just a simple slice with ricotta and a drizzle of honey. And since we don't waste anything in the kitchen, I've learnt that we can also use sourdough discards from the starter to make pizza, waffles, donuts and so much more. I promise I'll get to it very soon…
Oh, and if you haven't heard, everyone new to this journey gives their sourdough starter a name. For me, it was a toss-up between the classic Bread Pitt and Sour Joe. But I decided to go with the latter because my loaf is gender-neutral. Happy baking!