We upgrade electronics as quickly as we throw them away.
From cameras to laptops, you're spoilt for choice when it comes to shopping for electronics in Singapore. Here's where to get your gadgets!
Hunting for a new DLSR camera or investing in wireless headphones for your workouts? Singapore's got your back. Aside from being a food haven and fashion central, we've got a decent selection of consumer electronics and gadgets as well. Why do you think Sim Lim Square is crowded all the damn time?
Sim Lim Square
For computers, accessories, cameras and repairs

If you're on the hunt for the latest laptops and related devices like hard-disks, motherboards, power supplies and graphics cards, you've come to the right place. The shops there generally open daily from 12pm to 7pm, and most are open to bargains. Insider tip: head up to the upper floors for more reliable retailers, and look out for shops with the CASE Trust logo to avoid potential scams. If you have faulty devices, get them fixed at one of the repair stores here. Pssst, it'll take you half the time (and price)!
Sim Lim Square, 1 Rochor Canal Road, Singapore 188504
Cathay Photo
For cameras and accessories
Whether you're a professional cameraman or simply a photography aficionado, Cathay Photo is one spot you should be familiar with. Founded in 1959, you cab rely on Cathay Photo to stock the best photographic equipment and services at reasonable prices. Here, you can find digital SLRs, compact cameras, video cameras, lenses, filters, camera straps, camera pouches, and other useful photography tools. What's more? They'll also sort out your gear and deal with warranty issues.
Cathay Photo, two locations at Peninsula Plaza & Marina Square.
Stereo
For music earphones and headphones

It's so important to own a pair of trusty and good headphones in Singapore to get you through the boring daily commute, slipping into do-not-disturb mode at your work desk, or when we're simply yearning to hear your guilty pleasure tune discreetly. Stereo will fix you up with a pair of headphones whether you're an raging basshead, or looking for the best noise cancellation or most portable model. You'll find everything catered to your needs at Stereo, that stocks a wide assortment of headphones and earphones by renowned names like Audio Technica, Beats, Urbanears and Marshall.
Stereo, two locations at Vivocity and Plaza Singapura.
The Adelphi
For audio equipment
Known as an audiophile's haven, The Adelphi houses several audio stores that provide the best equipment for your home and more. First, make your way to Jaben (#01-09) to get your hands on high-quality earphones or speakers from well-known brands like Klipsch and Bose. Looking for a full home theatre system for the surround sound experience in your home? Anson Studio (#01-22) will fix you up. Lastly, take a trip down memory lane at… well, Memory Lane (#B1-11)! This vintage collector's wonderland houses an impressive trove of second-hand vinyl of various old-school genres, including '70s pop and '60s jazz.
The Adelphi, 1 Coleman St, Singapore 179803
Challenger Singapore
For computer accessories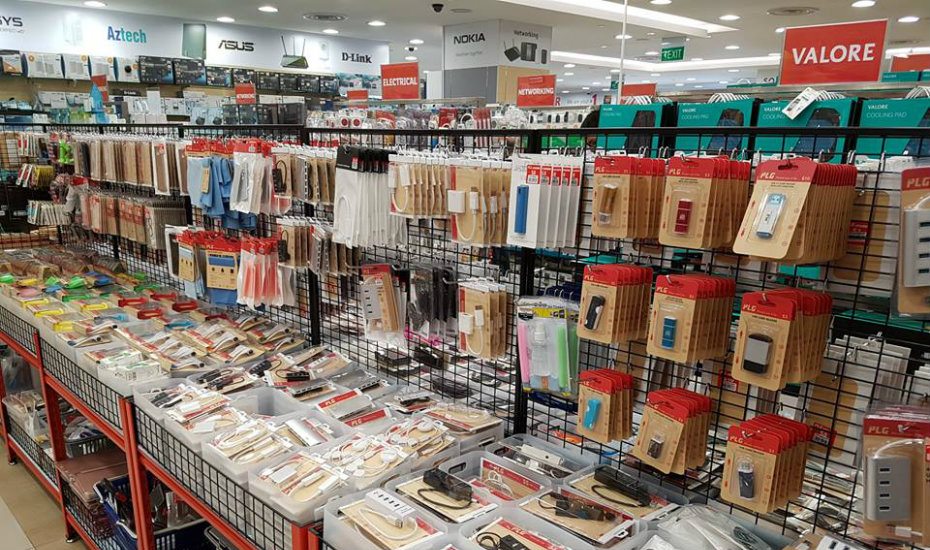 Printers, scanners, speakers, keyboards, mouses and even software – this household name has just about everything you need to give your computer devices a serious upgrade. They also provide expert assistance for IT emergencies at the PC Clinic. If you're on a tight budget, Challenger's in-house brand has the biggest variety of accessories, from phone cables to phone covers.
Challenger Singapore, various outlets islandwide.
Harvey Norman Singapore
For small home electronics and appliances
Tricking out a new dig? Harvey Norman is one of the few names that come to mind. Whether you're looking for a standing fan, travel-friendly hair dryer or small rice cooker, Harvey Norman is certainly decked with all sorts of small home electronics and appliances from various renowned brands such as Sony, Bosch, Philips and Dyson – perfect for a tech-savvy, practical home.
Harvey Norman Singapore, various outlets islandwide.
Courts Megastore
For big-ticket home electronics and appliances
Buying big-ticket electronics items can feel a little intimidating. But Court makes shopping for expensive gadgets and appliances a breeze with flexible monthly instalment plans (for up to 72 months), even without a credit card. There are amazing deals on a weekly basis: selected products have prices slashed or bundled together for great value. Still undecided about purchasing a particular item? Try renting it instead – and you can do so for more than six months! Done with electronics? You can also buy furniture here!
Courts Megastore, various outlets islandwide.
Mustafa Centre
For a midnight electronics hunt

Really, there's no place quite like it: a 24-hour shopping behemoth with just about anything housed under one roof, Mustafa Centre is a paradise for bargain-hunters and hardened shopaholics alike. In the electronics department, it stocks big names like Casio, Canon, Swatch, HP, amongst others. There's an entire floor of appliances if you're shopping for the home… a 55" TV anyone?
Mustafa Centre, 145 Syed Alwi Road, Singapore 207704
IT Show, PC Show, COMEX and SITEX
For great electronics bargains, deals and freebies
These mega IT fairs happen every quarter of the year, and offer penny-saving bargains on cameras, computers, laptops and many other gadgets. They are typically held at the Singapore Expo or Suntec Singapore Convention & Exhibition Centre over three to four days, with brands and shops known to draw buyers through practical freebies. Keep a lookout for when the next one is coming to town!