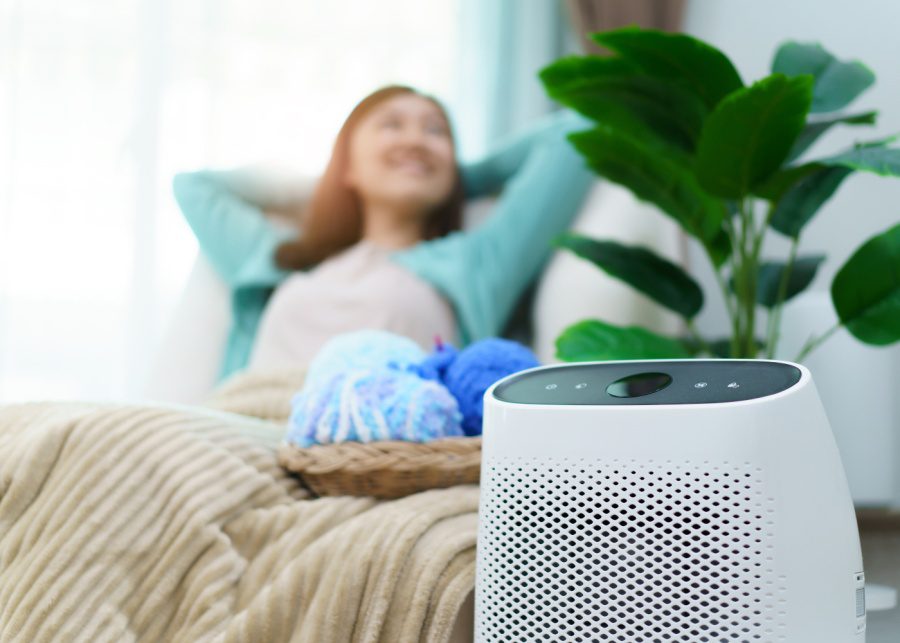 Breathe in clean indoor air with an air purifier in your home.
We give you the lowdown on the benefits of air purifiers and where to find the top brands in Singapore.
So you've sanitised your stuff, scrubbed your home spotless and added plants to your lush indoor garden. What's next on the clean agenda? Air purifiers. If you're worried about the pollution levels of indoor air, say goodbye to stale air or respiratory problems with quality air purifiers in Singapore. These devices don't just get rid of unpleasant smells and harmful toxins – they also lower the risk of airborne viruses and help to improve sleep by filtering out dust, smoke, gases, bacteria, allergens and more. Now, who's ready for clean air?
Best air purifiers in Singapore
1. Osim uAlpine Smart 2 Air Purifier
You may not realise it, but invisible and harmful air pollutants in your home can negatively affect your health and even lead to respiratory diseases. This homegrown brand's air purifier is designed to capture and destroy all the nasties so that you and your family can enjoy clean, fresh air indoors. It filters 99.98% of particles, including allergens and even odours from pets and cooking. The Well-Being app lets you schedule the air purifier to turn on at any time. It also adjusts the fan speed and duration, and notifies you when it's time to replace the filter.
Osim, shop online
2. Electrolux Flow A3 Air Purifier
One of our go-to brands in Singapore for home appliances, Electrolux's products are stellar and its range of air purifiers are no exception. Live better with this innovative device that's intuitive and easy to use – anyone in your family can switch up the settings!
We love a smart machine and this doesn't disappoint. It automatically adjusts fan speeds to any environmental changes, making it a totally hassle-free experience. Just sit back and let the filters remove 99.99% of fine dust, odours and harmful particles in the air. No more polluted air or pet dander messing up your home, since it filters PM 2.5 micro particles. Best of all, it's so quiet (especially when in sleep mode), you'll never be disturbed even in small rooms.
Electrolux, shop online
3. Philips 2000i Series Air Purifier
Pure air in less than eight minutes? Gotta love the efficiency of this product! With just one push of a button, the nifty device removes 99.9% of viruses, allergens and pollutants in your room. It's ideal for spaces up to 98 square metres, with a HEPA filter that captures 99.97% of super fine particles. Other features include smart sensors, low energy consumption, auto ambient lighting, three speed levels, a smart filter indicator and sleep mode for silent treatment.
Philips, shop online
4. Xiaomi Mi Air Purifier 4 Series
Say goodbye to dust, odours and harmful gases with Xiaomi's filter that houses three layers – mesh, HEPA and charcoal – to purify the air. Its size works great if you're looking to save space, and you can take advantage of the smart controls to clean the air before you even reach home.
Xiaomi, shop online
5. TruSens Air Purifier Z-1000
A compact air purifier for small spaces, this sleek and portable gadget will fit beautifully into any home (or office). The tech uses two airflow streams for even air distribution, with a 360-degree HEPA filter to get rid of pollutants, gases and odours. Plus, its UV light function eliminates germs and bacteria that get trapped in the filter.
TruSens, shop online
6. Novita 4-In-1 Air Purifier A4S
Want more bang for your buck? Get this Novita machine to improve the quality of the air you're breathing in. It purifies by removing airborne allergens and germs, and sanitises with an air purifying solution to protect you from viruses and bacteria. That's not all – the machine also humidifies to replenish moisture levels (goodbye, dry skin!) and ionises to revitalise indoor air. Its four-stage filtration system does all this effectively and comes with features such as five speed settings, smart night mode and a smart filter diagnosis system. Totally worth it!
Novita, shop online
7. Samsung BlueSky Air Purifier
With the solid ability to purify air in a 40 square metre space, this Samsung device is outfitted with micro filter capabilities including fine dust and charcoal deodorisation filters. Control it remotely via a smart app to make your life easier!
Samsung, shop online
8. LG PuriCare Mini Air Purifier
Want clean air on the go? Opt for this portable gadget that's lightweight, compact and cord-free. You can easily take it to the office, leave it in the car or bring it to a hotel room if you're off for a staycay. The wireless air purifier uses LG's four-step filtration system to rid the air of fine dust particles and disperse fresh air. Don't look down on its size – it's said to clean 50% of the air inside a car in just 10 minutes!
LG, shop online
With these excellent air purifiers in Singapore, you'll be breathing easily in no time.