Photography: Linus Mak via Flickr
We let you in on tranquil hidden parks in Singapore for some alone time with nature.
When it comes to hanging out with Mother Nature, we all have our go-to parks, gardens, beaches and offshore islands. Embarking on a fitness journey? We've got the best nature trails in Singapore covered. Needless to say, we're doing pretty well living up to our Garden City title. But are you on the hunt for something off the beaten track? We've uncovered lesser-known secret gardens and hidden parks in Singapore for your mid-day breather. Grab a sandwich and let's explore!
Secret green spaces and hidden parks in Singapore
1. Jurong Eco-Garden
Right between Nanyang Technological University and CleanTech Park is Jurong Eco-Garden. It's sectioned off into different thematic zones for your exploring pleasure. Go through the Summit Forest, Wildlife Corridor, Stream Ravine, and Freshwater Swamp Forest. Nature lovers can catch glimpses of wildlife like migratory birds and butterflies that roam this hidden park.
Jurong Eco-Garden, enter along the footpath past the JTC Launch Pad building
2. Telok Blangah Hill Park
Unlike the pocket parks on this list, the one at Telok Blangah is huge. It's part of the Southern Ridges. This also includes Mount Faber Park, HortPark, Kent Ridge Park and Labrador Nature Reserve. You can dive into the elevated trek at Forest Walk for something more rugged. Or check out Henderson Waves to admire the city skyline from up high. Another great place for photo-taking: The Terrace Garden, which boasts 360-degree sights of the island.
Telok Blangah Hill Park, enter via Henderson Road
3. Thomson Nature Park
Neighbouring Springleaf and Windsor Nature Parks, this lovely green space on the edge of the Central Catchment Nature Reserve takes over the site of a former Hainan Village. Five trails wind around the village's road network. So you can kick off your adventure with a glimpse into the kampung life of the past, with conserved ruins and freshwater habitats co-existing in the secret park. Oh, and sharp eyes will be able to spot a few rare and endangered animals, including the Raffles' Banded Langur.
Thomson Nature Park, enter off Old Upper Thomson Road
4. Tampines Eco Green
Here's where you can do a spot of bird-watching and look out for butterflies and dragonflies flitting across the grass. It's home to open grasslands, freshwater ponds and a rainforest, padded with hiking trails that weave through the beauty of nature.
Tampines Eco Green, enter via Tampines Avenue 9 and Tampines Avenue 12
5. Kranji Marshes
Singapore isn't all skyscrapers and concrete pavements. Go off the beaten path and visit Kranji Marshes. Located along the northwestern shore of Kranji Reservoir, the marsh habitat is home to a wide range of aquatic plants, insects, fishes and birds. Head to Raptor Tower for a bird's eye view of the lush vicinity or observe elusive marsh birds at one of the bird hides.
Kranji Marshes, enter via Kranji Gate
6. Zhenghua Nature Park
This hidden park in Bukit Panjang borders the Central Catchment Nature Reserve as a green buffer. It's a sweet spot for families to enjoy a day out in the sun, with jogging and cycling tracks, a play area for little ones and an exercise station. Animal enthusiasts and bird watchers will be pleased to know squirrels and long-tailed macaques are commonly sighted in the park.
Zhenghua Nature Park, bounded by Bukit Timah Expressway (BKE), BKE Slip Road to Kranji Expressway (KJE) and Dairy Farm Road
7. National Gallery Singapore
Surely you must have some deep thoughts after looking at all those Southeast Asian artworks? Pop over to the rooftop deck of the National Gallery and take a breather in the sprawling 3,000 sqm area. You'll be luxuriating in the serenity of the space with its lush walls and reflecting pool while overlooking the hustle and bustle of the Civic District.
National Gallery Singapore, 1 Saint Andrew's Road, Singapore 178957
8. Yishun Pond Park
Don't judge this infamous neighbourhood by its eccentric nature. Instead, pay a visit to one of its many green spaces and get lost in the hidden garden of Yishun Pond Park. The area is teeming with flora and fauna, home to birds, marshland plants and an abundance of towering trees. For a bird's eye view of the landscape, make your way up the spiral tower and get your camera ready.
Yishun Pond Park, enter via Yishun Central, in front of Khoo Teck Puat Hospital
9. Pasir Ris Park Mangrove Boardwalk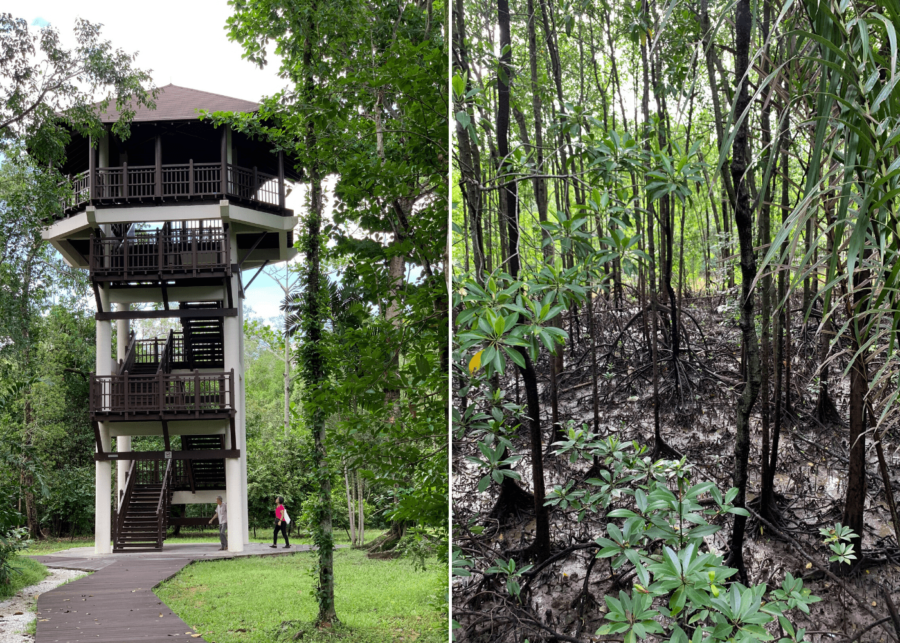 One of the only two protected mangrove forests in Singapore, this six-hectare area is tucked away in Pasir Ris Park. Get up close and personal with rare mangrove trees and wildlife like Grey Herons, monitor lizards, mudskippers, otters and even an estuarine crocodile or two. Also, ascend to the bird-watcher tower for peak views of the green oasis.
Pasir Ris Park Mangrove Boardwalk, enter via Pasir Ris Park Carpark B
10. Labrador Nature and Coastal Walk
This one's a route that leads you from Alexandra Garden Trail to Berlayer Creek mangrove trail to Bukit Chermin Boardwalk. Along the way, you'll pass by thick vegetation, endangered plants and native wildlife, including numerous bird species. Pause for a couple of minutes to enjoy the quiet of Berlayer Creek mangrove and keep an eye out for the Giant Mudskipper (one of the largest of its kind in the world) or the Oriental Dollarbird.
Labrador Nature and Coastal Walk, entrance near Labrador Park MRT station and HarbourFront MRT station
11. Ann Siang Hill Park
Explore the vibrant Ann Siang area and take your time to admire the colourful shophouses on display. They're home to a good mix of cool boutiques, antique shops and popular restaurants. For a quiet respite, climb up to Ann Siang Hill Park, located at the end of Ann Siang Road. Amidst the hidden garden, you'll enjoy a view of conservation shophouses contrasted with a backdrop of modern high-rise buildings.
Ann Siang Hill Park, enter via Ann Siang Road, Ann Siang Hill or Amoy Street
12. Tampines Quarry
Tampines Quarry is a hidden sanctuary for bikers and fishers. Head to its location along Tampines Avenue 10 and you'll explore untouched land while soaking in scenic sights. Just remember to bring your insect repellent!
Tampines Quarry, along Tampines Avenue 1
13. Woodlands Waterfront Park
This peaceful coastal park beckons visitors with idyllic vistas of glittering waters. Head up to one of its peak lookout points along the picturesque trail or stroll along the 1.5km-long waterfront promenade while watching the sunset. Families can also enjoy the park's playground and cycling tracks, or explore further by trekking through the 25km Northern Explorer Loop to check out Admiralty Park.
Woodlands Waterfront Park, Admiralty Road West
14. Telok Ayer Park
Located in Singapore's busy Central Business District, this hidden park sits at the intersection of the Telok Ayer heritage 'hood. Shaded by verdant plants and giant ferns, it's a perfect hideaway for the CBD worker who wants a change of scenery. With swings, leafy trees, fab hawker stalls and cool cafes around to grab a bite, it's basically lunchtime bliss.
Telok Ayer Park, enter via Maxwell Road, Cecil Street or Telok Ayer Street
15. Duxton Plain Park
Facing the back of shophouse rows, this hidden park is a narrow and curved one nestled in the Chinatown precinct near The Pinnacle@Duxton. It follows a former railway line, providing a serene space for anyone to stroll through. With birds and the occasional chicken wandering around, it presents quite a different scene from the buzzing Keong Saik Road nearby.
Duxton Plain Park, enter via New Bridge Road, Neil Road, Kreta Ayer Road or Yan Kit Road
16. Orchard Central Roof Garden
Besides housing fancy malls great for retail therapy, Orchard Road is also home to one of the more unexpected hidden parks in Singapore. And it's just sitting atop Orchard Central. Tucked away on the 11th and 12th floors of the mall, the enchanting Roof Garden overlooks the city's iconic shopping belt. Sitting amongst a display of visual art and dining spots are wild blooms, reflective ponds and beautiful green walls for a tranquil experience.
Orchard Central Roof Garden, 181 Orchard Road, Singapore 238896
17. Pearl's Hill City Park
The Chinatown city park, which surrounds a reservoir on top of Pearl's Hill Terrace, is quite the hidden oasis of peace and serenity. Located behind Outram Park MRT Station, it's a short trek to the top of the hill where you can relax in the wooded ambience and take in the lotus plants, pond and occasional squirrel sightings.
Pearl's Hill City Park, enter via Chin Swee Road or Pearl's Hill Road
18. Telok Ayer Green
This hidden park in Singapore is flanked by two heritage buildings: Thian Hock Keng Temple and Nagore Durga Shrine. It serves as a quick retreat for office workers during lunchtime, or for tourists seeking refuge from the busy streets to rest and relax. The space also has symbolic historical significance – its design takes after the contours of the original shoreline. Oh, and look out for a set of sculptures: a sampan (wooden boat) used to ferry goods, an Indian milk trader, and a Chinese lantern procession to represent the trade and way of life in the early days of Singapore.
Telok Ayer Green, enter via Amoy Street, Boon Tat Street or Telok Ayer Street
19. Istana Park
This one's sitting in plain sight, but when's the last time you paid it a visit? While access to the Istana grounds and its lush gardens are limited to public holidays, the park opposite the giant gates is open all day, every day. Lined with rows of tropical plants, its centrepiece is a 26m-long Festival Arch towering over the reflecting pool. Keep an eye out for the monthly changing of the guard ceremony at the Istana, which you can view from here.
Istana Park, enter via Orchard Road, Penang Road, Penang Lane and Buyong Road
20. Clementi Forest
We can attest to the fact that if you're curious to discover untamed paths and secret trails, this lush, green forest is it. Spot abandoned railway tracks, jump over brown streams and marvel at the secret tunnels you'll find. With no man-made tracks and proper entrances, this is where you can enjoy untouched nature at its finest. Disclaimer: unless you're an experienced hiker, we'd advise you to avoid thick forested areas. Stick to well-trodden paths and avoid venturing out after dark.
Clementi Forest, enter from behind bus stop 12109
The next time you need a breather, head to these hidden parks in Singapore to lift your mood.