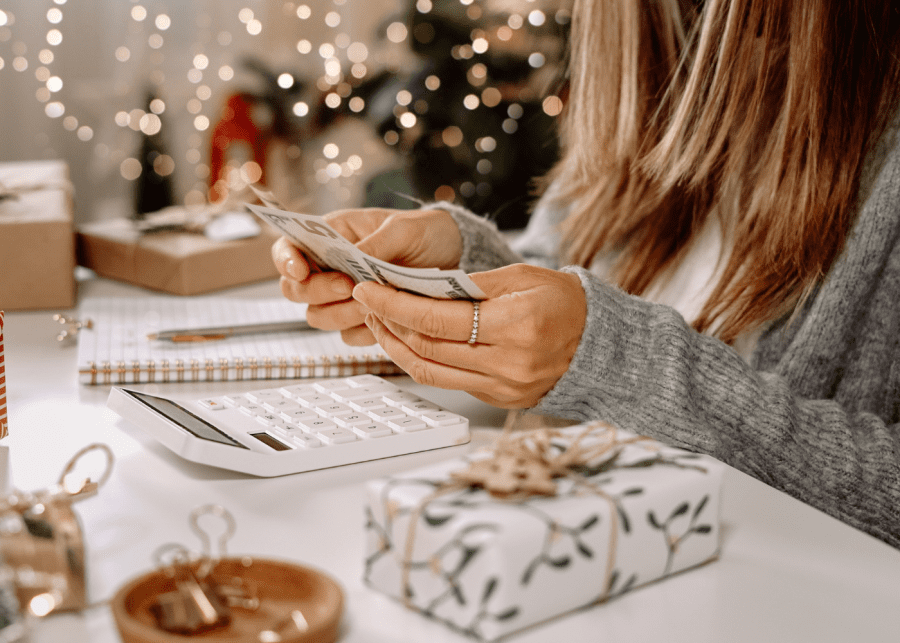 There's no shame in pinching pennies this Christmas.
Gift shopping? Expensive dinner parties? You're not alone. We've got easy ways to save money this Christmas!
'Tis the season to be jolly… and broke. That's right, if you find yourself counting pennies after the festive period, well, you're not alone. Want to make better financial choices this holiday and not get carried away with your gift shopping sitch? We're sharing simple tips to help you save money during Christmas.
How to save money during Christmas
1. Plan for (money saving) success
We all daydream of the perfect Christmas party, and we're sure you do too. From a multi-course Christmas dinner to the hottest gifts and that picture perfect Christmas tree, we want it all! But we have to nip those dreams in the bud before we get carried away. Planning the perfect Christmas can be a costly ordeal. So take a pause and start making a list of all the things you want for your Christmas party. Once you have an overview of the party, you can figure out what you're spending too much on and where you can cut costs. Oh, and you can keep an eye out for discounts on the gifts you're planning to get for everyone!
2. Play Secret Santa!
Going to multiple parties or gatherings in December? Instead of buying a gift for all your pals, organise fun Secret Santa exchanges. You'll have to only buy one gift (per friend group), making it an easy and affordable option.
3. Potluck, anyone?
Throwing a Christmas dinner party can be expensive, whether you're making everything from scratch or ordering a takeaway feast. Keep it casual and fun by having a potluck meal. It might seem cheap, but hey, you can settle the centrepiece of the dining table: a glorious roasted turkey. Let the rest of your guests bring side dishes and desserts. It's a win-win situation.
4. Earn good karma points
Do some good for the planet by buying pre-loved items! They're more budget-friendly and some thrift stores give back to the community such as Red Cross and The Salvation Army. Plus, we've got a list of cool initiatives by charities this Christmas. It's the season of giving after all.
5. Gratitude is free!
The most important part of the festive season is spending time with your loved ones. Showing gratitude doesn't have to cost a single cent. So skip the extravagant gift and write a thoughtful holiday card. Or go the extra mile by taking the DIY route — think along the lines of painting, crocheting or baking something sweet.
6. Come up with a Christmas gift budget
It's easy to end up spending beyond your means when you're gift shopping. To avoid the rude awakening when you receive the credit card bill, keep a financial log. That way, you'll know if you're exceeding your budget on top of your usual monthly expenses – it's pretty easy to do during the festive season. Some of our go-to budgeting apps include Money Lover, Monny and Fortune City.
7. Shop smart
Let's be real. Gift shopping is something you can't avoid. But that doesn't mean you have to burn a hole in your pocket for the same box of chocolates that get marked up for a higher price just 'cos it has a festive design. Plan early and you won't have to bite your teeth making the costly trip for last-minute gift hunting. Psst: 12.12 sales are just around the corner!
Now, who says you can't save money during Christmas?
[This article was originally published in 2021 and updated in 2023 by Ashe Liao.]