Photography: Boris Pavlikovsky via Pexels
Wanna know what December has in store? Here's our definitive list of the top things to do in Singapore.
It's the most wonderful time of the year indeed! With tons of deals and Christmas being right around the corner, you're in for a fun and festive month. Keep scrolling for all the deets on exciting things to do in Singapore this December…
Best things to do in Singapore: December 2023
1. Things to do: Far East Flora Centre's Christmas galore
Yearning for a dose of nature-inspired holiday magic? Look no further than the festive wonderland at Far East Flora Centre. For starters, the floriculture haven's extensive holiday collection from plants and gardening products to gift hampers (from $35) will have you ticking off your shopping list in no time. And don't miss shopping the selection of live Christmas trees: imported all the way from the USA, Noble and Nordmann's firs range from adorable 4-5 feet to majestic 11-12 feet trees that'll be a show-stopper in your home.
Feeling peckish after shopping up a storm? Fuel up at the charming in-house cafe, F'east, before continuing the indulgence at Christmas stations – you'll get to enjoy free festive bites, such as crispy churros, with any purchases made. If you're feeling crafty, try your hand at the DIY mini Christmas trees and wreath workshops.
Far East Flora Centre, 435 Clementi Road, Singapore 599873
2. Things to do: Ice Magic 2023
From 9 December
Just in time for the holiday season, Asia's largest touring pop-up winter playground is back for tons of tropical snowy fun. This year's edition promises to be larger and more enchanting than ever, spanning over 3,000 square metres. Grab your winter coats and hit up the merry-go-round where you get to glide through a carousel set afloat on ice. If you're looking for an opportunity to ski or just wanna slide down on a tube, conquer the snow slope that's almost 100 meters long. Don't forget about immersing yourself in the charming wooden cottage that provides a cosy retreat within this icy wonderland. Psst: early bird tickets are available on sale now!
Ice Magic 2023, Bayfront Event Space, 12A Bayfront Avenue, Singapore 018970
3. Things to do: SmileyWorld Town at Downtown East
1 December 2023 – 1 January 2024
For delightful activities that'll entertain all ages, head to Downtown East's latest attraction, SmileyWorld Town! Start your day at the sprawling event square where endless fun awaits, including a 2m-tall giant foam Jenga, nostalgic claw machines, a super-sized interactive board and a 5m-long ball pit with adorable floats. Wanna sneak in some last-minute Christmas shopping?
Make your way to the plethora of stores at Downtown East – you can even score exclusive SmileyWorld merch and claw machine tokens for your spending! Psst: capture the perfect selfie at the SmileyWorld photo walls and post it on social media for another chance to snag these merch and shopping vouchers, too. Before you leave, say cheese at the cute photo booths (at $10 per sesh!) to capture memories of your exciting day out!
SmileyWorld Town at Downtown East, 1 Pasir Ris Close, E!Avenue Level 3 Event Square, Singapore 519599
4. Entertainment: Nom Nom Cinema presents The Grand Budapest Hotel
Every Thursday and Friday
Combine the magic of cinema and culinary delights, and you've got Nom Nom Cinema. Have you ever wanted to indulge in the vibrant and colourful dishes showcased in films? Now's your chance, because you'll be treated to a multi-sensorial experience with this showing of The Grand Budapest Hotel. Expect dishes served up during key scenes of the film that'll immerse you into the setting. You'll even get to savour the iconic Mendl's Coutesan au Chocolat, a dessert that's been synonymous with the film's aesthetic. There'll even be cocktails served, themed to the film's colour palette and style.
Nom Nom Cinema presents The Grand Budapest Hotel, Haus217, 217 Lavender Street, Singapore 338772
5. Nightlife: Smoke & Mirrors' eighth anniversary
3 December
This just in: Smoke & Mirrors is turning eight this year! Pop the confetti and get your party clothes on because the bar team is pulling out all the stops to celebrate. Loyal patrons and first-timers are welcomed to the space from 4pm onwards and toast the occasion with the bar's most beloved cocktails. As the sun sets, you'll be treated to some of the most spectacular views of the city skyline as you sip on innovative drinks shaken up by Lucas Bols Singapore brand ambassador, Bystrik Uko.
Smoke & Mirrors' eighth anniversary, #06-01, National Gallery Singapore, 1 St. Andrew's Road, Singapore 178957
6. Event: Christmas Wonderland 2023
All month
This annual affair is probably the most anticipated event of December in Singapore. Pop down and explore numerous festive zones, try your hand at challenging carnival games, and snap pictures in front of this year's light display (we heard you can expect an all-new design). You'll also want to have your phone cameras ready to capture the gorgeous Garden Rhapsody light and sound show. Feeling hungry? Its food fair never disappoints. This year you'll be treated to delish nosh and refreshing drinks from Brewerkz, Burger & Lobster, Hendrick's, and more. We can't wait.
Christmas Wonderland 2023, Gardens by the Bay, 18 Marina Gardens Drive, Singapore 018953
7. Things to do: The Circus
3 December
For one night only, Canchita, Hashida, and Janice Wong will be coming together to bring you The Circus. This carnival of food, drinks, and childlike wonder is a festive occasion you won't want to miss. At $168 per ticket per person, you can enjoy free-flowing bites and drinks, including Latino cocktails and beer on tap. Of course, a circus wouldn't be complete without its performers. Think the likes of walkaround jugglers, roaming magicians, live caricaturists, and saxophonists to serenade you.
The Circus, Canchita, 9A Dempsey Road, Singapore 247698
8. Things to do: Space Fest @ Expo
From 2 December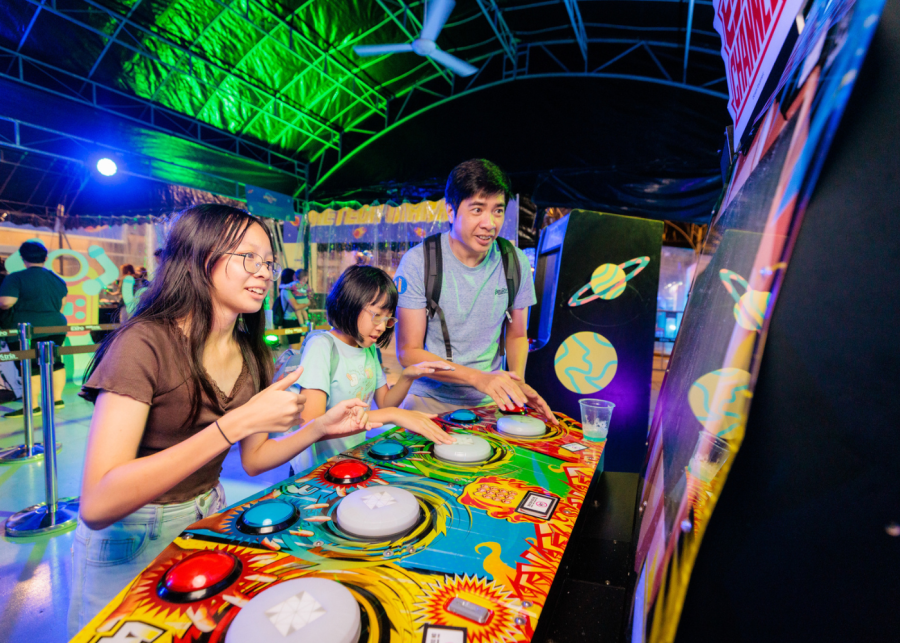 Take a journey to the stars with this year's Space Fest happening at the Singapore Expo. Over 10,000 square meters of space will be transformed into an intergalactic playground featuring over 20 space-themed carnival rides brought in by leading carnival organiser Uncle Ringo. Make it a family affair and bring the kids along because there'll be a bunch of exhilarating games and craft activities available for you to test your skills and creativity. Oh, don't forget to fill up at the Zero-G Bistro with gourmet food trucks, and settle your last minute shopping at the Aurora Bazaar.
Space Fest @ Expo, Hall 6, Singapore Expo, Expo Drive, Singapore 486150
9. Shop: Vin Geek's anti-inflation sale
All month
Vinophiles prepare yourselves because Vin Geek's annual year-end sale is happening the moment we hit December. We're talking 60% off wines – now that's a slap to the face for inflation. If you're in the mood to actually taste some wine, Vin Geek is welcoming two Super Tuscans to its floor this month. The Sassicaia 2020 and Tignanello 2010 will be available on tap, and we hear it's a true game changer for connoisseurs and novices alike.
Vin Geek's anti-inflation sale, #01-04/05/06/07, 9 Scotts Road, Singapore 228210
10. Things to do: Whisky Journey 2023
1 – 2 December
Back for its fourth edition, Whisky Journey reaches unprecedented heights this year. Building on the success of its previous editions, whisky enthusiasts will be captivated by this convention-exhibition-style whisky showcase. Over 30 exhibitors will be present bringing a selection of over 300 whiskies and expressions waiting to be discovered. Get complimentary drams available at selected booths, and the opportunity to purchase a variety of spirits at exclusive price points. And for the aficionados, take part in exclusive masterclasses conducted by brand representatives to gain even more in-depth knowledge and understanding.
Whisky Journey 2023, Level 3, Jasmine Ballroom, Marina Bay Sands Expo, 10 Bayfront Avenue, Singapore 018956
11. Nightlife: Zoukout 2023
2 – 3 December
Zouk's iconic party on the beach is back this month! Hit up the rave and dance the night away on sandy shores with beats slung out by headlining DJs Martin Garrix and Alesso. Both bigwigs will be supported by names like Acraze, Carta, Fisher, Illenium and Joji. While you're partying from dusk till dawn, check out the fun fringe activities. Join a sweat sesh with HIIT classes by TRC Beach Endurance and plunge into ice baths by TRC Cold Immersion afterwards. Next, fuel up on bites and booze by Hot Chicken Co., Ms. Maria and Mr. Singh, Hue Thai Restaurant, Papi's Tacos and more.
Perk alert: from 25 to 27 November 2023, snag two tickets at 40% off with the promo code 'ZO2020' on Ticketmaster.
Zoukout 2023, tickets start from $188, Siloso Beach, Sentosa
12. Things to do: Mars: The Red Mirror
All month
Fascinated by space? Step out of this world and transport yourself to a different planet at ArtScience Museum. This new exhibition – which was first presented in Spain in 2021 – takes you on a journey through 12,000 years of culture, art, history and science about Mars via artefacts, films, artworks and even a piece of an authentic Martian meteorite.
The first zone offers a look at Mars in ancient cultures, with various interpretations and depictions across different cultures and civilisations. Next, step into the world of science and fiction to learn about the astronomers, engineers and inventors who studied the Red Planet. Psst: H.G. Wells' iconic The War of the Worlds makes an appearance here!
Finally, explore Mars in the Anthropocene through works by contemporary artists. Highlights include a four-metre inflatable sculpture of Mars, a triptych titled Starbase, and astronaut images created using an AI algorithm. Plus, look out for programmes such as curator and public guided tours, films and kid-friendly activities to complement your visit.
It's an interesting look at Mars through the lens of art, sci-fi works and history, but don't bank on being immersed in everything you want to know about the planet or what life would look like on it. The exhibition focuses more on the perspectives surrounding it rather than deep diving into scientific tidbits about the planet or space missions launched to Mars, so expect to be surrounded by cultural works of art instead of space rovers.
Mars: The Red Mirror, 25 November 2023 to 7 April 2024, ArtScience Museum, 6 Bayfront Avenue, Singapore 018974
13. Dine: Salt & Palm's seasonal cheese menu
All month
Big fan of wine and cheese? Stop by Salt & Palm within the gorgeous Joo Chiat neighbourhood for an absolute treat. Available only till the end of December, this resto has curated a festive feast to satiate your appetite. The cheese platter features three specialty options – manchego black garlic, vacherousse, and la gabelou – served with a variety of nuts, berries, and jams. Pair that with one of the 40 natural and conventional wines available, perfect for sipping and savouring.
You'll also find cheese incorporated in unique ways in Salt & Palm's seasonal dishes. The cheese choux puffs are filled with a delicate cheese custard while the knafeh is a creative combination of pastry filled with mozzarella and cream cheese, and topped with refreshing acai. We highly recommend trying the cheese tempura though. Bastoncino affumicato and caciocavallo silano DOP cheese are fried to crispy perfection and brightened up with drizzles of lime calamansi and pineapple sambal.
Salt & Palm's seasonal cheese menu, 467 Joo Chiat Road, Singapore 427678
14. Nightlife: NYE countdown events in Singapore
In just a couple of weeks, 2024 will be upon us. So, celebrate the end of 2023 with a bang at stunning NYE events and parties across the city. Of course, there's the iconic Marina Bay countdown, where you'll mingle with the masses and wait in anticipation of the spectacular fireworks display. But if you're looking for dining and drinking experiences, head over to places like Kinki Restaurant + Bar, Level33, Ce La Vi or Tipsy Unicorn for high times.
NYE countdown events in Singapore, multiple locations
There you have it: our mega list of all the great things to do in Singapore this December.