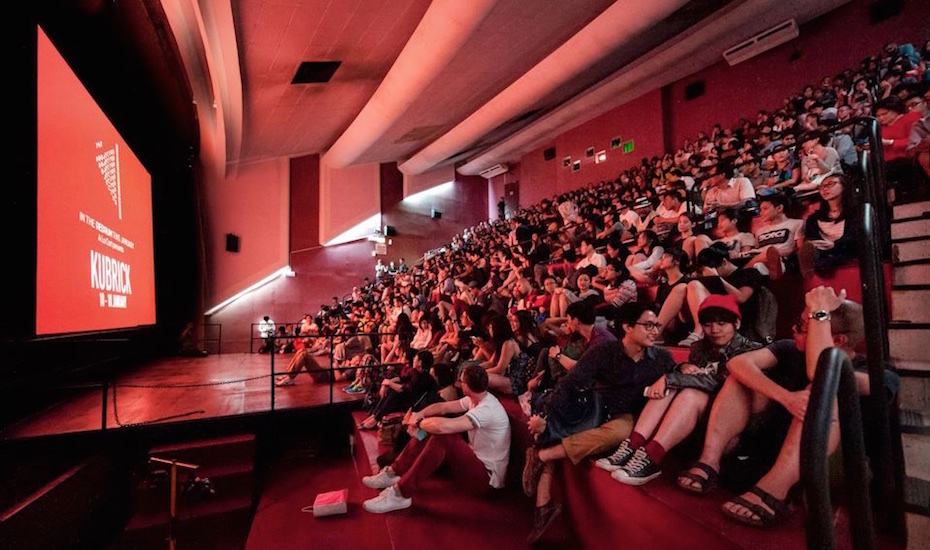 Catch an art house flick with like-minded people. Photography: The Projector via Facebook
San Francisco has the Castro Theatre, New York has The Quad and Angelika, Melbourne has Cinema Nova and Singapore, The Projector!
San Francisco has Castro Theatre, New York has The Quad and Angelika, Melbourne has Cinema Nova and The Astor… and Singapore? We've got our very own arthouse cinema with plenty of history too. The Projector started off as Singapore's biggest ever theatre back in 1973. Its colourful past includes screening North Korean propaganda films, soft-porn flicks, Bollywood staples… until it finally became the indie cinema we know (and love) today.
Back in the day…
Old is new again at what used to be Golden Theatre, the biggest cinema in Singapore and Malaysia back in the 1970s. Just like most of us, the theatre went through many phases. From a propaganda film house showing communist-style films, it switched to become a seedy cinema screening adult films. Golden Theatre remained a popular cinema screening Chinese movies until the 1990s before it was Bollywood film house. But in 2014, the Golden Theatre went through its most deserving change to become an independent cinema that screens a roster of cult cinema, classics, independent films, blockbusters, foreign films and more. Oh, and it also changed its name to The Projector.
The Golden Theatre: Redux
It even nails the aesthetics of an independent cinema – it still retains the Art Deco charm from when it was first built but now fitted with tasteful modern furnishings and artefacts. A marquee lightbox displays movie timings, what's on the menu and sometimes funny anecdotes from pop culture, a food counter with retro tiles serving popcorn, snacks, coffee and draught beers, even the screening were kept mostly intact with some contemporary updates like bean bags on the lower deck for a more chilled-out theatre experience.
Besides just playing the role of the friendly and cultured neighbourhood independent cinema, The Projector has hosted some cool shindigs from film festivals and launches to their own special movie nights. Music is also a huge part of The Projector's culture and gigs held at the cinema theatre are becoming a regular occurence. Ever stepped outside to the carpark from the main cinema lobby? You should because that's where the outdoor bar is…
The Projector projecting good vibes only
Jerome Chee, who oversees all things creative and marketing at the cinema says that while "occasional vandals and drunks who deface property from time to time" count as the not-so-good parts of the job, almost every week is a highlight. You've probably joined special screenings of cult classics like The Rocky Horror Picture Show and The Room (otherwise known as the world's best terrible movie). I won't lie: I've been to The Projector at least three times for The Room screenings to throw spoons at the screen – don't worry, it's handed out before the movie and all part of the experience.
While we may rave about the selection of films at The Projector, Jerome says that acquiring films isn't as straightforward as people seem to think. "We always try to programme a diverse range of stuff to cater to different tastes. The curatorial process usually begins from watching certain films made available to us, and them getting a team consensus with a timeline in mind. Watching films can be exciting with highly anticipated films and directors. On the flipside, it can sometimes be quite time-consuming and tiring if the content is not great," he adds.
To some, going to a mall cinema to watch a film is an convenient activity you often partake in but with independent cinemas, it's also about the experience. Plus a cinema with history like The Projector, it's all the more special. Reflecting on his time working at The Projector, Jerome says: "It is a place that makes people happy, and for me, that's always going to be important and gives meaning to all that I do." Indeed, I've had many happy memories here, and besides, where else can you watch The Room in Singapore (and toss spoons freely in a public space) with like-minded people?
The Projector, 6001 Beach Road, #05-00, Golden Mile Tower, Singapore 199589