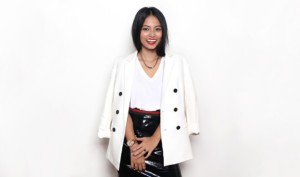 Nafeesa in the Source Collections Tencel V Neck tee.
We're calling it now: your search for the perfect t-shirt is over. Sustainably and ethically made, these t-shirts by Source Collections are also unbelievably soft
We've been doing good so far on our 2018 resolutions, especially in our quest to stop shopping. But for those times when we're in dire need of wardrobe staples (and renting clothes just doesn't cut it), we turn to our favourite sustainable fashion brands.
Of the many eco-friendly labels popping up now in the Singapore market, Source Collections has got to be one of our personal faves. We didn't think it was possible, but this brand has delivered the perfect T-shirt. Available in three colours (black, white, grey) and simple in silhouettes, these are the softest we've ever tried – and trust us, amongst the team, that's a whole lotta tees. Here's what you should know about this up-and-coming brand.
Let's talk fabrics
Source Collections T-shirts are made from Tencel, which is wood pulp that's naturally processed to form cellulose fibers. The process uses unique closed loops, which recycles almost all of the solvent used, making Tencel one of the garment industry's most eco-friendly fibres. The end result is perfection for Singapore's weather: it's cooler than linen, breathable and wrinkles a lot less than cotton. As for T-shirts for the men, they're made from 100% organic cotton. Soft, breathable and absorbent, these organic fibres are grown in India without pesticides and toxic chemicals.
And ethics
The brand is upfront about where its T-shirts are made: in a factory in Chang An Town, an industrial town in China's Dongguan City. Stringent ethical practices are upheld here – the factory is certified by the WorldWide Responsible Accredited Production (WRAP),  an independent non-profit team of global social compliance experts. 400 workers make up its staff, who work in a bright, clean and comfortable environment and earn respectable wages.
Source Collections is also refreshingly honest with its price tags. In each product listing, you'll find the cost breakdown of each t-shirt, from the price of fabric and labour to transport and the true cost of the overall tee.
We road-tested the tees…
The brand very kindly sent us some of their t-shirts to try, and we had a field day parading around these crazy soft tees. We each tried them on, and had a little something to say…
Nafeesa, Style Editor (pictured top)
Since my editor Selina raved to me about these tees, I absolutely HAD to get one for myself. It certainly lives up to the hype – these are super soft – and drape over my silhouette nicely. I don't know what I love most about the brand – these baby soft tees, or that buyers know exactly what it's made from and by whom. Plus it matches all my clothes. I love mixing up my style, and this tee goes with my massive collection of (costume) jewellery and my favourite tailored basics.
Cam, Lifestyle Writer
One wardrobe essential I'm never short of: a flattering V-neck tee that's not only soft and comfy but easy to style. Source Collections V-necks hit the spot with its breathable material, neutral shades and sultry neckline. I'm also a fan of its subtle A-line shape that's ace for multi-styling — be it tucked, untucked or knotted to spice things up. So for days when I'm feeling Kate Moss edgy, I pair my tees with a denim or leather jacket, and if I'm kicking into ninja mode, I'll switch it up with some coloured accessories or bottoms.
Selina, Honeycombers Editor
I've got a thing for outlandish patterns, and need to balance the crazy with some seriously good basics. My go-to shade that goes with everything is marle grey: and we all know that perfect grey number can be pretty elusive. This style hits the sweet spot on so many levels: it's super soft and airy, with a great drape; the silky sheen from the Tencel makes it smart enough to wear to work and events; and it's produced by people who are treated well. Stephanie Dickson of Green is the New Black pointed out to me that it takes 2,700 litres of water to produce a single cotton T-shirt— needless to say, anything I'm adding to my already overstuffed wardrobe needs to made thoughtfully, and has to go the distance.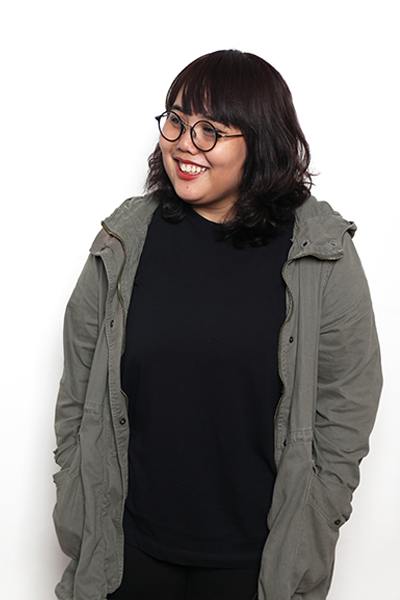 Delfina, Lifestyle writer
I am a creature of comfort and like to keep things simple, practical and comfortable. I've actually been working on a capsule wardrobe because I'd like to spend less time dressing up and more time doing other stuff. What's cool: how transparent they are about where and how their clothes are made. It's hard to ignore the call to live sustainably, but it's also nice to know that it can also be affordable. To be honest, I'm not really a T-shirt person because it's hard to find a good and flattering cut, but I really like how the shirt feels on the skin: it's super soft and cooling. I wish they came in looser, baggier fits though! Gotta love them oversized tees.
Hubab, Video Producer
My style icon is James Dean. Simple, classic and easy. Since I spend half of my time out on location for shoots, I need a look that I can easily edit throughout the day, and wear out at night: I like putting on a denim jacket over a basic tee, or even rolling up the sleeves. These fit very well as the measurements are on point – and are lightweight and comfortable, so still feel great after a long day. I'm so getting the white one next.
Shop Source Collections online
Like this story? Check these out:
Sustainable fashion brands: Eco-friendly and ethically made labels
The A-Z of local fashion labels
How to quit shopping (yes, seriously)
Hear from Green is the New Black founder Stephanie Dickson on how to live consciously