From left: D24 durian pandan, strawberry rhubarb and Gianduja caramel log cakes. Photography: Pan Pacific Singapore
Whether you want to celebrate with a durian log cake or a poolside BBQ, Pan Pacific Singapore's got you covered.
We know – by now, you're either scrambling to book a Christmas dinner or trying to get your log cakes and festive ham in time for the party. Thankfully, Pan Pacific Singapore has all bases covered. And while you're at it, why not make plans for New Year's Eve too?
This calls for sweets
It wouldn't be the festive season without some decadent indulgences. At Pacific Marketplace, choose from the D24 durian pandan log cake, the strawberry rhubarb log cake and the Gianduja caramel log cake. The Choco Choux Sapin Tart would be a pretty (and delicious) addition to your dinner table too.
Pacific Marketplace, Level 1

What diet? These roasts can't be missed
Dig into all the festive meat dishes with gourmet roasts by Pacific Marketplace. We recommend the signature Baked Eight Treasures Turkey, an East-meets-West creation made with chestnuts, red dates, mushrooms, Chinese sausages and more.

Plus, the Edge buffet restaurant has a beaut of a carving station, featuring pineapple-glazed gammon ham with honey, oven-roasted mustard striploin and more. How could you resist?
Edge, Level 3
We're digging these Asian treats
We're stoked for the weekend high tea buffet at Atrium. The festive feast draws inspiration from Peranakan and local fare, featuring dishes like Nyonya-style roast beef, otah salmon fillet, chilli crab quiche and butterfly pea nasi lemak.
Festive Weekend High Tea Buffet, every Sat and Sun till 30 Dec,  from 2.30 to 5.30pm
Atrium, Level 1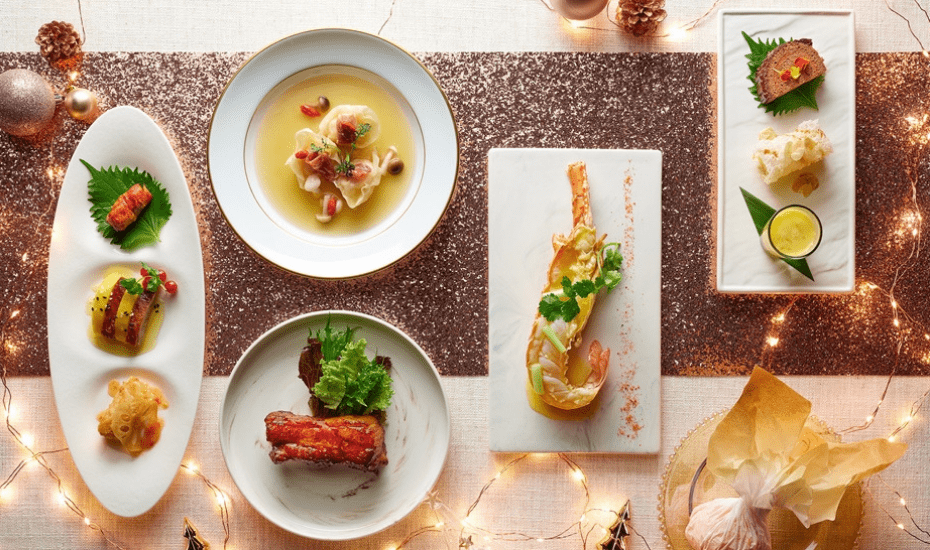 For oriental delights, head to Hai Tien Lo, with a dim sum buffet and special six-course menus for Christmas and New Year. Here's a sneak peek: highlights include stewed whole abalone with black truffle and braised parma ham with turkey wanton.
Hai Tien Lo, Level 3
Celebrate by the pool
Who doesn't love a poolside BBQ? Pan Pacific Singapore's Poolside Bar will be opening up an alfresco semi-buffet with unlimited grilled meats. Think plum-glazed duck leg, soy and mustard beef flank steak and grass-fed Australian mustard lamb cutlets.
Poolside Bar, Level 4, Festive Barbecue Nights at Poolside Patio, every Fri and Sat till 29 Dec, Christmas Day included, 6.30 to 9.30pm

No plans for NYE yet?
Pan Pacific Singapore has got you covered. Ring in the new year at Atrium's glitter disco ball (check out the impressive 44-metre bar!), or celebrate with a feast at Keyaki (we're talking Champagne brunch and eight-course dinners).
Atrium, Level 1 & Keyaki, Level 4

Go for that festive glow
We're booking a pamper sesh at St. Gregory Spa for that end-of-year treat! The Festive Glow Body Ritual includes a body scrub as well as a body and foot massage, while the Festive Glow Face Ritual will get you a facial, back massage and foot massage. Go on, you deserve it.
St. Gregory Spa, Level 4
You know where to find us….
Pan Pacific Singapore, 7 Raffles Blvd, Singapore 039595
This post is in partnership with Pan Pacific Singapore.