New items include An Atlas Suite ($38), a petite flight of the Espresso Martini, Atlas Martini and Orange Blossom Martini. Photography: Atlas
End the crappy year on a high note at these new bars and pop-ups.
Believe it or not, we've made it to 2020's final edition of Hot New Bars and Tipples. Though the number of bar openings have taken a backseat this year, we've noticed quite the surge during the 'ber' months. This calls for a celebration! From a new gin distillery to newbies at old favourites, we present December's finest drinking dens and cocktails.
Hot new bars & menus in Singapore: December 2020
Mo Bar
Travel vicariously through the creative minds of Mo Bar. The Asia's 50 Best Bar recipient dishes out Volume Three of its Nomadic Foragers menu. Inspired by the team's travels and collabs with renowned bars across the Asia Pacific, the menu sees 16 stunning cocktails, including four non-alcoholic creations.
Start your journey with the herbaceous and earthy Thunder ($22; $12 for a mocktail), a modern take on thunder tea rice with peanut butter fat-washed gin and glutinous rice foam, served with crispy anchovies and peanuts. Bubble tea lovers will go gaga for the creamy and aromatic Milkyway ($24), a Taiwanese libation of oolong, brown sugar and whiskey-spiked boba – we know, right?!
There are some IG-worthy bevvies too. Rubi ($22) inspired by Sri Lanka is a tiki cocktail of some sort with a kick of fermented pineapple whiskey and toddy. All eyes are on the Sarimanok ($24) from Lanao, a twist on the daiquiri with rum, mango and citrus. The rooster of Maranaos is captured beautifully with edible rice paper. Finally, the spirit-forward Panacea ($22) from Bangkok is bar manager Adrian Besa's favourite to create. This fragrant 'Asian gimlet' is perfectly balanced with gin, makrut lime and pandan.
Satiate your appetite with thick AF gyu-katsu sandos ($32) featuring breaded wagyu beef, lobster rolls ($30) and chicken shawarma ($28) with a mint chutney yoghurt dip. On the lighter side, there's Singdog ($24) with charred chicken sausage, achar and sambal mayo scallion, crispy tiger prawns ($24) with masala mayo and jiaozi ($22) – Shanghai dumplings with Kurobuta pork and minced prawn.
Mo Bar, Mandarin Oriental, 5 Raffles Avenue, Singapore 039797
Atlas
Journey through 1925 Paris with Atlas' new menu, La Grande Nation. Conceptualised by head bartender Jesse Vida and his team, the four-chapter menu follows a fictional journey with Cecil Beaumont, the chief tastemaker at The Montrose magazine. Join him as he meets four distinguished names of the Art Deco movement and uncovers the prestigious International Exhibition of Modern Decorative and Industrial Arts fair in Paris.
Each chapter features five exquisite cocktails including no-alcohol options. Start the night easy with the low ABV Vendôme Spritz ($23), an elevated G&T infused with Japanese gin, dry vermouth, and grapefruit and rosemary tonic. We can see why it's the highest selling cocktail – equal parts citrusy and herbaceous, it's light and easy to drink.
In chapter two, Mr Beaumont rubs shoulders with jeweller Suzanne Belperron. Inspired by her famous pearl jewellery, the Pear Revival ($24) is based on English gin, spiced pear and calvados, with an orange twist and spritz of thyme. As we move on to other chapters, you can enjoy the A.M Alliance ($27), a spirit-forward cocktail with bright savoury flavours from tomato-infused mezcal, oloroso sherry, italian bitter, and a spicy kick of chilli tincture. We ended the evening with Key In Hand ($16) – a no-alcohol drink that doesn't skim on flavour. Clarified tomato, sour plum and spiced no-alcohol spirit is mixed with forced carbonated water to help emulsify the flavours. Very très chic.
Atlas, Parkview Square, 600 North Bridge Road, Singapore 188778
Singapore Distillery
Meet Singapore Distillery, the latest local distillery to foray into the spirits scene. Head distiller Ashwin Sekaran and his team have been fine-tuning gin concoctions for the last three years at their distillery in Ang Mo Kio. Mirroring the technique used to create whisky, a custom-designed 500-litre copper still churns out a smooth and balanced finish in each gin.
The result? Six flavours – Coconut Pandan, Lime Garden, Singa, Singapore Sling, Stolen Roses and Kyuri ($69.90/750ml each) – that encapsulate Asia's diversity. The Stolen Roses Gin caught our eye immediately, thanks to its alluring flush of red. A few sips later, it also emerged as our favourite. A take on bundung (a local rose milk beverage), the mix of rose, gin and natural cane sugar botanicals is fragrant yet perfectly balanced.
Other picks include the creamy Coconut Pandan Gin steeped with fresh coconut hearts, freshly grated coconut and pandan leaves (a great dessert tipple), and the floral Kyuri Gin distilled with Japanese cucumber-infused spirit, cucumber vapour and sakura flowers imported from Japan. Our pick for an elevated G&T.
This is only the beginning as the team has expanded their repertoire with vodka. The 'smooth as silk' Merlion Vodka ($49.90) is distilled five times to create a crisp flavour profile of European Winter Wheat. So smooth, you can have it neat.
Singapore Distillery, available online and at selected bars and restaurants including Ah Sam Cold Drink Stall, IB HQ, Flying Monkey and Open Farm Community
The Academy of Drinks launches an e-commerce platform and tasting experience
Just in time for the gifting season, the Academy of Drinks has introduced a sweet e-commerce platform where you can get your hands on a variety of spirits, wines, and ready-to-drink tipples from across the globe. Plus, gift sets, spirit discovery boxes, glassware, bar tools and other home bar essentials. That's not all – you can even book a private Tasting Room Experience at its Tiong Bahru space ($580/5 pax). Bring along up to four friends for an intro to wine, champagne, whisky, rum or gin (pick one), three different expressions with neat tastings, two cocktails and light bites.
Academy of Drinks, available online or book a tasting sesh 
Melati opens a pop-up bar at The Dragon Chamber
Booze and fun doesn't always have to come in a pair. Just drop by the Melati pop-up bar at The Dragon Chamber and you'll see what we mean. Enter the speakeasy and order up a mocktail or two with Melati, the latest non-alcoholic aperitif to hit the scene. Naz Arjuna of Bitters & Love is the wizard here, creating eight booze-free hits. The classic Melati Spritz ($12) with grapefruit spritz and cucumber is a great starter. Or opt for the Spiced Nogroni ($12) stirred with Melati, decaf coffee, bittersweet Chinotto and spiced juniper. The first 20 guests to show love to the Instagram page can enjoy a Melati cocktail on the house.
Melati pop-up bar, 5 Dec onwards, Fridays and Saturdays from 5pm (except 25 & 26 Dec), The Dragon Chamber, 2 Circular Road, Singapore 049358 
TXA Pintxo Bar revamps to TXA Gastrobar
The pintxo bar gets a facelift with a new name and new offerings. You'll now find modern European cuisine with a spotlight on Spanish grub. Wash down your pasta, pizza, main, pintxos and tapas with a customisable sangria punch bowl ($70/two to three pax, $100/four to five pax). Select your poison (red or white sangria), pick up to three fruits or pimp it up with an extra shot of rum or brandy – the choice is yours.
TXA Gastrobar, The Alkaff Mansion, 10 Telok Blangah Green, Singapore 109178
The Parlour Mirage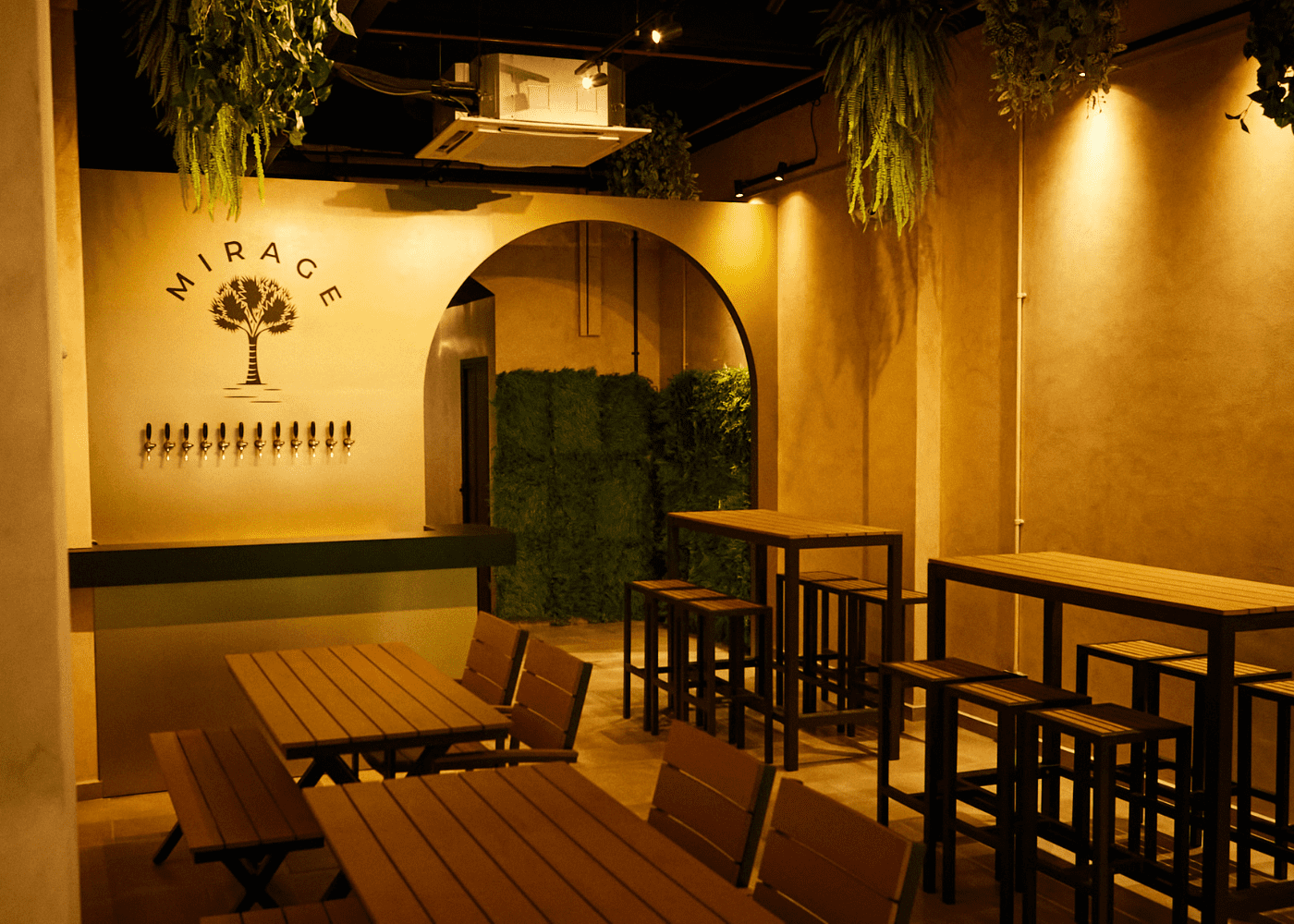 The Parlour Mirage is the coolest new watering hole in town and don't just take our word for it. Get a dose of art, music, craft beers and Japanese-Mediterranean fusion cuisine at one destination. Yes, the tap room-restaurant hybrid shares its space with The Parlour Singapore, a creative studio and workshop space (located at level two) founded by local artist Jaye.
Don't be surprised to find local art pieces and terrariums for viewing pleasure and sale, as well as a stellar music playlist by local artistes. For drinks and grub, enjoy rotating craft beers on tap (there are 12 to choose from) plus fusion nosh in the form of yakitori skewers, karaage, fried cheese, hummus and salads.
The Parlour Mirage, 140 Owen Road, Singapore 218940
Ce La Vi opens its Sky Lounge
Ah, sunset scenes just got a lot more magical 'cos the Sky Lounge is officially open for business. Kick back with Ce La Vi signature cocktails like Happy Afternoon (vodka, lychee and coconut) or Even (whisky, shichimi togarashi spices and hibiscus tea) at $17 each. Spend the golden hour with the Dish & Drink ($25) promo on weekdays from 4pm to 6pm and get plates like spicy eggplant bao and tandoori spiced crispy squid with a selection of cocktails, wines and beers. Ladies, make a res and enjoy processo, red and white wine at $10 per glass on Wednesday evenings.
The Sky Lounge at Ce La Vi, Marina Bay Sands Hotel, Tower 3, Level 57, 1 Bayfront Avenue, Singapore 018971
---
Hot new bars & menus in Singapore: November 2020
Junior The Pocket Bar
The pocket bar moves to bigger digs at a swanky new spot at Ann Siang Hill. Don't be fooled by the location though – it still maintains its nondescript, speakeasy demeanour. Located behind Maxi Coffee Bar's new space, it now seats 25 – a notable increase from the previous 10.
The expanded menu also features staples aside from its rotating concept. Make it boujee (sans alcohol) or boozy with 'Homebrews & Highballs', or sip on the 'Eat The Rich', 'Sour Grapes' and 'Hopped Up' wine and beer menus. Lacto Lime Soda ($13; $21 with booze) is a salty margarita meets classy highball with salt cured citrus, lime leaf, soda and tequila. As margarita fans, this definitely hit the spot. Tiny Bubbles ($28) is a play on champagne and strawberries with Pol Roger champagne, jasmine and yellow chartreuse with chocolate and strawberry as garnish. This one's on the sweeter side but take a bite of the garnish for a more balanced flavour.
Enjoyed the Washi concept? You can still devour the origami cocktails ($25 each). There's Panda, a twist on the bamboo cocktail with genmaicha vermouth, sparkling sake, Botanic vodka and pickled bamboo shoot. Also try the Crane (Kyoho grape, Sakura vermouth, cognac and lemon) for light, spring-timey flavours.
Cancel all dinner plans elsewhere, 'cos it's got some hefty options. We were wowed by the mala hot chicken burger ($18) which hits you right in the gut – in a good way – with a spicy kick. Light bites include the highly addictive hurricane popcorn ($5) and tako wasabi (octopus slices with calamansi and wasabi). Btw, reservations are now available but half of the bar will be set aside for walk-ins.
Junior The Pocket Bar, 6 Ann Siang Hill, Singapore 069787
Manhattan
Walk through the gold doors of Manhattan and you might just forget you're in the midst of a pandemic. At least that's how we felt when we were introduced to its new menu: New York Personified.
We love how the menu – 18 new cocktails and six alcohol-free bevvies – encapsulates the personalities of six iconic Manhattanites through intriguing stories. For starters, Anthony Bourdain's Monsieur Saint-Jour ($26) is a toast to his first oyster tasting experience. It's a concoction of The Botanist gin, Lillet rosé, Fino sherry, mignonette cordial and orange bitters. Where's the oyster, you ask? The garnish, olive wrapped in an oyster leaf, brings all the brininess into the drink.
Ella Fitzgerald's Lady of Song ($32) screams boujee – as it should be – with Monkey 47 Dry and Sloe gin, violet liqueur, and orange and chamomile oleo saccharum served in a classy coupe. It's then topped with Pol Roger champagne, which is also the house pour at the Mocambo in Los Angeles where the First Lady of Song performed her jazz numbers.
Finally, enjoy liquid dessert in the form of Robert Downey Jr.'s 3000 ($26) – you guessed it right, a nod to the popular phrase in Avengers: Endgame. Served warmed, the cocktail is a reinvention of RDJ's favourite Neapolitan ice cream. Flor de Cana 12 Year rum is shaken with chocolate and vanilla cream and topped with strawberry dust that takes the form of Iron Man's arc reactor.
Feeling peckish? The Manhattan lobster rolls ($30), cape cod clam chowder ($26), tuna tartare ($28) and truffle mac 'n' cheese ($20) will fill you up nicely.
Manhattan, Level 2, Regent Singapore, 1 Cuscaden Road, Singapore 249715
Gudsht
Remember the cheekily named cocktail brand that gained traction during the circuit breaker with its bottled elixirs? It's now available for dine-in. Make your way to Riviera Forlino and L'Entrecôte for Mediterranean-themed cocktails. Amalfi Plunge is a refreshing cocktail that transports one to a tranquil Italian seaside resort. As for Wandering Tomate, it's a tart potion with fruity notes.
Gudsht cocktails, available at Riviera Forlino; #02-06, One Fullerton, 1 Fullerton Road, Singapore 049213 and L'Entrecôte, #01-01, Customs House, 70 Collyer Quay, Singapore 049323
Barbary Coast Ballroom
We've already covered the grub content on our hot new menus list but we can't neglect the drinks at Barbary Coast Ballroom. The refreshed menu holds recurring favourites as well as newbies. Remember the Tommy Tomate ($22++) with a tomatoey Mezcal Vida, kaffir agave and lime? Or the highly-raved Buttered Paloma ($22++) featuring Arquitecto tequila, beurre noisette (brown butter) and clarified citruses?
You can also try fresh concoctions conceptualised during the circuit breaker. For starters, there's The Weird One ($22++) a blend of Flor de Caña 12 rum, makgeolli (rice wine), strawberry, wheat and oak moss. If you can't help but giggle at the cocktail named Pea-Ness ($23++), get your head out of the gutter. It's really a reinvented boozy pea juice with Perry's Tot Navy Strength gin, Beefeater lacto-fermented apple, pea water and lemon. There's also a selection of non-alcoholic "no-tails" like Swizzle ($16++) and Stir ($16++), named after (yes, you guessed it right) its concoction method.
Barbary Coast Ballroom, 16 North Canal Road, Floor 2, Singapore 048828
Le Vin Levain
It's sourdough city and natural wines at Tiong Bahru Bakery's latest sundown takeover. Aptly named Le Vin Levain (French for wine and leaven), the takeover at Tiong Bahru Bakery's Eng Hoon outlet unveils natural wines from Drunken Farmer. Little to no intervention goes into the creation of these 'glou-glou' wines. In fact, some rely only on native yeasts or the vineyard's biodiversity to turn grapes into chuggable vinos. Pair your choice of sparkling, rosé, red and white wines with sourdough bread, homestyle dips, house-cured charcuterie and rustic pates, sourdough pizzas and the famous sourdough waffles.
Le Vin Levain at Tiong Bahru Bakery, available from Wed-Sun, 6pm-9pm, #01-70, 56 Eng Hoon Street, Singapore 160056
Maduro
The former jazz bar has opened its doors once again, this time taking on a new avatar – a cocktail bar. That's right, Mr. P and his team have unveiled a new cocktail programme inspired by music. Conceived by consulting beverage director Andrew Yap of The Old Man Singapore, the tipples give a nod to Western music's golden age. Think Prohibition era-inspired gems to the soul of New York through the eyes of Frank Sinatra. Try NY.NY ($24++) with applejack, bianco vermouth, amaro averna and bitter. Or enjoy Xmas in October with Sax and Jazz ($22++); your choice of an aged spirit with tea, honey, apple cider vinegar and Christmas spice.
Maduro, Level 3, 40C Harding Road, Singapore 249548
Robots At Ratio
Cafe by day and lounge by night, Ratio may seem like any other hangout in Singapore. But it's got the coolest bartenders and baristas in town… robots! Conceptualised by leading human bartenders and baristas, this is where you can enjoy up to 60 coffee and cocktail classics as well as customised tipples. Craving for an aromatic Nanyang kopi, or something special like tom yum martini, pandan whisky latte or lychee 'martinee'? These robots will whip up the perfect bevy for you.
Ratio, opens on 2 Nov, JustCo, #05-06, Centrepoint,176 Orchard Road, Singapore 238843
The Elephant Room
The Indian-inspired cocktail bar celebrates its first year in the biz by doling out a refreshed menu. Culture-forward cocktails take centre stage with bold flavours distilled in house, theatrics and culinary complements. That's right, most tipples come with edible garnishes.
The umami-packed King of Toddy is made with arrack, a distillate from toddy, buttermilk for nuttiness and topped with amaranth leaf and pickled palm seed. We appreciated Banana King's complex flavours, thanks to its mix of slow-roasted banana gin, banana skin oleo and aromatic sandalwood. You're left with hints of banana with every sip.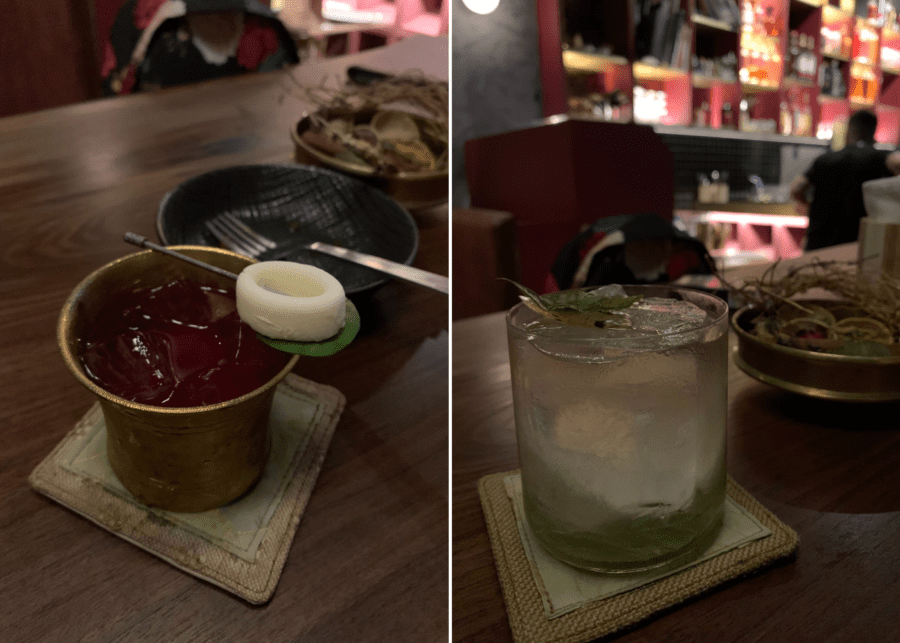 We were particularly curious to try Indian A.F., which is concocted with Old Monk rum, nostalgic kulfi ice cream, and fragrant pistachios and saffron, with yoghurt sorbet for garnish. One sip from the brass cup and you immediately think of rose syrup – it doesn't get any more Indian than this. Pair your cocktails with Gobi Manchurian ($16), cauliflower fritters coated in a sweet, sour and spicy sauce, or go for the Ter Curry Chicken ($21) with fluffy putu mayam if you're feeling peckish.
The Elephant Room, 20A Teck Lim Road, Singapore 088391
Don't forget to make a reservation to avoid disappointment. With the drink curfew at 10.30pm, you don't want to spend precious time queuing at these new bars in Singapore.
---
Hot new bars & tipples: March 2020
New tipple: Mitzo Restaurant and Bar
Mitzo presents an exceptional new initiative where you can give back while enjoying a tipple or two. Dubbed as Drink for Hope, the year-long collab – it's joining hands with Destination Beverage and Tito's Handmade Vodka – sees all proceeds go to Habitat for Humanity Singapore.
Pop by this gorgeous bar every last Friday of the month for Bittersweet Symphony, head bartender Azlam Kadir's concoction of ginseng-infused Tito's Handmade Vodka, herbal liquor Becherovka, splashes of lime juice, ginger beer and fresh passionfruit topping. Quite a refreshing tipple to cool off on a hot day. Enjoy the cocktail with a donation of $5 or more. The charity series will also see various events throughout the year including a live demonstration by two female artists, a magic show and a live performance by an a cappella group.
Mitzo, Level 4, Grand Park Orchard, 270 Orchard Road, Singapore 238857
Metta
The folks that brought you North Indian restaurant Yantra have unveiled Metta, the newest gin and whiskey bar at Orchard Road. Located at Tanglin Mall, the bar has a fair range of bespoke tipples, Scotch whiskey and sick G&Ts. It even hosts events like beer and BBQ night where you can chow down bottomless kebabs and beer.
Metta, #01-28/33, Tanglin Mall, 163 Tanglin Road, Singapore 247933
New tipples: Smoke & Mirrors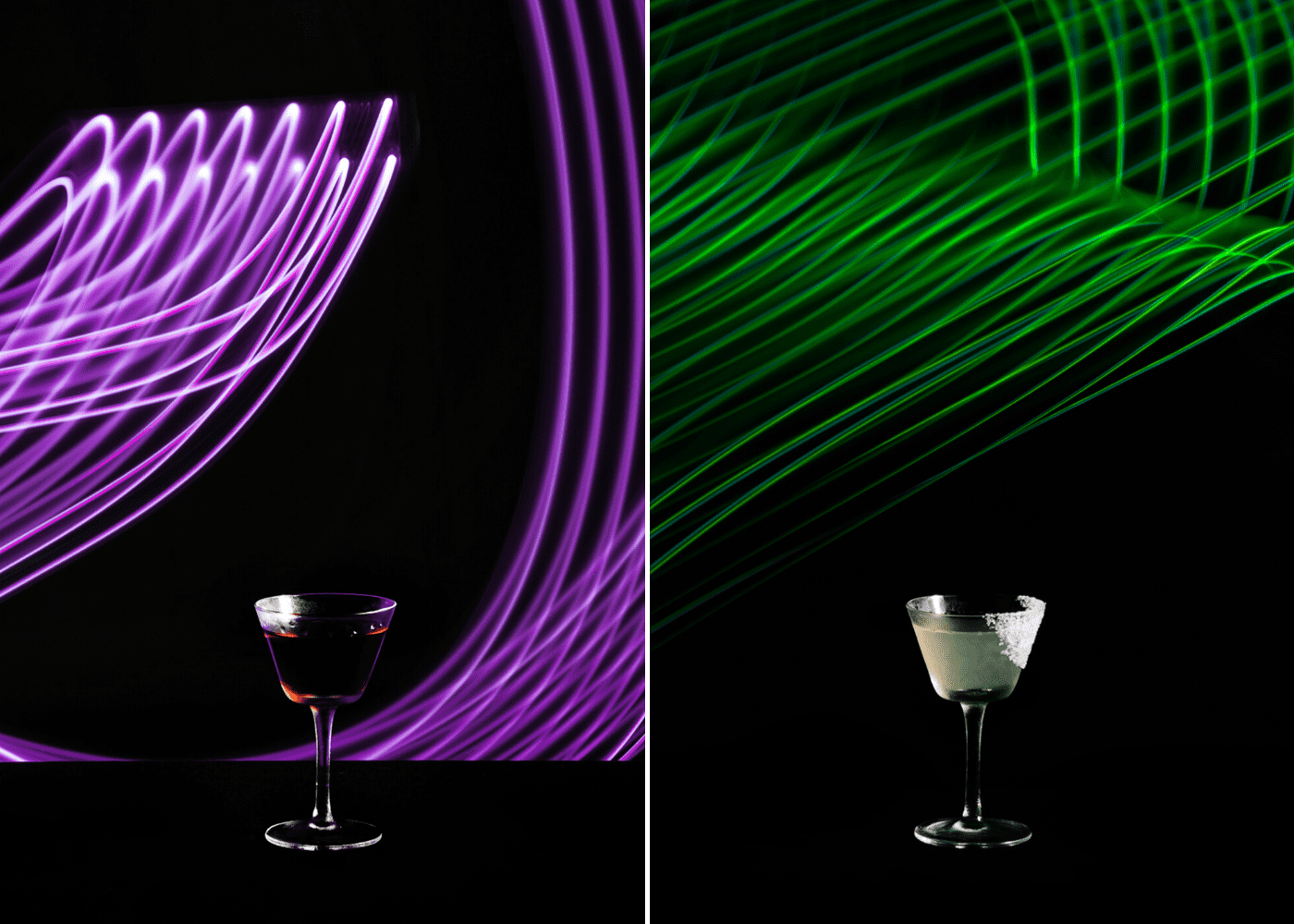 Rooftop bar Smoke & Mirrors debuts Married Pony, a menu perfect for those looking to cut down their alcohol intake. Even though they aren't skinny cocktails, these eight new numbers are served in an easy pony format – a small stemmed glass that holds 142ml (standard cocktails are about 220ml).
Though smaller in size, each tipple is packed with flavour. Must-tries include Plum & Rob Roy, a mix of Lost Distillery Jericho with a special house blend of vermouths and umeshu, and Peach & Pisco Sour, a twist on the Peruvian cocktail shaken with Barsol Quebranta Pisco, lime cordial, aquafaba and peach.
Kaffir & Margarita sees a mix of Codigo 1530 Blanco tequila, salted lime cordial and fragrant kaffir lime distillate. Finally, coffee lovers will take a liking to Cardamom & Espresso Martini prepared with Old Young's sugar cane vodka, Mr Black cold brew coffee liqueur and cardamom distillate.
Smoke & Mirrors, #06-01, National Gallery Singapore, 1 St. Andrew's Road, Singapore 178957
Route 65
Route 65 puts a unique spin on Singaporean classics so you'll find dishes like Superstar beef rendang, cheesy lobster carrot cake and creme brûlée with gula melaka and coconut ice cream on the menu. But if you're here for drinks, you gotta try the IG-worthy boba cocktails that come in the cutest floaty cup holders.
Route 65, #01-434, Suntec City, North Wing, 3 Temasek Boulevard, Singapore 038983
New tipple: Komyuniti
Each month, Komyuniti pushes the bar by highlighting a unique ingredient. The result? A creative food and drink pairing. This March, it's giving a special Komyuniti twist to the versatile tomato.
Unlike the Bloody Mary, which usually heroes vodka, The Tomate Grande cocktail uses a base of BenRiach Heart of Speyside whisky for bold yet botanical flavours. You'll also taste dill, citrus, carbonated celery juice and, of course, tomato.
Pair it alongside tomato bruschetta flatbread: a trio of coulis, confit and sun-dried tomatoes on flatbread and melted mozzarella. Stay tuned for more exciting drinks and bites throughout the year as the team dishes out exciting "Kom-pairs" using interesting ingredients like corn, mushroom, berries and cherries.
Komyuniti, Level 10, Yotel, 366 Orchard Road, Singapore 238904
---
Hot new bars & tipples: February 2020
Moonstone
Moonstone Bar, previously known as 21Moonstone, breathes new life to the bustling Amoy Street. Step inside this industrial-chic bar and you'll soon be over the moon (pun intended). We love how the menu describes the flavour profile of each cocktail – great for picky drinkers. Feeling something bittersweet, punchy and smoky? A Singer In a Smokey Room, a concoction of mezcal, vermouth, Campari and cynar, is your poison. Or how about fruity summer vibes? Viva La Vida, a blend of tequila, watermelon, cucumber and lime, is the way to go.
And there's no need to look for an alternative supper spot. The bar doles out a series of comfort-food-type dishes. Slurp on Suprmee – a cheeky play on the American streetwear brand, Supreme – for a hearty serving of Indomie, telur and kornet, or try the K.F.C Sliders aka kena fried chicken sliders sandwiched between a fluffy brioche bun.
Moonstone, 103 Amoy Street, Singapore 069923
Raffles Courtyard
We've got our list of alfresco dining spots down pat but Raffles Courtyard truly raises the bar. Cool down with a lovely tipple or two (it's got the original Singapore Sling right here!), munch on delish bar bites (chicken laksa spring rolls or chilli crab cake, anyone?) and vibe hard amidst the swaying palms and totally IG-worthy white arches.
Raffles Courtyard, 1st Floor Raffles Arcade, Raffles Hotel, 328 North Bridge Road, Singapore 188719
No Sleep Club
Ah, yet another new hang at Keong Saik and we ain't complaining. From the creators that brought you Operation Dagger and 1880 comes No Sleep Club. This experimental cocktail bar has interesting drink blends, coffee, cafe grub and then some. One cocktail to try: Hay + Apples, a highball with scotch, sous vide with toasted hay and served with fermented apple chamomile honey. Simply delish.
No Sleep Club, 20 Keong Saik Road, Singapore 089127
Hopstation
It's always a hive of activity at Club Street and these folks aren't slowing down anytime soon. Case in point: The buzzy street's new kid on the block, Hopstation. Beer fanatics, get ready to fuel your need for booze with brews from all 'round the world including Belgium, UK, US, Australia, Taiwan, Japan and Singapore. We'll have you know: There are 13 beers on tap, making it one of the largest selections in Singapore.
Feeling pale ale or stout? It's all available here along with a range of ciders, beers by the bottle and hearty bites like calamari cakes, gochujang chicken wings and even pasta and seafood platters if you're feeling peckish.
Hopstation, #01-108, Cross Street Exchange, 18 Cross Street, Singapore 048423
---
Hot new bars & tipples: January 2020
Barbary Coast
Two vastly different experiences, one fab location. That's exactly what you get at Barbary Coast, the latest foray by Michael Callahan (28 HongKong Street founding bartender) and Celia Schoonraad (co-founder of The Compound Collective). Looking for a casual, no-frills spot? Take a seat at Deadfall, a watering hole inspired by the 1800s San Franciscan district that acts as your friendly neighbourhood Spiderman. But who needs a superhero when you've got cocktails at a cool $14 per glass, $10 beers on tap and bar grub like nachos with bottomless queso and – wait for it – tatter tots waffles stuffed with beef pastrami? Can we can get a hallelujah? We stand by Michael's words: "Every hour is Happy Hour over here".
It's a whole different ball game upstairs at the exclusive Barbary Coast Ballroom. Once you put your phone away after taking endless photos of the Victorian style decor, antique furniture, wallpaper and extravagant chandeliers, flit to the drinks. We love the attention to detail that goes into each cocktail. Try the Tommy Tomate ($22++) with tomato-infused mezcal vida, kaffir agave and lime. It's almost like Bloody Mary's atas (read: fancy) cousin sans the spicy kick. Meanwhile, the spirit-forward Three Graces ($22++) with sage pisco encanto, fernet hunter, a Madagascan vanilla acid blend and rhubarb bitters is not for the faint-hearted.
Barbary Coast, 16 North Canal Road, Singapore 048828
Coyote Ugly Saloon Singapore
This bar was so popular, they even made a Hollywood film about it (yes, the one with Piper Perabo and Tyra Banks). Coyote Ugly Saloon's latest outpost in Singapore is a sprawling space that fits a whopping 700 people. So rally all your gal pals and their pals for a fab night. Brave souls can also show off their moves at the back of the bar top, specially designed for dancing by Coyotes and female patrons. Make the most of out the daily promotions and enjoy one-for-one drinks or even free shots. But first, a little trivia: Touted as the most famous bar on the planet, the US bar and restaurant chain has 26 locations worldwide including Russia, United Kingdom and Japan.
Coyote Ugly Saloon Singapore, #01-08, Blk B, 3B River Valley Road, Clarke Quay, Singapore 179021
Rumours Beach Club
The beach club at Siloso Beach is finally open after a short delay. Hedonists, make your way to Sentosa for endless jamborees 'cos one of Bali's hottest spots, Rumors Beach Club, is coming to town. It's the only beach club in Singapore that has three swimming pools and even offers a VIP area with your own private pool. Sip on the exclusive cocktail Sea-Loso Affair, feast on Jimbaran-style seafood and party like it's your birthday. You know where to find us!
Rumours Beach Club, 40 Siloso Beach Walk, Singapore 098996
Cin Cin's Local Gin & Food Pairing series
Gin bar Cin Cin is back with the second edition of its Local Gin & Food Pairing series. The 90-minute dining experience will take you on a gin-filled discovery on how various tonics and mixes can influence the juniper juice. Try locally crafted gins like the Brass Lion Singapore Dry, Tanglin Orchard Gin and Tanglin Mandarin Chilli. The G&Ts will be served alongside a three-course menu filled with punchy flavours from Hainanese chicken rice, laksa and Peranakan otak-otak.
Cin Cin's Local Gin & Food Pairing series, available from Mon-Wed and Sat, 5pm-6.30pm (by bookings only), #01-02, 100 Peck Seah Street, Singapore 079333
Sling by Maison Ikkoku
Something's brewing at Maison Ikkoku and it's strictly for Singapore Sling devotees. Christened as Sling, the new concept located at level one will champion the national drink with elevated twists. You'll find five interesting variations of the tipple, including the Original Sling ($26). We were particularly drawn to Coco Sling ($28), an amped-up version with the addition of roasted coconut and young coconut foam, served in the husk; and the 1819 Sling ($25), a homage to the big guy, Sir Stamford Raffles. What's in the poison? Giffard premium pineapple liqueur shaken with a hint of cinnamon. Though we found the drinks to be a tad sweet, they were balanced out with an outstanding menu of Mod-Peranakan dishes. Think turmeric chicken, babi hitam, ikan assam and lobster hae mee, just to name a few. Sling will be launching on 17 February, just in time for a romantic Valentine's Day.
Sling by Maison Ikkoku, opens from 17 Feb, 20 Kandahar Street, Singapore 198885