Photography: Pistachio Grill via Facebook
Greek, Turkish or Persian food – take your pick. We've got the full lowdown on the best Mediterranean and Middle Eastern restaurants in Singapore.
While we might not be surrounded by the Mediterranean Sea, we do have a deluge of amazing restaurants plating up great Mediterranean and Middle Eastern food in Singapore. Here are our top picks for kebabs, colourful condiments (tzatziki, anyone?), grilled meats and the works.
Where to get Mediterranean and Middle Eastern food in Singapore
1. Shabestan
For an authentic Persian dining experience, snag a table at this Middle Eastern restaurant to enjoy incredible culinary delights along the scenic Robertson Quay. Wanna dine by the river or book a private dining room for a party? The restaurant caters to any occasion.
To start your feast, savour classic appetisers like muhamara, a roasted red pepper and walnut dip; borani esfanaj, featuring spinach and yogurt; a delicious falafel and more. Follow up with menu highlights like its signature charcoal-grilled kebabs with a selection of protein options including the succulent lamb kubideh, the tender shah pasand chicken, or the flavorsome tekeh masti (beef). If you have dietary restrictions, ask the friendly staff for gluten-free, vegan or vegetarian options – there's something for everyone!
Shabestan, #01-13, 80 Mohamed Sultan Road, Singapore 239013
2. Pita Tree Kebabs
The secret to fantastic kebabs? Quality lean meat and fresh produce. Chef Hany Moustafa selects the meat and minces it to ensure the best taste. Combined with a special blend of Mediterranean spices and fresh herbs, the kebabs are grilled to perfection, giving you a taste of savoury goodness. Popular picks include grilled chicken and grilled lamb, as well as the falafel if you're giving meat a miss. Counting calories? Lower-cal options like grilled chicken salad and Mediterranean hummus salad are available too. Or try rice bowls topped with delicious meats.
Psst: Pita Tree Kebabs also has a catering arm if you're looking to order in for a party or gathering. Alternatively, get its meals delivered to your door from SG Delivery Online, Deliveroo, Grabfood and Foodpanda.
Pita Tree Kebabs, multiple locations including Changi, Katong and Forum The Shopping Mall
3. Pistachio Middle Eastern & Mediterranean Grill
This Mediterranean restaurant is helmed by an Egyptian-born chef serving up authentic delicacies. Everything is made from scratch using premium ingredients – you won't get anything artificial or processed here! The kebabs, seasoned with aromatic spices, come highly recommended. Thinking of a gift for your loved ones? Get the electronic dining vouchers so they can enjoy a meal.
Pistachio Middle Eastern & Mediterranean Grill, #02-04/05, Wheelock Place, 501 Orchard Road, Singapore 238880
4. Olivia Restaurant & Lounge
We'd be surprised if you haven't heard of this Mediterranean restaurant in Singapore. Its basque cheesecake was an absolute hit when it first opened in 2019. Enjoy a taste of Barcelona when you order the tender, grilled Mediterranean seabream. And you can't miss the homemade lobster avocado roll topped with salmon roe and caviar. Wash it all down with a tipple or two – our favourite is the Jovial martini with vodka, passion fruit and vanilla.
Olivia Restaurant & Lounge, #01-03, 55 Keong Saik Road, Singapore 089158
5. Lolla
We can't get enough of Lolla. This cosy restaurant at Ann Siang Road utilises only the finest ingredients and seasonal produce in its dishes. You've gotta have the glazed veal sweetbread that's served with puffed beef tendon and spiced palm vinegar. Don't forget to grab some warm lemon curd donuts for dessert before you leave. Hot tip: sit at the bar to watch the chef and crew in action. It's the best part of Lolla's charming dining experience.
Lolla, 22 Ann Siang Road, Singapore 069702
6. Fotia
Fotia's been making rounds on social media platforms like TikTok and Instagram – and for good reason. It has great food, amazing vibes and excellent service to boot. Start off with the taramosalata dip and pita, then fill up on juicy pork skewers served with cherry tomatoes and padrone peppers. The highlight for us? The seafood kritharoto, featuring orzo pasta and tiger prawns cooked in lobster bisque and tomato consomme. Delish!
Fotia, 28 Duxton Hill, Singapore 089610
7. Artichoke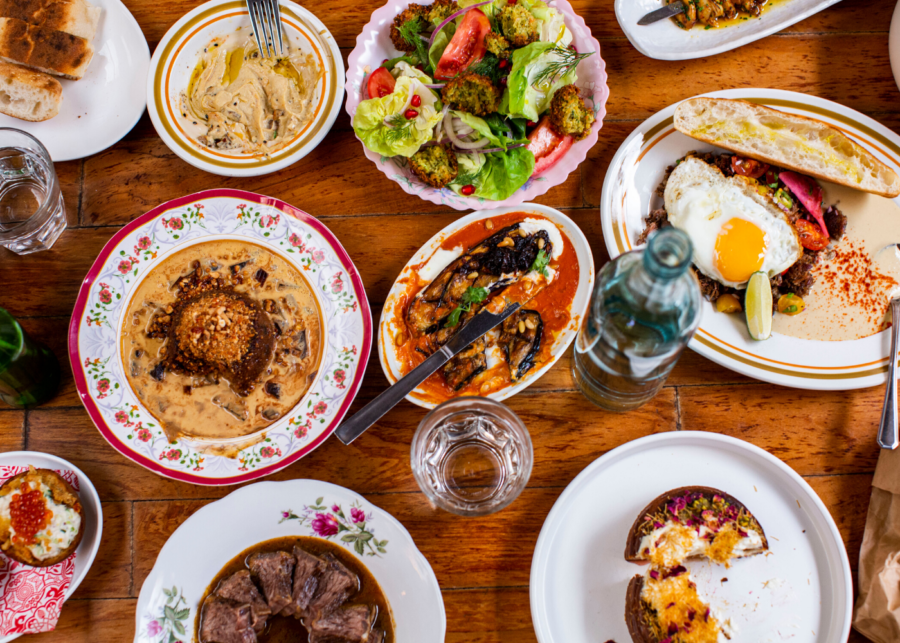 At one of Singapore's best Middle Eastern-influenced restaurants, chef-owner Bjorn Shen puts out innovative creations that are great for sharing. We're talking about crab tzatziki, grilled asparagus and green harissa prawns. Don't be surprised if you pop by and see something new on the menu – these folks are known for their spontaneity.
Artichoke, 161 Middle Road, Singapore 188978
8. Original Sin
The Holland Village stalwart serves some of the best Mediterranean veggie plates on the island. You won't even miss the meat! Don't leave without trying the cheesy baked portobello mushroom with pesto and tomato basil sauce (aka the Magic Mushroom), and the vegetable and herb-layered lasagne that features zucchini and spinach.
Original Sin, #01-62, Block 43, Jalan Merah Saga, Chip Bee Gardens, Singapore 278115
9. Zorba The Greek Taverna
Pretend you're living it up in Athens at this Greek riverside spot in Clarke Quay. The menu features Mediterranean dishes that are perfect for sharing. Start your meal with the dips platter where you get to try spreads like hummus and tzatziki on pita bread. For something filling, get the mixed grilled platter, which comprises lamb chop, pork gyro meat, lamb kebab, chicken souvlaki and bifteki. This goes without saying, but end your big fat Greek feast with baklava.
Zorba The Greek Taverna, #01-02, 3A River Valley Road, Singapore 179024
10. Blu Kouzina
Blu Kouzina blends both traditional and contemporary recipes with fresh ingredients from Greece. With that said, expect an extensive menu of salads, pitas, dips, meats and seafood. Pro tip: order a couple of dips (especially the taramasalata – white cod roe!) and kebabs, meat platters or seafood plates to share. If you need help choosing the dishes, just ask one of the friendly servers for recommendations.
Blu Kouzina, multiple locations including Dempsey and Siglap
11. Sofra Turkish Cafe & Restaurant
Always a crowd favourite in Singapore, this Mediterranean restaurant has a pretty extensive food menu. If you need help deciding what to order, the adana kebab, hummus with spiced lamb, and beef pide are fab choices. Need a nice little pick-me-up? Order a cup of super potent Turkish coffee.
Sofra Turkish Cafe & Restaurant, #03-129A, 6 Raffles Boulevard, Marina Square, Singapore 039594
12. Bakalaki
Craving authentic Greek food in Singapore? Say no more. Bakalaki is the eastern Mediterranean fix you need. For starters, tuck into the tzatziki dip with pita bread and traditional Greek salad. We hear the grilled octopus, kebab and lamb chops are stellar must-tries, too.
Bakalaki, #01-01, 38A Martin Road, Singapore 239072
13. Mykonos on the Bay
Fantasising about sunsets along the Aegean Sea? Dining at Mykonos on the Bay is the closest you get to being on the Greek party island. Feast on a large selection of hot and cold mezze (appetisers), classic Greek salads, and traditional charcoal-grilled meats. One dish we can't get enough of is the graviera saganaki, which is basically pan-fried cheese with ouzo and lemon juice. Sinful, but so, so awesome.
Mykonos on the Bay, #01-10, Quayside Isle, Sentosa Cove, 31 Ocean Way, Singapore 098375
14. Fat Prince
Go on a gastronomical carpet ride with Fat Prince's lip-smacking kebabs. The list includes spicy seabass, truffle falafel, charcoal chicken and pit-roasted lamb leg. Pop by for its decadent weekend brunch to dine like royalty! Say hello to free-flow tipples alongside your choice of dip, mezze or salad, main and dessert.
Fat Prince, 48 Peck Seah Street, Singapore 079317
15. Alati
Close your eyes and you'll almost feel a cool Mediterranean sea breeze waft through this Greek taverna's rustic blue and white interior. Alati makes use of fresh produce wild-caught by fishermen of the Aegean Sea. Every item on the menu is painstakingly and meticulously made by hand: from the beef moussaka (a traditional Greek casserole) to the tzatziki, and even quintessentially Greek desserts like baklava and portokalopita (orange phyllo cake).
Alati, 73 Amoy Street, Singapore 069892
16. Artemis Grill & Sky Bar
Tuck into an array of Mediterranean food 40 storeys high at this rooftop restaurant and bar. The ingredients are fresh and seasonal, the seafood and grilled meats are magnificent, and the dessert selection takes you from sweet endings to artisanal cheese. But let's not forget the vegan menu that whips up dishes so good that you won't miss the meat.
Artemis Grill, Level 40, CapitaGreen Rooftop, 138 Market Street, Singapore 048946
Take your pick from these Mediterranean and Middle Eastern restaurants when you're in the mood for good food in Singapore!