The LomoApparat camera comes in two colourways: Neubau (top) and Black Edition (bottom). Photography: Samantha Yeo
We took the LomoApparat camera on a romantic stroll around Singapore and it was love at first shot.
There's a stack of photo albums sitting in the basement of my house, filled with pictures from my childhood days. My dad used to chase us around with a standard disposable camera, capturing memories from our home and parts of the world we visited on holidays. But now, I rely on my trusty iPhone and digital camera. I don't have many tangible photos to show for the last few years of my life. So when Lomography reached out with the opportunity to test its LomoApparat camera, I gleefully accepted. It was a golden opportunity to try out analogue photography and keep a few film pictures of my own.
LomoApparat camera: Beautiful body, super detailed images
This funky 21mm wide-angle camera is sold in two colourways: Black Edition ($129) for the minimalist photographer, or Neubau ($149) for those who prefer a pop of colour. There's also a metal strap for you to loop the camera 'round your wrist. What I love about it? It comes with three lens attachments (close up, kaleidoscope, and splitzer) plus interchangeable coloured filters that create vibrant flash effects. Perfect if you want your images to stand out from the crowd.
I'm not kidding when I say the LomoApparat camera is oh-so-cute. When I was preparing it for our date out in the city, my boyfriend walked in and gasped when he laid eyes on it. I had both the Black Edition and Neubau on hand – he particularly loved the vintage vibes of the latter.
The lenses came in a small cloth pouch for convenience. As the camera was compact and made of plastic, I could slip it into my trusty sling bag without it weighing me down. It's extremely easy to use, too.
Taking the LomoApparat out for a spin
At our first cafe stop of the day, we paused to take some candid (or not-so-candid) pictures of us enjoying coffee and bakes. I loved how this particular photo turned out. There's a lot of detail in the middle of the picture and some vignettes in the corners.
Doesn't this normal-looking shot of food suddenly look a lot edgier than if you would've just snapped it with your phone? You might appreciate this effect if you're going for the modern-but-dated sort of look.
I was curious to see how the LomoApparat camera would perform indoors. So this was a picture we took at another ice cream cafe with fewer windows and natural light. Even with flash, it appears like we took this in the late evening (despite it being midday).
We tried out the coloured filters in the museum and around Fort Canning Park, too. This one turned out quite sweet and romantic. The wide-angle lens also captured much more of the surroundings than I thought it would. If you like architecture or street photography, this is a good camera to have in your arsenal.
I'm obsessed with the trippy effect of the kaleidoscope lens. It splits the image into different bits that overlap each other. But it's probably not a lens you'd use on a regular basis, and I wouldn't recommend taking a selfie or an up-close picture with it.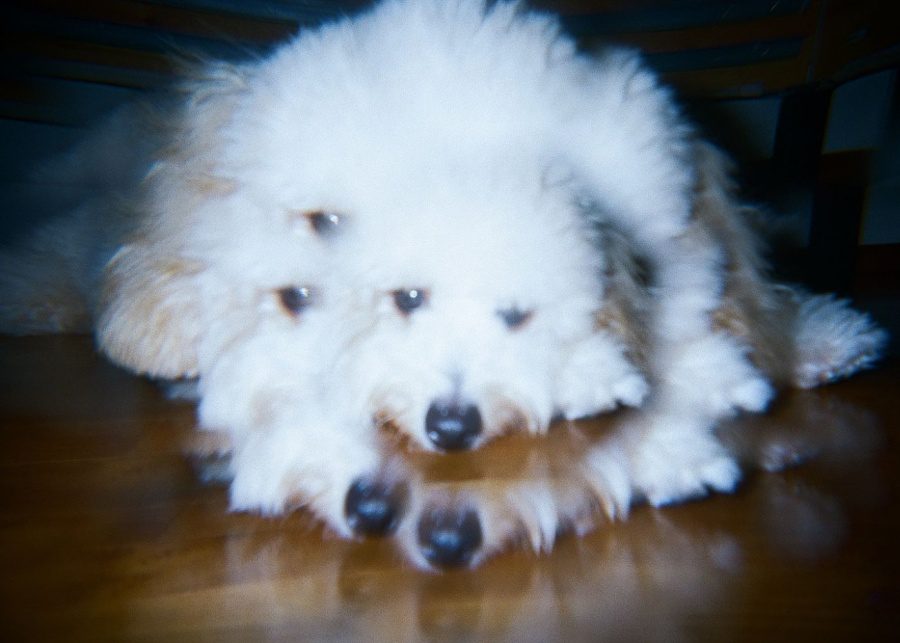 Unless you're going for the multiple-eyed dog look (as seen here).
You get the best results from the LomoApparat in bright sunlight. The photos it produces tend to exude a pretty dark, grungy, emo vibe. Especially under the shade of trees or within the confined spaces of a building.
It's cool at first but may get a bit repetitive, although it could be because the weather was downcast on the day I went out. I also found it a little tiresome to switch between various camera lenses and opted to stick to what the camera came with – something to think about if you're planning to buy the different lenses as add-ons.
But for its price point, picture clarity, and ease of use, the LomoApparat camera is one that's absolutely worth getting. It produces such fun and spunky photos – I'm glad to add these to my physical collection of memories well made. And the aesthetics are a definite plus; I was proud to have this hanging off my arm for the better part of the day. It's an 8/10 experience for me.
Got any other cameras you'd like us to review? We're up for the task.