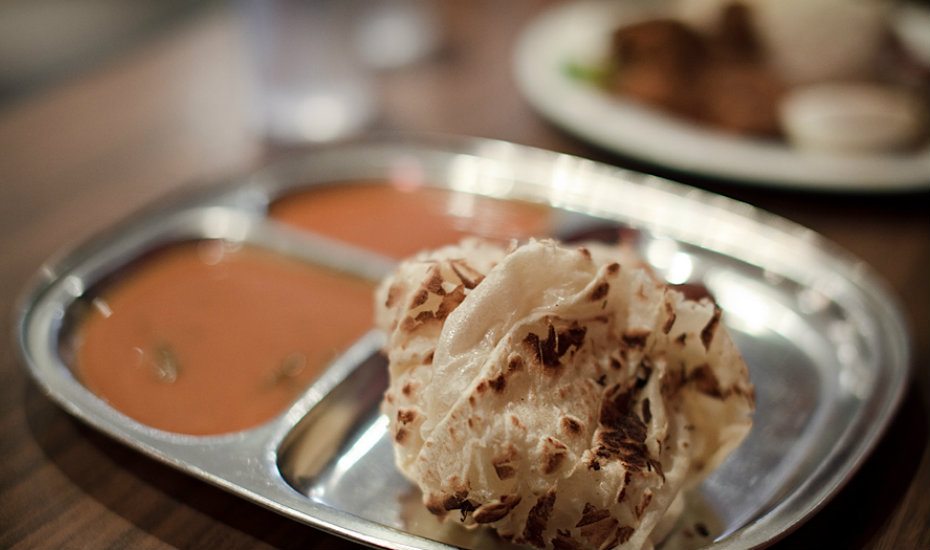 You don't need many ingredients to make roti prata… Photography: Sacha Fernandez via Flickr
Time to get your hands dirty in the kitchen by making roti prata from scratch. Don't forget the fish curry!
With the crazy amount of delicious and affordable local food out there, why would you even want to cook at home? Well, it's probably because we love a challenge (I mean, have you seen us whip up homemade laksa?). So here's our recipe for the local comfort food fave that is roti prata – if all else fails, we'll just head to a 24-hour prata joint…
Roti prata recipe
Ingredients
300g all-purpose flour
1/2 cup ghee (clarified butter)
1/2 cup water
Salt to taste
Method
Sift flour, add salt and water to make the dough
Knead thoroughly for 5 minutes
Add 2 tsp melted ghee or butter and continue kneading for 5 more minutes
Roll into a ball, place in a bowl, and cover with a damp cloth. Leave aside in a warm place for 30 minutes
Oil your hands. Divide dough into 12 pieces and roll into balls
Flatten each ball into a circle and roll out as thinly as possible with a rolling pin
Spread surface with more ghee or butter and fold the dough three times lengthwise
Roll into a round shape
Cover each piece with greased cling film and leave for at least 10 minutes
Heat one teaspoon of ghee or butter on a metal griddle or heavy iron pan
Fry each prata dough until brown on both sides
*Optional: if you prefer your roti prata with egg in it, unfold the prata dough, crack an egg in the centre, fold it back, and fry until egg is cooked and prata is brown on both sides.
Fish curry recipe
Ingredients
4 tsp oil
1 large onion, sliced
1/4 tsp mustard seed
1/4 tsp fenugreek
1/4 tsp cumin seed
1 sprig curry leaves
2 garlic cloves, crushed
2 tbsp fish curry powder
3 cups of tamarind juice (from 1 tbsp of tamarind pulp)
1 cup (250ml) coconut milk
3 tomatoes, quartered
2 brinjals (eggplant), cut into thick slices
600 grams sliced fish
1 green chili, cut lengthwise, to garnish
Method
Heat oil in a medium-sized pot
Add onions, mustard seed, fenugreek, cumin seed, curry leaves, garlic and fry till soft
Add fish curry powder and fry till oil rises
Add tamarind juice and coconut milk
When boiling, add tomatoes, brinjals, and fish
Boil till fish is cooked
Garnish with the green chilli and serve with your homemade prata
Enjoy!