One of the last of the Famous Five iconic buildings still standing (Photography by Delfina Utomo)
Filled with Thai restaurants, supermarkets, travel agencies, massage parlours and occult stores, we took a long stroll in Singapore's Little Thailand, Golden Mile Complex.
Great architecture is aplenty in Singapore, we have beautiful temples and majestic mosques, on top of the glassy skyscrapers we see often in postcards of Singapore. And still there's more. Among the contemporary skyline of Singapore, Golden Mile Complex stands out. With its unique shape, and even more unique background, it is also known as Singapore's "Little Thailand". Golden Mile Complex is a treasure trove of authentic Thai eateries, pubs and grocery stores. Despite its rather nondescript interior, its exterior offers an arresting, slightly dystopian display – so naturally, we had to to explore it.
About that architecture…
Back in the 60s when population was booming, Singapore was an amazing place for architects to experiment with urban planning solutions – which saw Brutalist architecture land here on our shores. A radical new form of Modernism, Brutalist architecture embraced a utilitarian lack of embellishment, hard lines and most importantly, béton brut meaning raw concrete – the primary material. Practicality and functionality are two important aspects of Brutalist architecture, fitting with how Golden Mile Complex was one of the first buildings in Singapore to mix residential and business – up till today.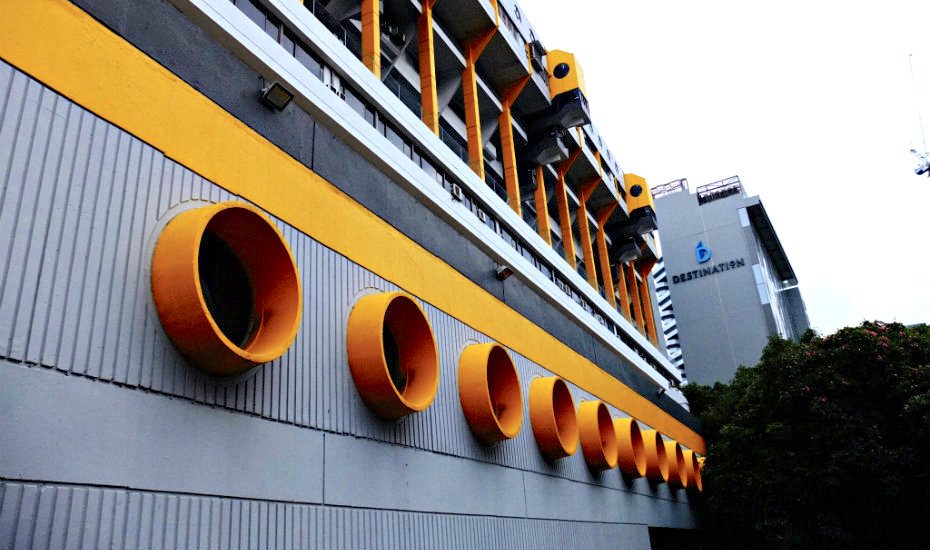 Located in between Nicoll Highway and Beach Road, the building was a pioneer for the step-terracing design when it was built, which was geared towards reducing traffic noise. Its shallow, staggered profile was aimed at improving ventilation, and providing protective shading. Once considered avant-garde, the landmark remains prominent amongst a sea of generic-looking, monochromatic buildings thanks to its typewriter-esque appearance peppered by bright yellow hues.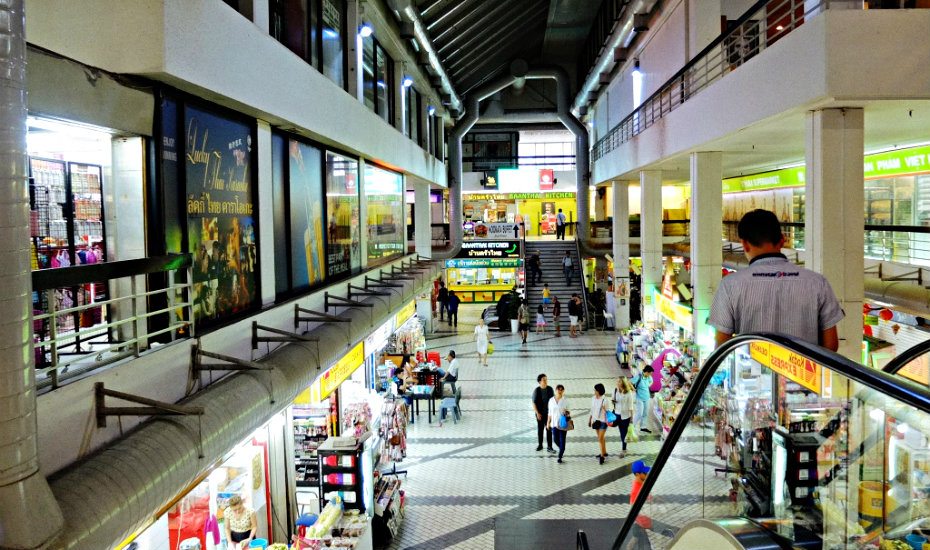 Golden Mile Complex is also one of Singapore's Famous Five, a name given to buildings that pioneered the start of modern architecture here. The other buildings being Pearl Bank Apartments in Outram Road, Golden Mile Complex in Beach Road, Futura in Leonie Hill Road, Beverly Mai in Tomlinson Road and The Habitat in Ardmore Park. Out of this five, only two remain (this one and Pearl Bank Apartments which is to be demolished soon).
Where to eat at Golden Mile
History lessons aside, Golden Mile Complex ain't called Little Thailand for nothing. Golden Mile has also become a hub for all things Thai like grocery stores, discos, karaoke and especially, the food.
New Udon Thai Food
Mookata (Thai barbecue steamboat) is the main activity in this complex and many restaurants serve this so take your pick. Don't expect anything too fancy or glamorous, settle on well-marinated grilled meats like chicken and pork cooked on a lard-greased metal skillet and throw in the other ingredients (like the glass noodles) in the soup. Prices are a bit steep for a Mookata joint (approximately $45 per set of meat, vegetables, eggs, and noodles), but trust us when we say it's worth it.
New Udon Thai Food, #01-55 Golden Mile Complex, 5001 Beach Road, Singapore 199588
Diandin Leluk
One of the largest Thai restaurants in Golden Mile Complex, Diandin Leluk has been a crowd favourite for the longest time. Order dishes like the pandan chicken, claypot prawns with tang hoon, and hotpot oyster omelette to share with your pals. If sharing's not your thing, order a plate of basil chicken with rice (comes with a fried egg with a runny centre!) and a tall glass of iced Thai milk tea. The place is open 24/7, so you could always drop by at 2am for that much-needed late-night supper or head straight to the place right after your bus from KL drops you back after a weekend trip.
Diandin Leluk, #01-67/68/69 Golden Mile Complex, 5001 Beach Road, Singapore 199588
Noodle Cafe – Thai Boat Noodle
Traditionally sold by boat hawkers in Thailand's floating markets, Thai boat noodles are surprisingly really popular here in Singapore. At this tiny little spot, prices for a bowl start from dirt cheap and you can customise your order the way you like it (choose your choice of meat, soupy or dry and level of spiciness). Also works great as a starter meal before you head to a mookata joint…
Noodle Cafe – Thai Boat Noodle, #B1-08 Golden Mile Complex, 5001 Beach Road, Singapore 199588
The fashion parade
Fashion is subjective so if you're into tight, shiny (and shimmery) dresses, ridiculous heels, wigs and other attention-grabbing outfits, you might just like browsing the shops here. If not, walk towards the bright green store on the second floor and stick to grocery shopping at the Thai Supermarket.
Thai Supermarket
If you're dabbling in Thai cuisine often in the kitchen, you can stock up on supplies here. From premium fish sauce, pastes and soup bases for those Thai curries to snacks and even toiletries and ceramics (who wouldn't want a lotus flower bowl). Interestingly, the store doubles up as a Vietnamese supermart too! Now, who wants a giant bottle of Sriracha?
Thai Supermarket, #02-64, 5001 Beach Rd, Singapore 199588
Occult shops and other things
Upon entering Golden Mile Complex, you get hit by the aroma of bamboo shoots, barbecue smoke, something spicy – but nothing as strong as the nostalgia. From the cream subway tiles that line the floors of the building, to the garish neon lights on signs for stores selling perfume, peddling handphone accessories, and also the occult.
Sure, Singapore's a metropolis but superstition and the supernatural seem to be a big part of our culture. Stores selling amulets, figurines of mythical beings, bottled oils and such are tucked in dark corners of the complex. The Thai occult world is a murky one but one that is widely popular and also heavily invested in here.
Only open when it starts to get dark, Thai discotheques and karaoke lounges are the main source of entertainment in Golden Mile. You can have your share of friendly fun singing cheesy covers with friends and chugging cheap jugs of beer but some of these Thai discos can get slightly raunchy and seedy so stay sharp! The same goes for the Thai massage parlours…
Heading out of Singapore to a nearby destination? Golden Mile Complex houses many bus travel companies for that quick getaway to Kuala Lumpur, Malacca, Genting Highlands and even Hat Yai in Thailand where you can transfer to even more destinations around Thailand. Tickets are affordable, just get comfy for that long ride.
With so many heritage and historical buildings giving way to newer developments, we don't know how long Golden Mile Complex will be standing. While it may be a architectural marvel and cultural hotpot to some, a Nominated Member of Parliament once referred to it as a "vertical slum" and "national disgrace" in 2006.
Old buildings such as these are reminders of a city's culture and complexity. By seeing historic buildings, both tourists and longtime residents are able to witness the aesthetic and cultural history of an area. Besides, if we have nothing tangible to show about our past, how else can we preserve our history?
Golden Mile Complex, 5001 Beach Road, Singapore 199588