Photograph: Rawpixel
Looking for things to do in Singapore to help your team bond? From sports and classes to catering and bars, here are some team-building activities that'll work
You see 'em for at least eight hours every day, share your co-working space with them in an enclosed environment, and make decisions together that could both make or break your career. Yes, these are the colleagues you work with; possibly the most important people in your current way of life, so you might as well make the best of it! Doesn't matter if you're a green rookie with sparkles in your eyes or a seasoned veteran who's on the verge of feeling jaded, having team-building activities is essential for a healthy unit if you wanna get things done smoothly. From drinking 'til you're inebriated and getting competitive with sports, to escaping from a puzzle room and challenging nature, here are some team-building activities in Singapore that will turn your workforce into a #workfam.
Embarking on a Forest Adventure
When your butts are sore from sitting down too long and you're feeling stifled from being trapped in a cubicle, tumblin' about in the great outdoors would do your whole team good. At Forest Adventure Singapore (pictured above), you can swing on flying foxes, dangle across suspension bridges and take daredevil leaps of faith from death-defying heights; mustering your courage as a team will teach y'all how to conquer obstacles in the future, no matter how scary. We promise: that rush of adrenaline you'll get as you cruise through the trees will almost be as exhilarating as blasting that super important email.
Good for: Toughing it out as a team
Rock n' roll with your band
Just because you're a suit, doesn't mean you can't bring the house down with your music. Put together a band with your workmates and rage against the machine. We're positive it'll be fun. And you don't need any music experience to ace it at Team Music's Banding program – you'll learn two rock songs in three hours. You air-guitar when you hear an insane riff? No judgement, follow your fleeting dream and pick up an electric guitar… or any other instrument that makes you tick. Nothing spells collaboration, teamwork and crazy fun much like band practice. Down at Team Music's studio (or your soundproof office), you and your colleagues can unleash your inner rock n' roller. It all be on record for you to show-off – they always capture pictures and videos of your moment in the spotlight.
Team Music, YMCA, 1 Orchard Road, Singapore 238824

Good for: Learning to collaborate and be in sync
Escalate things to a whole new level with indoor skydiving
Oh, R. Kelly… constantly telling you to believe you can fly and touch the sky. If you'd like to take him quite literally, this indoor skydiving experience might just be it. Go down to iFly Singapore where the world's largest themed wind tunnel is waiting for you and your teammates to take flight. At 56.5 feet tall and 16.5 feet wide, it's the closest thing to the real deal in a safe and indoor setting with the view of the South China Sea before you. Each dive will feel like you're falling through thin air from 12,000 to 3,000 feet in a tandem skydive. Take the plunge, trust your workmates, overcome your fears and make some lasting memories while you're at it
iFly Singapore, 43 Siloso Beach Walk #01-01 Singapore 099010
Good for: Get your collective thrill on and trusting your work buds
Belting out guilty pleasures through karaoke
Unless you're that one colleague who's always humming and singing in the office, no one really gets a chance to unleash their inner Beyoncé or Thom Yorke. Book a room at one of these best places to karaoke in Singapore, and vent your ennui through the microphone with guilty pleasures that your teammates can relate to. And even for you wallflowers who don't sing, there's always booze, bites, and the priceless sight of watching your colleagues ridicule themselves to keep you entertained.
Good for: Gaining trust by being shameless to one another
Escaping from a haunted castle of puzzles
No, we're not talking about your office building and the resident friendly ghost (Casper, that you?). We're talking about these fascinating escape rooms in Singapore that will test your wits and wrack your brain. You can usually choose from fantastical scenarios – a mummy's tomb, a crime scene, demonic circuses, you name it – and these will give you a time limit to solve the room's mysteries and 'escape'. If you have a big team, split yourselves into smaller groups to foster camaraderie more efficiently (or if you wanna stir romantic rumours between him and her #officedrama).
Good for: Learning how to be resourceful under pressure
Getting drunk with abandon
Well, this is a no-brainer, especially if you work with colleagues who can't wait for happy hour. Close shop early, get a couple of tables at a rooftop bar or a hidden speakeasy, order rounds for everyone (don't forget the mocktails for the non-boozers), and the worries of work will melt away as the night gets tipsier.
Good for: Letting loose… and getting so-and-so to finally spill the beans
Exploring a rustic island…on a kayak
Sick of staring at your cubicle walls all day? Or of seeing the same old cityscape day after day? Get the team out of the office and into the rustic terrain of Pulau Ubin for a water adventure. Choose from three expeditions organised by Adventures by Asian Detours – the beginner-friendly Mangrove Kayaking is perfect for wildlife-seeking adventure junkies, while Ubin Bisect Kayaking takes you on a challenging 8.27km trail from one end of the island to the other. But for a real workout, hit the open seas with Round Ketam Kayaking: an adrenaline-pumping journey which'll take you and your team around Ketam Island, while learning better paddling techniques.
Good for: Being adaptable to different environments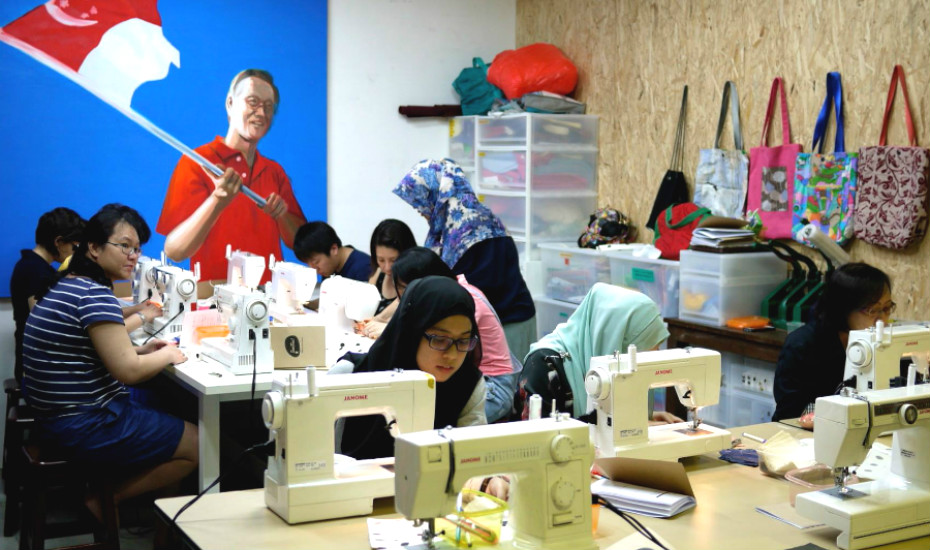 Creating your own office uniform
We're not talking about something as ambitious as the Power Rangers, but a common thread – literally – really could go a long way. Get your team hands-on with these sewing classes in Singapore, and you might just see fruits of labour that will help bring everyone closer together, like a stitched-up company badge or a scarf that everyone can wear when the office air-con gets too cold.
Good for: Boosting originality… and finding potential designers amongst y'all
Learning some Kung-Fu
If there's one thing that the film, Ip Man, taught us, is that you can assemble a loyal workforce if you teach 'em a martial art. Hopefully, you won't ever have to fend off any hooligans from the office, but these martial arts classes in Singapore might help instil discipline and endurance into the team. Not to mention, your team will get a kick outta this change of scenery!
Good for: Building strength amongst the team… and staying safe when going home late at night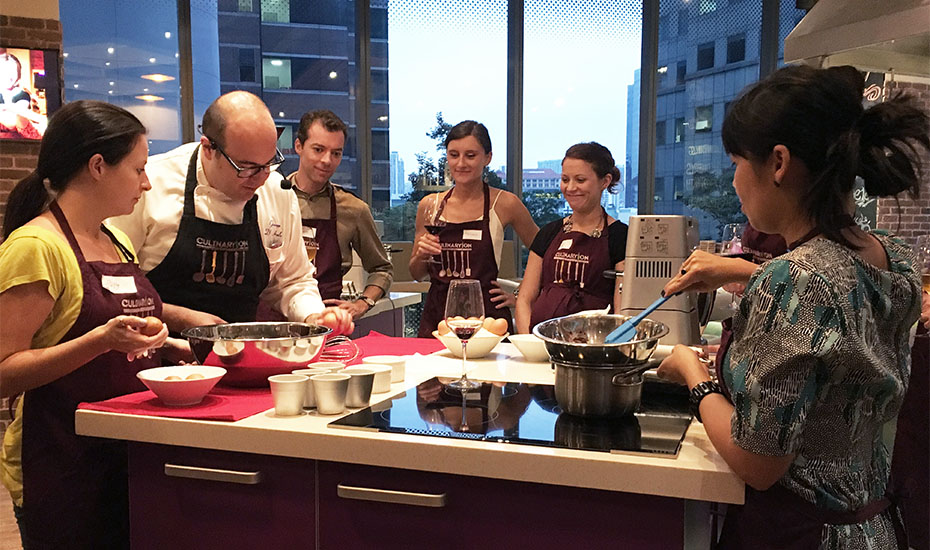 Attending a masterclass in cooking
Too many cooks spoil the broth? Not if you do it efficiently! Try to split yourselves into pairs of groups of three at these cooking classes, and stave off any recipes for disaster by allocating duties coherently and precisely. Imagine you're working on a big, multi-part project for a client, except you'll be handling crockery and cutlery instead of clunky computers. Who knows? One of you might end up being the next pantry chef! And we know, some of you will simply exhibit eye power.
Good for: Delegating duties without messing things up
Getting footloose like Kevin Bacon
Do you have teammates that are bad with multi-tasking? Don't have anyone floundering in the office like they have two left feet; up everyone's coordination with these dance classes in Singapore. Classes like these are good for the mind as they require memorisation of routines, and if you pick a dance which requires group formations – like line-dancing or hip-hop – it'll really test everyone's teamwork!
Good for: Improving coordination and memory
Being good sports
Whether it's hitting quotas or who wore it better on Casual Fridays, it's okay to have a sense of healthy competition amongst the team. But if you wanna get really competitive before things get awkward at the next big meeting, maybe it's about time you settle the score with a fair-and-square game of sports. From bowling and football, to cricket and frisbee, our guide on where to play sports in Singapore will definitely have something catered to your team. Just don't be a sore loser after!
Good for: Fostering healthy competition… and bragging rights during breaktime
Splatting each other with paint
Sometimes, the stress just gets so immense, that we're capable of wringing the necks of our co-workers if pushed to the edge. So whenever you see that tensions are high in the office, help take the edge off with these places to play paintball in Singapore. Who needs group therapy when you can thrash it out with paint pellets flying at you at blindsiding speeds? You'll be bonded by the bruises.
Good for: Handling anger management within the team
Rolling some dice in a board café
You know you've fully hit adulthood once you've landed a job that many people count on you for and the responsibilities keep piling up like a Jenga tower. Give your team a momentary escape and have 'em feeling like young'uns again, by chilling at these board game cafes in Singapore. No corporate responsibility or carefully-crafted emails here, just pure dumb luck and a relaxed ambience that lets you see different sides of your co-workers. We hope you pick a game with Charades; that's always fun.
Good for: Giving everyone a breather by not feeling like adults for a while
Catering a feast
Another sure-fire way to win the hearts of your colleagues, ordering from these catering and food delivery services will make you as popular as the Prom Queen. You don't have to beat the heat outside and queue, you can socialise indoors with your teammates while munching carefreely on finger food, and y'know there will always be extra so you can sneakily tapow home.
Good for: Insanely long meetings
Chartering a private yacht for a day
Finally, it's always good to let your teammates know they're doing a swell job by rewarding them for their gruelling hours of work. Show them that they reap what they sow, and have 'em feeling #likeaboss by booking a private yacht and sailing the seas with bottles of Champagne onboard. Sharing these posh perks amongst each other gives a sense of exclusivity, and a triumphant sense of achievement from a job well done once the glasses are filled and clinked.
Good for: Making your team feel on top of the world
Like this story? Check these out:
Get a good lunch in CBD. You deserve it
Wanna lunch at Raffles Place?
Hot New Table: East-west tapas at Keep & Commune
A guide to Tanjong Pagar Centre
Let's take things to the next level: invite us into your inbox!