Photography: Teeteeheehee
See some of our favourite artists who take embroidery in Singapore (and the region) to the next level. You can even bring home some of the art!
The art of embroidery has existed for a long time. And it's way before you watched your grandmother sew applique roses on kebayas and smocking dresses. But don't be mistaken, embroidery is hardly old-fashioned. Creative individuals and local artists have brought back this form of art and have been pushing its boundaries. From quirky wearable art to avant-garde pieces, here are the artists making art out of embroidery in Singapore.
Artists doing gorgeous embroidery in Singapore
1. Naked Works
Zoey Wong is the creative mind behind Naked Works. Her unique take on this age-old craft is what put her name out there. A quick scroll through her Instagram feed and you'll notice embroidery designs of flora and fauna, ultrasounds, silhouette portraits, and name and floral combination pieces. She's even used her hair to embroider floral pieces, taking inspiration from wakes and funerals she's attended. The idea stemmed from Zoey's desire to preserve and immortalise herself. Zoey also hosts many workshops to teach you how to embroider – without cutting off your hair, don't worry.
2. Agy Textile Artist
Agatha (more affectionately known as Agy), works primarily with textiles at Agy Textile Artist. She looks at slowing down in order to make the unseen visible to the community. As a result, her pieces feature different elements of nature, including coral, weeds, and leaves in the rain. Agatha also mixes mediums, combining three-dimensional embroidery mounted on porcelain plates. And if you prefer wearing your art, you can buy her embroidered brooches too.
3. Bead Bad Wolf
The self-proclaimed chapalang (a Singlish term that means a mix of random elements) artist Cheryl of Bead Bad Wolf uses embroidery to make colourful art. After being taught skills like sewing and crocheting by her grandmother, Cheryl's passion led to her sharing her craft. Her work is all incredibly vibrant, adding pops of colour to everyday life. Inspired by her Peranakan roots, she even uses beads in some of her pieces (hence her moniker). If you're looking to pick up a skill or two, Cheryl hosts various workshops that you can request through her website.
4. Teeteeheehee
You've probably seen Teresa Lim's work if you're actively checking out our local art. Teresa aka Teeteeheehee is gifted with an undeniable eye for beauty and whimsy. She seeks to blur the boundaries between illustration and textile design. She's even worked with illustrious brands like Gucci and Hermes. One of her more fascinating projects is Sew Wanderlust, which is her unique take on capturing amazing landscapes of her travels. Not through the lens of a camera, but the trusty ol' needle and thread. When she's not doing embroidery, you can check out her line of handmade earrings.
5. Inez Designs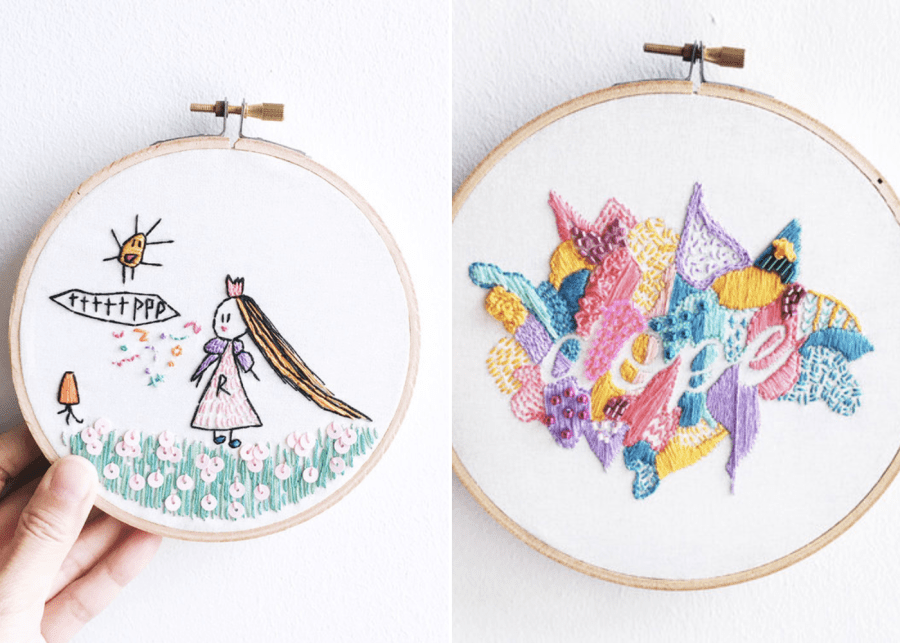 Remember those drawings you did as a kid that your mother probably chucked out? Some of the works you find by Inez Designs are actually a collaboration with her children. In her "She draws, I thread" series, she immortalises her children's art into precious memories. She's also inspired by many esoteric elements like the Mexican card game Loteria and more. Inez also makes wearable art so you choose from quirky brooches and necklaces to spruce up your outfit!
6. Marie Toh
Marie is a multi-faceted artist who works with both digital and traditional mediums, including embroidery art. While she's dabbled in conventional embroidery on bags and embroidery hoops, she's also stitched on old records and even a pig's heart. and Marie enjoys creating surreal imagery, putting soft subtle symbols into her work to evoke curiosity and the silent emotions within us.
7. Izziyana Suhaimi
Like most artists, Izziyana mixes up mediums for her embroidered art. Used as an accent to her pencil and watercolour illustrations, her intricate patterns bring a pop of colour and 3D realness to the pieces. It is immensely difficult to sew on paper, but Izziyana pulls it off stitch by stitch.
8. Times New Romance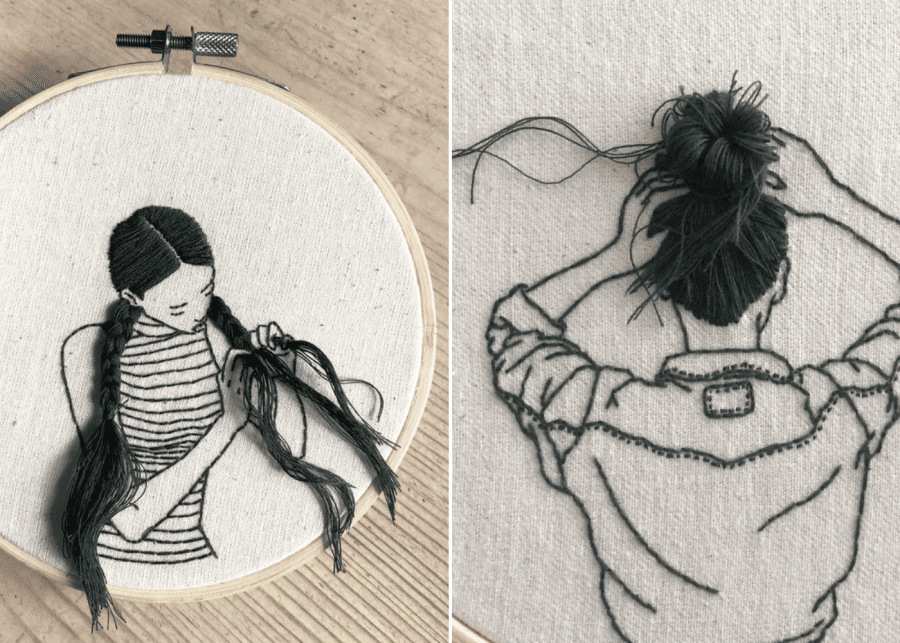 The project by Malaysian model and artist Sheena Liam was created as an outlet for self-expression. But (unsurprisingly), this beautiful project has garnered international attention for the unique "hair embroidery" pieces. Sheena's main focus is hoop art designs of women, with a focus on their hair which appears in 3D. And with a winning name like Times New Romance for her project, who could ignore that?
9. Galemofre
Etsy's a wonderful marketplace if you're looking for unique art and crafts, and it's also where Lisa Lim aka Galemofre operates. For simple designs you can easily prop up around the house, she makes pretty embroidery hoop art. If you're keen to try it out on your own, Lisa also sells embroidery patterns that you can use as a reference for your own personal project.
Now you know who to follow for all the beautiful embroidery in Singapore.