Photography: Chatuchak Night Market
The lowdown on best shops and food stalls to hit up at the Chatuchak market in Singapore.
Looking for things to do in Singapore? You've got to hit up this epic open-air night market. Chatuchak Singapore has returned for two months in 2023, and the market will run from now till 2 April. Expect a total of 60 local vendors and 120 Thai exhibitors peddling street food, clothing, handicrafts and antiques – talk about an authentic Thai experience. Pop by and soak in the vibrant atmosphere from 4pm to 10pm on Tuesdays to Sundays at The Grandstand South Car Park. If you're not sure what to do there, we're here to help. Check out our handy guide on the best shops and food stalls.
Hot tip: You'll want to bring cash or ensure your bank account is linked to PayNow-PromptPay before heading down.
Chatuchak market Singapore: Best shops
1. Cappo's Garage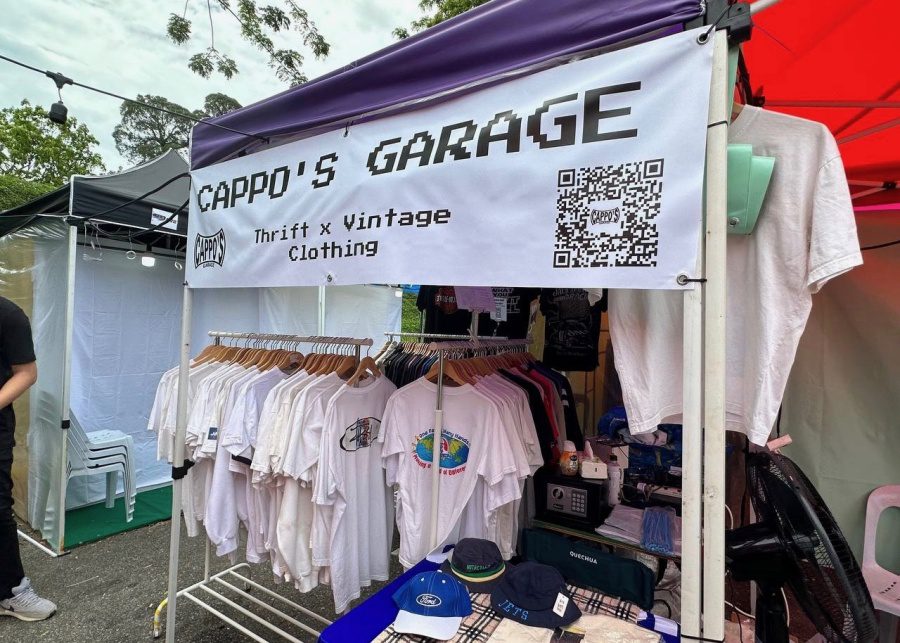 Love thrift shopping? Make a stop at Cappo's Garage for thrift and vintage clothing. You'll find plenty of fashionable pre-loved second hand gems here. Think roomy t-shirts, bucket hats, and hats.
Cappo's Garage
2. Befearless
Dog lovers, this one's for you. Befearless hawks t-shirts, hats, vests, and shorts embroidered with the most adorable dog patches. Think designs that come in the shape of bulldogs, shiba inus, pomeranians and more.
Befearless
3. Chonkymallows
We're obsessed with the thicc and delicious marshmallows from Chonkymallows. Pop by its booth at Chatuchak Singapore for an array of sweet treats in different flavours. We're talking key lime pie, birthday cake, and S'mores.
Chonkymallows
4. Loma.whale
If you've been shopping at the real Chatuchak, you've probably heard of Loma.whale. This crowd-favourite fashion brand sells beautiful clothes made of linen and cotton sourced from Thailand. Now you don't have to fly over just to browse its collection of cute dresses and tops.
Loma.whale
5. Kueh Clouds
You'll be up on cloud nine with the sparkly trinkets from Kueh Clouds. Think pastel or iridescent straps, key chains and bracelets that'll brighten up any outfit or phone. It's perfect if you're into the whole Gen Z Y2K fashion trend.
Kueh Clouds
6. Paw Furry
We were mesmerised by the Hunt section at Paw Furry. It sells chicklings, ducklings, quails, and rabbit ears for pups to enjoy (with feathers and fur attached). Pick up some delish treats for your furry friend. And if you're not into the whole dead animal parts thing, it also has the typical selection of meat jerky and yogurt drops on sale.
Paw Furry
7. Original Thai Massage
Tired after all that shopping and eating? Stop by the Original Thai Massage booth at Chatuchak Singapore for a foot and shoulder massage. Those muscle knots will be deftly kneaded out by professionals. Prices start at $15 for a 10-minute session.
Original Thai Massage
8. Beauty Glow
Get an express gel manicure for only $20 at this booth by Beauty Glow. It'll only take 15 minutes so you can get back to shopping quickly. Choose from solid colours or designs that include smiley faces, cats, or cool lightning bolts.
Beauty Glow
9. Alamak So Sweet
If you're looking for old-school candy bars and gummies, stop by Alamak So Sweet. It sells an array of local and international sweets like Laffy Taffy, Fruitella, Sour Power, Sweetarts, and Three Musketeers. You can even buy bubble wands and other small toys to treat your inner child.
Alamak So Sweet
Chatuchak market Singapore: Best food stalls
10. Sawasdee Mango
There are two Sawasdee Mango stalls at Chatuchak Singapore. One hawking delish mango sticky rice, and the other churning out cups of refreshing Italian soda. Of course, if you're a huge dessert fan, go for the sticky rice. But this cup of soda we're holding here was such a godsend in this perennial heat. Plus, it made a pretty picture for the 'gram.
Sawasdee Mango
11. Are You Hungry
Swing by this food stall for torched jumbo king crab, fried squid with tom yum mayo, and pan-seared salmon. You can even add different sauces for an additional one or two dollars. Think mentaiko mayo, tom yum mayo, or Thai seafood sauce.
Are You Hungry
12. Woonie Thai Food
Giant moo ping? Yes, please. Just look at these sizzling, tender sticks of meat from Woonie Thai Food. Have them as they come, or in fluffy warm baos for some extra carbs.
Woonie Thai Food
13. Tom Yum Mama Seafood
If you can't get enough of tom yum mama noodles, you need to order from this food stall at Chatuchak Singapore. Its tom yum seafood bucket feeds two to four people and ranges from $25 to $45.
Tom Yum Mama Seafood
14. Crepe Caffe
Head to Crepe Caffe's booth for crepes that come in flavours like nutella, oreo, kaya, and rainbow. If you prefer savoury crepes, choose spreads like chilli jam, pork floss, or cheese instead.
Crepe Caffe
15. 2 Ninja 1 Fat Pig
It's not a night market without grilled seafood. Fill up on juicy Ayutthaya giant river prawns and Japanese grilled jumbo scallops topped with your choice of garlic butter or cheese.
2 Ninja 1 Fat Pig
16. Soi Carnivore
Grab your meat-loving pals and get in line for Soi Carnivore. This food stall at Chatuchak Singapore sells $10 chicken bites and $12 beef ribeye chunks that are bound to satisfy.
Soi Carnivore
17. Rat Na Yot Phak 40 Years
This stall was awarded the Michelin Bib Gourmand two years in a row, so you know you can't miss it. There's plenty of noodle dishes to choose from, but its two star dishes are the big flat noodles with seafood, vegetables and gravy; and the crispy egg noodles with seafood vegetables and gravy.
Rat Na Yot Phak 40 Years
18. Paper Bag Thai Tea
Can you say you've been to Chatuchak Singapore if you didn't get Thai milk tea? Treat yourself to an icy cold cup (or bag) of tea from this stall if you can spot it in the crowd. It also sells other beverages like Thai bandung and green or red soda.
Paper Bag Thai Tea
19. Roti & Chachak
Swing by if you like your roti served with bananas, mango, or corn. Hot tip: stay long enough and you may even catch a tea-pulling performance by the shop vendor.
Roti & Chachak
20. Thai Coconut Waffle
If you're a big fan of our local pandan waffles, you've got to try the Thai variations from this food stall. Get yours with corn, sweet coconut, or mozzarella cheese. It's halal-certified, too!
Thai Coconut Waffle
Make a date with your friends at Chatuchak Singapore!