Photography: Le Tart via Facebook
There's nothing as amazing as hearing that snap from a tart as you cut into it. Presenting our top tart picks!
We'll never say no to dessert. Cakes, donuts, ice cream, tiramisu, pies… we love it all. So of course, we've got a soft spot for tarts. The creamy fillings, fresh toppings and buttery-crunchy tart shells send us to sugar nirvana. Tarts in Singapore have evolved from the humble chocolate one with rainbow sprinkles you find at neighbourhood bakeries. Just browse through our guide and you'll see what we mean.
Indulge in the best tarts in Singapore
1. Elijah Pies
We know the name says pies but we're settling this once and for all. The easiest way to tell pies and tarts apart is whether it's covered with a top crust. And if it doesn't have a top crust, it's a tart. No matter what you call it though, we think these treats are perfect in both the looks and taste department. Just look at the pretty wild berry lavender and raspberry ripple pies. Our team also swears by Elijah Pies – you need to go try them!
Elijah Pies, available online
2. Le Tart
The first thing you'll notice with the tarts here is the intricate way they're decorated. Topped with fresh fruits and edible flower petals, you can't help but admire these works of art. Plus, they're perfect for any occasion. Class up your dessert table with bite-sized mini tarts, treat yourself to a tart from the magic tea room collection or take home a big tart to share with your family.
Le Tart, available online
3. Tigerlily Patisserie
If you look past the freshly baked sourdough and neatly packed sables (we know it's hard), you'll find a small selection of tarts. Executive pastry chef Maxine is a force to be reckoned with, working under big names like Joel Robochon and Cheryl Koh. Baked in limited quantities, you're spoilt with the best craftsmanship. Choose a sweet tart like lemon Thai basil or go the savoury route with heirloom tomatoes baked into the tart.
Tigerlily Patisserie, available online
4. Patisserie Clé
Pastry chefs Germaine Li and Joy Chiam's approach to French desserts is all about using fresh produce and flavours. And it shows in the tarts. Find vibrant, fresh and punchy flavours including passion sesame, bourdaloue (poached pears with almond cream) and cognac caramel chocolate. Get the tart gift box to sample eight signature flavours.
Patisserie Clé, multiple locations including Lucky Court and Paya Lebar Office Centre
5. Tarte by Cheryl Koh
Helmed by award-winning pastry chef Cheryl Koh, the shop prepares tarts using ingredients sourced from around the world. The finesse and technique is evident in each beauty. You almost don't wanna eat them! Almost. Pick from dark chocolate, passion fruit meringue, poached pear, and shine muscat grape.
Tarte by Cheryl Koh, multiple locations including Shaw Centre and Raffles City
6. Ciel Patisserie
Easy on the wallets but packed with flavour, this humble patisserie whips out familiar flavours we all love. We're talking about lemon meringue, chocolate caramel and fresh fruits. The buttery and crisp tart shell pairs perfectly with these flavours.
Ciel Patisserie, #01-1444, 124 Hougang Avenue 1, Singapore 530124
7. Drips Bakery Cafe
Not sure what to get at Drips? Start with the signature seasonal fruit tart. The sweetness from fresh fruit paired with Madagascar vanilla-infused custard on a buttery handcrafted tart shell will leave you in high spirits. Other highlights include the avocado, and fresh yuzu tart.
Drips Bakery Cafe, multiple locations including Tiong Bahru and Takashimaya
8. Whiskit Bakery & Cafe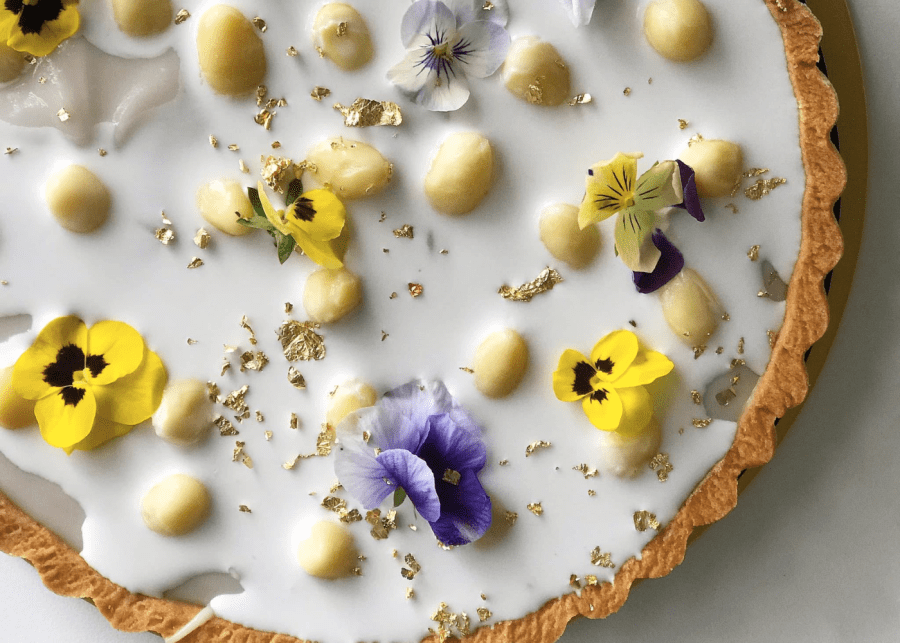 This Le Cordon Bleu Tokyo alumni makes our hearts flutter with unique local creations. Sure, we like the usual fruit and chocolate tarts. But for a change, try kaya ondeh, Milo, orh nee, and durian ondeh tarts.
Whiskit Bakery & Cafe, #01-08, Helios, 11 Biopolis Way, Singapore 138667
9. Niche Savoureuse
Birthday cakes, French pastry, and savoury mains aside, this neighbourhood bakery in Toa Payoh has cool tart flavours worth trying. Lemon meringue with reduced sugar, French apple tart and tropical fresh fruit tart. But what really catches our eye is the albinao dark chocolate tart that glistens.
Niche Savoureuse, #01-833, 128 Toa Payoh Lorong 1, Singapore 310128
10. Fredo's Baker
Located below an HDB block, Fredo's Baker boasts beautiful pastries made from fresh fruit. Expect the usual suspects like lemon meringue and chocolate flavours, as well as lovely white chocolate avocado tarts. Don't forget to say hi to pastry chef and owner Alfred Chan, who's just as cheery as his tarts.
Fredo's Baker, #01-05, Sunset Way Residence, 109 Clementi Street 11, Singapore 120109
11. Flor Patisserie
Flor is a Portuguese word for flower, which is apt 'cos every creation at this Japanese-style patisserie is delicate and fine. Japanese elements are used in the tarts too – the fruit tart is topped with Momiji and Wakaba melons. Check out the signature cheese tarts layered with several flavours like durian, chocolate, and green tea. A plus point in our books? The store has stopped giving out plastic bags and knives. So remember to BYOB!
Flor Patisserie, multiple locations including Siglap Drive and Duxton Hill
12. Luna Singapore
The edible works of art at Luna are not only delightful to look at, they're just as delish too! Its menu offers Japanese-inspired flavours like Goma x PB (black sesame creme with peanut butter), and yuzu meringue cheese tarts. Other show-stopping tarts include sea salt noir dark chocolate, citrus earl grey, and pistachio hazelnut.
Luna Singapore, 53 Amoy Street, Singapore 069879
13. Wunderfolks
Wunderfolks has evolved from a home-based business to owning takeaway tart and pastry shops across the island. We're not surprised! With crunchy and buttery tart shells topped with winning flavours like mixed fruit, dark chocolate, lychee, sesame and lemon meringue. Options include mini tarts in boxes of four and six as well as whole tarts.
Wunderfolks, available online and at multiple locations including Junction 8, Lot One and Tampines Mall
14. Sugar Thieves
On break till mid-November 2022
A quick look through the folks' IG feed and you can see why they're one of the most popular bakers in the city. The team uses high quality ingredients for all the baked goods. We love the cakes and cookies, but of course, we've got our eye on the tarts. The menu rotates weekly so be sure to check the Instagram page for updates.
Sugar Thieves, #01-23, Blk 333 Kreta Ayer Road, Singapore 080333 
Now that you've made it to the end of our list, reward yourself with one of the best tarts in Singapore!