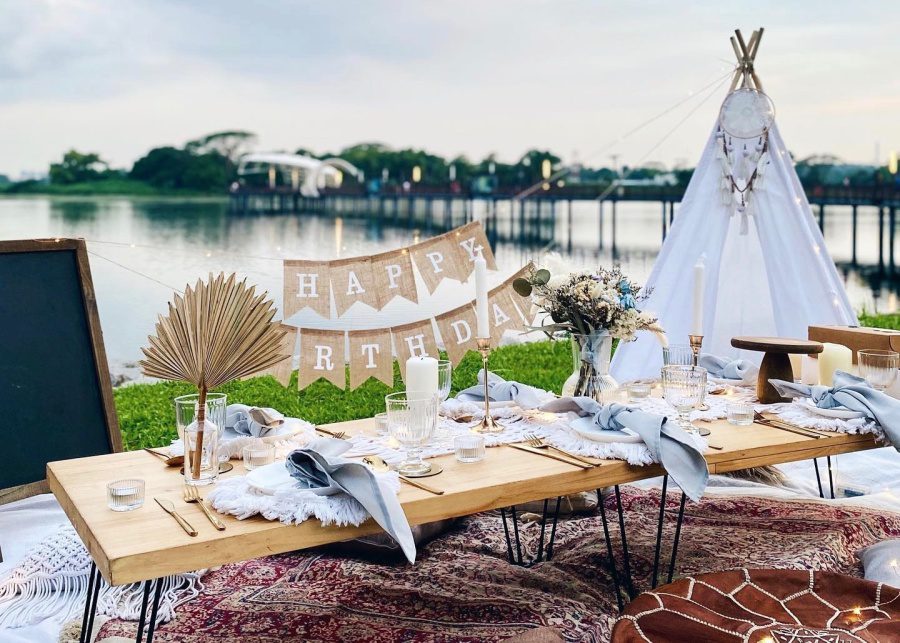 Photography: Pie In The Sky Picnics via Facebook
These picnic planners in Singapore will transform any outdoor space into the set-up of your dreams.
Head out on weekends, and it's likely you'll find several families, friends and lovers having picnics in our gorgeous parks and gardens. It always seems like a good time to have one, considering our endless summer. While it's fun to plan your own picnic, why not go all out at your next event with set-ups by expert picnic planners in Singapore? It's a great way to impress a date, and it also makes the perfect backdrop for proposals, parties and events!
Best picnic planners in Singapore
1. Pie In The Sky Picnics
The picnic planners at Pie In The Sky are always ready to astound you. Choose from whimsical themes like High Tea Picnic Party, Bohemian Rhapsody, or Dreams in Ochre for a fairytale picnic. Each set-up includes themed decor, picnic tables, teepee tents, cutlery, fairy lights and more. You can even add on a cheese platter, wine and bottled cocktails for an extra special evening.
Pie In The Sky Picnics, book online
2. Picneeds
We can't get enough of the beautiful and hassle-free outdoor set-ups from Picneeds. Choose from "feelters" such as whites, browns and pastels as the base colours for your dream picnic. Then add on food and drinks, as well as additional props like teepees, floral bouquets and even a professional photographer. Hot tip: plan your picnic to take place around the golden hour for some added magic.
Picneeds, book online
3. Estilo & Co.
Engage the folks at Estilo & Co. for a party that stands out. These picnic planners in Singapore do luxe set-ups and curated table styling for intimate events and even corporate programmes. Pick from themes that range from tropical to boho chic. We particularly love the Movie Night package that includes fancy twin seat lounges. All you have to do is arrive, sit back and relax into plush cushions.
Estilo & Co., book online
4. Memories With KxS
Glam picnics are always in session at Memories With KxS. We're obsessed with the monochrome and carmine colour schemes, which are a step away from the usual pastels you'll find in picnic set-ups. Some of its packages also come with board games to keep you and your date entertained.
Memories With KxS, book online
5. Picnique
If red-and-white chequered mats and woven picnic baskets are your idea of the perfect picnic, you'll love the ones by Picnique. Its basket packages come with artificial flowers, snacks, wooden cheese boards, card games and painting canvases for an afternoon of fun. Sure, the set-up isn't the most elaborate, but we love the affordable prices!
Picnique, book online
6. Plan B
The Insta-worthy picnic packages at Plan B have us swooning. You can count on the picnic planners here for a bohemian-themed set-up that'll blow your date away. Think fairy lights, white drapes, and dreamy floral arrangements that look like they've been taken straight out of a Pinterest board. It beats a night out at any fancy restaurant.
Plan B, view online
Make your next outdoor event an impressive one with these amazing picnic planners in Singapore.