Photography: Burger & Lobster Singapore via Facebook
Treat yourself to a decadent seafood feast with the best lobster dishes in Singapore.
When we crave premium seafood, the sweet and succulent meat of luscious lobsters come to mind. There's a time and place for dishes like chilli crab, but this coveted crustacean is versatile in ways we love. Lobster dishes in Singapore are aplenty, with the seafood star featuring in everything from lobster rolls and noodles to mac and cheese. Dreaming of your next lobster feast? We've got all the top recommendations in the city!
Guide to the best lobster dishes in Singapore
Burger & Lobster: Sambal lobster
Like its name suggests, the London-born burger and lobster joint is an absolute gem when you're craving lobster. You just can't go wrong with wild, live Canadian lobsters that are steamed or grilled ($55), paired with butter or the brand's famous lemon and garlic butter. But for an adventurous, locally-influenced take on the crustacean, try the sambal glazed version with garlic toast ($67). Or, have yours with what could be the country's most expensive bowl of laksa ($67 for the whole lobster). Fan of lobster rolls? You can choose from original or surf and turf renditions here.
Burger & Lobster, multiple locations including Raffles Hotel Arcade and Jewel Changi Airport; or order online for delivery
Luke's Lobster: Lobster rolls
Finally, some good news for 2020: The famous American seafood specialist is finally arriving on our shores this year. Popular for seafood rolls stuffed with lobsters, crabs and shrimp, the eatery will debut its open concept space at Shaw House in September. Expect to dine on sustainably sourced lobsters brought in from Maine. We can almost taste the toasty lobster rolls served with a splash of lemon butter!
Luke's Lobster, opening on 23 September at #01-K4, Isetan Scotts, Shaw House, 350 Orchard Road, Singapore 238868
OverEasy: Truffle lobster mac and cheese
Styled in the vein of an old school American diner with all the funky quirks, OverEasy gets our vote for a great night out by the waterfront. Lobster lovers will enjoy savouring the signature truffle lobster mac and cheese ($48), all rich and creamy and studded with Maine lobster chunks.
OverEasy, #01-06, One Fullerton, 1 Fullerton Road, Singapore 049213; or order online for delivery
Ramen Keisuke Lobster King: Lobster ramen
With a name like that, you can be sure lobster is king in this eatery. Inspired by the French culinary style behind lobster bisque, the beloved Japanese ramen brand uses French rock lobsters in its broth, which simmers for hours on end to bring out the most delightful flavours. With prices starting from a totally affordable $13.90, variations of lobster ramen are served here, from clear to rich and creamy to spicy miso soup bases. Best of all, the joint stays open till 5am, so all you night owls and party-goers can pop by for supper.
Ramen Keisuke Lobster King, #01-07, The Cannery, 3C River Valley Road, Clarke Quay, Singapore 179022
The Market Grill: Lobster Thermidor
Everything's oh-so-fresh at The Market Grill, where meats and lobsters are grilled perfectly on the 'woodstone' charbroiler. Your crustacean of choice is mainly flown in from Maine and Boston, and you can have it steamed, chargrilled or done Thermidor style. Lobster brioche rolls ($48) are available too, or you can simply enjoy the best of both worlds with the surf and turf dish ($92), featuring whole lobster, beef, greens and mashed potatoes.
The Market Grill, 208 Telok Ayer Street, Singapore 068642; or order online for delivery
Min Jiang at Dempsey: Lobster noodles
When our cravings turn to Chinese food, Min Jiang's lovely Dempsey space is one of our top picks. The seafood dish of choice? Stewed noodles with lobster ($118). Halved local lobsters are cooked with ginger, spring onions and the restaurant's 'superior broth', while the sauce is made with shallots, chicken broth, oyster sauce and dark soya sauce. Add egg noodles into the mix, and you've got yourself a perfect plate.
Min Jiang at Dempsey, 7A and 7B Dempsey Road, Singapore 249684
Pince & Pints: East-meets-West lobster
Since 2014, the homegrown brand has been serving up gourmet seafood to crustacean lovers across the island. Sri Lankan mud crabs may be a recent addition to the menu, but the spotlight still shines brightly on its premium lobster dishes. Let's count the ways we can savour this succulent seafood treat, shall we? Lobster roll with butter, Nonya chilli or truffle (from $58). Cantonese-style steamed lobster with glass vermicelli ($58). Lobster mac and cheese ($32). Whole live lobster doused in black pepper or chilli sauce ($58). It's a fab fusion of flavours, and we're lovin' it. Still, traditionalists can enjoy your good ol' live whole lobster ($58), grilled or steamed, with leafy greens, fries and creamy butter sauce on the side.
Pince & Pints, 33 Duxton Road, Singapore 089496; or order online for delivery
Cajun on Wheels: Cajun boil bucket
The halal-certified Louisiana-style food truck whips up an incredible seafood feast, with Cajun boil buckets of crabs, lobsters and prawns, as well as charcoal grilled seafood buckets that are practically begging for you to dig in. Bring the entire fam and don't be afraid to get your hands dirty!
Cajun on Wheels, multiple locations including Plaza Singapura and Pasarbella, Suntec City; or order online for delivery 
Chatterbox: Lobster laksa
This elegant restaurant in Singapore may be renowned for its signature Hainanese chicken rice, but don't underestimate the lobster laksa ($38). Brimming with spicy, coconut-rich broth, thick rice vermicelli strands, quail egg, fishcake, dried beancurd and juicy chunks from a whole Boston lobster, this extravagant bowl is an addictive one.
Chatterbox, Level 5, Mandarin Orchard Singapore, 333 Orchard Road, Singapore 238867; or order online for delivery
Naked Finn: Lobster bisque
Fresh, quality seafood is what you'll get here, with a kitchen that employs simple cooking techniques to bring out the best flavours. Among the stellar menu items, must-tries include lobster bisque ($22), prepared with skate stock, tomato puree and brandy, and Connecticut-style lobster roll ($35), grilled with unsalted butter and sandwiched between a toasted baguette. You can choose creme fraiche or housemade shio kombu mayo to go with your roll, which is served with delish shoestring truffle fries.
Naked Finn, 39 Malan Road, Gillman Barracks, Singapore 109442
Yan: Lobster porridge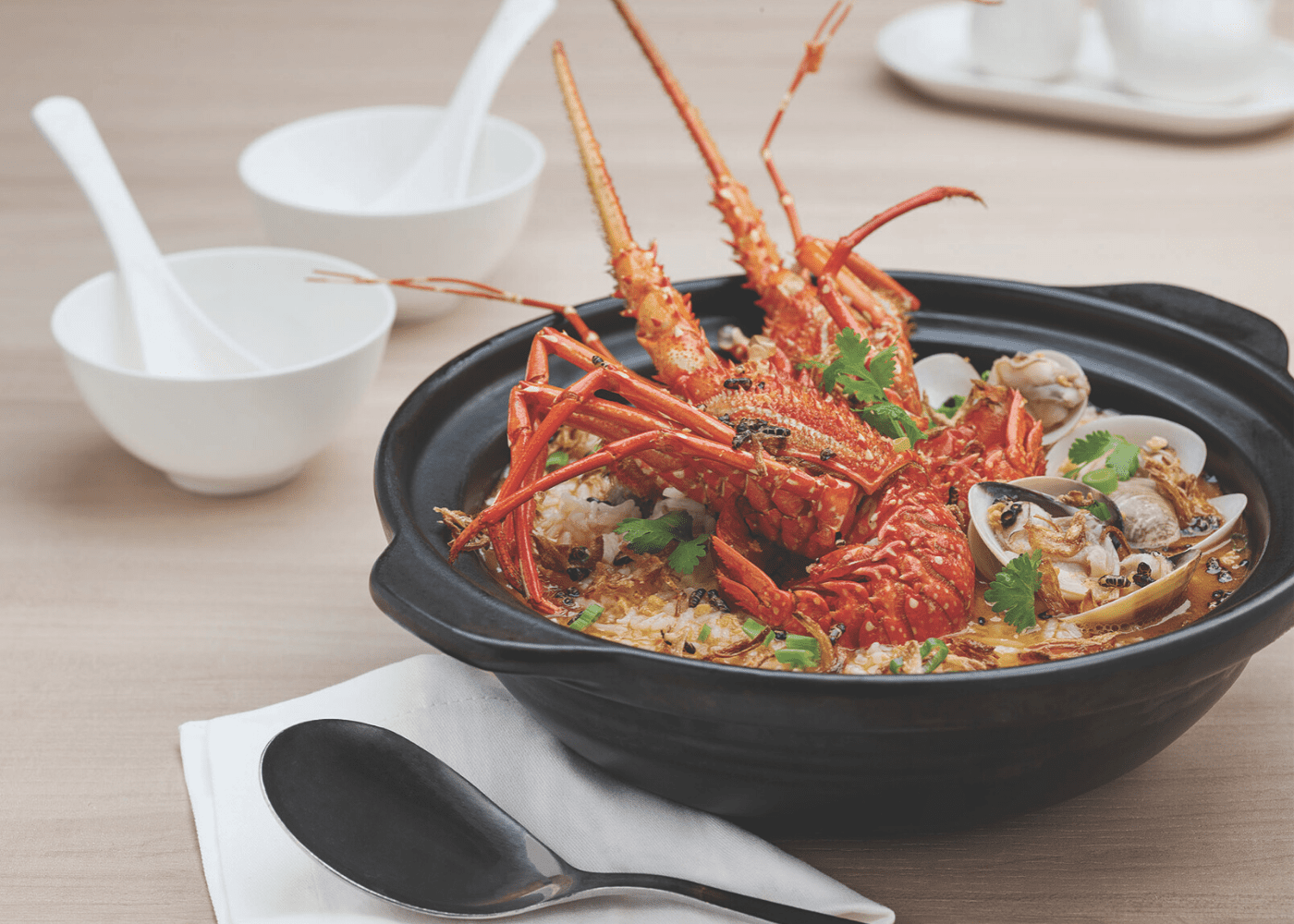 Dining at the Cantonese restaurant is a sophisticated experience on its own, but throw in a warm bowl of local lobster porridge with clams and puffed rice, and we're sold. For $18 (per 100g), you'll be treated to hearty comfort food made flavourful with fried garlic, fried shallots, spring onions and coriander.
Yan, #05-02, National Gallery Singapore, 1 St. Andrew's Road, Singapore 178957
The Ship: Lobster Thermidor
Having been around since 1977, the Western grill sure knows a thing or two about steak. But browse through the seafood selection and you'll find the highly recommended lobster Thermidor ($65), a decadent delight cooked in white wine cream sauce and topped with mushroom, egg and parmesan cheese. To complete your dining experience, add on the classic lobster bisque ($15.90) appetiser for rich, creamy spoonfuls.
The Ship, multiple locations including Shaw Centre and Nex; or order online for delivery
The Boiler: Lobster seafood boil
The Cajun-style seafood boil resto, which opened in 2008, has been spreading the love with seafood delicacies like jambalaya, fish and chips, chilli crab and seafood bags stuffed oodles of flavour. But if you're here for the lobster, get the premium set (from $255 for three to four people), which will feed your group with starters, desserts and the seafood boil featuring Boston lobster amongst crabs, prawns, mussels and clams.
The Boiler, multiple locations including Novelty Bizcentre and Esplanade Mall; or order online for delivery
The Providore: Lobster mac and cheese
Whether you're stopping by for lunch in the CBD or a mid-afternoon break from retail therapy in town, The Providore is always a good choice. There's plenty to choose from the extensive menu, but we'd say treat yourself and go for the lobster mac and cheese ($27.50). Baked in a cast iron pan and topped with shaved fennel and fresh dill, this warm dish is particularly perfect for a rainy day treat.
The Providore, multiple locations including Mandarin Gallery and OUE Downtown Gallery
Chunky Lobsters: Lobster roll
Seafood isn't exactly the most wallet-friendly food in a restaurant, but these guys aim to make their lobster rolls affordable and we love 'em for that. Starting from $16, the classic favourite comes in an assortment of flavours on the menu, including lobster chunks slathered in cheese, chilli crab sauce, torched mentaiko, takoyaki drizzles with bonito flakes and, of course, original Connecticut-style with melted butter.
Chunky Lobsters, multiple locations including The Cathay and Bugis Junction; or order online for delivery
Orchid Live Seafood: Lobster porridge
Originating from humble roots at Orchid Country Club in 1999, this family dining establishment is known for its menu of Chinese dishes, including chilli crab and steamed fish. But trust us, you'll want to make the best out of your trip here by ordering the classic lobster porridge. Made with a secret recipe, the steaming bowl of goodness features sweet lobster meat in a savoury broth seasoned with sesame oil and spring onion. The crustaceans are fresh out of the tank, making this dish the ultimate comfort food.
Orchid Live Seafood, multiple locations including 1 Bah Soon Pah Road and 16 Jalan Kelulut; or order online for delivery