Breakfast for champs. Photography: Kraftwich
From a healthy fix to a hangover fixer-upper, wake up with these meals from Raffles Place, Amoy Street, Tanjong Pagar, City Hall, Telok Ayer and more.
A hearty fry-up to an egg-cellent protein fix, it's no secret that breakfast is undoubtedly the most important meal of the day. Trust us, we know a thing or two about brekkie. But let's be honest: how many of you skip breakfast 'cos it's just too much of a hassle, especially when you're rushing to work? That's precisely why we've put together this guide of breakfasts in the CBD, with both handy takeaway options and dine-in offerings that will convince you to postpone that morning meeting – or even move it to one of these spots.
Loloku
Let Loloku's hearty poke bowl cure your morning blues. You can opt to build your own and pick your favourite bits and pieces such as salmon, hamachi and even wagyu. Or just go for the signature bowls if you feel it's too early to make decisions.
Loloku, 1 Keong Saik Road, Singapore 089109
Park Bench Deli
The sandwich aficionados have put together breakfast treats that will have you coming back for more. How does double fried egg with crispy bacon, tater tots and cheddar cheese sound? We'll take one please! Definitely ain't an acai bowl but if you've woken up on the wrong side of the bed, this baby will fix you up nicely. Confession: this is our go-to hangover breakfast spot. Breakfast is available till 11 am.
Park Bench Deli, 179 Telok Ayer Street, Singapore, 068627
Maxi Coffee
This quaint little spot has stolen our hearts time and time again for its toasties and damn good coffee. 'Just toasties?' you might ask, but flavours like miso PB honey, vegemite cheese and kimchi ham cheese pack a punch. While you're waiting for your freshly brewed coffee prepared by the super friendly owners, perch yourself at the bar and enjoy the always on-point playlists.
Maxi Coffee, 31 Club Street, #01-02, Emerald Garden, Singapore 069468
Bread & Hearth
Adopting age-old bread making techniques, the bakes of Bread & Hearth yield a real distinct flavour. Besides serving good focaccias and ciabattas, it's also a chill place to have a good and hearty breakfast. Load up on steak sandwiches, BLTs or bacon focaccias, and you're pretty set for the day. Tip: enjoy the pastries with a generous slather of the cafe's homemade jam.
Bread & Hearth, 18 Keong Saik Road, Singapore 089125
Plain Vanilla Bakery
You may have stopped by for their cupcakes and pastries but Plain Vanilla Bakery also offers wholesome breakfast options like smashed avocado toast and a deli section of mains and salads. Sweet tooths can opt for cinnamon sugar muffins and blueberry galettes. Wash it all down with a cuppa Browns Mill Organic Coffee.
Plain Vanilla Bakery, various locations.
Common Man Stan
If you can't go all the way to Robertson Quay for Common Man Coffee Roasters' specialty coffee, the relatively new Common Man Stan at Stanley Street outlet can help. Need options? They've got it. The all-day breakfast menu (7.30am-5.30pm) has everything from granola and pancakes to croissant croque monsieur and rosti with poached eggs on toast. Gluten-free, vegetarian and vegan options are also available.
Common Man Stan, 11-12 Stanley Street, Singapore 068730
Dapper Coffee
Got a morning meeting? Have it right here. This hidden gem in Amoy Street serves all-day breakfast with plenty of customisable options. Craving for eggs? Have 'em scrambled, poached or fried with avocado mash, gula melaka ham, mezcal-cured salmon or roast beef. There's also buttered toast with a choice of vegemite, houseberry preserve, house kaya or peanut butter. De-lish. Oh and in case you didn't know, the space turns into a speakeasy at night so come back for after-work drinks.
Dapper Coffee, 73 Amoy St, Second Floor, Singapore 069892
Little Creatures
Yes, we all know about Little Creatures' freshly brewed beer and now, you can also get freshly roasted coffee right here. Offering breakfast from 8-11.30am, they've got the usual suspects of avo toast, eggs benedict, granola, toasted breads with the bulk of the items under $15 – and not to forget, freshly roasted coffee right from the Mohamed Ali Lane outlet!
Little Creatures, 36 Club Street, Singapore 069469
The Providore
Get your English breakfast fix at The Providore's outlet at OUE Downtown Gallery along with other nourishing, spirit-lifting bites like Spanish baked eggs with chorizo sausages, and the breakfast bacon, lettuce and tomato sandwich. The multi-concept venue also houses a bakery and a host of indie grocers, so go shop for some fresh buns and gourmet products to help you get through that mid-afternoon slump!
The Providore, 7 Raffles Place, Singapore 048625
Club Meatballs
Did you know that, aside from meatballs (obviously), Club Meatballs packs diverse breakfast selections that'll put a spring in your step? For a hearty breakfast, relish the club signature breakfast piled high with bacon, pork sausage, button mushrooms, cherry tomatoes, toast and two eggs served your way. Another classic brekkie option done beautifully here is the eggs Benedict, served with parma ham and homemade hollandaise sauce
Club Meatballs, #01-35, 20 Cross Street, China Square Central, Singapore 048422
Maison Kayser
Known to weave unusual flavors into traditional French recipes, Eric Kayser's eponymous bakery, famous for its use and invention of Fermentolevain (a machine that creates and maintains liquid leaven), rolls out a wide range of savoury and sweet baked goods. Try the famed croissant, which has even been named as the best in the city by Paris' Figaro newspaper.
Maison Kayser, various locations.
Kitchen by Food Rebel
There's a new way to eat clean in the CBD! Food Rebel has entered the breakfast fray with a selection of brekkie bites sorted into cooling and warming meals. If the heat is creeping up on you, pick cool options like the super fresh acai berry bowl, cinnamon-spiced overnight oats or the chia seed pudding. Dreading the thought of spending the morning freezing in a meeting room? Warm yourself up with hot, hearty options like buckwheat porridge with cashew butter or the Rebel Breakfast – free-range eggs, spiced chickpeas, sauteed mushrooms, peppers with avocado, and sourdough rye.
Kitchen by Food Rebel, 28 Stanley Street, Singapore 068737
Grain Traders
On the flipside, if you're after something a little healthier than a big ol' bacon sarnie, make your way to Grain Traders. There are lots to choose from here, including savoury porridges like the miso brown rice porridge and oatmeal bowls with coconut and tropical fruit. For something light, you can go for the yoghurt with honey and almond butter.
Grain Traders, 138 Market Street, CapitaGreen – Office Space, Singapore 048946
Free The Robot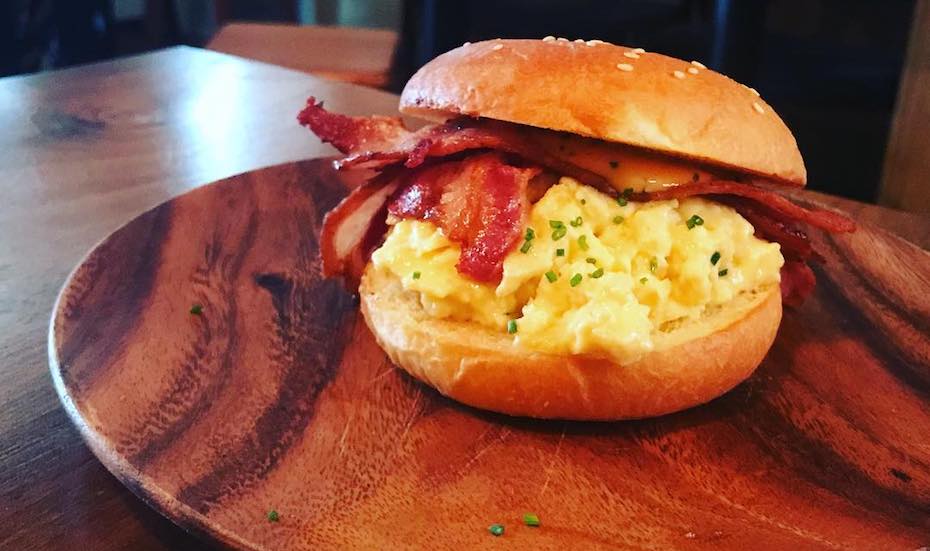 You know we love this quirky café-by-day, bar-by-night. Pop by for breakfast, and you'll get to tuck into toasted sandwiches like the classic egg and bacon. What we're especially fond of are the thick, fluffy slices of toast and the melt-in-your-mouth eggs. Feeling fancy? The French toast with berries and bagels is the bomb.
Free the Robot, 118 Telok Ayer Street, Singapore 068587
Kraftwich
Want a quick bite to fuel your work day? Then make a beeline for Kraftwich by Swissbake's grab-and-go items, ranging from indulgent egg mayo or turkey ham and cheese croissants, to a healthier multigrain version with tuna. If you've got time for a leisurely brekkie or brunch, the poached egg and turkey ham crumpet is a winner in our book. Breakfast of champions? Yes sir.
Kraftwich by Swissbake, various locations
Shake Farm
If your body's screaming for a detox from last night's revelry, you're in luck. Shake Farm will save your diet with shakes, breakfast plates, protein-rich options, acai bowls and super toasts. We've been craving a second helping of the avocado and feta cheese toast ever since we tried it!
Shake Farm, 126 Telok Ayer St, Singapore 068595
Zhen Zhen Porridge
For some of us, steaming hot bowls of chicken porridge bring back memories of childhood, and Zhen Zhen Porridge is my first-class ticket to that nostalgic trip. The porridge here is criminally cheap – a small bowl (which isn't) goes for $3, while a medium and large go for $4 and $5 respectively. Whether you opt for fish or chicken porridge, you'll get a rich, smooth, creamy bowl with lots of meat and aromatic shreds of ginger. Upgrade it with a century egg for the ultimate breakfast.
Zhen Zhen Porridge, Maxwell Food Centre, Stall 54, 1 Kadayanallur Street, Singapore 069184
Sarnies
Say no to soggy sandwiches and sloppy takeaway brekkies! When we find ourselves battling deadlines, we still make time for a quick trip to Sarnies. On the breakfast menu here are filling brekkie bites like egg & sausage muffins, salmon & cheese bagels, or the gloriously-stuffed breakfast wrap.
Sarnies, 136 Telok Ayer St, Singapore 068601
Drury Lane
This quaint cafe along Tanjong Pagar Road offers some sizeable (all day) breakfast platters like The Big 94 – a feast of multigrain tortilla with Sriracha maple, beef sausage, two eggs done your way, BBQ beans, mushrooms and turkey bacon. Alternatively, go English with Marmite cheese soldiers with soft-boiled eggs. Or can't get enough of the salted egg trend yet? Go straight for the creamy salted egg yolk eggs Benedict with grilled prawns.
Drury Lane, 94 Tanjong Pagar Road, Singapore 088515
Ya Kun Kaya Toast (Original Branch)
Let's not forget about this longstanding breakfast institution and local pride and joy! While its chain outlets are practically everywhere, for the very best, you'll have to make a trip down to the original branch on China street. The classic menu offering here is a stack of kaya toasts made with the signature, thin crisp bread, two soft boiled eggs and a good ol' cup of Singapore-style black coffee.
Ya Kun Kaya Toast, 18 China Street, #01-01, Far East Square, Singapore 049560
Nam Nam Noodle Bar
Pho and banh mi aren't really what comes to mind when you think of breakfast in Singapore. But, trust us when we say a steaming hot bowl of pho is the best way to stave off a mega hangover. The Good Morning Vietnam breakfast set will perk you up with a banh mi of your choice along with Viet coffee or lotus tea for just $7.50. While the chicken, beef or vegetarian pho set will fix your soup noodle cravings for just $8.50.
Nam Nam Noodle Bar, various locations.
Paul
The international outpost of France's largest chain bakery in Singapore is great if you're hankering for some delectable French croissants. Their croissants are crispy, flaky and absolutely tasty when having it fresh in the morning. They also offer a selection of dessert pastries to enjoy over a pot of tea or cuppa, at one of their lush tearooms if you feel like you've binged on too many croissants for a day.
Paul, #01-01, Ocean Financial Centre, 10 Collyer Quay, Singapore 049315
The Populus Coffee & Food Co.
This self-proclaimed "gastro-cafe" serves Two Degrees North Co. coffee and contemporary dishes like Buckwheat Pancakes, and its signature Populus Scramble – we're completely in love with its soft creamy eggs and delicious bacon streaks! Besides its specialty coffee, it also has a range of filter coffee blends such as the Colombia Finca Micay and the Costa Rica La Pastora for chocolate-y, nutty and caramel-y tones to pair with your breakfast. If you're in for a cup of tea, find a variety of flavours on its menu.
The Populus Coffee & Food Co., 146 Neil Road, Singapore 088875
The Lokal
Modelled after famous Melbourne joint, Pope Joan, The Lokal offers plenty of Aussie-inspired creations. The steak and eggs, and roast pork sandwich are real hits; but if you'd like to customise your own brekkie special, you can choose from the extensive list of sides, including handmade ricotta, poached eggs, kimchi and roast chicken! Plus, fab coffee from sister outlet, Sarnies, is available here too.
The Lokal, 136 Neil Road, Singapore 088865
Tiong Bahru Bakery
Tiong Bahru Bakery is synonymous with croissants – who can resist that flaky, buttery goodness! If you need to satisfy your sweet tooth in the morning, go for the pain au chocolat or kouign amann. Don't forget to grab a cup of joe like the Magic, a double shot coffee with condensed milk (aka kopi gau).
Tiong Bahru Bakery, #B1-11/12 Raffles City Shopping Centre, Singapore 179103; Tangs Orchard, #01-16B 310 Orchard Road, Singapore 238864