Photography: Brooke Lark via Unsplash
Wholesome grain bowls, epic salads, hearty vegetarian and organic produce – hit up these healthy cafes in Singapore for a guilt-free feast.
Planning a 'vegetarian day' to compensate for a weekend of booze and desserts (hello, cookies and cakes)? You'll be pleased to know that clean-eating doesn't equate to bland food – these healthy cafes offer plenty of nutritious options that taste great too.
WHOLESOME MEALS
Kitchen by Food Rebel
Ever wanted to try zoodles? Head to one of our fave lunchtime spots for the zoodle bolognese, a healthier version of spaghetti that swaps the carbs for spiralised zucchini. Our choice pick has to be the hormone-free chicken protein bowl with hummus – the menu also includes other clean eats like the paleo-friendly green salad, nutritious smoothies, as well as fusion fare like the rendang eggs benny.
Believing that 'the food rebellion starts in the kitchen', this healthy cafe is on a mission to improve customers' health through a recipe of awareness, education and great, wholesome food. Founder Alika Tasker is also a health coach who holds healthy and raw cooking classes.
Kitchen by Food Rebel, 28 Stanley Street, Singapore 068737
Cafe&Meal Muji
We know Muji for its minimal and functional homeware, but did you know it offers wholesome meals too? The latest menu at Cafe&Meal Muji sees healthy ingredients that'll improve your sleep and overall health. After all, us city folks struggle with sleep thanks to stress and countless devices keeping us awake. Enjoy the likes of tofu salad, smoked duck and sweet potato salad, inari pockets, miso soup and more. Get the promotional three deli set for just $12.80 (U.P. $14.80) at Plaza Singapura and Raffles City from now till 14 October 2020. Purchase it with a drink for 50% off desserts! The cafe now offers delivery via Capita3Eats and GrabFood as well.
Cafe&Meal Muji, multiple locations including Plaza Singapura and Raffles City
Dosirak
Who said Korean food has to be gut-busting? Dosirak delivers clean Korean fare in a fast-casual setting. Bibimbap is the highlight here. You'll get to choose from 1o different variations such as kimchi tofu, soy citrus salmon and bulgogi beef alongside a medley of veggies and tantalising sauces like apple gochujang. And everything is served in takeaway tubs instead of the traditional stone bowl. Pro tip: Go for the cauliflower rice base for a low-carb meal, and mix it all up before you tuck in.
Dosirak, multiple locations including [email protected] and OUE Downtown Gallery
The Living Cafe
Joined at the hip with holistic wellness centre Balanced Living, this healthy cafe aims to inspire patrons with its dedication towards sustainability and a healthy lifestyle. It's housed in an airy space with a high ceiling (always a plus!) and a mezzanine floor, decked out with furniture in earthy neutral tones.
The menu is truly extensive, offering organic, raw, vegetarian, vegan and gluten-free options that are made to provide you with nutritious yet tasty fuel for the day. From the zucchini pesto pasta to the spiced chicken burger, there are plenty of mains to try, but leave space for dessert as the raw blueberry cheesecake is a must-try.
The Living Cafe, 779 Bukit Timah Road, Singapore 269758
Mahota
Mahota prides itself on being a "gathering of goodness". Here, it's all about growing good food, serving good meals and stocking only good ingredients – you can find the latter at its sister brand, Prime Food & Grocer. Pop by the restaurant and cafe for hearty meals that nourish the body and soul, intricately crafted rice bowls, meatless burgers, vegan desserts and more.
Mahota, #01-11, Century Square, 2 Tampines Central 5, Singapore 529509
Harvest
The CBD has no lack of salad spots, but the same can't be said for the other districts in Singapore. If you're around the East Coast area, you can count on Harvest for your leafy greens fix. This salad bar serves what you'd expect at any city lunchtime nook, but at a more affordable price. For $12, you get one protein, one base, three sides and a topping and dressing. Have yours with a cold-pressed juice for an extra dose of goodness and take time to enjoy the cafe's cool jungalow-style interior.
Harvest, 81 East Coast Road, Singapore 428785
Supergreek
Grain bowls are aplenty but have you heard of cuisine-centric ones? Founded by the same team who brought you Omakase Burger and food hall Picnic, this fast-casual Greek eatery offers Greek bowls at wallet-friendly prices. Our faves are the roasted barramundi, which comes with mashed potato and creamy homemade parmigiano sauce; and the flame-grilled steak, which is paired with tzatziki for a minty depth to the dish. And, of course, don't forget to try the house-made Greek yogurt – it's got a dense, cottage cheese-like consistency. After taking a spoonful, we've got to say: The proof is in the pudding.
Supergreek, multiple locations including Raffles City and Wisma Atria
Lean Bento
For gym buffs looking to up your protein intake or anyone wanting to eat better, swing by Lean Bento to pick up a takeaway lunch (it does delivery too!) for a guilt-free meal at your desk. Bentos at this healthy joint are low-cal, high in protein, affordable and halal. Options include sambal salmon, honey chicken and more. The kitchen also whips up healthy sweet treats like protein waffles and muffins.
Lean Bento, #03-01, The [email protected], 1 Irving Place, Singapore 369546
Haakon Superfoods
A firm believer of Danish wellness philosophy hygge, this Nordic-inspired healthy cafe is known for its nosh that's good for the body and soul. We especially love the tasty acai offerings, but save that for dessert and feast on the savoury meals first. The poke, grain and salad bowls are replete with choice proteins like beef brisket, tuna sashimi, falafel and quinoa.
For breakfast aficionados, bite into the flavourful tartines that are topped with smoked salmon, avocado and hummus. Or you can go for the brunch selection, which includes hearty burgers. Wash it all down with freshly squeezed juices like the Green Goddess, a refreshing cup of spinach, celery, apple and cucumber.
Haakon Superfoods, multiple locations including Holland Village and One Raffles Place
Plentyfull Bakery and Deli
Those who miss the now-defunct Plentyfull at Millenia Walk can head over to its sister brand at Great World City. Expect the same feel-good fare that restores your spirit, soul and body. The food is nothing short of delicious. Think salads filled with superfoods (goji berries, quinoa and broccoli), and tartines topped with ingredients like aubergine and avocado. For a hearty meal, go for the homemade meatballs in tomato stew or the resto's version of burbur ayam (Indonesian porridge), which features chicken roulade and onsen egg.
Plentyfull Bakery and Deli, #B1-K119 , Great World City, 1 Kim Seng Promenade, Singapore 237994
---
VEGETARIAN AND VEGAN
Real Food
For healthy eaters, Real Food is a household name. Run by a passionate team of ethical food advocates, the cafe is free from meat, processed ingredients and trans-fat. On the menu is a combination of Western and Asian fare, with items such as pumpkin soup, pesto pasta, curry noodles and vegetarian dumpling soup. And oh, everything's pretty pocket-friendly, too.
Real Food, multiple locations including Oasia Hotel Novena and Orchard Central
Afterglow
Aiming to 'bring sexy back to vegetables', Afterglow's dishes prove that a plant-based diet can be delicious. We're impressed by the "tuna" tartare dip made from smashed tofu and wakame, and let's not forget the addictive avo kimchi rolls or the raw cheesecakes! This trendy healthy cafe is also big on community, crowdsourcing ingredients from local farms and food artisans. Feel free to reach out to them if you share the same ethos.
Afterglow, 24 Keong Saik Road, Singapore 089131
Cafe Salivation
Want out-of-the-ordinary vegetarian food in Singapore? Pay a visit to this healthy cafe for its fun take on international vegetarian cuisine sans MSG. Here, you'll find a smorgasbord of dishes including burgers (veggie ones, of course!), pastas, baked dishes, quesadillas, eggless cakes and more. The menu also has items suitable for vegans, Buddhists and Jains, plus delicious morning grub like scrambled paneer on toast that will make your meat-munching pals jealous.
Cafe Salivation, 176 Race Course Road, Singapore 218607
---
CUSTOMISABLE BOWLS
The Daily Cut
The Daily Cut has multiple locations around the CBD and it's one of the most popular places for lunch. The protein-heavy bowls are an easy, fuss-free option perfect for gym rats and healthy eaters. Beef up your bowl with an array of protein-packed fillers – from generous servings of sirloin steak to veggie-friendly tofu – before topping up on other nutritious goodies like quinoa, sweet potato and avocado. But before you pile up on the proteins, track your calorie requirement with its online macro calculator.
The Daily Cut, multiple locations including Raffles Place and Tanjong Pagar
Wheat
Wheat is a healthy cafe that's big on soba, quinoa and brown rice for guilt-free carbs, with well-seasoned proteins like shrimp, salmon and chicken. Vegetarians can tuck into peculiarly-named dishes like 'blossom rice' and 'earth rice', which feature plant-based pork. Or you can design your own bowl.
Wheat, multiple locations including One Raffles Place and [email protected]
Aloha Poke
While Hawaiian sun, sand and surf might be far off, Hawaiian fare makes its way to the CBD at Aloha Poke. Founded by two Singaporean couples that fell in love with poke while vacationing in Hawaii, this casual, colourful eatery specialises in the traditional Hawaiian raw fish salad. Here, you can design your own tasty meal by picking house-marinated tuna or salmon (vegetarian choices include tofu and king oyster mushroom) alongside complementary add-ons from its comprehensive selection.
Aloha Poke, multiple locations including Marina Bay Link Mall and One Raffles Place
Grain Traders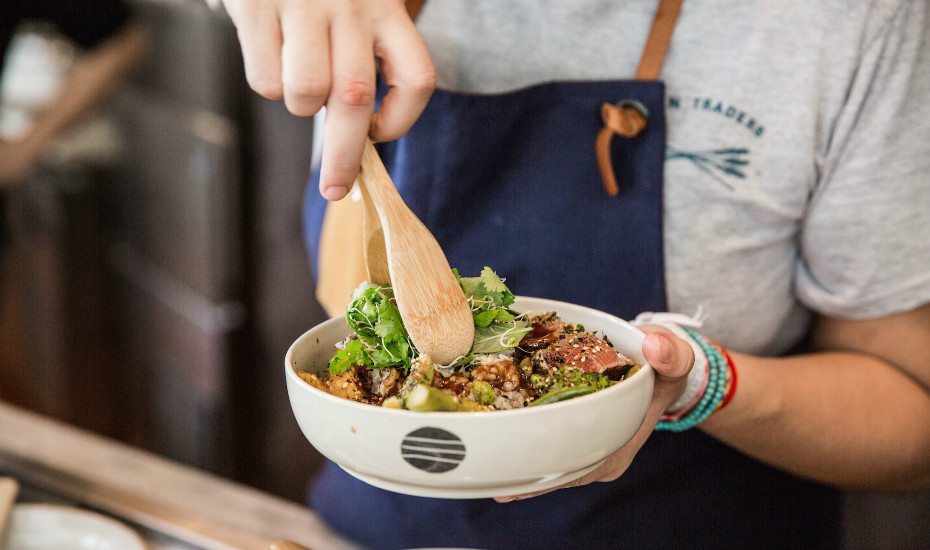 Believing in #feedingpeopleright, Grain Traders deserves its rep as a popular CBD lunch spot. Come early to nab an indoor spot (the outdoor area is reserved for standing spaces only) and grab a customisable healthy bowl. They're filled with base options like quinoa and super greens, plus meats such as grilled sirloin steak, pulled pork and seared, marinated tuna.
Alternatively, take your pick from one of the ready-to-eat bowls, each crafted with a deliberate ratio of protein, carbs and greens for a well balanced meal. Mains aside, you can also expect to find a wicked cuppa (make it better by asking for a double shot), along with a selection of pastries and desserts.
Grain Traders, CapitaGreen, ground floor, 138 Market Street, Singapore 048946
Poke Theory
A healthy meal doesn't have to cost a lot and this poke joint proves that. Fully customise your bowl with a vast selection of fresh ingredients, including pickled beetroot, wakame seaweed, kimchi and pineapple. It's a great way to eat your colours! Top it off with a choice of spicy mayo salmon, spicy garlic sesame tuna or sous vide dashi chicken. And instead of Japanese sushi rice or crunchy romaine lettuce, you can even switch your base to the nutty lemon herb quinoa.
Poke Theory, multiple locations including Telok Ayer and Duo Galleria.
Salmon Samurai
This joint is by the people behind Tanuki Raw, Shinkansen and Standing Sushi Bar – so you know it'll be good. Toppings include salmon fillet in teriyaki sauce and salmon slices topped with mentaiko to go with your choice of base (yuzu-ume brown rice, udon noodles, mixed greens salad, or buckwheat soda). If that's not enough for you, try the miso soup filled with generous chunks of salmon!
Salmon Samurai, multiple locations including Ocean Financial Centre and 100AM
Wafuken
Wafuken stands out thanks to its sous vide based concept. (That's a method of cooking where ingredients are vacuum-packed and submerged in a water bath.) These folks pride themselves on serving perfectly cooked meats, from silky salmon fillets to juicy chicken breasts to tantalising steaks. Select your choice of protein, vegetables and carbs to customise your meal, and dig in happily, knowing none of the food contains unhealthy fats, excess sugar or tenderisers.
Wafuken, multiple locations including Asia Square and OUE Downtown Gallery
The Lawn
This halal-certified specialty salad spot is where you can customise your green bowl with an array of toppings and grilled meats. We're not talking plain ol' steak cubes and grilled chicken, by the way. Chow down on items like pesto chicken and char-grilled prawns. If you don't feel like building your own bowl from scratch, try the signature salads instead.
The Lawn, #01-07, Nanos Building, 31 Biopolis Way, Singapore 138669
Yolo
Contrary to what you may think, Yolo isn't about eating like it's your last day on earth. Founded on the philosophy that "tasty food can actually be good for you", the cafe champions taking care of your body with health foods suited to your specific needs. Yolo also offers meal subscription plans according to your nutritional needs – and at affordable prices, too.
Yolo, multiple locations including Icon Village and Star Vista
---
GUILT-FREE SWEET TREATS
Shake Farm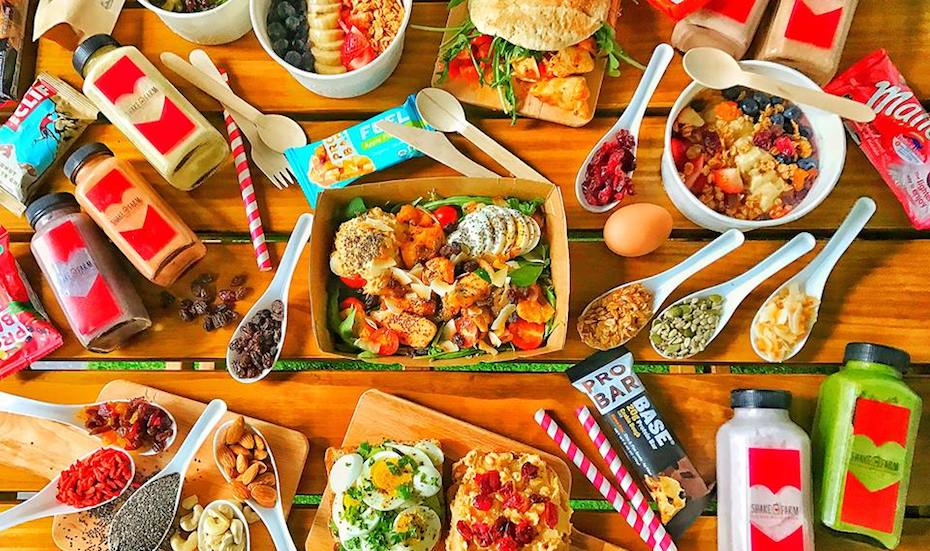 By day, Shake Farm offers hearty shakes, breakfast bowls, protein bowls, acai bowls and super toasts. By night, it transforms into – wait for it – Singapore's first healthy bar with organic cocktails, biodynamic wine, gluten-free organic beers and healthy tapas. Ahh, music to our ears. Oh, and if you want to grab-and-go, pop by its express outlet at Robinson Road.
Shake Farm, 126 Telok Ayer Street, Singapore 068595
Kind Kones
Using only fresh and natural ingredients – sans preservatives, refined sugar, artificial flavouring and all those nasties – Kind Kones offers a great alternative to ice cream. Offering a bevy of fun flavours such as almond brittle fudge, charcoal vanilla and black forest, the brand proves that vegan, gluten-free and dairy-free ice cream can taste just as good! You'll never notice the difference. Psst: Bring your own container to get 50 cents off the bill.
Kind Kones, #B1-27, Forum The Shopping Mall, 583 Orchard Road, Singapore 238884
Project Acai
Singapore's first dedicated acai cafe sources organic and sustainable acai to turn into sin-free superfood bowls. And if you're wondering, the acai fruit isn't touted as a superfood for nothing. With up to 10 times more antioxidants than blueberries, it's high in fibre, low in GI and makes for a great vegan source of essential heart fats. Drop by the healthy cafe to give this amazing fruit a try! The acai sundae bowl is our fave– an acai blend served with bananas, goji berries, strawberries, vegan house-made chia pudding, cookie crumble and cashew cream, along with a drizzle of nut butter.
Project Acai, multiple locations including Holland Village and Takashimaya
Berriwell
It's Singapore's only acai soft serve cafe, so naturally, the superfood is the star of the show here. The super-swirls are vegan, dairy and gluten-free, with toppings like almond butter and kiwi, plus flavours such as spirulina and Thai coconut. The smoothies are no less delish, available in options like berry and peanut butter jelly with optional protein add-ons.
Berriwell, 568 Upper East Coast Road, Singapore 466584
What are you waiting for? Go forth and take your tastebuds to these healthy cafes for a tasty, wholesome meal.