How's this for glittery? Photography: Disney's Aladdin The Musical
We talk about the Genie belting notes, dish on the hidden Disney Easter eggs, and decode the mystery of the magic carpet…
TL;DR: You've got to watch Agrabah come alive in the Aladdin musical that's spectacularly larger-than-life. Period. This enchanting show has transformed MBS' Sands Theatre into an exotic land, and it promises to take you for a mesmerising ride – even if there's no magic carpet at your disposal. When we heard that this Broadway hit was dropping by Singapore as its only Asia stop (showing till 1 September), we jumped at the chance to watch it in all its shimmering, shining glory.
Classic Disney, with some unexpected surprises
This Australian Disney Theatrical production stars Graeme Isaako as the brilliantly cheeky thief/ fake prince Aladdin, and Shubshri Kandiah who made a perfect Disney princess in her performance of Jasmine. We witnessed a classic portrayal of this Disney couple, which brought to mind memories of watching the animated film as a child.
Anyone who has watched this musical would agree that the Genie was a scene stealer. Admittedly, this is a character which lends itself well to humour, so it might be no surprise to some that he won the hearts of the crowd. Still, kudos to Gareth Jacobs for bringing our favourite blue spirit to life with his boundless energy and amazing voice (just wait till you hear him belting out those notes!).
We loved how he paid homage to Robin Williams' iconic portrayal by putting this best foot forward every single time he stepped on stage – it was clear to all of us that he performed every move with all the enthusiasm he had.
An unexpected character that caught our attention, Patrick R. Brown impressed us with his performance as Jafar. Think textbook Disney villain (best evil laugh ever?) mixed with a dash of humour, alongside the meddlesome sidekick Iago (Doron Chester).
Deviating from the movie, Aladdin here has his trio of friends in place of Abu. While we were a tad disappointed that the mischievous monkey didn't get a part, Babkak (Troy Sussman), Omar (Adam Di Martino), and Kassim (Rob Mallet) did a fab job of bringing hilarious bickering and heartwarming scenes to the show.
Between Aladdin classics and specially written songs, the cast blew us away with their crisp vocals and spirited performance. We particularly dug the jazzy rendition of A Friend Like Me and the spellbinding Arabian Nights. Special mention to the Prince Ali number that refused to get out of our heads.
So. Much. Glam.
The Genie doesn't lie, Agrabah really does have more glitz and glamour than any other fictional city in the world. If the vibrancy of these outfits and stages don't leave you staring in awe, we don't know what will.
Expect costumes so blingy that they put the Met Gala to shame (we still love the latter, but that's another story). Case in point: in one scene, the cast rocks outfits with over a thousand Swarovski crystals each – enough said.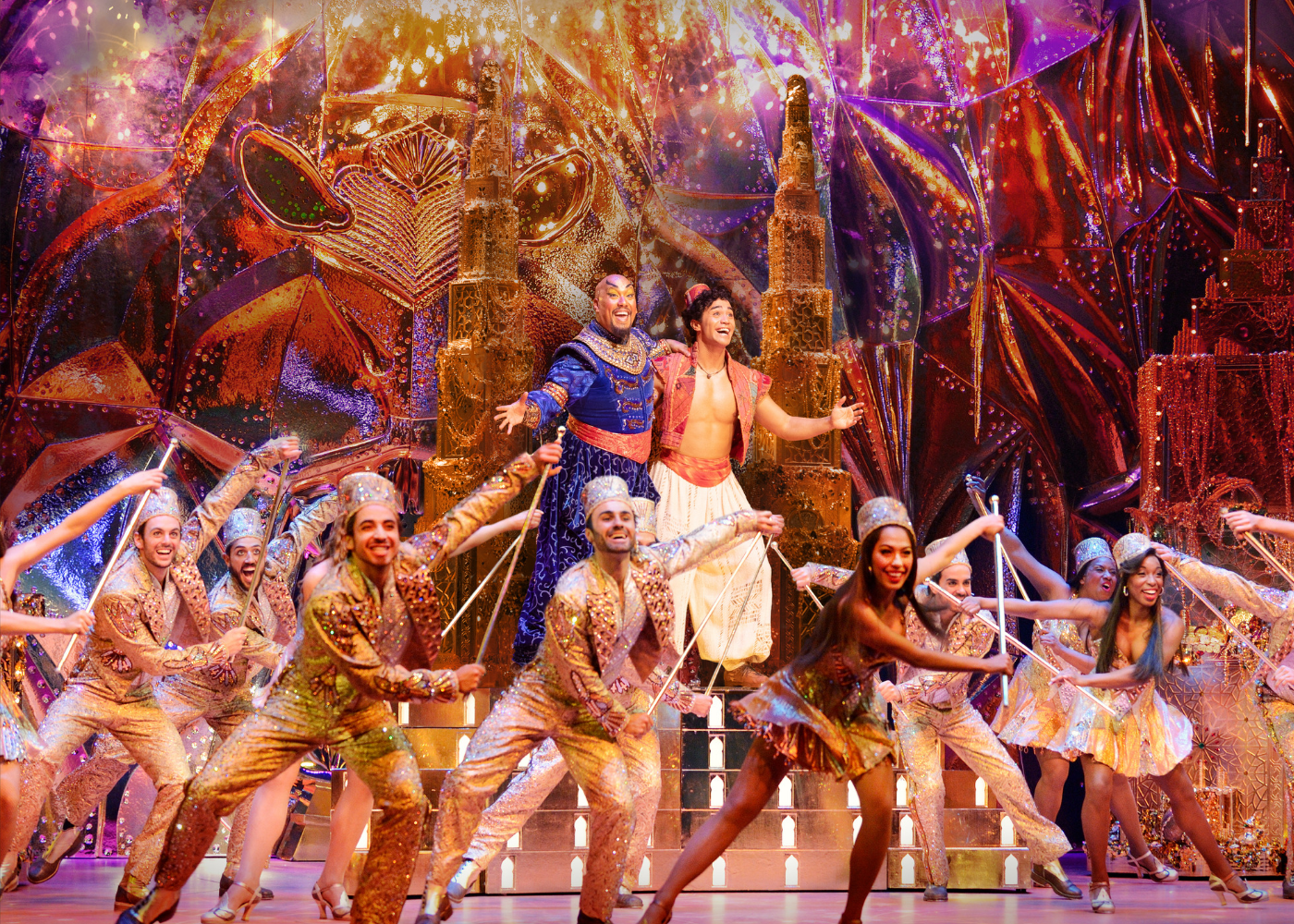 Even the stage was decked out in glittering madness. When the Cave of Wonders appears, we were in awe of not only the incredible tap dance number, but also the mesmerising set design that included 120 pieces of gold. Fun fact: 40 tonnes of exotic flying scenery and 60 tonnes of automation and staging had to be transported to Singapore for this production!
The secret of the magic carpet?
The magic carpet floating its way on stage was definitely one of those take-your-breath-away moments. And fly it did. When it started taking Aladdin and Jasmine on an adventure around the shimmering night sky, we could hear a collective gasp in the theatre.
Oh this baffling device had us looking for wires the whole night when there might actually be none. What is this sorcery?
Well, a friend of ours – who was seated at the side column – snuck a peek under the carpet and reported that it didn't look like a cable situation, but that there seemed to be drone-like devices underneath that lifted the carpet up.
Hmmm, have we (or said friend) solved this mystery? We might never know for sure, but we still think it's pretty darn magical.
Little tidbits to make Disney lovers happy
You'll be stoked to find out that Graeme Isaako (Aladdin) has played Simba in the Australian leg of The Lion King tour, and that Patrick R. Brown (Jafar) made his Broadway debut as Scar in The Lion King (he was in the Singapore show too).
And while you might have expected the cheerful Genie to sneak in a Singaporean joke or two, he also throws in a smattering of other Disney references in his tunes – so if you wanna know how Beauty and the Beast or The Little Mermaid could possibly be relevant in the world of Agrabah, catch the show to find out!
Our verdict?
This musical definitely deserved the standing ovations (yes, plural) that it got on the opening night. Should you go to watch it? If you can't already tell, it's a resounding yes from us for this one.
Disney's Aladdin The Musical, showing from now till 1 September (tickets from $68) at Sands Theatre, Marina Bay Sands, 10 Bayfront Ave, Singapore 018956