Sick of working out in a gym? These water workouts in Hong Kong will mix up your routine as well as your resistance training.
There are so many fun and inventive ways to work up a sweat these days – from outdoor fitness classes to scaling to new heights at these climbing gyms; even running to pick up rubbish, AKA plogging, is considered a good workout! With the weather heating up, why not get wet with these fabulous water workouts in Hong Kong before you even start sweating.
Check out these wet and wild water workouts in Hong Kong
1. Velocity
Velocity aquabike – a female only wellness studio – offers a unique fitness experience that combines jacuzzi spa technology and cycling. Each of the private cabins features a single freestanding aquabike, basically a bike submerged in a small bathtub. Featuring twenty-six jacuzzi spa-grade jets, each bike workout also includes a jet massage that helps to boost blood and lymphatic circulation. Your legs will feel light, supple and fully relaxed afterwards, even after a vigorous 30 mins workout that can burn between 300-500 calories!
Velocity 14F, OLIV, 15-21 Sharp Street East, Causeway Bay, Hong Kong, p. 2110 4460, 銅鑼灣霎東街15-21號OLIV 14樓
2. Pool FITMAT
Are you seeking a new challenge for your fitness routine? Pool FITMAT Yoga combines traditional yoga poses on a floating training platform that helps to maximise the engagement of the core (get that six pack, just in time for the summer!) And more importantly, it improves your balance, flexibility and strength.
The class elevates your workout by taking both cardio and strength-training exercises alongside yoga-oriented movements to the water in a new, dynamic and fun way. The mat provides a unique and unstable environment to build strength and train the core muscles. It's unnerving at first but once you can pinpoint that the core is your centre and make sure all movements are switched on from there, it'll almost become second nature. The Landmark Mandarin Oriental offers classes on Thursdays and Saturdays with a maximum of four guests per class.
The Oriental Spa, The Landmark, 15 Queen's Road, Central, Hong Kong, p. 2132 0188, 中環皇后大道中15號置地廣場
3. SUP Yoga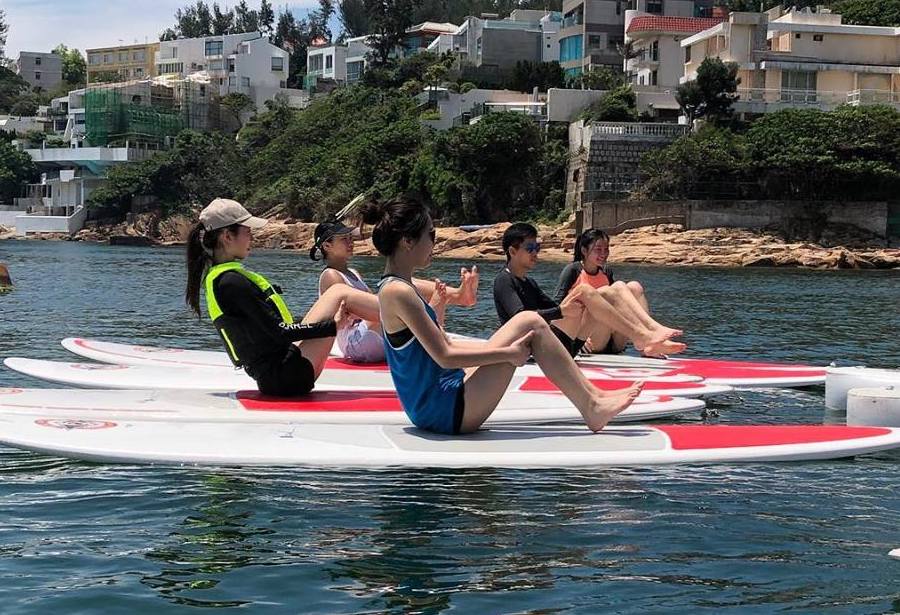 Take your fitness to the high seas with SUP Yoga. Connect to your mind, your body and to nature with this unique class which essentially combines Stand Up Paddle Boarding with Yoga – yoga on a paddle board if you will.
If you've tried either of the above practices and think you know what it takes, then think again. Even seasoned yogis will find a new perspective on the board and use muscles they never thought they would have. If you want to challenge yourself at water workouts in Hong Kong, try SUP Fitness, which takes your workout to the next level through body weight exercises on your board. I challenge all of you to try to stay ON your board… that's the most fun you'll have whilst working up a sweat.
4. Fitness First
Exclusive to their Tsim Sha Tsui club located in the Sheraton Hotel, Fitness First takes you through non-stop movements based on six moving patterns. The class starts off low impact, slowly building in intensity. You'll tone your muscles, increase your range of movement, and improve your endurance, balance and flexibility.
You certainly challenge your whole body when you work out in a pool. The water adds resistance as you perform cardiovascular and strength exercise. Aqua Fit is open to all Fitness First members and Sheraton Hotel guests. However, you can also purchase a day pass for HK$300.
Fitness First, 18/F Sheraton Hotel & Towers, 20 Nathan Road, Tsim Sha Tsui, Hong Kong, p. 3106 3000, 九龍彌敦道20號香港喜來登酒店18樓
5. Core Aqua Park
Okay, this one is a little more for those daredevils and aspiring ninja warriors out there who fancy zipping through a giant inflatable water park, pushing through seemingly impossible tests of strength and endurance.
With over forty-two obstacles, you have to climb, jump, pull & push your way from spongy platform to spongy platform – heck sometimes you literally have to launch yourself to get to where you want to go. And you're going to be using your arms and your abs. Will you fall into the water whilst doing all of this? Probably, that's half the fun and that's why it's one of our favourite water workouts in Hong Kong.
Core Aqua Park, 2 Hung Lam Drive, Tai Po Kau, Hong Kong, p. 2465 3468, 香港大埔大埔滘紅林路2號