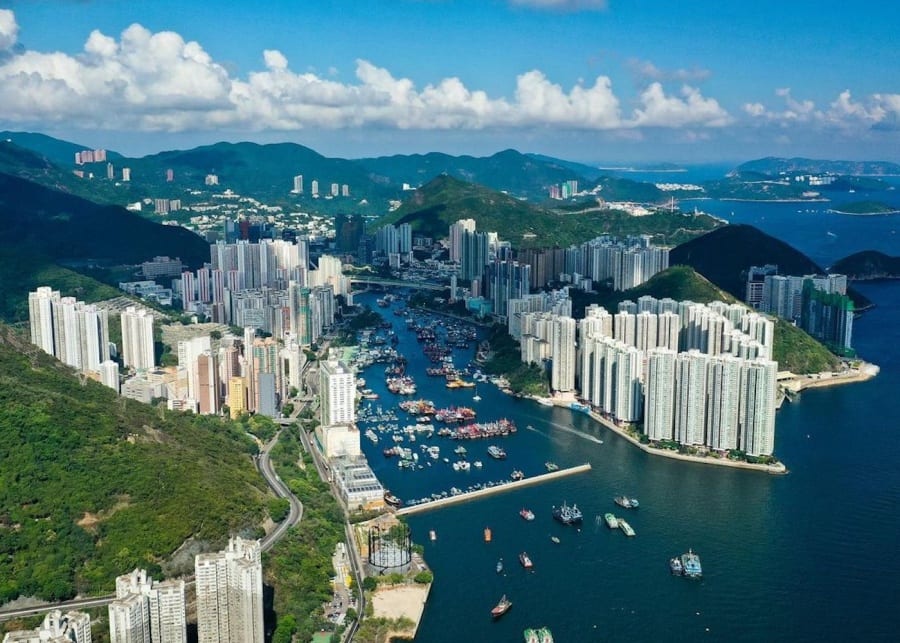 A bird's eye view of Aberdeen (Photography: @jasonkasseris via Instagram)
For centuries, Aberdeen has been a fishing and trading port. It's a town to walk in, one where people manage to squeeze through extremely small places and where jaywalking is an art form. Here's a list of things to do in Aberdeen, Hong Kong
Oh, Hong Kong. You offer so much for us to see and do. From the beautiful Chinese temples that line the streets to stunning hiking trails we flock to on the weekends and the glorious Hong Kong beaches that surround the city, we're so lucky to live in such a dynamic place. And if you're looking for somewhere new to explore, be sure to check out these things to do in Aberdeen.
Little Hong Kong
Long before the British sailed into Aberdeen Harbour, the locals called it Hong Kong, the 'fragrant harbour' where precious woods were transported to the Mainland to be turned into graceful Ming-style furniture. The name was lost in translation – the British thought it was the name of the entire island – but even today, the locals call it 'Little Hong Kong'. Aberdeen broadly includes Wong Chuk Hang, Ap Lei Chau, Tin Wan, Wah Kwai and Wah Foo, and with the exception of Ap Lei Chau across the harbour, it can be difficult to tell where one begins and the other ends.
Things to do in Aberdeen, Hong Kong
1. Explore the original Aberdeen
Much of the present-day town (population 80,000) is built on reclaimed land: the Tin Hau Temple once overlooked the sea, as did the original village. The steep hike along the old village trail will take you past an array of small shrines housing the village guardians. The trail ends at The Warehouse, a former police station and a lighthouse that is now a youth club. Be sure and catch the really spectacular graffiti.
Tin Hau Temple, 116 Aberdeen Main Road, Aberdeen, Hong Kong
2. Discover porcelain beauties
The Tin Hau Temple (1851) in Aberdeen and the Hung Shing Temple (1773) in Ap Lai Chau are the only two temples in Hong Kong that boast Shiwan pottery figures along their roof ridges. Those on the Tin Hau Temple are all female, while those on the Hung Shing Temple portray a lively street scene, with scholars, court ladies and merchants watching the life below their balconies. Both temples are under the care of the Chinese Temples Committee founded in 1928.
Hung Shing Temple, 1 Hung Shing Street, Ap Lei Chau, Hong Kong, p. 3718 6888
3. Aberdeen Promenade
This 1.5km promenade linking the 'yellow bamboo creek' in Wong Chuk Hang with the Aberdeen Fish Market is perfect for people watching and taking in the views. Chinese-tiled history information centres feature videos and art installations. An underpass will take you to Aberdeen proper. Catch the ferry to Ap Lei Chau from the landing step on the Promenade; the trip takes four minutes and costs just $2.20.
Aberdeen Promenade, Aberdeen Praya Road, Aberdeen, Hong Kong
4. Aberdeen Town Centre: The Best Egg Tarts
Looking for things to do in Aberdeen that involve food? Follow the incense from the Hoi Wong Street shrine to Aberdeen Town Centre. There are a number of local bakery contenders for the best egg tarts, including KFC, but the hot sellers can be found at the bakery inside the ParknShop Superstore. This hyperstore is truly hyper, but worth it for the tarts.
See our full guide to the best egg tarts in Hong Kong.
ParknShop, 19-23 Nam Ning Street, Aberdeen, Hong Kong, p. 2690 0948
5. Red Doors Studio
Canadian Martha Collard has one of the largest collections of perfectly tuned gongs in Asia. She uses them to create gong baths, 'bathing' you in sound, as each note resonates within the spirit. She offers full moon and new moon gong baths, all-night gong pujas, and private or small group lessons, along with other healing practices.
Red Doors Studio also makes our guide to alternative healing in Hong Kong
Red Doors Studio, Flat A, 21/F Lee Fund Centre, 31 Wong Chuk Hang Road, Hong Kong, p. 2110 0153
6. Designer Deals
Horizon Plaza and the Prada/Miu Miu store are the only places to find discounted designer clothes in the area. Discounts depend a lot on the season and sizes tend to run on the small side. But accessories are one size fits all, so look for buys on shoes, bags and costume jewellery.
Horizon Plaza, 2 Lee Wing Street, Ap Lei Chau, Hong Kong
Prada Outlet, 2/F Marina Square East, South Horizons, Ap Lei Chai, p. 2814 9576
7. Aberdeen Country Park
Aberdeen Country Park is the only country park on Hong Kong Island with a picnic area for the physically disabled, with barbeque pits and kiosks. If you're feeling outdoorsy, then be sure to head to Aberdeen Country Park for a not so challenging hike. You will be able to navigate to Stage 3 and 4 of the Hong Kong Trail, but if you feel that's a bit much, you can walk from Aberdeen Reservoir Road to Aberdeen. Get your cameras out, here's where you can catch glimpses of the small and mighty Kingfisher and also the Black Kite.
8. Watch the Dragon Boat Race
During the Dragon Boat Festival, Aberdeen hosts spectacular races, and it's a great place to be for some festivities and to catch the adrenaline rush from the head of the dragon. Plus, whose attention goes awry when you hear the beat of the drums? Head to the harbourside in Aberdeen to join in the fun.
9. Stay at Urbanwood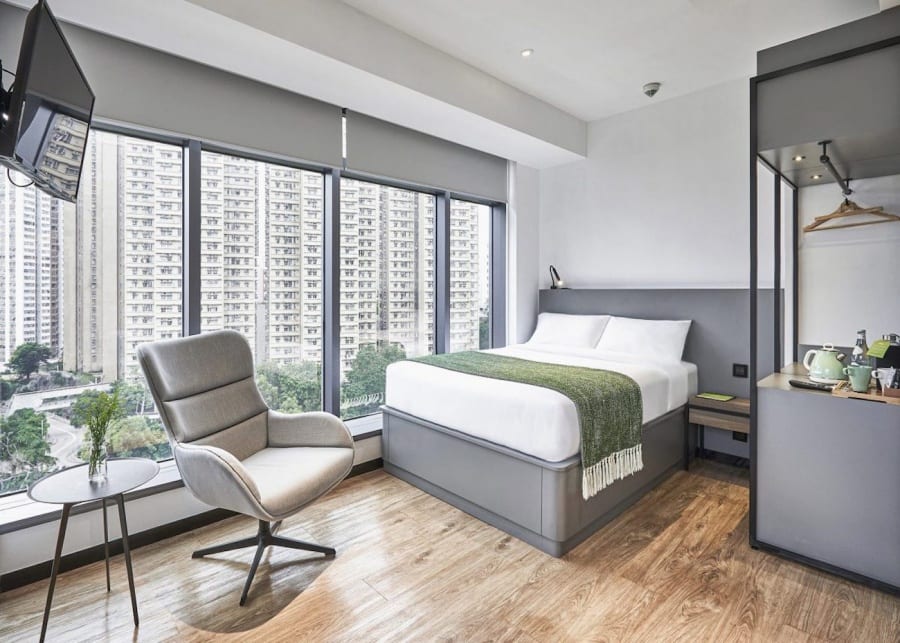 Book a stay at Urbanwood Hotel and catch the sunrise whilst overlooking a bird's eye view of Aberdeen. This boutique hotel is built on woodsy elements that ooze cosy vibes, promising a warm stay. The reading lounge on the seventh floor is perfect for grabbing a book and relaxing, or getting some work done. It doesn't matter much if you book the standard room or deluxe room, as each one shows off an ample view of stunning Aberdeen.
Urbanwood, No.29 San Shi Street, Ap Lei Chau, Hong Kong, p. 3728 7388
10. Wholesale Fish Market
We weren't kidding when we said Aberdeen is referred to as Little Hong Kong as Hong Kong's seafaring origins still remain in this Aberdeen. Just before dawn, when fishermen come back with their catch, they're freshly traded here at the Wholesale Fish Market. It's all sold for a bargain and you'll practically be able to find any crustacean of your choice.
Aberdeen Whole Fish Market, 102 Shek Pai Wan Road, Aberdeen, Hong Kong, p. 2177 7872