The dragon is a symbol of strength and good luck in traditional Chinese culture
Here's some good news for those who didn't know: Thursday 22 June is a public holiday (!), because it's the Dragon Boat Festival.
A day off on a Thursday may sound like a perfect way to kick away your mid-summer blues, but what's the reason behind this public holiday on 22 June this year? It's the Dragon Boat Festival, a long-celebrated event in China and in other Asia Pacific communities influenced by Chinese culture. If you don't know your Chinese New Year from your Hungry Ghost Festival, here's your dose of heritage and everything you need to know about the upcoming Dragon Boat Festival.
It's not always 22 June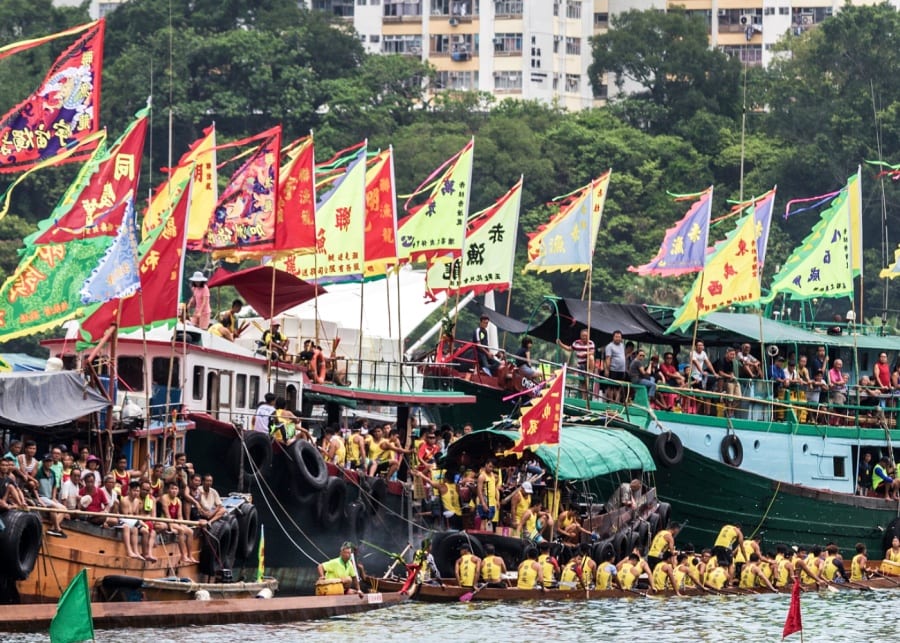 Sorry for the confusion, but the Dragon Boat Festival doesn't always occur on 22 June. This is because the Dragon Boat Festival depends on the lunar calendar (i.e. based on the cycle of the Moon phases) instead of the Gregorian calendar. According to the lunar calendar, the Dragon Boat Festival lies on the fifth day of the fifth month each year; for instance, the Festival in 2022 occurred on 3 June, and it'll be on 10 June in 2024.
BTW, here's a fun fact for you to impress your friends: the name of the Dragon Boat Festival (端午節) is pronounced differently in Cantonese and Mandarin Chinese. It's known as Tuen Ng (or Duen Ng Jit) in Cantonese, and Duan Wu Jie in Mandarin. The Festival is also celebrated in Korea, with the name Dano.
Storytime: History of the Dragon Boat Festival
While there are several stories attributed to the origin of the Dragon Boat Festival, the best known version in modern China is that the Festival commemorates the death of Qu Yuan (c. 340-278 BC), a renowned poet and royal minister from the Chu state during the Zhou dynasty. Qu thrived as a member of the palace, but he was banished when he spoke against the King about the latter's decision to ally with the Qin state. Accused of treason, Qu was exiled from the kingdom.
For the rest of his life, Qu sought solace in poetry. Sadly, when Qin took over Chu's capital 28 years after Qu was evicted, the poet fell into despair and ended up committing suicide. As he was drowning in the Miluo River, his followers raced out in their boats to save him. When they failed to find Qu's body, they dropped glutinous rice balls into the river, so that the fish would eat the rice instead of the poet's remains. And so there you have it – the beginning of dragon boat races and rice dumplings.
Wait, what rice dumplings?
Prepared and consumed during the Dragon Boat Festival, the traditional sticky rice dumplings are known as zong in Cantonese, or zongzi in Mandarin. These packets of goodness contain varying fillings depending on the region; for example, people from Northern China prefer sweet fillings made with bean paste and jujube, whereas Southerners favour savoury ones, with fillings like pork belly and salted eggs. However, all the rice dumplings are triangular or pyramid-shaped; they're wrapped in aromatic bamboo leaves, tied in place by strands of reed, then steamed.
Apart from being an item of commemoration for Qu, rice dumplings are regarded as a religious offering for the ancestors, and making them together is a family-friendly activity, too.
Wondering where to get stuffed this year? Check out our guide to the best rice dumplings in Hong Kong.
Fast and furious… on the water
Another ritual of the Dragon Boat Festival is in its name – dragon boat racing. There are several dragon boat teams and training centres in Hong Kong, such as the Hong Kong China Dragon Boat Association, Stanley Dragon Boat Association, and the Royal Hong Kong Yacht Club. These organisations often host dragon boat races. With the pandemic finally subsided, look out for the Hong Kong International Dragon Boat Races, which is being held on 24-25 June after a four-year hiatus. This event is going to be hosted just off the Tsim Sha Tsui East Promenade, with competitions later in year being held on the shores of Tai Po, Sai Kung, Aberdeen, and other regions across Hong Kong. Join the crowd to celebrate and cheer on the teams!
TL;DR: do's and don'ts
Whether you're too lazy to read all the text above (cough), or just looking for some quick trivia to impress your friends, here are some fun facts about the Dragon Boat Festival:
1. Don't sink; do swim
If you want to prevent misfortune for the coming year, swim or immerse yourselves in the waters that the dragon boats have raced across. We dare you! (No, honestly, trust us with this one.)
2. Do try the five-bean congee (五豆粥)
Because of the similar pronunciations of Dragon Boat Festival and the number five in Chinese, some people (particularly in Hong Kong and the other regions in Guangdong) make a sweetish congee, with five different beans for the Tuen Ng festivities. These five beans are: red beans, mung beans, black-eyed peas, chickpeas, and red kidney beans.
3. Don't drink too much, especially realgar wine (雄黃酒)
To be fair, there is barely any realgar wine in the market nowadays, but if someone tries to feed you some, claiming it to be an auspicious Festival tradition… Say no. While they're not lying about drinking realgar wine being usual Tuen Ng practice back in the day, the drink, which is actually Chinese yellow wine sprinkled with arsenic sulphide, is now believed to be toxic and may lead to poisoning. So, be careful!