What's Thanksgiving without some picture-perfect pies from Dang Wen Li?
Turkey, gravy, and all the pies... Feast on the best Thanksgiving menus in Hong Kong this year.
While you are busy looking for Halloween and Christmas events, we've gathered all the best Thanksgiving sets for you and your family. Whether you are planning to celebrate the festivity at home or eat out at a fine dining restaurant, we've got you covered. Read on for the best Thanksgiving in menus in Hong Kong for 2021.
Psst! We're still compiling Thanksgiving menus in Hong Kong for 2022 – please stay tuned for updates. In the meantime, here's what happened last year to whet your appetite:
Best Thanksgiving menus in Hong Kong
1. Mandarin Oriental Hong Kong
Celebrate Thanksgiving and enjoy festive delicacies with Mandarin Oriental Hong Kong's delectable and sustainable feast. Partned with heritage farmer Paul Kelly, the turkey is slow-grown and naturally matured and fed a natural diet to yield the best flavour. Order a 10kg roast turkey ($3,688), 7kg honey glazed ham ($3,188), 3kg prime rib beef ($3,388), pumpkin pie ($388) or indulge in five-star Thanksgiving specialities curated by The Mandarin Cake Shop. Guests can either pick up the food at Mandarin Oriental Hong Kong or have everything delivered to their door for an extra fee.
Order Thanksgiving meals from Mandarin Oriental Hong Kong (require at least 72-hours advance notice). Last day for orders is 19 November 2021.
Mandarin Oriental Hong Kong, 5 Connaught Road Central, Central, Hong Kong, p. 2825 4008
2. Kinship
The Thanksgiving Dinner at Kinship ($488) includes a variety of dishes for sharing, such as Smoked Turkey, Pumpkin Polenta, and Spanish Mackerel. For festive treats, end the meal with burnt pumpkin cheesecake and Mississippi mud S'mores pie. As for those hosting an intimate gathering at home, you can opt for the turkey takeaway ($1,888) that comes with sides to share, dessert, and bottles of bubbles.
Kinship, 2 Shelley Street, LL Tower, Central, Hong Kong, p. 2520 0899
3. Grain
Brussels sprouts, mashed potato, Dulce de Leche pumpkin pie… Other than the 4.8kg herb-smoked whole turkey, Grain has prepared a range of delectable specialities for fellow food gurus. The takeaway meal ($2100 for 6-8 people) is available for pickup from 19 to 28 November at Grain in Kennedy Town. And if you're feelin' extra, you can add-on a cocktail making kit that comes with bourbon, festive herbs, cranberry jam, lemon, and egg white powder.
Enjoy early-bird discounts for orders before before 14 November 2021.
Grain, Shop 1, New Fortune House, 3-5 New Praya, Kennedy Town, Hong Kong, p. 3500 5870
4. The Cakery
Simply wanna dig into a pie this Thanksgiving to cure your sweet tooth? The Cakery can definitely satisfy your cravings. From 16 to 29 November, The Cakery is serving a decadent keto pecan pie using almond meal and coconut flour. Simply heat this healthy dessert 10 minutes before serving to end your feast with a hearty sweet. Pre-orders must be placed at least three days prior.
Read our full review on The Cakery.
The Cakery has numerous locations in Hong Kong.
5. Quiero Más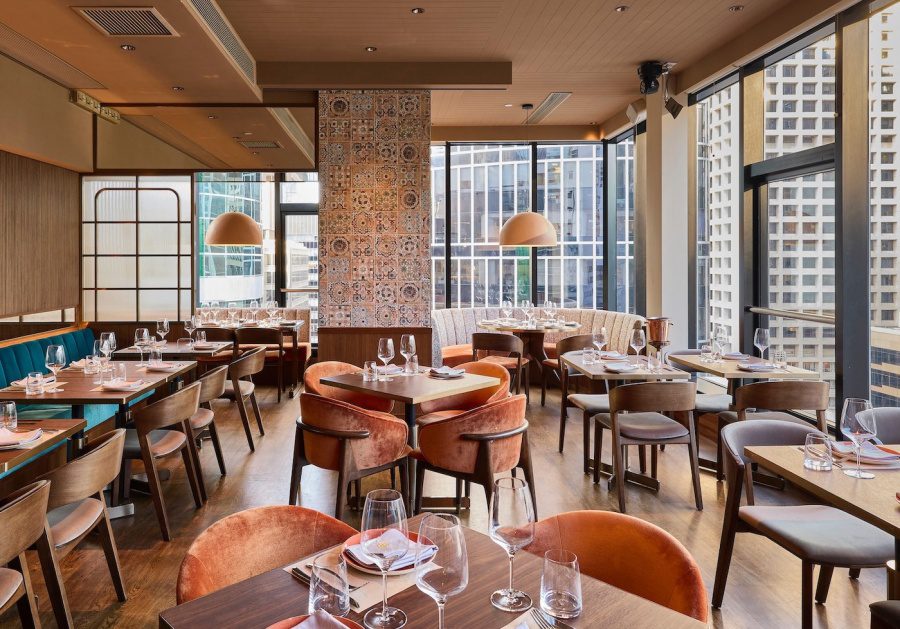 Celebrate this Thanksgiving with a Mediterranean fusion feast at Quiero Más. Priced at $448 per person, the dinner set opens with starters such as octopus carpaccio, sea bass robespierre, black truffle delights, and more. Of course, the centre of attention is the woodsmoke-roasted turkey with classic sides like brussels sprouts, mashed potatoes, gravy, and cranberry sauce. Finish this American feast with a pumpkin and pecan pie served with vanilla ice-cream for an indulgent finale.
Quiero Más, M88, 20/F, 2-8 Wellington Street, Central, Hong Kong, p. 2383 0268
6. La Paloma
For one-night only, on 25 November, indulge in a Spanish-American feast at La Paloma. Begin with a selection of La Paloma's Spanish tapas followed by the centrepiece of the set, the woodsmoke-roasted organic turkey. The meal is complemented with classic Thanksgiving sides and a comforting pumpkin and pecan pie served with vanilla ice cream to finish.
La Paloma, 1/Floor, Soho 189, 189 Queen's Road West, Sai Ying Pun, Hong Kong, p. 2291 6161

7. Black Sheep presents All We Want For The Holidays
Black Sheep Restaurant group's Chefs Josh Stumbaugh, Billy Otis, and Patricia Yeo, have prepared an indulgent family-style spread to celebrate Thanksgiving this year. You can place your orders online and have them delivered to your doorstep between 23-26 November. The group's bakery, Butter, which we all know and love, is baking up creamy classic pumpkin pies and seasonal special Tennessee-whiskey caramel pecan pies. Butter Cake Shop pies are available to order starting 1 November for delivery from 8 November through the entire month (48 hour pre-order required).
Find out more about Black Sheep's ​​All We Want For The Holidays online.
8. La Rotisserie
From premium guinea fowl to free-range chicken and turkey, La Rotisserie prides itself to having some of the best quality poultry in town. Available for dine-in, takeaway, or catering, the restaurant is offering birds of different weights and packages (from $998) to feed different party sizes. Complementing the roasts are homemade sauces and a variety of trimmings and fixing, including sautéed French beans with sweet potatoes and chestnut; truffle parmesan mashed potatoes; Brussels sprouts; stuffing; and more. Finally, wrap up the meal with La Rotisserie's signature chocolate cake with sea salt.
La Rotisserie has multiple branches across Hong Kong Island.
9. Morton's The Steakhouse
Looking to celebrate Thanksgiving in style? Head to Morton's at Sheraton for its exclusive Thanksgiving menu. Available for one night only on 25 November, the three-course Thanksgiving feast (from $688) begins with a Winter Greens Salad; it's followed by the show-stopping Roasted Turkey Roulade, accompanied by elevated like Baked Corn Souffle, Green Beans Almondine, and a Smoked Gouda Au Gratin. To finish, have a slice of Morton's Pumpkin Cheesecake, topped with sea-salted caramel.
Morton's The Steakhouse, 4th Level, The Sheraton Hotel Hong Kong, 20 Nathan Road, Tsim Sha Tsui, Hong Kong, p. 2732 2343
10. Mr Wolf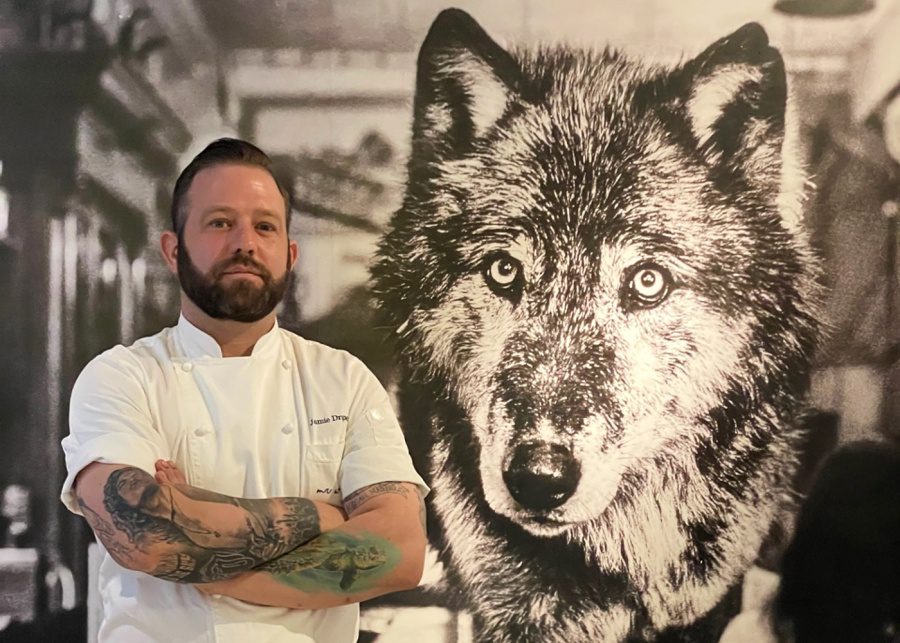 Who says Thanksgiving has to be all-American? Mr Wolf is adding a modern British twist to the traditional turkey feast ($458) on 25 November. Injecting UK flavours into the best recipes from the US, Chef Jamie Draper is starting the feast with a choice of appetisers, followed by a sumptuous main course. This features slices of bronze roast crown of turkey, black pudding stuffing, roasted sweet potatoes, a Yorkshire pudding, and more. In addition, a vegetarian option is also available, which is a pumpkin risotto with balsamic, sage, and radicchio. Finally, the desserts include a bread and butter pudding with custard and pecans. Don't miss out on the opportunity to visit Mr Wolf before it undergoes renovation in early 2022!
Mr Wolf, 5/F, Crawford House, 70 Queen's Road Central, Central, Hong Kong, p. 2526 0838
11. Frank's Italian American Social Club
For lunch and dinner between 22 and 28 November, you can dig into a decadent spread of Thanksgiving dishes ($620) at Frank's – Italian-American style. The Antipasti include the iconic Frank's Burrata, now paired with seasonal pumpkin, pumpkin blossom, smoked anchovy, and pesto. There are also Frank's Veal & Lobster Meatballs, as well as an Insalata, in the mix. Then comes the whole Garlic Butter Roasted Turkey, accompanied by a selection of sides. These feature White Cheddar Biscuits with Chilli Honey Butter; Balsamic Glazed Brussels Sprouts with Guanciale and Parsley; and Green Bean Casserole with Shiitake. Lastly, the dessert is a Homemade Apple Crumble with Vanilla Ice Cream. Oh, and feel free to add on a free-flow drinks package of prosecco, Asahi, house wine, house spirits, mixers, and coffee for $250 per head.
Frank's Italian American Social Club, Harilela House, G/F & 1/F, 79 Wyndham Street, Central, Hong Kong, p. 9097 9730
12. Porterhouse Seafood & Steak
Between 22 and 28 November, Porterhouse Seafood & Steak is presenting a luxurious Thanksgiving Sharing Feast ($2,200), which showcases a 6kg slow-roasted whole organic turkey. It's served with lemon and cranberry sauce; Brussels sprouts; mashed potatoes; roasted pumpkin with smoked paprika; French beans with shallot dressing; as well as garlic and chilli broccoli. Moreover, Porterhouse also offers a five-course set dinner menu (from $688) on 25 November. Expect refined and elegant dishes, such as a USDA Prime Beef Tartare, Turkey Leg Roll, Pumpkin and Pecan Pie, and more.
Porterhouse Seafood & Steak, 7/F, California Tower, 30-36 D'Aguilar Street, Lan Kwai Fong, Hong Kong, p. 2522 6366
13. Dang Wen Li by Dominique Ansel
Craving something sweet and comforting for Thanksgiving in Hong Kong? Try the limited-time pies at Dang Wen Li by Dominique Ansel. Perfect for the festive season, holiday treats include Classic Pumpkin Pie (from $238), Salted Caramel Apple Pie (from $258), and Caramelised Pecan Pie (from $258). The first item will only be available in the shops until 28 November, so be sure to grab a slice or two before the pumpkin season ends!
Dang Wen Li by Dominique Ansel has several branches across Hong Kong.