These bars serving the best Quarry Bay happy hours will have a well-priced drink in your hand faster than you can say: 'East Side Massive!'
Where once the east side was little more than residential area and the gateway to some of our fave beaches in Hong Kong, times are a changing. Thanks to the influx of businesses now calling QB home, you can find cool barber shops, hip hotels like EAST, and a range of great shopping malls to explore. Oh, and what would any district be without its bars? So if you've had a hard day at the office and are looking for a drink on the cheap, here's a list of the best Quarry Bay happy hours for your drinking pleasure. You're welcome.
1. Ask for Alonzo
This restaurant is more than just a modern trattoria that serves up tasty Italian fare (and some of the best tiramisu in town). From 3 to 8pm on weekdays, you can enjoy beer, wine, spirits, and snacks starting from just $38.
Ask for Alonzo, G/F, 18 Hoi Kwong Street, Quarry Bay, Hong Kong, p. 2856 2911
2. Mr & Mrs Fox
Feeling foxy? Head along to Mr & Mrs Fox from Monday to Saturday, and they'll put a smile on your face with their happy hour deals. From 3 to 8pm, sip on beer from just $30 or a selection of wines from $40 at the bar.
Mr & Mrs Fox, 23 Tong Chong Street, Quarry Bay, Hong Kong, p. 2697 8500
3. Catch
Wait – there's a happy hour for food? That's right, at Catch, the happy hour for food runs from 4 to 7pm, and drinks from 4 to 8pm. Draft beers, wines (by the glass), and even spirits go from just $40, whereas cocktails cost $50. Pair your bevs with a sea urchin pate, chips, edamame, cold cuts, and more at discounted prices. Happy hours can't get much better than this!
Catch, 21 Hoi Wan Street, Quarry Bay, Hong Kong, p. 2568 3299
4. Bib n Hops
Thanks to its outdoor area, and Korean-inspired food choices, Bib n Hops is a popular spot for happy hour drinking in Quarry Bay. Head over from 2.30 to 8.30pm every day and enjoy beer from $45, spirits from $58, and cocktails from $68. While it may not be the cheapest happy hour in Hong Kong, they bring the snack game, including Angus beef bao and Nori tacos for $108.
Read our review of Bib n Hops Refined.
Bib n Hops, 33 Tong Chong Street, Quarry Bay, Hong Kong, p. 2882 9300
5. Frites
Seeking a casual bar in Quarry Bay where you can chill with your friends after a long day at work? You're in luck, because there's a Frites nearby. From 3 to 8pm on weekdays, the Belgian bar and restaurant is offering half-priced drinks. With generous draught beers, bottled beers, champagne, wine, spirits, and more, you'll be able to drink to your heart's content without breaking the bank.
Frites, G/F, Oxford House, Taikoo Place, 979 King's Road, (Entrance at 22 Westlands Road,) Island East, Quarry Bay, Hong Kong, p. 2250 5188
6. Enoteca Quarry Bay
This much-loved Quarry Bay bar runs happy hour every weekday from 3-8pm. Sip on a variety of cocktails, including Aperol Spritz from $62 or pick up a beer or wine from just $40. Looking for larger volume? Grab a jug of sangria for $220 and settle in for the night.
Enoteca Quarry Bay, G/F, 35-41 Tong Chong Street, Quarry Bay, Hong Kong, p. 2744 6000
7. Sugar
Hong Kong's fave rooftop bar is finally back, and oh boy are we glad! Having reopened in June 2021, Sugar has a spacious outdoor terrace which offers stunning views of the harbour. The happy hour here is known as the Sundowner. From just $78, you can take your pick from its range of cocktails, white and red wines, and draught beers. There's even a buy-one-get-one-free deal for bottled beers. Running from 5.30 to 7.30pm on weekdays and from 3 to 7.30pm on weekends and public holidays, you'll be able to party till the day's over.
Sugar, 32/F, East Hong Kong, 29 Taikoo Shing Road, Quarry Bay, Hong Kong, p. 3968 3738
8. Cali-Mex Bar & Grill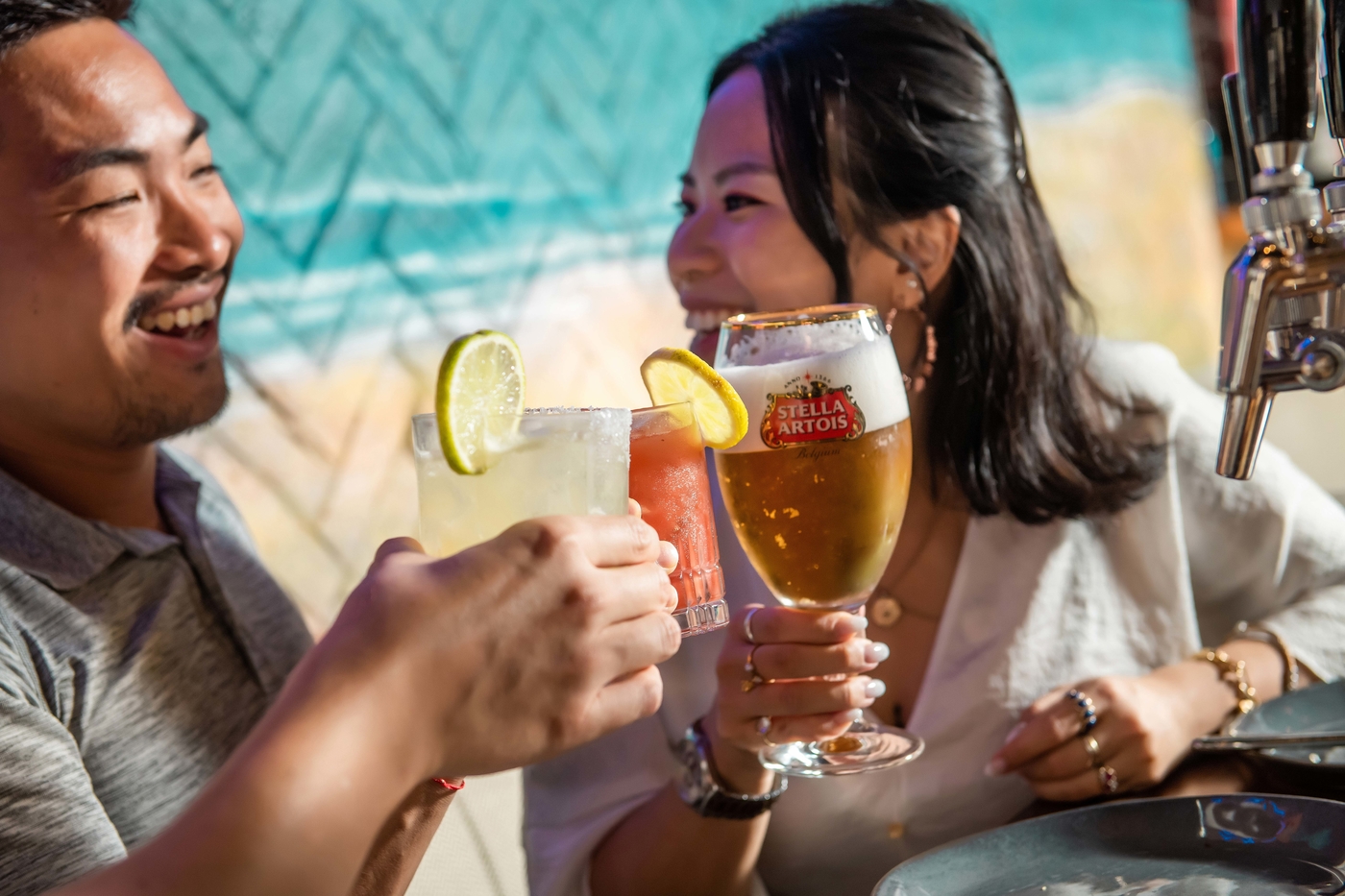 Okay, so this last one is not quite in QB. But it's pretty damn close, and it's happy hour deal is just too amazing to not mention it here! Cali-Mex Bar & Grill runs a great happy hour from 3 to 8pm, Monday to Friday across all of its 11 branches. Go for the $35 beers and wines and stay for the $58 Margaritas, and a selection of great Mexican food. Don't forget to pop by for Taco Tuesdays, too!
Cali-Mex Bar & Grill, Shop 12-14, 45 Tai Hong Street, Site A, Soho East, Lei King Wan, Sai Wan Ho, Hong Kong, p. 2904 7698
Public (deal no longer available)
Sitting pretty inside One Island East, Public is more than just buffet goodness and stunning views. You can grab two-for-one deals on a range of beers, wines, spirits and cocktails every weekday from 3-6pm. On Fridays, they make life even better by extending the love to 5-9pm, making it the perfect happy hour joint for after a long week at work.
Public, 37/F, One Island East, Taikoo Place, Hong Kong, p 2784 7100
The Codfather Oyster and Seafood Bar (closed)
The name is enough to warrant a visit to this Quarry Bay bar. Enjoy happy hour from 6-8pm where they celebrate the end of work with various discounts on wine, beer and spirits. Bonus is the outside area and the great seafood dishes.
The Codfather Oyster and Seafood Bar, 23 Hoi Wan Street, Quarry Bay, Hong Kong, p. 2856 5000