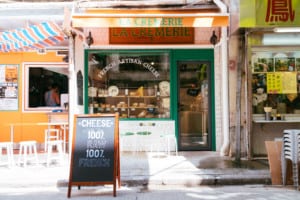 Tucked away on Swatow Street in Wan Chai, LA CREMERIE is the picture perfect vision of a French cheese shop
Located on Swatow Street in the busy streets of Wan Chai, LA CREMERIE handpicks the best French cheeses, sour cream and butter from across France - and you surely won't be disappointed
This city is packed with food lovers! From halal restaurants to Chinese restaurants in Hong Kong, you'll be surprised by the endless offerings. And for those who like French restaurants, or basically cheeeeeeese, LA CREMERIE in Wan Chai will put a smile on your face. Stocking only the best French raw cheese, sour cream and butter from artisanal farms throughout France, this cute little shop – complete with French cheese master – is our go-to for all things tasty.
We love LA CREMERIE in Wan Chai
Shopping in Hong Kong can sometimes be a bit of a nightmare, with certain outlets stocking certain products intermittently and often not at all. Thankfully, LA CREMERIE has opened in Wan Chai, on a mission to deliver the best French cheese to the people of Hong Kong, and to help educate us in the process.
The team at LA CREMERIE imported an authentic cheese master (she's actually a mistress) to help select the best French farmhouse cheeses to its intimate spot on Swatow Street in Wan Chai. These are not cheeses of your average supermarket variety, but lesser-known products, many of which come from family-owned farms all over the French countryside, such as Extra old vintage Mimolette, Beaufort Chalet d'Alpage and Coeur de Neufchâtel – which is shaped like a heart!
Our picks
There are so many cheeses to try at LA CREMERIE, and the team is happy to offer you samples so you can find out what you like. We tried a number of different varieties and absolutely fell in love with the Rove des Garrigues, a stunning goats cheese that lasted in the fridge for about 24 hours before being demolished. The cheese is made from the milk of a rare breed of goat that feeds on woodland pastures, giving the cheese a unique herby flavour.
Another favourite was the Gaperon in Black Pepper and Garlic. Hailing from the Auvergne region, this cow's milk cheese is shaped like a dome and goes well with everything from crackers to pizza. And you can't miss out on the sour cream that LA CREMERIE stocks either. Made in Normandie, it's the thickest, most delicious thing ever and is perfect to dollop on top of nachos or dip strawberries into.
LA CREMERIE is an independent store doing something different in Hong Kong, and we love the way they are curating a tasty selection of French cheeses from their little spot in Wan Chai.
LA CREMERIE, 4 Swatow Street, Wan Chai, Hong Kong, p. 2614 0944, 灣仔汕頭街4號
Can't wait to check out LA CREAMERIE and looking for more dining options in town? Read our guide to the best Japanese restaurants in Hong Kong, check out our favourite Mong Kok cafes or hit up these top vegan restaurants in Hong Kong.