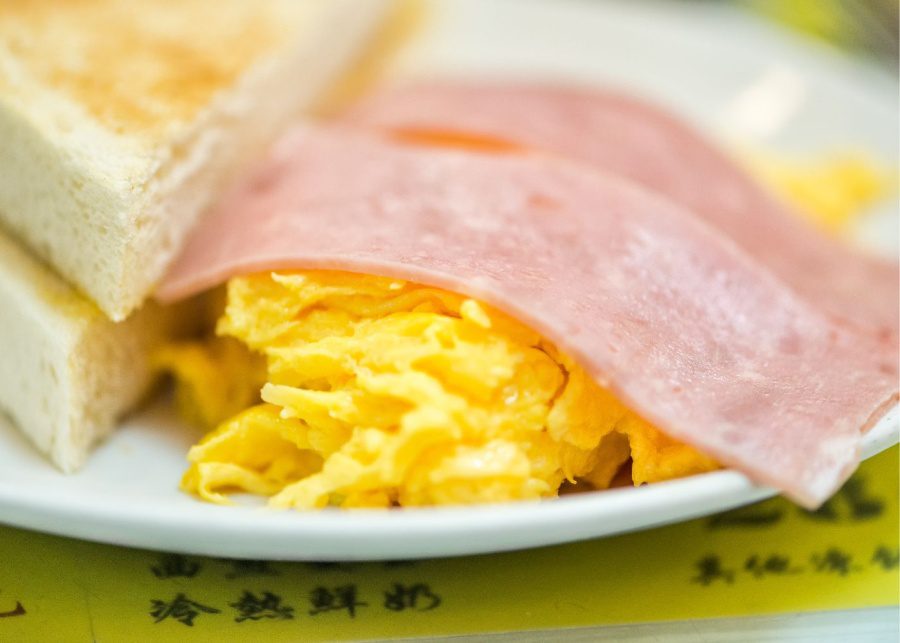 A classic Hong Kong-style breakfast at a cha chaan teng is well worth waking up for! (Photography: PamelaJoeMcFarlane via Getty Images Signature)
Do you love breakfast as much as we do? Order these Hong Kong breakfast classics that will have you bright-eyed and bushy-tailed in the morning.
While there are a wide range of Italian restaurants, Indian restaurants, and Japanese restaurants in Hong Kong, you can't miss out on the city's Cantonese eats at the classic cha chaan teng (茶餐廳). Sweet, savoury, and scrumptious, here are the best traditional Hong Kong breakfasts that give us the energy to power through the day. Psst, we call them 'breakfasts', but many of these items are actually available as all day sets (known as seung chaan, or 常餐) – perfect even for afternoon tea. Thank us later!
Truly local: Hong Kong breakfasts that we love
1. Hong Kong-style French toast
Hong Kong-style French toast (港式西多士) is typically made with peanut butter and eaten along with condensed milk, syrup, or honey. Find this sweet fried breakfast toast at your local cha chaan teng, and enjoy it for breakfast and afternoon tea along with a classic pantyhose milk tea.
Shui Kee Coffee, Shop 17, Cooked Food Centre, 2/F, Sheung Wan Municipal Services Building and Civic Centre, 345 Queen's Road Central, Sheung Wang, Hong Kong, p. 2850 8643
2. Instant noodles with satay beef
When it comes to Hong Kong breakfasts, you can't beat instant noodles! Eat it the right way with instant noodles in soup topped with marinated satay beef (沙爹牛肉麵). This classic breakfast dish is both warm and filling, and has been enjoyed by locals for decades.
BTW, did you know there are 'concern groups' for specific foods nowadays on Facebook? Yep, there's even one for satay beef noodles! Check out our guide to these quirky concern groups and join in on the fun.
Wing Shun Food Shop, G/F, Koon Wong Mansion, 2 Yuen Long On Ning Road, Yuen Long, Hong Kong, p. 2474 7074
3. Pineapple buns
These buns were named after their similarities in appearance to a fresh pineapple, so don't be upset about the fact that they don't taste like pineapple – as they don't actually contain any! Pineapple buns (菠蘿油) are sweet and filling, and can be found being served at cha chaan teng and in local bakery stores. Complement your pineapple bun with some butter to add some extra flavour and creaminess to the texture.
Kam Wah Cafe, 47 Bute Street, Prince Edward, Hong Kong, p. 2392 6830
4. Congee and fried dough sticks
Congee and fried dough sticks have been eaten together for centuries among the Chinese community. Originally invented to help with food shortages and traditionally given to children, the elderly, and the sick, nowadays it's commonly consumed as a breakfast food. Congee can be eaten plain or combined with a number of toppings like shallots, fried peanuts beef, salted eggs, and century eggs.
Wait – what are century eggs again? If you don't know what they are, read our guide to Hong Kong's adventurous eats to find out.
Mui Kee Congee, Shops 11-12, Cooked Food Centre, 3/F, Fa Yuen Street Municipal Services Building, 123A Fa Yuen Street, Mong Kok, Hong Kong, p. 2789 0198

5. Macaroni soup and ham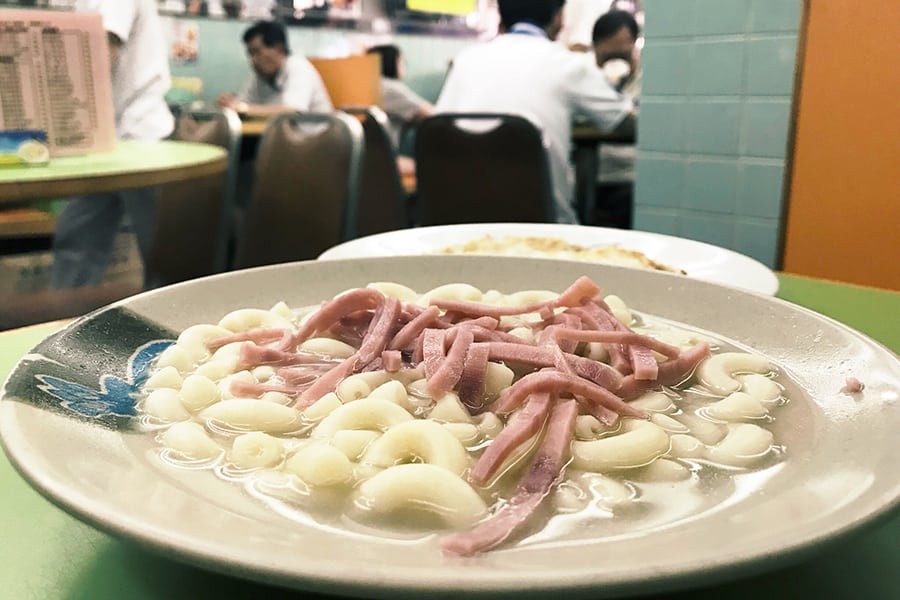 You've heard of macaroni and cheese, but have you tried its Hong Kong counterpart – macaroni in soup with sliced ham (火腿通粉)? This dish is typically offered for breakfast where the macaroni is swimming in chicken broth and is enjoyed as a noodle soup. Depending on which local cha chaan teng you visit, it is topped off with a slice of ham, corn, or diced carrots. When it comes to Hong Kong breakfasts, this is a must-try!
Australia Dairy Company, G/F, 47-49 Parkes Street, Jordan, Hong Kong, p. 2730 1356
6. Toast & Omelette
Butter toast (usually you can request for toasted or not) and an omelette is a classic Hong Kong breakfast dish. Depending on your local cafes' chef, your omelette is cooked in butter and can contain cut slices of ham. We recommend you enjoy it alongside your Hong Kong-style milk tea!
Hong Kong Tastes (雪山冰廳), Shop D, 62 Castle Peak Road, Sham Shui Po, Hong Kong, p, 2386 5025
7. Rice vermicelli with shredded pork and preserved vegetables
If French toasts and pineapple buns are too heavy for you in the morning, go for the rice vermicelli with shredded pork and preserved vegetables (雪菜肉絲米). This noodle soup is a classic comfort food, and its toppings often make us have the impression that we're having something healthier than satay beef – it's got veggies, after all!
Lok Yuen, Shop 6, 3/F, Kowloon City Municipal Services Buildling, 100 Nga Tsin Wai Road, Kowloon City, Hong Kong, p. 2382 3367
8. Rice noodle rolls
Something simple you can have for a Hong Kong-style breakfast are rice noodle rolls, known as cheung fun. They're made with rice or glutinous rice flour, then doused in delicious sauces like hoisin, sesame, and soy sauce. Unlike the yum cha equivalent that often has fillings like beef and char siu, breakfast rice noodle rolls are often plain, allowing you to savour the textures and condiments in their full glory.
Hop Yik Tai, G/F, 121 Kweilin Street, Sham Shui Po, Hong Kong, p. 2720 0239
9. Tomato noodle soup
Differing from the quintessential macaroni and ham soup noodles, this breakfast item is made with a tomato base. Often containing beef, the dish features noodles or macaroni swimming in a seasoned tomato soup. Slightly sweet yet tangy, tomato noodle soup makes an appetising breakfast and is well worth the try alongside a crispy bun.
Cafe Seasons, 88 Des Voeux Road Central, Central, Hong Kong, p. 2650 2088