Don't know much about the Eastside? Let us show you around with this complete guide to Quarry Bay.
You know we love showing you around our fave neighbourhoods, like Sheung Wan and Shek Tong Tsui. As a third-generation Quarry Bay resident, I'm highlighting my hood, a hidden gem with the perfect blend of local culture and western influence. From indoor rock climbing spots to dog-friendly restaurants, check out our neighbourhood guide to Quarry Bay, and find out where to get fed, work, or take those epic photos you've seen online.
Guide to Quarry Bay: Restaurants & Bars
Mei Lik Cafe
Ranging from Beef Satay Bun, Scrambled Egg with Thick Toast and Black Truffle, to Root Beer with Ice Cream and Authentic Red Bean Fleecy, Mei Lik Cafe is a local's favourite that serves a variety of traditional delicacies. Their Ovaltine drink comes with a generous amount of crunchy toppings too. Order their food via Deliveroo if you can't go in person.
Mei Lik Cafe, 2D Finnie Street, Quarry Bay, Hong Kong, p. 2869 7277
Enoteca
Enoteca is a Mediterranean restaurant that serves delicious Lobster Benedict, Fiery Moroccan Chicken, Wild Mushroom Pizza, and more. Having both indoor and outdoor settings, you can bring along your lovely puppy to enjoy a day out while you're sipping on Sangria.
Enoteca, G/F, 35-41 Tong Chong Street, Quarry Bay, Hong Kong, p. 2744 6000
Camper's
Their Slow Cooked Pork Cartilage and Vegetable Curry is unforgettable. The tender pork is overloaded with a diversity of fresh Japanese vegetables. During lunch hours on weekdays, the restaurant is always crammed with white collars trying to squeeze in and get some mouth-watering curry. If you are looking for real Japanese curry in Hong Kong, this is the place.
(They have another store in Tin Hau which is on our guide to best vegan restaurants in Hong Kong!)
Camper's, Pan Hoi Street 13, Quarry Bay, Hong Kong, p. 2668 6613
Mr & Mrs Fox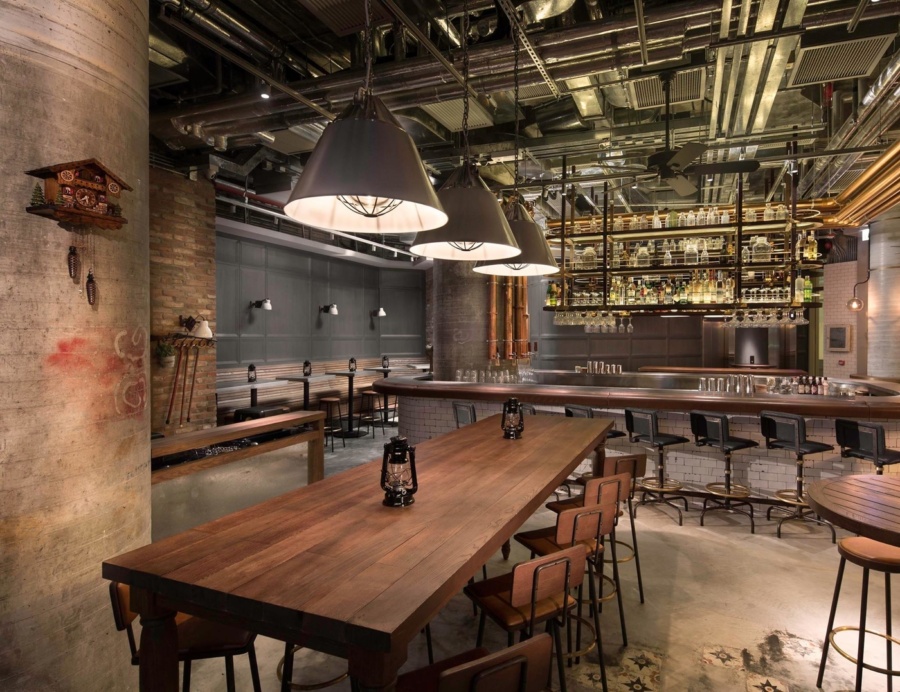 Yes, nearly all the guides to Quarry Bay talk about Mr & Mrs Fox. What's special about it? It is a modern three-storey bar and restaurant where families love to spend their whole day. Whether you want some wine for a deep talk with your buddy, or to munch on the shellfish platter during happy hours, you will surely love the warm dining experience.
Mr & Mrs Fox, 23 Tong Chong Street, Quarry Bay, Hong Kong, p. 2697 8500
Ask for Alonzo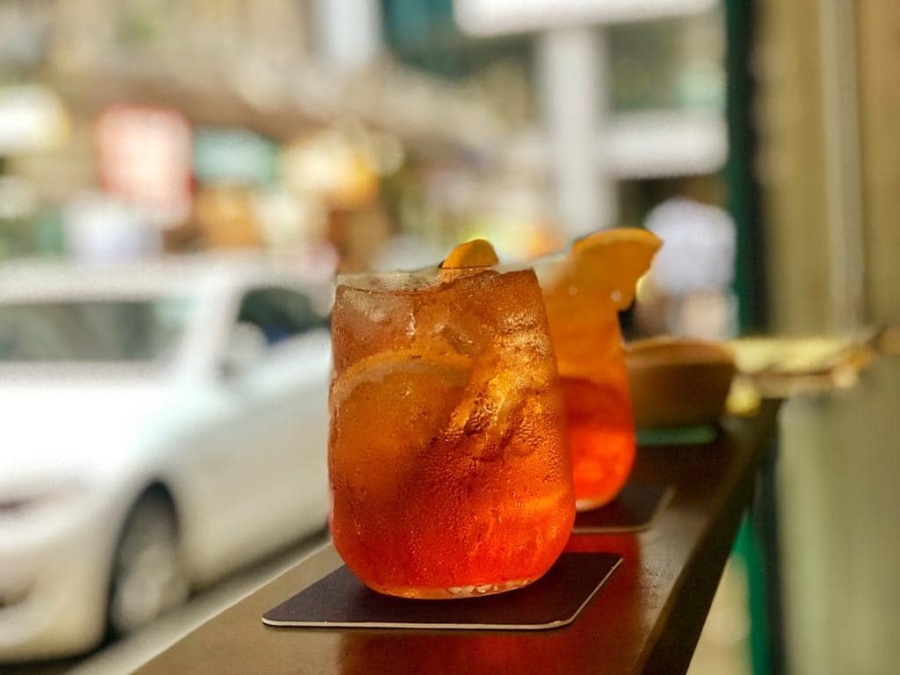 Ask for Alonzo is a fairly tiny trattoria opened in 2019. Other than their tasty pastas and tiramisu, they serve a wide range of spirits, wines and beers. The staff at Ask for Alonzo are very friendly, so don't hesitate to have a casual chat about your favourite alcohol.
Ask for Alonzo, G/F, 18 Hoi Kwong St, Quarry Bay, Hong Kong, p. 2856 2911
Frites
Fruit beer, white beer, Trappist beer, there are over eighty Belgian beers on their menu for you to choose from. Order their famous mussel pot to accompany your drink if you want to munch something. The area of this bar (and restaurant) is so large that you don't have to worry about waiting for seats.
Be sure to take a look at our guide to happy hours in Quarry Bay too.
Frites, G/F, Oxford House, Taikoo Place, 979 King's Road, Quarry Bay, Hong Kong, p. 2250 5188
Little Nyonya (CLOSED)
Locals line up early outside this Malaysian restaurant just for the Buk Kut Teh (pork rib soup), limited to thirty bowls per day. Other menu items include Nyonya Laksa (soup noodle with prawn and fish balls) and Hainanese Chicken Rice. Since the chef has worked in five-star hotels and clubhouses for years, you can expect something beyond your usual expectations. Side note: the restaurant hides in a small lane, so you might want to navigate with your phone.
Little Nyonya, Shop D9, 18 Hoi Tai Street, Quarry Bay, Hong Kong, p. 3428 2250
Guide to Quarry Bay: Cafes & Beverages
Nuttea
Fruit tea, coffee, nut milk tea with salted cream… you name it, this is the spot. Nuttea is a vegan beverage store dedicated to promoting environmental wellness, with branches in Taiwan, Macau, Canada, the United Kingdom, and Australia. They have lots of interesting menus such as Dragon Fruit Nut "Mylk", Earl Grey Tea with Chocolate Nut Cream, and Brown Sugar Nutty Latte. Also, their drinks come with a mini spoon that looks like a shovel. Perfect for sharing on your Instagram stories!
Nuttea, 36 Hoi Kwong Street, Quarry Bay, Hong Kong
Fuel Espresso
Coming from New Zealand, Fuel Espresso is a boutique coffee shop with professional baristas and luxurious interior. On top of high-quality coffee, they also serve pastries and desserts (I love the carrot cake!) The Quarry Bay branch sits inside a quiet building where customers can focus on their work while gazing at the amazing scenery. Chat with the friendly baristas and ask for their signature blend.
Fuel Espresso, G/F, One Taikoo Place, Quarry Bay, Hong Kong
Guide to Quarry Bay: The Best Photo Spots
Monster Mansion (Yick Cheong Building)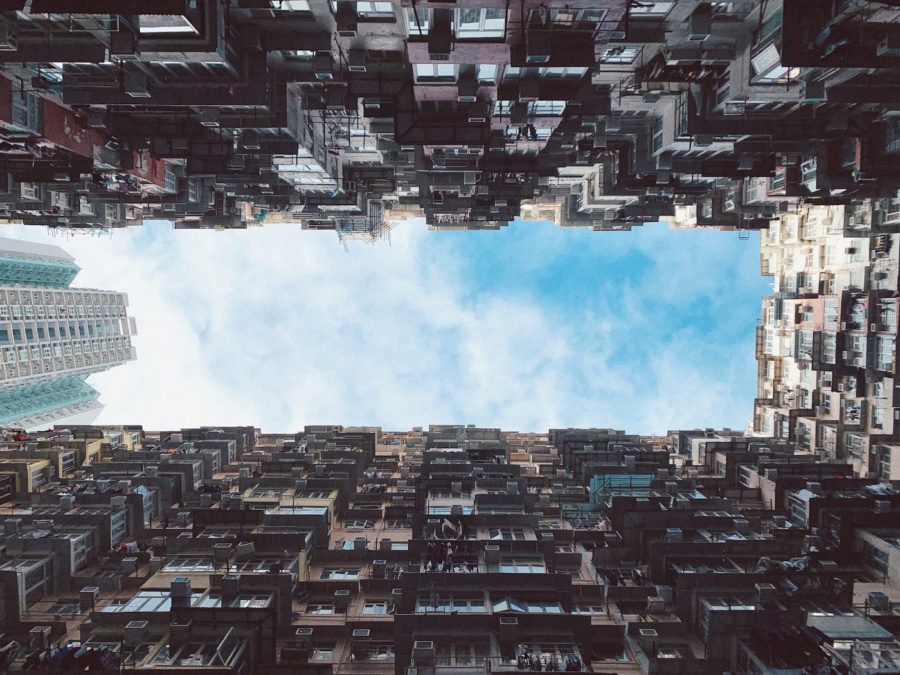 The Monster Mansion has become the landmark of Quarry Bay, where photographers from all over the world come to capture a glimpse inside this complex residential building. If you are feeling thirsty after taking Instagrammable photos, grab some coffee at Arabica right next to you! If you want to try some traditional herbal tea, there is a store outside Monster Mansion which has been there since my mum was a toddler.
Yick Cheong Building, King's Road, Quarry Bay, Hong Kong
One Island East
One Island East is a seventy-floor office building famous for its eco designs and modern looks. Once you head to the thirty-seventh floor, you can enjoy the view of the entire East Victoria Harbour, along with the natural sunlight coming through the big glass panels. The Public provides many tables facing the natural landscape. People who bring their laptop to work there are often mesmerised by the stunning view.
One Island East, 18 Westlands Road, Taikoo Place, Hong Kong
Guide to Quarry Bay: Coworking spaces
Blueprint
Blueprint offers event venues and flexible working spaces, including show suites, auditoriums and lounges. Each space is uniquely designed with high-tech equipment, perfect for panel discussions, exhibitions or coffee chat. It is the semi-formal workplace where you can play Table Football during lunch break.
Blueprint, 2/F, Dorset House, Taikoo Place, 979 King's Road, Quarry Bay, Hong Kong, p. 9631 1106
Guide to Quarry Bay: Health and Fitness
Verm City
Having a 20,000 square feet playground, Verm City is one of the most famous rock climbing center in Hong Kong. Ranging from an augmented climbing wall with motion sensors, to the 6.5-metres child-friendly Vertical Drop Side, anyone looking to shake off excess energy can have fun here.
Verm City, 4/F, Kodak House 1, 321 Java Rd, Quarry Bay, Hong Kong, p. 5235 8924
H Kore
When you take the Megakore class at H Kore, you will be on a cool Megaformer machine, trying to strengthen, stretch, and sweat. From HIIT to Yoga, you can expect various levels of fitness training. Even if you are pregnant or rehabilitating from an injury, you can find the perfect class for you.
H Kore, Suite 1201, Dorset House, Taikoo Place, 979 King's Road, Quarry Bay, Hong Kong, p. 3107 1144
Guide to Quarry Bay: Grooming
The Barber Shop (CLOSED)
Gentlemen! Want a beard trim or hair cut? The Barber Shop has been in Hong Kong since 1997, serving both Western and Asian styling. Expats working in Quarry bay love the Barber Shop, for they provide a chic environment with decent coffee and English Magazines. Simply make an appointment on the phone or walk-in.
The Barber Shop, G/F, Devon House, Taikoo Place, Quarry Bay, Hong Kong, p. 2958 0037 
Guide to Quarry Bay: Grocery shopping
Aeon Kornhill
This department mall has been here since 1987. Having undergone multiple renovations over the years, Aeon has continuously expanded its business. Every Wednesday, Aeon supermarket offers massive promotions, in which fresh veggies and other groceries are sold at a good deal. Home Coordy (which is on the second floor) is their latest home decor store, selling a variety of quality Japanese style home products at an affordable price.
Aeon Kornhill, 2 Kornhill Road, Quarry Bay, Hong Kong
Foodie Hunter
Foodie Hunter is a newly opened gourmet store, where you can buy high-quality food from all over the world. Whether you are looking for the Donald Russell Beef Wellington from Scotland, Freshwater King Salmon from New Zealand, or Sea Urchin from the Toyosu Market in Japan, you will be able to purchase fine ingredients for your dinner under the guidance of the helpful store owner. In addition, Foodie Hunter provides online shopping, saving you some energy from moving the bulky grocery back home.
Foodie Hunter, Shop E4, 2M Finnie Street, Quarry Bay, Hong Kong
Guide to Quarry Bay: Private Member's Club
The Refinery
The Refinery is a private member's club where professionals relax after a busy day. Members can enjoy semi-private dining, craft beers, fitness training and more. The outdoor terrace at the Refinery is a highlight, where you are surrounded by contemporary buildings as well as greenery.
The Refinery, 4/F Dorset House, Taikoo Place, 979 King's Road, Quarry Bay, Hong Kong, p. 2216 5700
Guide to Quarry Bay: Hotels & Residences
East Residences
East Residences offers trendy suites, studios and penthouses with splendid ocean views and comprehensive facilities. Located in Taikoo Place, anything you need is only a few steps away. Right below, there is Mr and Mrs Fox, a western neighbourhood hangout. Within a three-minute walk, you could get to Fusion by ParknShop.
East Residences, 23 Tong Chong Street, Quarry Bay, Hong Kong, p. 2901 3628