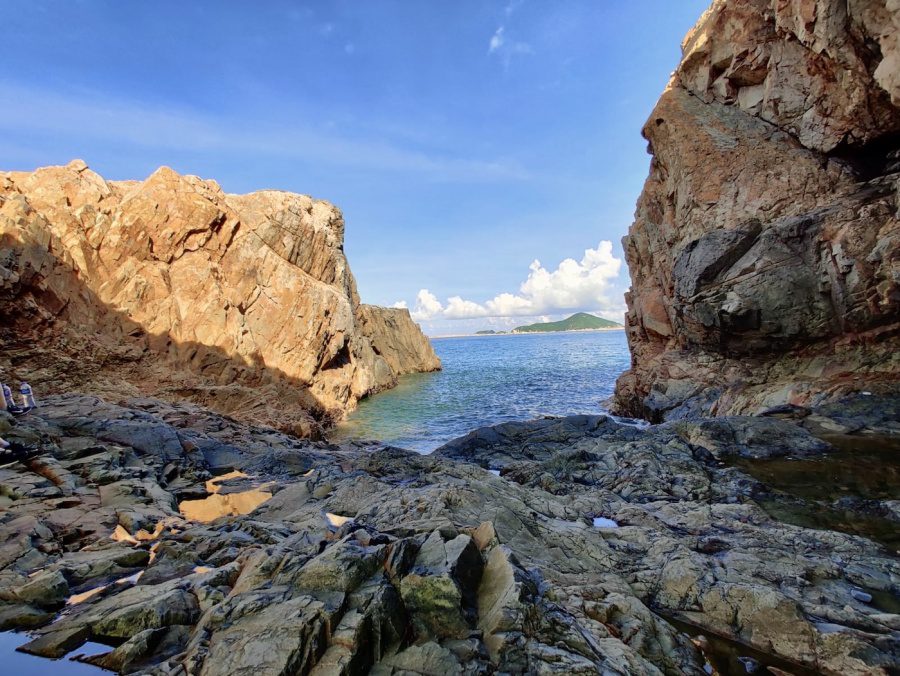 Unwind at Crab Cave in Cape D'Aguilar (Photography: Fashila Kanakka)
There's a saying that difficult paths lead to beautiful destinations, well, in this case, a long brisk walk will do! Follow our guide to Cape D'Aguilar to explore this picture-perfect marine reserve.
Reasons to go on a hike: it's free, unbeatable vistas of Hong Kong, you get to flaunt your new workout wear, a beach is usually the destination… We can go on and on! If you prefer beginning-friendly hikes that offer rewarding views, hop on our guide to Cape D'Aguilar, a family-friendly and pet-friendly hike.
Guide to Cape D'Aguilar
First, a bit of history before we jump on our guide to Cape D'Aguilar
Cape D'Aguilar is home to one of the five surviving pre-World War I lighthouses and it's been declared a monument in Hong Kong. The lighthouse was named after then Major-General Sir George Charles d'Aguilar and it began service 6 April 1875.
You can also explore two batteries used in World War II and the historic realms that remain. Bokhara Battery is located behind the lighthouse and the more picturesque Cape D'Aguilar Battery is located next to the Hok Tsui Lower Village.
How to get there
If you've been to Shek O beach, you've passed by Cape D'Aguilar. Hop on bus 9 from Shau Kei Wan, located just outside MTR Exit A3. The last stop of this bus is Shek O, but keep a sharp eye out for the stops along the way and alight at Cape D'Aguilar. From the stop, you'll have to walk straight for about an hour until you reach the cape.
The path is wide enough to walk freely and to avoid getting too close to the spiders hanging from the trees (they won't bother you as long as you don't bother them). There's not much elevation, only very gradual slopes. There's a kiosk about halfway through where you can buy drinks, snacks, and just take a break if you want to.
Once you reach the PCCW Cape D'Aguilar HF Radio Transmitting Station, turn left to the small path on the grass land. The path goes around the radio station so you will not be trespassing. When you reach a fork, turn left to go to the lighthouse and right to go ahead to the marine reserve.
Things to do at Cape D'Aguilar
It's at the marine reserve where you'll be able to see the skeleton of Miss Willy, the mysterious whale that no one quite seems to know where it came from. You'll first come across Thunder Cave, where you can hear the roaring thunder of the waves hitting against the rocks. If you need a break from the sun, the chilly temperatures inside the cave are a welcome respite.
Moving onward, the Crab Cave is a famous spot in Cape D'Aguilar for its shell-like shape, and here's where you can get quite close to the water. Alternatively, you can climb up the rocks on top of the cave to find a nice spot to chill.
The only way back is to turn around and head back the way you came and hop on the bus back to Shau Kei Wan. You can make a pit stop at the lighthouse and Bokhara Battery on your way back, just take the other path when you reach the fork near the PCCW radio station.
The path to a hidden battery…
If you're feeling extra adventurous and want to head to Cape D'Aguilar Battery, continue walking towards the path you came from. Just before you come across a set of letterboxes, you will see a thin path going down (it's very low-key!), follow that path to get to the battery. Note that this path is quite steep and may not be best suited for beginners as there's quite some clambering involved and it can get a little slippery. It's pretty much a walk in the jungle with branches everywhere, but they're all marked with ribbons so you'll avoid getting lost. All the effort pays off once you reach the beautiful battery left frozen in time, sat right by crystal clear waters. There's a small beach by the battery and since the majority of the crowd will be at the marine reserve, this beach will seem like you've got it all to yourself!
Remember to wear proper hiking shoes that have a good grip, as the rocks can be quite slippery and some are covered in moss. Don't attempt anything you're not comfortable doing, and be sure to take small steps when navigating through the rocks. Overall, the hike around Cape D'Aguilar is relaxing and easy to navigate, with minimal clambering to get atop rocks. Also, don't forget the sunscreen even though the path has ample shade!