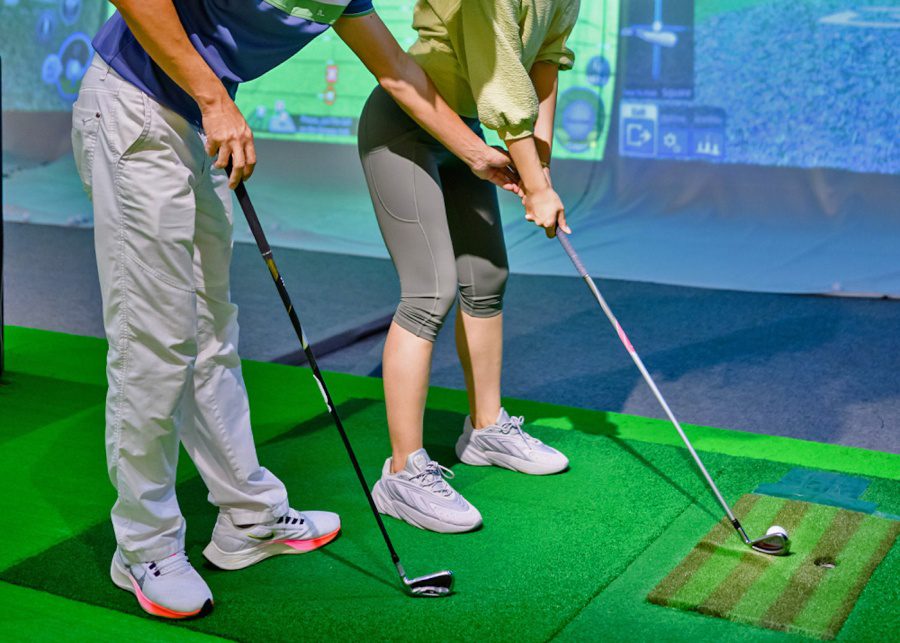 Tee off indoors at The Upper Loft (Photography: The Upper Loft Indoor Golf via Facebook)
Get under par with the help of these golf simulators in Hong Kong!
Having a busy day and can't make it to the outskirts of town to play in some of Hong Kong's golf courses? Want to squeeze in a round but getting rained out? Luckily for you, simulated golf is the last word for convenient, all-weather golfing. Different from the many gyms around the city, the amazing thing about simulators is that you can transport yourself to golf courses around the world right from your doorstep. All the new technology equipped in the facilities makes indoor golfing limitless and impactful in improving your game. So, grab your golf club and swing over to these indoor golf simulators in Hong Kong.
Perfect your swing with these golf simulators in Hong Kong
1. The Upper Loft
Transport yourself to one of over 200 international golf courses with the advance simulator, or work on your golfing technique at one of the driving range bays at The Upper Loft. Whether you're working with one of the professional PGA-certified coaches to get your game under par, or just having a leisurely day indoor golfing with friends, this place has you covered. The Upper Loft views golf as an accessible activity, and attracts amateurs and seasoned players alike.
The Upper Loft, Shop 402C, 4/F, Shun Tak Centre, 200 Connaught Road Central, Sheung Wan, Hong Kong, p. 3421 2888
2. Shots Factory
Shots Factory may sound like a nightclub, but golf enthusiasts know it's anything but. The interiors boast a sleek indoor golfing haven with three state-of-the-art simulators, including two in private rooms for a more intimate experience. A great perk about this place is that if any of the freelance coaches don't strike your fancy, you can bring in your own coach. Whether you're an amateur or an expert golfer, Shots Factory will provide you with an immersive golfing experience.
Shots Factory, Unit 2111, 21/F, Hong Kong Commercial Centre, 188 Connaught Road West, Shek Tong Tsui, Hong Kong, p. 9537 7585
3. Tour Mechanics
Tour Mechanics is strictly in the business of enhancing and developing the golfing experience in Hong Kong. Operating with top-of-the-line TrackMan simulators, golfers can get statistics and feedback on their swings, along with video detail on their movements for any necessary improvement. Practise your putting alone with the simulator, or employ one of the many seasoned coaches for tips on your game. With indoor golfing, you can hit the (simulated) course any day of the year!
Tour Mechanics, 12/F, Queens Road Centre, 152 Queen's Road Central, Central, Hong Kong, p. 9517 7780
4. 7 Iron HK
On days you don't want to venture further than Quarry Bay, visit 7 Iron HK for a simulated golfing experience that's as excellent as it is affordable. There's coaching for all ages above eight years old, and PGA-certified coaches are waiting to provide knowledge on everything from swings to golf terminology. Challenge yourself with a range of simulated courses from all over the world and do it all from the indoor comfort of 7 Iron HK.
7 Iron HK, Unit 2006B, 20/F, Eastern Centre, 1065 King's Road, Quarry Bay, Hong Kong, p. 9549 4777
5. Golftec
If you want to seriously improve your skills, Golftec is the place for you. Here, all the simulator technology and video recording are used to perfect your stroke. You can get a swing evaluation, get fitted for your own custom club, and talk with a coach about your future game plans here. Though it may not be all fun and games, Golftec is the place to go when you want to utilise golf simulators in Hong Kong to really up your game.
Golftec, 4/F, Admiralty Centre, Tower II, 18 Harcourt Road, Admiralty, Hong Kong, p. 2560 0300
6. Bay247
Bay247 boasts the title of being Hong Kong's first 24/7, fully automated golfing facility. All the rooms here are private, allowing you to play undisturbed. Thanks to the Foresight GCQuad monitor equipped in every room, you'll be able to elevate your skills using data and immediate feedback. Head over to Bay247 whenever you feel the itch to pick up your clubs and enjoy the perks indoor golf in Hong Kong has to offer.
Bay247, 12/F & 14/F, First Commercial Building, 33 Leighton Road, Causeway Bay, Hong Kong, p. 6662 4247