We've come a long way since dry and grainy gluten-free bread, and these restaurants around town will make living a gluten-free life a little easier
Whether it's Italian restaurants, Indian restaurants or vegetarian restaurants, the city's abundant number of places to eat never fails to impress. And for food lovers looking for gluten-free food in Hong Kong, we've put together a list of some of our fave places to go, meaning living the gluten-free life doesn't have to be as tough.
Gluten-free food in Hong Kong
1. Green Waffle Diner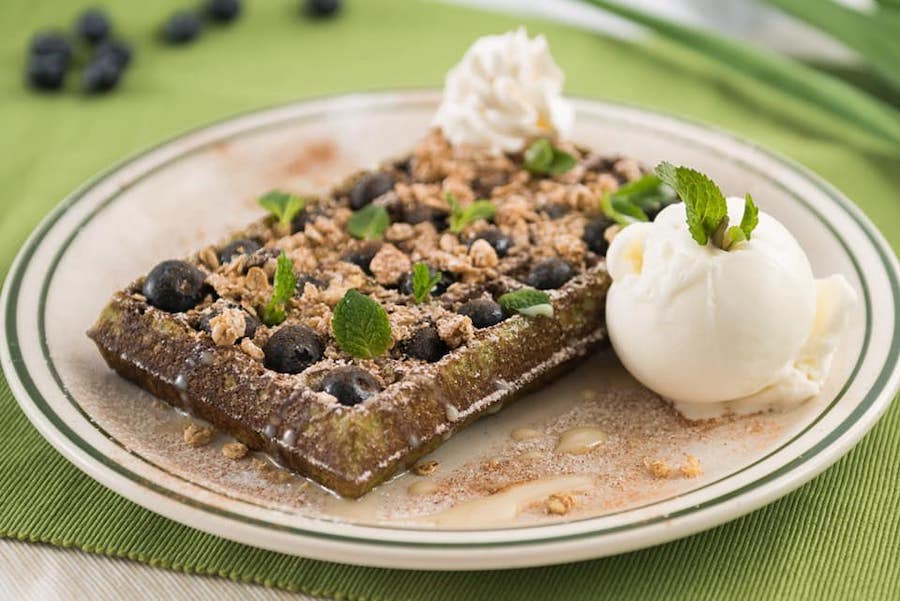 Craving some gluten-free desserts? This all-day restaurant will take care of your stomach. Honey Pistachio Waffles, Butterfly Pea Smoothie Bowls, Spirulina Lattes… All these picture-perfect sweets can be made gluten-free. If you want something savoury, try their popular Meat Lovers Skillet or Pumpkin Asparagus Risotto. You'll be amazed by both the aesthetics and the taste of their food.
Green Waffle Diner has locations in Central and Causeway Bay
2. Café Causette
Part of Mandarin Oriental Hong Kong, Café Causette is a family-friendly all-day restaurant. Some delectable gluten-free dishes on the menu include Marinated Salmon Salad, Porcini Mushroom Risotto, US Prime Tenderloin and Thai Rice Paper Rolls. Other than lunch sets and dinner sets, Café Causette also offers delicious afternoon teas and a kids menu.
Café Causette, M/F, Mandarin Oriental, 5 Connaught Road Central, Central, Hong Kong, p. 2825 4005
3. Mak Mak
A Thai restaurant in Landmark, Mak Mak makes delectable Central Thai cuisine with an emphasis on plant-based ingredients. Red Curry Salmon Fish Cakes, Green Papaya Salad, Massaman Lamb Curry and Coconut Ice-cream are just a few of their gluten-free choices in their big fat menu. Mak Mak also serves a range of vegetarian and vegan dishes, ensuring customers can enjoy the cleanest and freshest ingredients.
Mak Mak is one of our fave lunch spots in Central.
Mak Mak, Shop 217A, 2/F Landmark Atrium, 15 Queen's Road, Central, Hong Kong, p. 2983 1003, 中環皇后大道中15號置地廣場2樓217A室
4. Bedu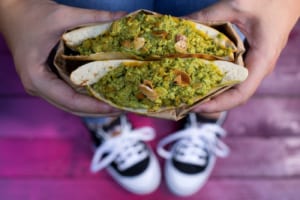 Most known for showcasing the region's diverse street food culture, Modern Middle Eastern restaurant and bar BEDU features eighteen fantastic gluten-free dishes on the menu, including fragrant cured salmon with tahini yoghurt, sweet spiced tuna, salt baked potatoes, garlic prawns, chermoula glazed chicken skewers and a diverse selection of dips and desserts. Best of all, their delicious cocktails are gluten-free too!
Bedu, 40 Gough Street, Central, Hong Kong, 中環歌賦街40號地下
5. Fete Up
If you're looking for scrumptious salads in Hong Kong that are also gluten-free, then Fete Up is on the top of our list. This cosy eatery offers two sizes of salad boxes where customers can pick their own choices of grains, veggies and protein. Most toppings are gluten-free and vegetarian-friendly, with some of our favourites being organic coconut rice, roasted tandoori sweet potato, smoked cauliflower and chickpea salad. If you're not sure, just ask.
Fete Up, LG/F, 182 Wellington Street, Sheung Wan, Hong Kong, p. 9335 7115, 上環威靈頓街182號低層地下
6. Uma Nota
Not only are we fans of their Nipobrasileiro street food and cocktails, but Brazilian Japanese restaurant Uma Nota offers seventeen gluten-free items on the menu. From raw dishes like vegetarian ceviche and scallop tiradito to sharing Plates like grilled flank steak and slow-cooked Sagabuta pork loin, customers are guaranteed deliciousness and satisfaction.
Uma Nota, Shop C, G/F, 38 Peel Street, Soho, Central, Hong Kong, p. 2889 7576, 中環蘇豪卑利街38號地下C號舖
7. Pure Veggie House
Most known for its fabulous array of Chinese cuisine, Pure Veggie House offers a five-star dim sum experiences for vegans and vegetarians. It also offers different kinds of gluten-free dishes on the menu, so just ask before you order.
Pure Veggie House, 3/F, Coda Plaza, 51 Garden Road, Mid-Levels, Hong Kong, p. 2525 0552, 半山花園道51號科達中心3樓
8. 22 Ships
Looking for amazing tapas? The cosy kitchen and bar 22 Ships presents a number of gluten-free items, such as miso glazed chargrilled carrots, salt baked beetroot, seafood paella, slow cooked eggs and more.
22 Ships, 22 Ship Street, Wan Chai, Hong Kong, p. 2555 0722, 灣仔船街22號地下
9. Confusion Plant Based Kitchen
One of the hottest vegan spots in town – Confusion Plant Based Kitchen – also offers a couple of gluten-free food in Hong Kong. Serving a wide range of tasty rice dishes daily, their corn-flour made tacos, tofu fries and Indian dishes like Chana Dal are always gluten-free. Just double-check with the chef beforehand to make sure no soy sauce is incorporated in the making of other dishes on the menu if you'd like to give different things a try.
Read our full review of Confusion Plant Based Kitchen.
Confusion Plant Based Kitchen, 103 Jervois Street, Sheung Wan, Hong Kong, p. 2563 3699, 上環蘇杭街103號
10. Maison Es
Vintage-inspired French restaurant Maison Es serves a selection of gluten-free food in Hong Kong, with some of their signatures being Hokkaido scallop, Kagoshima beeg tenderloin, heirloom carrots, spanish pork belly and more.
Maison Es, G/F, 1A Star Street (entrance at Electric Street), Wan Chai, Hong Kong, p. 2521 8011, 灣仔星街1A號地舖 (入口位於電氣街)
11. 208 Duecento Otto
Serving authentic Italian cuisine and Napoletana pizzas, 208 Duecento Otto offers one of the best brunches in Hong Kong. As for gluten-free dishes, their steak dishes offer a huge selection of things to choose from. Just ask the friendly servers about your options..
208 Duecento Otto, 208 Hollywood Road, Sheung Wan, Hong Kong, p. 2549 0208, 上環荷李活道208號地舖
MANA! (CLOSED)
One of the most environmentally-conscious catering groups in Hong Kong, MANA!'s gluten-free options taste equally amazing as their whole wheat versions. Gluten-free menus include an array of flatbreads, burgers and pizzas, some of which can be DIYed at the counter. What's more, you can opt for yummy desserts like Cacao Cake and Spirulina Truffles— all raw, vegan and gluten-free.
MANA! has multiple locations in Hong Kong.
Grassroots Pantry (CLOSED)
The popular vegan and vegetarian dining spot Grassroots Pantry has a comprehensive vegetarian and gluten-free menu, featuring savoury dishes like Tikka Masala, Kebab plate and spicy tomato tuna hand roll and sweets like coconut yogurt parfait, vanilla waffles. Definitely one of the best places for vegetarian and gluten-free food in Hong Kong!
Read our full review of Grassroots Pantry.
Grassroots Pantry, 108 Hollywood Road, Sheung Wan, Hong Kong, p. 2873 3353, 中環荷李活道108號