After you! (Photography: @jannerboy62 via Unsplash)
Hong Kong has a thriving nightlife scene, if you know where to look. Never one to shy away from a good party or cocktail, Adam Bires gives the low down on the best gay bars and LGBTQ+ clubs in the city
The LGBTQ scene has undergone dramatic changes over the years, whether it's having more queer representation on screen such as these LGBTQ+ movies or organisations like Pink Season to help promote equality in the city. For those who are simply looking for a proper neon dance floor in the city to have a good time, these are the spots to hit on your nighttime tour of gay bars in Hong Kong. Do you.
Gay bars in Hong Kong
1. Behind Bars
Designed to be a place for people, Behind Bars is a LGBTQ-friendly bar in Tai Kwun for fans of drinks, audio and design.You can also find a selection of artisan coffee available throughout the daytime via specialty roasters Redback. Enjoy your drink in the comfy confines of the prison cells or out in the Courtyard.
Behind Bars, Shop 15, G/F, Barrack Block, Tai Kwun (Former Central Police Station), 10 Hollywood Road, Central, Hong Kong, 中環荷李活道10號(舊中區警署)大館營房大樓地下15號舖
2. FLM
One of the longstanding icons of Jervois Street, this is a dancefloor to unleash the best of your dark self on. For many years, through name changes and floor expansions, the boys en masse have continued to make the walk down the colourful steps to this venue. Definitely one of the gay bars in Hong Kong that can't be missed.
FLM, 62 Jervois St, Sheung Wan, Hong Kong, p. 2799 2883, 上環蘇杭街62號地下
3. Petticoat Lane
This one is the new kid on the block with just the right mix of vibes to make a riotous night. An ample bar, a well-chilled dance floor and a terrace for outdoor congregations, it makes for a good time. When it comes to gay bars in Hong Kong, Petticoat Lane is fast-becoming one of our faves.
Petticoat Lane, 8F, California Tower, 30-32 D'Aguilar Street, Central, Hong Kong, p. 2808 2738
4. Zoo
If you're looking for gay bars in Hong Kong, you can not go past Zoo. The scenes on the street outside Zoo provided vivid entertainment in years past, but now the crowd has moved inside, for better or worse. It'll be a fight to the bar, but Zoo is a must stop on a gay bar tour of the island.
Zoo, G/F, 33 Jervois Street, Sheung Wan, Hong Kong, p. 3583 1200, 上環蘇杭街33號地下
5. Bing Bing
Speaking of creative gay bars with good food and drinks, Bing Bing has to be on the list. This bar with flavourful skewers, udon and affordable cocktails is located on the twenty-second floor of a building, allowing you to gaze at the entire Causeway Bay for the whole night. Visit Bing Bing for their Five Free Flow Festival if you want to enjoy unlimited whiskey.
Bing Bing, 22/F, Oliv, 15 Sharp Street East, Causeway Bay, Hong Kong, p. 6908 5088
6. Staunton's
As with many bars in Hong Kong, classifying it one way or another is a blurred line. Staunton's is a classic example of this, but it functions fine without it. You've got a mix of professionals enjoying the weekend here (particularly on Sunday afternoon) on the infamous steps next to the escalator. Sun up or sundown, the people watching is prime.
Staunton's, 10 Staunton Street, SoHo, Central, Hong Kong, p. 2973 6611, 中環蘇豪士丹頓街10號
7. The Pontiac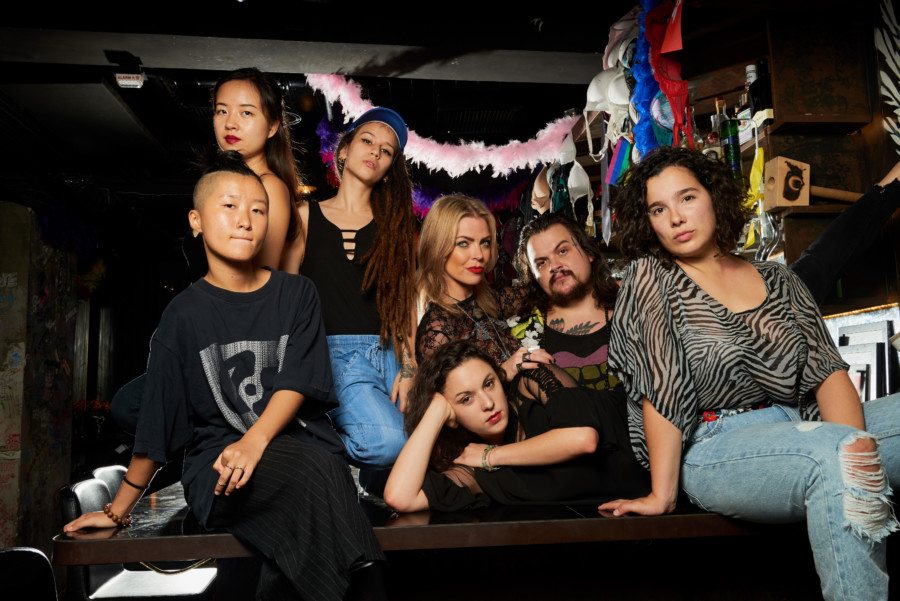 Another bar not to be labeled, if you've ever been to a side of the road, middle America dive bar, this place makes that scene cool in every aspect. Sitting right in the heart of SoHo, you can trust the bartenders with a good cocktail, and enjoy throwback music and gritty vibes – all done right. Go here to indulge on more drinks than you should before trolling somewhere for a dancefloor.
Find out why The Pontiac also makes it to our list of best bars in Hong Kong.
The Pontiac, 13 Old Bailey Street, SoHo, Hong Kong, p. 2521 3855, 中環蘇豪奧卑利街13號地下
8. Behind
On the last Saturday of every month – Behind is the event to be at. A rolling party in various venues throughout Central, each time it moves the crowd goes with it.  The team behind Behind know how to pull the boys out of the gym and keep them dancing for hours. Be sure to check the Facebook Event page for the venue each month and get ready for the new After Behind at Petticoat Lane.
Check out the location of the next Behind event here.
9. Wink
If you're looking for a low key bar with the mod vibes of friendly venues around the world, this place is a go-to. Friendly staff and late hours at night, if you need a drink in Sheung Wan – this is the bar.
Wink, 79 Bonham Strand, Sheung Wan, Hong Kong, 上環文咸東街79號地下
10. Linq
Linq is the old classic (and recently had a facelift!) Don't let unfriendly lighting deter you, as this bar has been standing strong on the creeky steps of Pottinger Street for many years. With a crowd of expats and locals alike, come for a classic drink or one too many shots. They also host the iconic Wednesgays with free vodka in the late evening for gentlemen! Beware the step into the bar – for those of us haunting this venue for years, we've watched many a novice take a tumble down Pottinger Street, but that's kind of why it's one of our fave gay bars in Hong Kong.
Linq, G/F, 37 Pottinger Street Central, Hong Kong, p. 2114 0132, 中環砵典乍街37至43號地下
11. Boo Bar
A famous gay karaoke bar in Hong Kong, Boo Bar has a massive DJ dance party at the end of each month as well as a cool transparent wall inside the washroom. Enjoy the splendid city views as you sip on some cocktails and release your inner Ed Sheeran.
Boo Bar, 5/F, Pearl Oriental Tower, 225 Nathan Road, Jordan, Hong Kong, p. 2736 6138
12. T:me Bar

T:me Bar hides itself inside an alley in Central, making it a perfect oasis for post-work tipples. Sip on a delicious glass of Earl Grey Martini as you sit back on a comfy sofa, or head to the outdoor garden for a cool breeze. Looking for good deals? Join T:me Bar for their amazing daily happy hour from 6pm to 9pm.
T:me Bar, 65 Hollywood Road, Central, Hong Kong, p. 2332 6565
13. Vibranium
One of the latest LGBTQ+ bar in Hong Kong, Vibranium serves special cocktails with a hint of asian flavour. Let the bartender make you a wintermelon shochu cocktail as you enjoy the lively atmosphere. With a huge dance floor inside the bar, you can show off all your wild dance moves without clashing with others.
Vibranium, 5/F, Oliv, 15 Sharp Street East, Causeway Bay, Hong Kong, p. 7071 4048
14. Backyard Bar
Backyard Bar is the kind of cosy karaoke bar where you can meet lots of cool dudes. Showcase your fave songs, play games with other guests, or enjoy special mixes at the bar table. If you are looking for a gay karaoke bar in Tsim Sha Tsui, this is the place to be.
Backyard Bar, 2/F, Rich Towers, Blenheim Avenue, Tsim Sha Tsui, Hong Kong, p. 2868 2229
15. L'Paradis Lesbian Bar
Yes, lesbian bars are as scarce as hen's teeth in Hong Kong. Lucky for us, L'Paradis is the exception that breaks the rule. It's always a good spot for some fun with the gals (and guys, too!), especially if you go before 9pm for buy-two-get-one-free drinks!
L'Paradis Lesbian Bar, 5/F, Cameron Centre, 57-59 Chatham Road S, Tsim Sha Tsui, Hong Kong, p. 6726 2028
16. Wally Matt Bar
This bar is the place to relax after work. Happy hour is every day from 5-7pm with a whole separate menu, and you can rock on to some karaoke while you sip on your drinks. Plus, you can redeem special deals on drinks during your birthday and anniversary month. Sip sip hooray!
Wally Matt Bar, 152 Austin Road, Tsim Sha Tsui, Kowloon, Hong Kong, p. 2956 1668