Heat up your Christmas at The Place, Cordis Hong Kong
We've found the tastiest festive treats and Christmas menus in Hong Kong 2020. From full on festive dinners with all the trimmings to delicious afternoon teas, you won't go hungry this year
Once you've shopped for Christmas trees and Christmas decorations, it's time to organise your wine delivery for the festive season before scouting out the tastiest Christmas menus in Hong Kong. Luckily, we've done all the leg-work for you and have found the most delicious festive treats, buffets, brunches, lunches and dinners for your eating pleasure. Now go stuff yourself silly with turkey.
Christmas menus in Hong Kong 2020
1. Cordis Hong Kong
Beef Wellington, jet-fresh oysters, Prawn Ensemble, Log Cake… This year, Cordis Hong Kong brings a variety of Christmas menus to you at their restaurants and bars. Whether it's a festive buffet at The Place, delicate delights at Alibi, Michelin-starred Canto specialities at Ming Court or a bubbly al fresco dinner at The Garage Bar, all these Christmas meals will leave you feeling warm and satisfied.
Click on each restaurant to learn more about the menus, prices and availability
Cordis Hong Kong, 555 Shanghai Street, Mong Kok, Kowloon, Hong Kong, p. 3552 3388
2. The Cakery
A rich chocolate-coated log cake is what makes our Christmas Eve perfect. Serving scrumptious low-sugar and vegan sweets, The Cakery makes ones of the best cakes in Hong Kong that will avoid you from a sugar crash. If you want some Christmas treats for your friends and family , the Limited Edition Christmas Cookie Box, Christmas Cake Pop and Christmas Log Cake are some great options. You can also dine-in at The Cakery for a light afternoon tea, enjoying the hearty flavours without feeling guilty.
Read our full review of The Cakery
The Cakery has several locations in Hong Kong
3. Bedu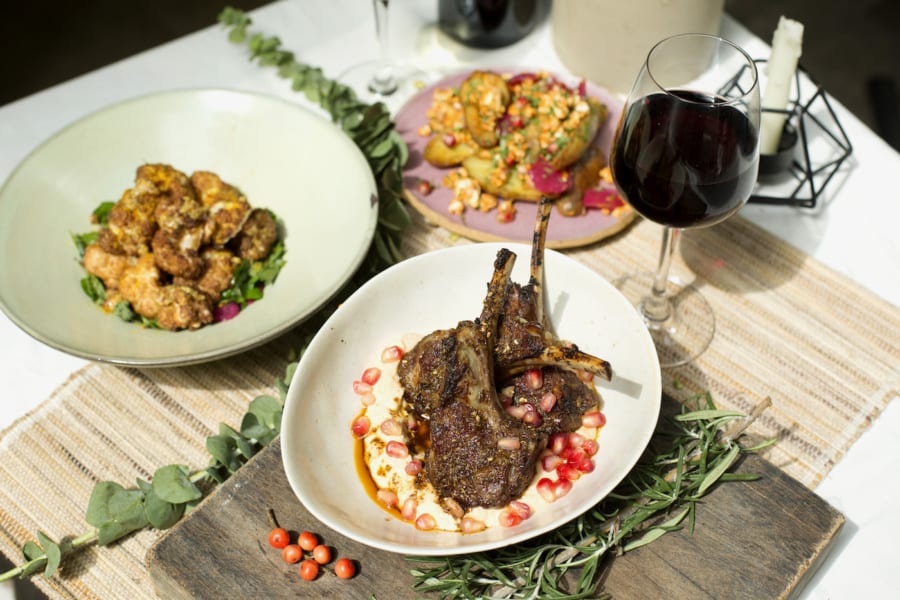 Middle Eastern food lovers, we got you. From November to December, book-in at Bedu for the Group's Chef Menu ($420) where Executive Chef Corey Riches will fill your stomach with five dishes and several starters. The set features a range of signature dishes that are perfect for a family celebration, such as Red Pepper Labneh, Rack of Lamb and Brown Butter Ice-cream. For the exclusive Christmas Day Special, guests can enjoy a la carte dishes throughout the day, such as the brand new Baba Ganoush and Smoked Kingfish.
Read our full review of Bedu
Bedu, 40 Gough Street, Central, Hong Kong, p. 2320 43450
4. Feather & Bone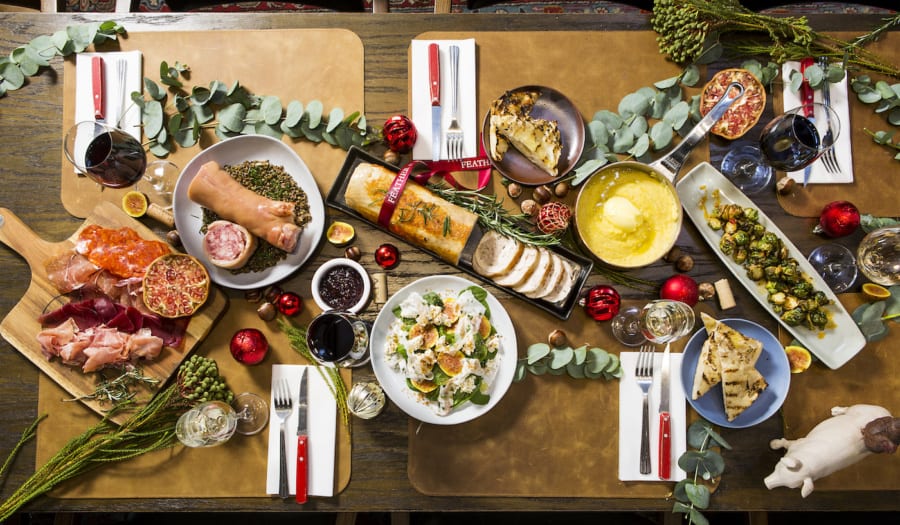 Enjoy premium, hormone-free roast turkeys fresh from Australia and France. As one of our favourite neighbourhood butchers, Feather & Bone has not only prepared amazing Christmas set menus this year, but also offers Christmas bundles and hampers. Their Christmas Sharing Menu($598 for adult; $198 for kids under 12) available until 26 December comes with an array of food, ranging from Housemade Pastrami, Roast Turkey Roulade to Eggnog Custard, plus a free glass of mulled wine only on Christmas day. Add $298 to enjoy two hours of free-flow Prosecco, Sauvignon Blanc and many other beverages. Whether you are planning to dine-in with your fam or spend an intimate time at home, Feather & Bone has got you covered.
Reservations can be made for between 16 November to 26 December. For bookings and private event enquiries, please contact [email protected].
Check out the details of their Christmas specials on their website.
Feather & Bone has branches across Hong Kong
5. TokyoLima
Offering Christmas menus from 24 to 26 of December, TokyoLima is the place for mouth-watering food with a Peruvian twist. Sip on some umeshu or sake while enjoying dishes like Maguro Nuevo and Buri Tiradito. Your meal will end perfectly with a flavourful Oye Papi Chocolate Mousse and a gluten-free Chocolate & Almond Cake. Whether you are joining TokyoLima for their Christmas Tasting Dinner ($580 after 6pm and $680 after 8pm) or Festive Brunch ($448), the bountiful course menu will get you in the festive mood.
TokyoLima, G/F, 18-20 Lyndhurst Terrace, Central, Hong Kong, p. 2811 1152
6. Fortnum & Mason
Fortnum & Mason never disappoints us with their beautifully-crafted sweets and fragrant teas. This Christmas, they have everything you need for the festivity, ranging from pretty decorations to mouth-watering sweets like puddings, pies and champagnes. Some Hong Kong exclusive gift sets include The Fortnum's Christmas Collection ($2288), The Merry Christmas Gift Box ($1630) and The Season's Greetings Basket ($1385). Other heart-warming items are St James Christmas Pudding ($148-$298) and Christmas Tea Caddy Ornament ($289).
Shop Fortnum & Mason online or visit their stores.
7. Uma Nota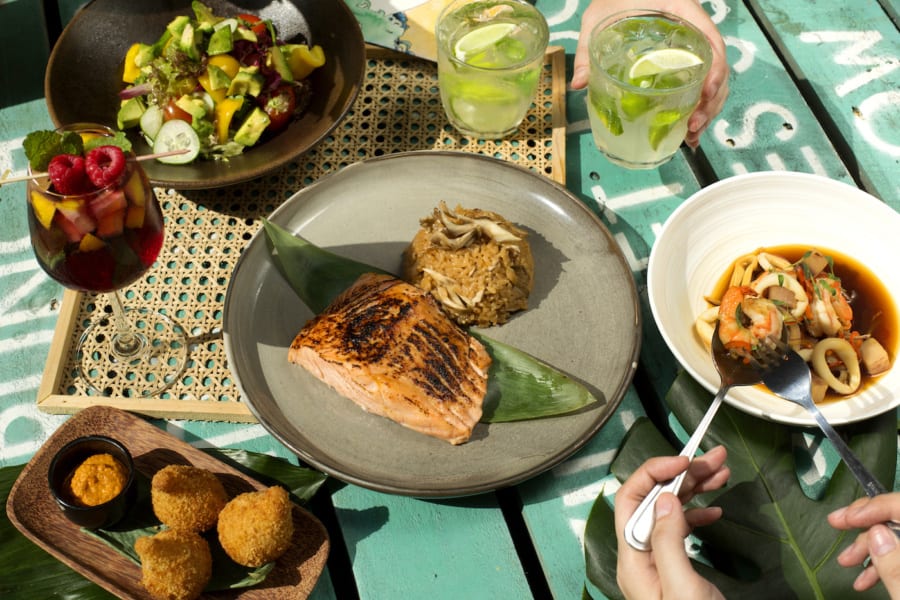 Samba time! Get funky at the dinner table with Uma Nota's Festive Chef Menu ($450) from November to December. Dig into five a la carte favourites like Beef Skewer, Baked Salmon with Saikyo Miso Marinade and Coxinhas de Frango. Want to get in the festive mood during the day? Join their Festive Brunch da Rua ($350) on weekends and public holidays in December. Feast on the best Roasted Spring Chicken, Pao de Queijo and Ceviche of the Day.
Uma Nota is one of our fave lunch spots in Central.
Uma Nota, 38 Peel Street, Central, Hong Kong, p. 2889 7576
8. Terrible Baby
Terrible Baby, Hong Kong's one-of-a-kind bar and music venue, presents two festive cocktails exclusively available in December. Enjoy the creamy Coquito (on the left; $85) blended with coconut milk, coconut cream, condensed milk and a hint of cinnamon flavour, adding a quirky twist to usual eggnogs. Woodfire Cocktail (on the right; $85) is created by Bar Manager Axel Gonzalez's signature mezcal, amaretto, coffee liquer, cold brew coffee and homemade syrup. With jazzy live music and creative cocktails, Terrible Baby is a great place for a festive drink with your friends.
Terrible Baby, 4/F Eaton HK, 380 Nathan Road, Jordan, Kowloon, Hong Kong, p. 2710 1866
9. Big Birdy
Peri Peri Turkey anyone? A recently opened resto in Sai Ying Pun, Big Birdy dishes up a holiday feast with a 3.5 kg USA free-range hormone-free Turkey. Finishing on a flaming grill, the turkey is brined for 24 hours before being dry-rubbed with Peri Peri spices, retaining the juicy and soft texture. Enjoy an array of hearty homemade sides such as mashed potatoes, maple glazed carrots and coleslaw. The Biggest Birdy Holiday Feast ($880) is available from mid-November until the end of the year, serving four to six people for both dine-in or takeaway.
Big Birdy, Shop 11, 48-78 High Street, Sai Ying Pun, Hong Kong, p. 2360 0968