After having irregular periods for over a year, I sought help from a trustworthy TCM clinic in Hong Kong. Here's how Chinese medicine helped me get my period back.
With the popularisation of acupuncture and alternative therapies, people are starting to talk more about their own mental health and physical health. For over a year, I had been having trouble with my irregular menstrual cycle and only got my period once every three months. Having done my checkup at a Western doctor's clinic, I was told that the most probable causes for such hormonal imbalance are sadness, stress and depression. Even though I was given a handful of Norcolut Tablets – which is commonly used to treat irregular periods – the problem wasn't being fundamentally solved. And that was when I sought help from a local Chinese medicine clinic. Find out how opting for Chinese medicine for menstruation problems helped me.
Chinese medicine for menstruation
HK Island Wei Ke Qiang Chinese Medicine Speciality Clinic
Recommended by friends and family, I decided to pay a visit to a well-known Chinese medicine clinic in Hong Kong – HK Island Wei Ke Qiang Chinese Medicine Speciality Clinic in Sheung Wan – hoping that traditional Chinese medicine could help with my situation through herbal medicine.
First appointment
During my appointment with one of the doctors at the Chinese medicine clinic, I revealed to them my history dealing with menstrual health, along with all the other issues, such as having trouble sleeping, hormonal acne and my depressive mood swings. And instead of dividing the health and the disease/problematic issue like Western medicine, traditional Chinese remedies tend to approach health by helping your whole body be in balance.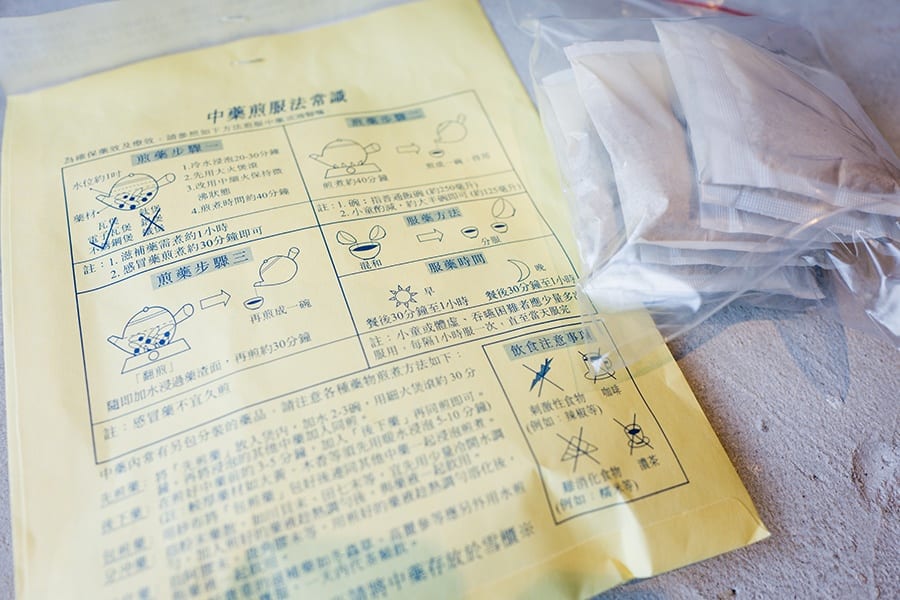 Chinese medicine and its efficiency
I received packets of Chinese herbal medicine and was instructed to make my own medicinal herb tea by mixing one to two prescribed packets with a cup of boiling hot water, to drink twice a day.
To some who are not familiar with such practice, it might sound almost like pseudoscience. But with an open mind, I kept seeing the doctor for weeks while the doctor tweaked the prescription a little for whenever she saw fit. After three weeks of taking the medicine, I finally got my period back – and a healthy one – for the first time in almost a year.
My thoughts on Chinese medicine
I've kept revisiting the doctor as Chinese medicine is all about consistency and healing the body in its entirety over a long period of time. Now that it has been three months since I first went there, I have seen a huge improvement in my menstrual health. Not only does it help with getting a regular menstrual cycle, it also improves my mood.
HK Island Wei Ke Qiang Chinese Medicine Specialty Clinic, 17/F, Alliance Building, 133 Connaught Road, Central, Hong Kong, p. 2591 0666, 香港干諾道中133號誠信大廈17樓全層