The world looks so much better when it's so much clearer, doesn't it? (Photography: Susan Duran via Unsplash)
These days, wearing spectacles doesn't have to cost the earth. Here's where to buy cheap prescription glasses in Hong Kong
Hong Kong is a shopping mecca. From vintage stores to the latest high street fashion and beauty shops galore, there's nothing you can't find here. And if you need spectacles to help you see it all a bit clearer, there are oodles of great options. Here's a list of where I buy cheap prescription glasses in Hong Kong (and fun fact: I used to have an alternate career as a trainee dispensing optician!)
Where to buy cheap prescription glasses in Hong Kong
1. eGG Optical
This Korean chain is a great first point of call for anyone on the hunt for affordable face furniture. The brand offers hundreds of styles, including classic, on-trend, and retro looks, plus they have a selection of junior frames. They'll do an eye test for you and that's included in the price of the lenses and frames, making it a one-stop shop for your vision. Best of all, it only takes a short time for the spectacles to be assembled. Even for someone with high prescription and astigmatism like me (read: very thick lenses!) I've had glasses in hand in under a week on multiple occasions, and have been very much in love with them all. I definitely suggest going to the bigger branches such as Mong Kok and Tai Koo Shing to see more options.
eGG Optical has branches across Hong Kong.
2. Zoff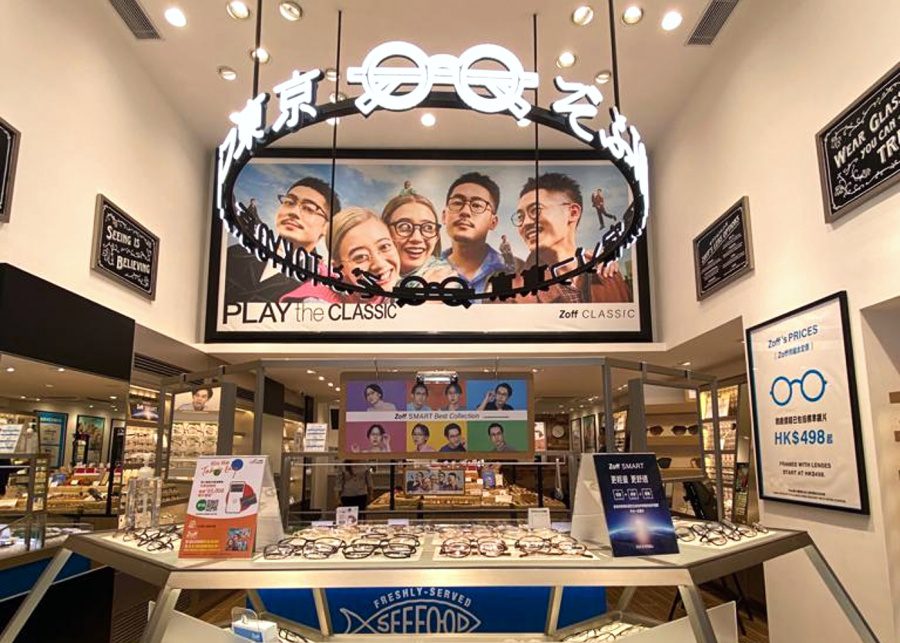 Zoff is basically the Japanese version of eGG Optical. With branches all over town, they stock a huge range of frames, and I'm really digging their coloured looks. They are proud to say that many of their frames are made in Japan, so you can expect the latest trends here. Shop some fun collaborations with the likes of Disney and Star Wars alongside more traditional looks. People with regular prescriptions could nab a pair of glasses here for under $1,000, complete with eye test.
Zoff has locations across Hong Kong.
3. JINS
Another Japanese brand, JINS has been in the business of affordable prescription glasses since 1988, so they know their stuff! Promising to change the way their clients view the world, they have some beautiful frames in plastics and metals, along with a unique selection of shapes and sizes. I love the collaborations that they do with artists, fashion labels, and architects, as they produce some quirky pieces that are still ultra affordable.
JINS has branches across Hong Kong.
4. Woo Ping Optical Shop
A small optical shop near the Fortress Hill MTR Station, Woo Ping has been around in the North Point neighbourhood since 1974. From vintage sunglasses to nerdy frames, used Ray-Bans to new Japanese and Korean specs, this shop is a haven for the retro fans amongst you. Run by an elderly couple, you'll encounter warm and friendly services at Woo Ping and, of course, some very affordable prescription glasses, too.
Woo Ping Optical Shop, G/F, 278 King's Road, North Point, Hong Kong, p. 2571 7810
5. SmartBuyGlasses
If my prescription wasn't so annoying, I would definitely be getting online and heading to SmartBuyGlasses. They offer a speedy service delivered to your door, and work with popular brands such as Ray Ban, Tom Ford, and Oakley. They will set you up in a new pair of specs for under $1,000 and have a 100-day return policy. In terms of lenses, you can opt for single vision, progressive, transition, and there are a range of protective coatings you can choose from, too. For this process, you will need a copy of your latest prescription as well as your PD (distance between both pupils), but you can easily get this from any brick and mortar optometrist. They also have competitive prices on contact lenses, so check them out if you're a regular lens wearer, as well.
Shop SmartBuyGlasses online.
6. New Fei Optical
This local store has been making a mark on the spec-wearers of Hong Kong since the 70s, so it's no wonder they are popular. Head over to one of their locations in Mong Kok or Jordan and receive attentive and speedy service. With thousands of frames to choose from, the hardest part will be narrowing down your favourite. But, their reasonable prices will mean that you might want to invest in a back-up/alternate pair. Best of all, if your prescription isn't too taxing, you will probably be able to walk away with them that day – what a dream!
New Fei Optical has two branches in Hong Kong.