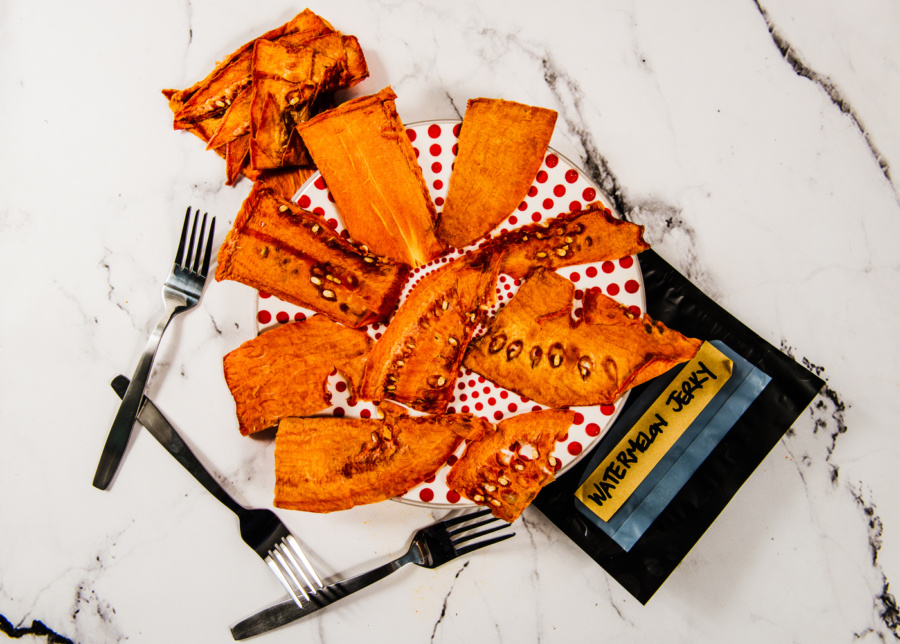 Genie Juicery offers a selection of raw vegan salads and wraps AND watermelon jerky
Thinking of adding some raw food to your diet, or living the raw vegan life already? Here's our fave restaurants for all the tasty rawness.
There are a bunch of vegan and vegetarian restaurants in Hong Kong, such as Confusion Plant Based Kitchen, Mirror & Vegan Concept and Loving Hut. But what if you're hunting for raw vegan restaurants in Hong Kong? We've scouted out the best restaurants and private kitchens in the city that make delicious plant-based raw dishes, so you can experiment with different types of food.
Genie Juicery
As well as being one of our fave juice bars in Hong Kong, Genie Juicery has a great range of raw vegan food treats that will fill you up, and keep you going throughout the day. Grab a raw vegan salad or wrap, and be sure to pick up some watermelon jerky, made from only the melon – yum! All of the juices are raw too.
Genie Juicery, Shop 2096B, IFC Mall, 8 Finance Street, Central, Hong Kong, p. 2803 0369
Greenwoods Raw Cafe
Located in the heart of Tsim Sha Tsui, Greenwoods Raw Cafe is one of the most well-known raw vegan cafes in the city. They serve an amazing array of raw vegan dishes, including raw lasagna, smoothie bowls, as well as raw vegan cheesecakes. They also host workshops for those who are keen on learning more about raw vegan cooking.
Greenwoods Raw Cafe, 13/F, 2 Carnarvon Road, Tsim Sha Tsui, Hong Kong, p. 3428 2416, 尖沙咀加拿芬道2號13樓
MANA! Fast Slow Food
Looking for a cafe that knows good raw vegan food? MANA! has branches across the city, serving up a range of dishes, but it will be the hearty salad bar, where you can design your own, that will be of most interest to raw vegans. On top of that, grab some of their tasty raw snacks to nibble on at home.
MANA! has branches throughout Hong Kong.
Supabowl
Fancy some raw vegan breakfast food? Supabowl delivers tasty acai bowls made of fresh fruits like dragon fruits, bananas, as well as a bunch raw toppings. Definitely a great raw vegan option to kickstart your day!
Read our full review on Supabowl here.
Supabowl, Shop A1, G/F, 4 Swatow Street, Wan Chai, Hong Kong, 灣仔汕頭街4號地下A1號舖
Tina Barrat's Raw Vegan Private Dinners
Hong Kong-based French chef Tina Barrat, formerly the owner of famous vegan hotspot Maya, now hosts her own private dinners. And it's all raw vegan! From her no-salmon terrine with tartar sauce to raw vegan ceviche and desserts, her innovative vegan dishes will impress you.
Keep up-to-date to Tina Barrat's private dinners here.
Raw Chef Cafe
Serving a wide range of both cooked and raw vegan dishes, Raw Chef Cafe is a private kitchen in Kwun Tong that is known for their raw vegan salads and cheesecakes. If you're not following a raw vegan diet, try their nutritious macrobiotic meals. And remember to call and make a reservation in advance!
Raw Chef Cafe, Room 6, 13/ F New City Centre, 2 Lei Yue Mun Road, Kwun Tong, Hong Kong, p. 9473 3412, 香港觀塘鯉魚門道2號新城工商中心13樓6室
Green Living
Kwun Tong really is a heaven for raw vegan dining. Green Living offers a number of great raw vegan items, from curried zucchini noodles to raw vegan lasagna. They also host raw vegan cooking classes every now and then!
Green Living, Flat Q, 8/F, Block 3, Camel Paint Buildings, 60 Hoi Yuen Street, Kwun Tong,  Hong Kong, p. 5282 6749, 觀塘開源路60號駱駝漆大厦三座8樓Q室
Fine Raw Food
Fine Raw Food delivers an fascinating array of raw vegan cheesecakes, from raw purple sweet potato Swiss roll to matcha raw vegan cheesecake! They also have a few savory dishes, such as salads and raw vegan burger patty. 
Fine Raw Food, Stall No. MN33, 1/F Kwun Chung Market, 17 Bowring Street, Jordan, Kowloon, Hong Kong, p. 5579 1219, 九龍佐敦寶靈街17號官涌街市1樓MN33號舖