Hoping to save some cash but still live your best life? Seize these sweet deals, pop-ups, and limited-time discounts in Hong Kong.
There's nothing like finding yourself a good bargain! From affordable massages to staycation packages to limited-time afternoon teas, why spend more when you don't have to? If you're on the hunt for the best deals, pop-ups, and seasonal menus in Hong Kong, you're in the right place – let us comb through the city's sweetest offerings for you this month.
Honey Hacks! Sweet deals and news in Hong Kong: March edition
1. Clarence: Monthly theme menus
Opened just last year by Michelin-starred chef Olivier Elzer, Clarence has quickly become a firm favourite of those who appreciate contemporary French cuisine. To further elevate the experience at Clarence, Chef Elzer is introducing three epicurean set menus: the signature menu (from $798), a selection of cult classics like the signature Yakifrenchy skewers; a weekly set lunch (from $498) and dinner menu (from $788); and a monthly theme menu, with the March edition being the seven-course Alsace Menu (from $888) – a tribute to Chef Elzer's hometown and a series of unique offerings cooked by the Chef himself alongside his mother Dorothée on her rare visit to Hong Kong. We love the rustic and hearty Le Baeckeoffe stew; Le Trou Alsacien… Lorrain, a palate cleanser not to be overlooked; and the super light Le Cheesecake, crafted according to Dorothée's very own recipe.
Psst – do you know about Clarence's Secret de Cave Menu? Hear it from us: this hidden wine menu is specially curated for regulars and connoisseurs. Among Clarence's incredible collection of 600 wine labels and 100 champagne from around the world, Secret de Cave offers limited quantities of even rarer and more exclusive labels, allowing guests to discover lesser known gems, aside from the Sommelier Experience Wine Pairing in the set menus. So, don't miss out on this, wine lovers!
Clarence, 25/F, H Code, 45 Pottinger Street, Central, Hong Kong, 3568 1397
2. Venchi x Cantina: The Chocolate Dinner
What makes a sweeter deal than chocolate? The creative chocolate feast at Cantina, we'd say! Jointly presented by GB Mantelli (Venchi Chocolate Master and Creator of Venchi's recipes) and Andrea Mura (Italian Executive Chef of Aqua Restaurant Group), the five-course Chocolate Dinner (from $888) is the latest offering at the Italian restaurant in Tai Kwun and is available until 10 April. A demonstration of authentic Italian recipes reimagined with Venchi chocolate, the menu showcases the complex flavours and textures of cocoa, as well as the versatility of this ingredient when infused in both savoury and sweet dishes. Our favourites include the amuse-bouche – sesame cones with mortadella and parmesan cheese, Bronte pistachio, 50-year aged balsamic vinegar and Venchi chocoviar; and the tender Iberico pork with rum-poached shallot, soft caramelised pear, plus a creamy sauce made with Venchi's extra dark and Gianduia n.3 (hazelnut) chocolate. Feeling thirsty? Try The Dispensary Bar's V-Punch ($128), a special cocktail crafted with white rum filtered with Venchi white chocolate and pistachio.
Cantina, Police Headquarters, Block 01, Tai Kwun, 10 Hollywood Road, Central, Hong Kong, p. 2848 3000
3. 1111 ONES Restaurant & Lounge: New chef and menu
Modern European restaurant and lounge, 1111 ONES, has welcomed Michelin-starred chef Chris Chan to the helm! We're fans of Chef Chan's ingredient-led approach, as he's able to bring out the natural flavour of his materials using an artful merge of Eastern and Western culinary techniques. Chef Chan's new eight-course menu (from $1,800; plus $788 for wine pairing) includes a series of appetisers, a choice of two main courses, and two desserts.
After the team gives you a preview of the day's fresh ingredients, the feast begins with three hors d'oeuvres, with our fave being the crisp chicken skin infused with Thai green curry. These are followed by various appetisers such as Toro – sustainably sourced bluefin toro paste, paired with Hokkaido sea urchin and balanced with a tangy tomato consommé jelly; Crab (our personal highlight of the night!) – Teochew male crab wrapped in paper-thin radish, topped with caviar and horseradish snow, and served with a leek consommé glaze; Truffle – with a generous portion of freshly shaved black truffle; and the tender Cod – steamed Cantonese-style and served with a sweet French onion soup. Next, take your pick between the Hida Wagyu; and Carabinero with squid ink risotto as your main (whichever you go for, you're in for a treat!). Finally, the meal concludes with a palate cleanser and Sesame, a delightful sesame crisp complemented with desiccated coconut flakes, sesame and coconut ice cream, and passion fruit jelly.
1111 ONES Restaurant & Lounge, 11/F, 18 On Lan Street, Central, Hong Kong, p. 2910 1128
4. Conrad Hong Kong: "Colours of India" lunch buffet
In search of a weekday lunch spot with your colleagues and clients? Look no further than the Lobby Lounge at Conrad. Every Tuesday to Friday, you can feast to your heart's content at the newly launched "Colours of India" lunch buffet (from $368). From starters like the aloo chat potato salad, to mains such as the chicken tikka, all the dishes are authentically designed and prepared by Indian chef Raiwat Raju Singh. You can expect street-style snacks such as samosas; flavourful curries like Rogan Josh and the vegetarian lentil curry dal; staples like naan, biryani, and the crowd favourite poppadom; as well as Indian sweets and beverages such as ras malai and mango lassi. Don't forget to drop by the cooking station, too, to sample the freshly made dosa accompanied by sambar soup.
Lobby Lounge, Lobby Level, Conrad Hong Kong, Pacific Place, 88 Queensway, Hong Kong, p. 2822 8891
5. Zuma celebrates Art Month
From 6 to 31 March, the buzzing contemporary izakaya Zuma is celebrating Art Month and the coming of spring. Paying homage to Chinese art and literature, the limited-time plates and drinks at Zuma are created with inspiration from Spring Night, an ancient poem written by the revered Chinese poet and calligrapher Su Shi. To go with the spring-themed dishes of Art-month-special Sushi Platter ($560) and Lobster Carpaccio ($380) are two cocktails, created by Zuma's bar team in collaboration with Perfume Trees Gin. Opt for the Scent of Spring ($120) for a fruity blend of yuzu hibiscus cordial, sakura liquor, and pineapple; or Courtyard Melody ($120) for a more savoury choice, containing Suze and liqueurs infused with bergamot and shiso. Be sure to spot the custom art pieces at Zuma, too, including cocktail glasses specially decorated with Chinese calligraphy.
Zuma, Levels 5 and 6, Landmark, 15 Queen's Road Central, Central, Hong Kong, p. 3657 6388
6. HoteLux launches in Hong Kong
Expanding from Singapore to Japan and Thailand – and now to Hong Kong, just in time for the boom of international travel – HoteLux has been making waves in the tourism industry as a pioneering luxury hotel reservations app. For an annual fee (which can be covered by the perk of having US$100 credit for a guest's first three stays – you do the maths), members on this booking platform gain access to flash deals, upgrades, hotel credits, loyalty points, and other benefits. These come on top of a selection of over 4,000 of the world's best hotels and resorts, including much sought-after Japanese ryokan – talk about red carpet treatment! You can also look forward to HoteLux becoming a true one-stop travel concierge as it extends its bookings to limousine services, popular restaurants, and tailor-made experiences.
Find out more about HoteLux.
Honey Hacks! Sweet deals and news in Hong Kong: February edition
1. The Optimist x Tokyolima: 4-Hands special menu
In the mood for some funky fusion? Don't miss out on Pirata Group's awesome Pirata Remix project, now moving onto its final chapter in February at The Optimist and Tokyolima. Showcasing the culinary creativity of Executive Chefs Victor Caballé Molina and Arturo Melendez, the four-hands menu (from $498 per person) features an innovative twist on Spanish and Nikkei cuisine. On 8 February at Tokyolima and 15 February at The Optimist, guests can experience the two cultures coming together with starters such as Ceviche a la Gallega with octopus, pigquillo pepper tiger's milk, and calamari tempura. Next comes the show-stopping Columbus Paella with lomo saltado; and Iberian Suckling Pig paired with aji amarillo and quince jam; before closing with a Spanish Basque Burnt Cheesecake with yuzu manjar blanco and wasabi candy.
Discover more about Pirata Remix.
Tokyolima, G/F, Car Po Commercial Building, 18-20 Lyndhurst Terrace, Central, Hong Kong, p. 2811 1152
The Optimist, G/F, 239 Hennessy Road, Wan Chai, Hong Kong, p. 2433 3324
2. Weirdo Beauty: Two-for-one facial treatments
Is it just us, or has the winter chill made our skin super dry lately? Luckily, Weirdo Beauty is coming to our rescue! A Hong Kong salon specialising in targeted skin management, Weirdo Beauty presents a variety of treatments customised to each client. To celebrate the imminent opening of its flagship salon in Causeway Bay, you and your plus-one can pick between five skin management programmes at two-for-one value (originally $1,680 per person) until 28 February – perfect for galentine's!
The experience includes a professional diagnoses with an AI skin test and a consultation session with professional therapists, followed by your choice of treatment. Programmes include a deeply hydrating solution, comprising Skindeep Filler Hydration and Laennec Placenta Injection; Queen HIFU (High-Intensity Focused Ultrasound) and RF (Radio-Frequency) Ultrasound for a winter glow; 3D Rainbow Light and Nano Pico laser which help reduce pigmentation; amongst others.
Weirdo Beauty, 2309, 23/F, Global Gateway Tower, 63 Wing Hong Street, Cheung Sha Wan, Hong Kong, p. 3001 5823
3. The Landmark Mandarin Oriental, Hong Kong: The Pizza Bar on 38th Pop-Up
Marking the 18th anniversary of The Landmark Mandarin Oriental, the hotel is kicking off the #LMOTurns18 celebrations with an exciting crossover with The Pizza Bar on 38th of Mandarin Oriental, Tokyo! From 14 to 26 February, the Private Dining Room will be taken over by Executive Chef Daniele Cason and his team. Offering one starter, seven slices of signature gourmet pizzas, and one pizza dessert, the degustazione menu (from $798 per person) is the perfect way to experience the Michelin Guide Tokyo-recommended pizzas, straight from the oven. The team uses top-quality ingredients, including premium cold cuts from Italy; fresh mountain vegetables; king crab and sea urchin from Hokkaido; and Red Pearl strawberry from Ehime prefecture. Watch the pizza makers in action at the chef table as you prep your stomachs for some sizzling goodness!
The Pizza Bar on 38th Pop-Up, 7/F, The Landmark Mandarin Oriental, Hong Kong, The Landmark, 15 Queen's Road Central, Central, Hong Kong, p. 2132 0066
4. Oceania Cruises: 20th Anniversary Sale
In commemoration of its 20th anniversary, Oceania Cruises is offering a limited-time sale until 1 March. With 50% reduced deposits, a complimentary OLife Choice amenity package, and an extra USD 800 Shipboard Credit, be sure to seize the sale to enjoy the finest cuisine at sea and curated travel experiences at the best value. Among over 100 destinations around the globe, highlight voyages include the "Fjords, Vikings and Castles" trip from Oslo to London; "Alaska to California Medley" from Vancouver to Los Angeles; "Minarets to Palazzi" from Istanbul to Venice; and more. As you sail, you can get pampered at the Aquamar Spa and Vitality Centre onboard, or dig into the new dishes at The Grand Dining Room (Dom Pérignon pairing dinner, anyone?). Ashore, you can explore deeper with tours such as Go Green; Go Local; and Food and Wine Trails.
Take a look at Oceania Cruises' 20th Anniversary itineraries.
Find out more about Oceania Cruises.
5. Dondonya and Dondonya x Torikai: Limited-time seafood don
Calling all fans of seafood! Until 14 March, Japanese donburi specialists Dondonya and Dondonya x Torikai are presenting two delectable seafood don. Available at both chains is the sumptuous Quattro Seared Seafood Don (from $98), which is topped by lightly seared Hokkaido scallop, salmon, sardine, and ikura sashimi. Offered exclusively at Dondonya x Torikai outlets is the seasonal Hyogo Oysters Oyakadon (from $98), an elevated version of the classic Japanese egg and chicken rice. You can also upgrade the don to a deluxe set, so that it comes with a soup, side dish, dessert, and fruit tea – all for just $10!
Dondonya and Dondonya x Torikai have multiple branches across Hong Kong.
Honey Hacks! Sweet deals and news in Hong Kong: 2023 January edition
1. Highland Park Flavourscapes
Whisky fans mustn't miss out on Highland Park's "Flavourscapes" pop-up at K11 Musea this month! Celebrating the release of its new Cask Strength Release No.3 in Hong Kong, the award-winning Scottish whisky brand is launching a specially designed pop-up, "Flavourscapes – A New Sensory Experience", until late January 2023. If you're shopping for a Lunar New Year gift, this pop-up is also offering festive workshops for you to decorate your bottle with gold leaf for extra elegance and sense of prosperity, making it the perfect gift.
Highland Park Flavourscapes, Shop 26, Muse Edition, G/F, K11 Musea, Victoria Dockside, 18 Salisbury Road, Tsim Sha Tsui, Hong Kong, p. 6531 4323
2. Censu: 1st anniversary special menus
Opening a new restaurant in Hong Kong right when the fifth wave hit last year was certainly a huge feat – and Censu has made it against the odds! To mark its first anniversary, Chef Shun Sato is launching various new initiatives, including cross-disciplinary collaborations with Milk Top, Noods, and Artive Asia, as well as "Yum Bao Sik Jui" (飲飽食醉), a special anniversary tasting menu for two or four people with cocktail pairing. This menu showcases Censu's most popular dishes such as Wagyu Zabuton with smoked nori soy and mushrooms; Unigiri with abalone dashi, uni, and parmesan; Udon with crab miso and snow crab; Mont Blanc Dango with chestnut mousse, green tea crumbles, praline, and coffee soil; among other dishes.
Furthermore, Chef Sato will soon be opening a new teppanyaki restaurant, Enishi, in Hong Kong as his second Japanese concept in the 852. Stay tuned!
Censu, 28-30 Gough Street, Central, Hong Kong, p. 2997 7009
3. Hyatt Centric Victoria Harbour Hong Kong x belif: "Secret Garden Tea Party" afternoon tea set
Mark the start of spring with Hyatt Centric Victoria Harbour's "Secret Garden Tea Party" afternoon tea set (from $688 for two persons), a popular collaboration with belif, a Korean herbal skincare brand. Available at The Farmhouse on weekends and public holidays from 8 January until 26 March, the set is a lavish feast that kicks off with a welcome glass of Mumm Champagne (you can also add on a free-flow Champagne package for $150). Next comes a variety of savoury and dessert items such as Salmon Tartine; Merguez and Fries; Cassis Cheese Cake; Praline Choux; and more. Got a sweet tooth? Brace yourself for all-you-can-eat ice cream and made-to-order flaming Crêpes Suzette, crêpe cones, and croffles at the live stations. Don't forget to take home your complimentary seven-piece belif Herbal Moist Kit (worth $285), which contains the brand's bestselling hero products for hydration, comfort, and regeneration.
The Farmhouse, 2/F, West Tower, Hyatt Centric Victoria Harbour Hong Kong, 1 North Point Estate Lane, North Point, Hong Kong, p. 3896 9896
4. Three on Canton, Gateway Hotel: Pink FONtastic Afternoon Tea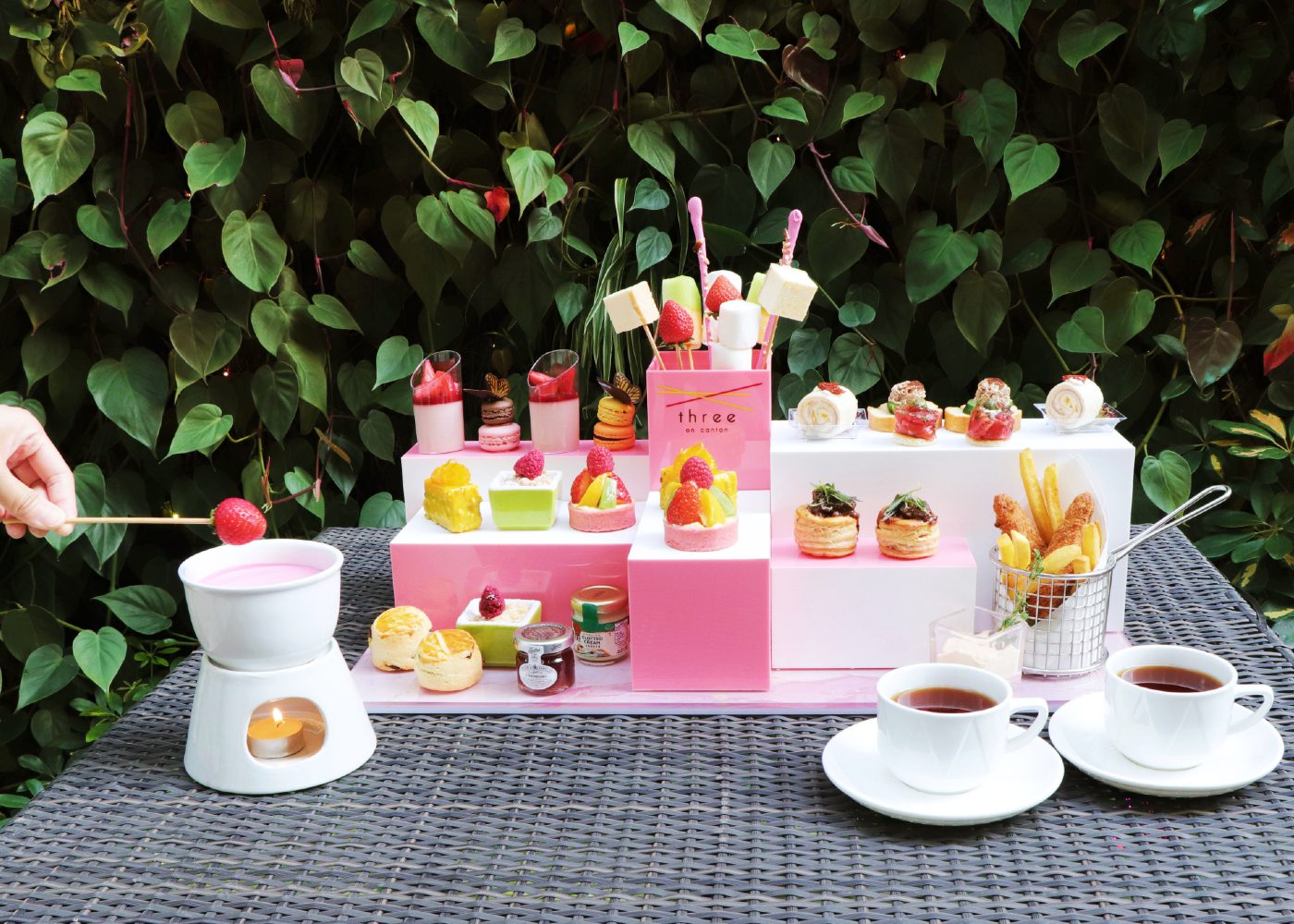 Available till 28 February, Gateway Hotel's "Pink FONtastic Afternoon Tea" (from $568 for two or $388 for one) is a must-have for those who love all things pink! To be enjoyed at Three on Canton or at Be on Canton's outdoor terrace, the set offers a decadent pink chocolate fondue, along with marshmallows, melons, strawberries, and cheesecake pieces for you to dip with. In addition, there are 11 chef-crafted, bite-sized treats. Highlights include Pink Salmon on Toast; Apricot Cream Cheese and Ham Tortilla Wrap; Strawberry Panna Cotta and Pink Fruit Tart; Orange Chocolate Cake; amongst others.
Three on Canton & Be on Canton, Level 3, Gateway Hotel, 13 Canton Road, Harbour City, Tsim Sha Tsui, Hong Kong, p. 2113 7828
5. The Langham, Hong Kong x Klook : Van Gogh-themed Staycation
Whether or not you're an artist, The Langham's Van Gogh-themed Staycation Experience (from $1,325 per night) will mesmerise you with its specially decorated rooms, inspired afternoon tea, and take-home souvenirs. The package, available on Klook until 28 February, offers a stay in the Hotel's unique rooms and suites that are decorated with paintings (even an AR one!), exclusive bed linens, and star projections – all inspired by the maestro's three most famous works: The Starry Night, Irises, and Sunflowers. When you check out, don't forget to take home your gift, which can be a themed handbag, bottle of sparkling wine, or smart thermal vaccum flask. You can also pick up a stunning Van Gogh-themed mechanical watch with diamonds, which is available for purchase ($555).
Discover more about The Langham x Klook's Van Gogh-themed Staycation.
The Langham, Hong Kong, 8 Peking Road, Tsim Sha Tsui, Hong Kong, p. 2375 1133
6. Black Series: Blowout
If you took "treat yourself" a little too far over the holidays like we did, you have to check out Black Sheep Restaurant's fantastic "Black Series: Blowout", a ten-day event that offers crowd favourite menus at unbeatable value. From 11 to 20 January, you dine on a dime at Fukuro ($388 per guest – down from $460), chowing down on the signature Crispy Caramel Butter Corn and more izakaya fare; Crown Super Deluxe (just $588 per guest for dinner – down from $888), as the teppan chefs work their magic; and other restaurants, including Associazione Chianti, Sushi Haru, and the newly opened Magistracy Dining Room. There even is a gelato "happy hour" at Messina, during which you can enjoy a buy-two-get-one-free deal on the delicious scoops. Last but not least, Black Sheep Restaurants is dishing out some awesome "Deals of the Day", which are last-minute flash sales on its Instagram. So, stay tuned to seize 'em super savings!
Find out more about Black Series: Blowout.
Sweet deals in Hong Kong: 2022 December edition
1. Market Place x SMEG: New redemption programme
Whether you're a budding chef hoping to upgrade your kitchen, moving into a new home, or looking for a housewarming gift, Market Place has you covered with its new redemption scheme. Using stamps (one is given for every purchase of $60) and/or yuu points, you can redeem stylish knives and kitchenware from now until 16 February 2023. In this exclusive range by high-end Italian brand SMEG, you'll find six different stainless steel knives, a six-slot knife block, wooden cutting board, mini cocottes, and a casserole. So, get collecting – it's time to cook up a storm!
Market Place has multiple branches across Hong Kong. 
2. Domain x Monocle Pop-Up
EAST Hong Kong has brought the global media brand, Monocle, to Island East! Designed by Monocle's very own design team, The Monocle Shop is inspired by the iconic Monocle Café in London. Until 15 February 2023, you'll find a curated selection of merchandise at this Hong Kong pop-up, including leather goods, travel bags, books, and stationery. Moreover, there'll be exclusive products from the Monochan line (a cute owl which is Monocle's mascot), such as plushies, snow globes, and pins all made in Japan.
In addition, you can unwind at Domain with the time-limited Monocle menu and have a taste of London's Monocle Café experience. Try freshly baked pastries and desserts, like scones and cinnamon buns, and wash them all down with a refreshing Yuzu Iced Tea, or even a Twisted Negroni if you're feeling boozy!
Domain x Monocle Pop-up, 1/F, EAST Hong Kong, 29 Taikoo Shing Road, Taikoo Shing, Hong Kong, p. 3968 3777
3. Golden Concept Pop-up
Want to add a bit of bling and style to your smartwatch? You'll love the wearable tech and accessories designed by Golden Concept and its founder, Puia Shamsossadati. This Swedish luxury brand is launching in Hong Kong with a brick-and-mortar pop-up beginning this month, in which you'll find premium Apple Watch cases crafted in different colours, material, and with various designs. Both durable and fashionable, Golden Concept's cases will keep your smartwatch safe while elevating your wardrobe. Psst – even celebs like Cristiano Ronaldo, Lionel Messi, and Kylie Jenner have been seen sporting these goodies! So, head on over to Golden Concept's pop-up in K11 Musea before 31 January – or before Christmas Day if you'd like to get a custom monogrammed engraving for your purchase on-site.
Golden Concept Pop-up, LA105, Level 1, K11 Musea, Victoria Dockside, 18 Salisbury Road, Tsim Sha Tsui, Hong Kong
4. Kiztopia x Gold Coast Hotel: Jumptopia Holiday Village
Bounce into the holiday season with a great deal on Hong Kong's first-ever bouncy castle carnival! "Jumptopia Holiday Village" features five bouncy castles including an inflatable slide and ball pit, where your little ones can jump to their heart's content. There are two types of single-entry and full-day pass tickets: the Buddy Deal (1 adult, 1 child) and Family Bundle (2 adults, 1 child). For families who want to keep the bouncing party going, you can book the Kiztopia character-themed staycation package at the Hong Kong Gold Coast Hotel. There, a group of Kiztopia characters will join you for your stay and give you an unforgettable experience. The bouncy adventure is held from 3 December 2022 to 31 January 2023, so grab tickets now!
Jumptopia Holiday Village, Gold Coast Square, Gold Coast Hotel, 1 Castle Peak Road, Castle Peak Bay, Tuen Mun, Hong Kong, p. 2452 8888
5. Regal Riverside Hotel x MTR: Railcation Package
Can't get enough of the iconic MTR? Regal Riverside Hotel and the MTR Corporation are launching their first ever "Railcation," a rail-themed staycation package (from $2,088) for all the rail-heads out there. Stay in an MTR-themed room with a bed framed like an MTR train cabin. In between the breakfast buffet and dinner buffet at L'Eau Restaurant, guests can play MTR-themed interactive games. Additionally, there will be T Chai photo corners, MTR-themed souvenirs, and an exclusive MTR-themed music box. Feeling restless after your day of fun? Railcation guests get a discount on the 55-minute OM Spa body massage ($407, originally $800), as well as free access to the gym.
Regal Riverside Hotel, 34 Tai Chung Kiu Road, Sha Tin, Hong Kong, p. 2649 7878
6. Sheraton Hong Kong Hotel & Towers x The history of Whoo: Sparks of Royal Beauty Afternoon Tea
Eat like a royal and feel like a royal at Sheraton Hong Kong Hotel & Towers this December! Partnering with the prestigious Korean royal skincare brand, The history of Whoo, the Hotel is presenting the "Sparks of Royal Beauty Afternoon Tea" ($676 for two; $338 for one) until 31 January. This special tea set is inspired by the brand's Gongjinhyang Mi collection and is a celebration of its 13th special edition. Therefore, you'll find Korean ingredients and palace metallic tones being used here. On the menu are savouries such as the fluffy Inkigayo Sandwich; Foie Gras topped with ginseng and yuzu powder; Crispy Beef Stew with red dates sauce; as well as sweets like Earl Grey Yuzu Cream Cake; and more. Last but not least, The history of Whoo makes sure you get pampered like a royal with a complimentary Cheonyuldan Ultimate Regenerative Gift Set (valued at $1,310) and a redemption card.
Sky Lounge, 18/F, Sheraton Hong Kong Hotel & Towers, 20 Nathan Road, Tsim Sha Tsui, Hong Kong, p. 2369 1111
Sweet deals in Hong Kong: November edition
1. The Landmark Mandarin Oriental: new treatments at The Oriental Spa
Guests can embark on a holistic, revitalising journey at The Oriental Spa in The Landmark Mandarin Oriental this Autumn. Two curated wellness programs, Fitness Retreat and Beauty Daycation, combine treatments, fitness, and healthy treats to breathe new life into guests at their very own urban oasis. The invigorating Fitness Retreat consists of Intelligent Movement Treatment; a choice of Yoga, Mat Pilates, or HIIT group class; a 10-minute in-body consultation; gym access; and a nutritious meal at Spa Cafe. The Beauty Daycation, on the other hand, is designed to pamper and detoxify you with pool access; The Oriental Facial; Bastien Manicure; and a nutritious meal at Spa Cafe. Book now to have your very own little slice of paradise.
The Oriental Spa, The Landmark Mandarin Oriental, 15 Queen's Road Central, Central, Hong Kong, p. 2132 0011
2. Cityplaza Ice Palace 40th anniversary "Skatecation"
Swirl and twirl your troubles away during these chilly months! Hong Kong's biggest indoor skating rink just got even better with a full makeover including state-of-the-art technology for a truly streamlined digital experience. To celebrate its 40th anniversary, Cityplaza Ice Palace is debuting eight "Skatecation" promotions for you to glide your way into. Among them are a Skate & Workshop Duo where you can hit the ice before completing a DIY project; Curling for Beginners where you can learn the basics of the winter sport; a Weekend Carnival with free candy and photobooths; Skate Shop Thankful Fest where you can get 70% off selected items at the Skate Shop; and so much more. These promotions are running through to December, so mark your calendars now for some icy fun.
Cityplaza Ice Palace, 1/F, Cityplaza, 18 Tai Koo Shing Road, Quarry Bay, Hong Kong, p. 2844 8633
3. The Hari Hong Kong: 100 branded taxis selfie contest
Who says selfies don't have value? Not The Hari Hong Kong, which is launching a selfie contest to go along with a premiere of 100 branded taxis. From now until 4 January 2023, look out for a taxi branded with "The Hari blue" and take a ride. The lucky passengers just have to take an amusing selfie with The Hari's Instagram story filter and post it for a chance to win a $1000 cash voucher or an afternoon tea cake set each week. A total of $100,000 will be given out throughout the three months so get to snapping!
The Hari Hong Kong, 330 Lockhart Road, Wan Chai, Hong Kong, p. 2129 0388
4. Trip.com 5th Anniversary × 11.11 Mega Sale
Travel is back! Now that hotel quarantine has been scrapped and the 0+3 policy is in effect, people are travelling more than ever. To celebrate, Trip.com is launching its 5th Anniversary x 11.11 Mega Sale from 28 October to 13 November. This campaign consists of daily flash deals for hotels, tours, and tickets as well as up to $1100 Mastercard exclusive promo codes for flights and hotels.
For two weeks, on every Monday, Wednesday, and Friday at 10am, super flash hotel deals will be available on a first come, first serve basis. Participating hotels include Rosewood Hong Kong, Kowloon Shangri-La, Hong Kong Disneyland Hotel, and 11 more. Meanwhile, every Tuesday and Thursday at 10am, flash deals for tours and tickets will be up for grabs including tickets for The World of Nickelodeon Hong Kong and Ocean Park. Go book that trip or staycation now with Trip.com!
Browse the full range of Trip.com 5th Anniversary x 11.11 Mega Sale offerings
Sweet deals in Hong Kong: October edition
1. Sunset Grill, Sheraton Hong Kong Tung Chung Hotel: Ryota x Martín Four-hands Menu
What beats an incredible sunset? A wonderful feast along with it, of course! Sunset Grill at Sheraton Tung Chung always makes the journey to Lantau well worth it with its views, food, and service, but the cherry on top this month has got to be the time-limited four-hands menu, created by Chef Martín Carrasco of Sunset Grill and guest chef Ryota Kanesawa of one-Michelin-starred Ryota Kappou Modern.
Preparing seasonal ingredients with both modern kaiseki and European techniques, the à la carte selection includes creative dishes such as butter-seared Hokkaido scallops with truffle yuzu dressing and Ibérico Ham ($168); Boston lobster soup ($198) made with white miso, lobster cracker, and jalapeño peppers for a spicy kick; the super tender A5 Wagyu tenderloin from Kyoto ($598); and the crowd favourite Kurobuto pork katsu sando ($188), crafted with 12 months' comté cheese and tonkatsu sauce. Fancy a couple of drinks? Be sure to try the specially curated wine and sake pairings (available by the glass), with our recommendations being the Mutsu-Hassen Pink Label Ginjo ($180) and Dal Cero, Amarone Della Valpolicella ($260).
Take a look at the full Ryota x Martín Four-hands Menu.
Sunset Grill, Level 19, Sheraton Hong Kong Tung Chung Hotel, 9 Yi Tung Road, Tung Chung, Hong Kong, p. 2535 0025
2. Felix, The Peninsula Hong Kong: Nights at Studio 54
Party at the disco with the "Nights at Studio 54" (from $2,388 per person), a dazzling disco dinner show in Felix at The Peninsula Hong Kong! Following the success of "The Great Gatsby" immersive dinner experience last year, Secret Theatre is returning for the global premiere of "Nights at Studio 54", and will continue to run at 7pm every Thursday to Sunday, starting from 6 October until 10 December.
What's Studio 54, you ask? It's the legendary Manhattan dance club that transformed New York City nightlife back in the 70s and 80s. Famed for its high-profile celebrity guests (think Andy Warhol, Bianca Jagger, and Jack Nicholson), exclusivity, and glamorous parties, Studio 54 is the place to see and be seen. Ready to travel back in time to this iconic establishment? Get dressed in your most flamboyant 70s-inspired attire and join the party, where a three-course dinner, wonderful cocktails, and an immersive theatrical performance await you.
Reserve your "Nights at Studio 54" experience and see more details about its packages online; private and corporate charter is also available upon request.
Felix, 28/F, The Peninsula Hong Kong, Salisbury Road, Tsim Sha Tsui, Hong Kong, p. 2696 6778
3. Madame Fù: "RSF Ageless Delight" Afternoon Tea
Available from 1 October to 30 November is Madame Fu's "RSF Ageless Delight" Afternoon Tea ($338 for one; $550 for two), created in collaboration with Rare Skinfuel, a Hong Kong brand that specialises in Australia-made organic skincare products. The menu is inspired by the laid-back and nature-oriented culture of Australia, as well as nutritious ingredients that nurture the body and the soul. You'll find a range of savoury and sweet items, ranging from Avocada Crab Salad Vol-au-vent, to Fig on Crackers with Australian Honeycomb, to Dark Chocolate Truffle with Fresh Pomegranate. What's more, you'll receive a complimentary Rare Skinfuel trial kit (valued at $600) to elevate your skincare routine.
Find out more about Madame Fù's "RSF Ageless Delight" Afternoon Tea.
Madame Fù, 3/F, Barrack Block, Tai Kwun, 10 Hollywood Road, Central, Hong Kong, p. 2114 2118
4. Hotel Icon celebrates 11th anniversary
Happy 11th anniversary to Hotel Icon! To celebrate the occasion, the hotel has launched an exciting range of time-limited deals, including 11% off on a "Bed & Breakfast" room package until October 4th which features a room stay and a breakfast buffet. Also part of the festivities is 15% savings on "All About Durian" Southeast Asian afternoon tea until 28 October, where you can gorge yourself on creative interpretations of the exotic fruit. For the social media-lovers, be sure to follow Hotel Icon on their channels as over 300 prizes are waiting to be won!
Browse the full range of Hotel Icons' 11th anniversary offerings.
Hotel Icon, 17 Science Museum Road, Tsim Sha Tsui, Hong Kong, p. 3400 1000
5. Cordis, Hong Kong: 15 special staycation packages
Make staying in more luxurious this autumn with 15 staycation packages ripe for the picking at Cordis, Hong Kong. Available until December are packages that offer no shortage of perks like 15% off at hotel restaurants and bars, complimentary access to activities at the Kid's Zone, use of the rooftop pool, and much more. Staycations include "Love Is In The Air" with a spa treatment for two; "Good Food, Good Times" which includes a dinner buffet at restaurant The Place for two persons; and "Celebration Package", featuring a party platter and balloon decorations for the room. With an array of tailor-made experiences, you'll be hard-pressed to find an occasion you can't celebrate at Cordis.
Cordis, Hong Kong, 555 Shanghai Street, Mong Kok, Hong Kong, p. 3552 3388
6. Hang Lung Malls: hello Autumn Rewards
Feel that autumn breeze? Hang Lung Malls – which includes Fashion Walk, Peak Galleria, Hollywood Plaza, and many more – are celebrating the turn of the season with "hello Autumn Rewards". Until 31 October, shoppers can enjoy numerous rewards by registering as a "hello" member on the Hang Lung Malls app and using electronic currencies. Spend your electronic dollars at an executive lunch at Duddell's in 1 Duddell Street, or at Grand Plaza's Decathlon to stock up on fall exercise equipment. Receive a $100 Hang Lung e-shopping coupon when you accumulate a spending of $3,000 and get another $100 coupon when you accumulate $5,000. With this programme, you can make money while you spend money – can't get a better deal than this!
Find out more about Hang Lung Malls' "hello Autumn Rewards".
Hang Lung Malls has several malls across Hong Kong.
Sweet deals in Hong Kong: September edition
1. Guerlain x Hotel Icon: Golden Bee Afternoon Tea by Green
What's sweeter than honey? A whole honey-themed afternoon tea set, that is! Available until 31 October, the limited-time "Golden Bee Afternoon Tea by Green" (from $418 for one and $728 for two) is a collaboration between Hotel Icon and Guerlain. Inspired by the skincare brand's Abeille Royale Double R Renew & Repair Advanced Serum and its honey elements, the menu includes five savoury items and five sweet treats, along with Green's signature Homemade Scones. Our favourites have got to be the Seared Hokkaido Scallop with Truffle Scrambled Eggs and Salmon Roe; the Royal Mango Napoleon with Gold Leaf and Tahitian Mango Cream; and the self-serve honey frozen yoghurt (yep, it's free-flow froyo!) We also love how the set is beautifully presented in a handmade, frame-like tea stand – as if an artwork from a gallery. What's more, guests will receive a complimentary Guerlain Abeille Royale gift set (valued at $720) and a hand massage voucher.
Find out more about Guerlain x Hotel Icon's "Golden Bee Afternoon Tea" by Green.
Green, Lobby, Hotel Icon, 17 Science Museum Road, Tsim Sha Tsui East, Hong Kong, p. 3400 1300
2. Emoji Summer @ Harbour City
Whether you're an Apple or an Android user, chances are you use emojis on a daily basis – but how about interacting with them IRL? Held every weekend and public holiday until 4 October, the Emoji Summer at Harbour City is your chance to dive into an emoji extravaganza! Scattered across the shopping mall are emoji-themed booths, installations, and challenges. You can earn stamps and redeem gifts by taking part in games like Coin Toss and Smash Hit; check in at the gigantic photo frames; crash the emoji "Birthday Party"; visit the pop-up store; and more. For those who like a game of mahjong, be sure to snap up a Emoji x Harbour City Special Edition Mahjong Set!
Find out more about Emoji Summer @ Harbour City.
Harbour City, 3-27 Canton Road, Tsim Sha Tsui, Hong Kong, p. 2118 8666
3. Salisterra x Ān Soy Afternoon Tea
Salisterra at The Upper House is welcoming autumn with a series of new menus, including a Hong Kong-inspired afternoon tea set (from $340 for one and $630 for two) in collaboration with Ān, an artisanal soy-based gourmet brand founded by Chef Vicky Lau of two-Michelin-starred Tate Dining Room. Available until 13 November, this new tea set includes a selection of bites designed by Executive Chef Cary Docherty, such as Belly Bao BLTs; 10-spice Curried Beef Brisket Puffs; "Bellini Surprise" peach soup; Milk Tea Custard Bombolinis; and more. These are complemented by a glass of Ān's Nature Soy Milk or Black Sesame Soy Milk. To share the joy, guests will receive a complimentary jar of Ān's Soy Milk Tea Jam to take home. 5% of the proceeds from each Salisterra x Ān Soy Afternoon Tea Set will also be donated to Feeding Hong Kong.
Salisterra, Level 49, The Upper House, Pacific Place, 88 Queensway, Admiralty, Hong Kong, p. 3968 1106
4. New treatments at The Peninsula Spa
In search of a place to relax? You'll be in good hands at The Peninsula Spa. Treat yourself to the "Blissful Escape" (from $2,300), a Spa & Dine Offer offering a bespoke 60-minute body treatment, followed by a body scrub or a facial. The journey continues with a three-course poolside lunch and, of course, a refreshing dip in The Peninsula's stunning swimming pool. Alternatively, you can try the new Summer Serenity treatment (from $2,550). The experience features a 30-minute back massage; and a 90-minute facial treatment for an instant radiance boost. Available until 30 September, these two treatments also offer you an exclusive 15% discount on The Peninsula Spa's retail products, so that you can recreate the spa regime at home.
The Peninsula Spa, 7/F, The Peninsula Hong Kong, Salisbury Road, Tsim Sha Tsui, Hong Kong, p. 2696 6682
5. The Art of Gourmet Flavour 2022 Dining Campaign
For those of you who are always hanging out (or working) in Central, this one's for you! 25 premier restaurants and bars in H Queen's, H Code, H Zentre, and 18 On Lan are taking part in The Art of Gourmet Flavour campaign, which allows you to enjoy $400 worth of dining experiences for a price of just $200. Valid until 30 November, a total of 800 vouchers are up for grabs. You can redeem these coupons at eateries such as Plume; Pazzi Isshokenmei; Yokai; Arbor; Treehouse; Tell Camellia; Awa; Sushi Rin; Aqua; Mono; Ryota Kappou Modern; and many more. This deal in Hong Kong is not to be missed for gourmets!
Purchase The Art of Gourmet Flavour coupons online.
Sweet deals in Hong Kong: August edition
1. Hong Kong Tourism Board (HKTB): Hot Summer Deals
Summer's about to get even hotter with the "Hot Summer Deals" by Hong Kong Tourism Board! This promo consists of over 200 lightning deals, offering discounts up to a whopping 75% off across retail, dining, attractions, and other businesses. Seize the $250-off tickets to Hong Kong Disneyland to check out its new "Momentous" nighttime spectacle, take a ride on the revamped Peak Tram when it reopens, enjoy discounts at restaurants, or take part in family-friendly activities across town. Be sure to act quickly though, as there's only a limited quota of discounts available on a first-come, first-served basis, which will be launched at noon on 11 and 25 August respectively.
Find out more about Hong Kong Tourism Board's Hot Summer Deals.
2. Amorepacific x Odea: Camellia Recovery Afternoon Tea Set
Starting off as the pioneers of using green tea in skincare products, Amorepacific is a South Korean luxury beauty brand renowned for its series of ampoules, which are more potent and penetrative than regular serums. To help your skin combat the hot and humid weather, Amorepacific has launched the Vintage Single Extract Essence and Ampoule this season. The latter contains a pure camellia flower extract, crafted from the blossoms of century-old camellia trees in the Mansurim Forest in South Korea. Carrying a high concentration of antioxidants, the ampoule can bring instant hydration and radiance.
Inspired by the use of Korean camellia flowers and natural ingredients in the new products, Amorepacific and Odea have joined hands to present the Camellia Recovery Afternoon Tea Set (from $698 for two), made with camellia flowers, yuzu, and other seasonal produce. Our favourite items included the savoury Chocolate Foie Gras Toast; the sweet Korean "Yujacha" Marshmallow Cookies; and the Camellia Scone. Be sure to check out the Camellia Room next door for an Insta-worthy floral art installation.
Odea, FWD House 1881, Main Building, 2A Canton Road, Tsim Sha Tsui, Hong Kong, p. 3988 0088
3. No.3 London Dry Gin debuts in Hong Kong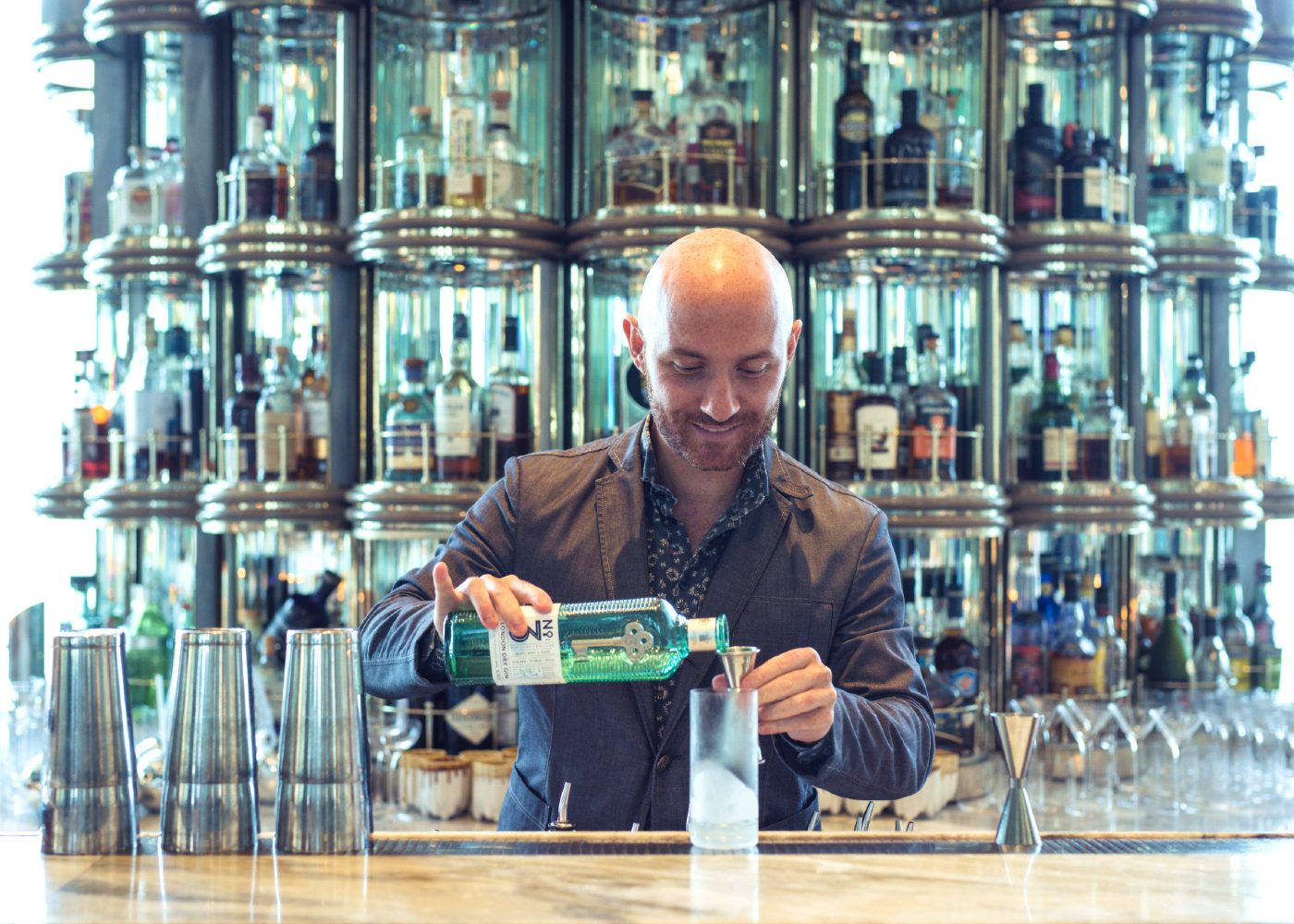 Welcome to No.3 London Dry Gin, an award-winning gin that's debuting in Hong Kong this month! Boasting a formula that perfectly balances the flavours of juniper, citrus, and spice, this gin has been renowned as the "World's Best Gin", winning this title four times at the International Spirits Challenge, as well as being the first gin to have ever won the prestigious "Supreme Champion Award".
To celebrate its launch, No.3 London Dry Gin is collaborating with Argo this month, offering a bespoke cocktail menu created by famous mixologist Lorenzo Antinori. There are three refreshing concoctions, including Century Highball, a G&T topped with shiso wine; Heirloom Gimlet, a slightly savoury cocktail featuring Aquavit spirit and fresh tomato cordial (this was one of our faves even though we aren't normally fans of savoury cocktails!); and Majestic Martini, a strong (and dangerously delicious) drink made with Amontillado sherry, yuzu bitters, oolong tea, and coconut water. While you pose in the beautiful bar, don't forget to take a look at the brand new bottle design of No.3 London Dry Gin, too – we love the turquoise colour and the elegant silver key embedded on the bottle!
Argo, Lobby, Four Seasons Hotel Hong Kong, 8 Finance Street, Central, Hong Kong, p. 3196 8882
4. Hyatt Regency Hong Kong, Sha Tin: Kakao Friends staycation package
We're huge fans of cute things here at Honeycombers – and there's no reason why you shouldn't be, too! No matter how old you are, you'll definitely enjoy being pampered at Hyatt Regency Hong Kong, Sha Tin with its Kakao Friends staycation package (from $1,888). Specific rooms will be furnished with Kakao Friends décor, including a large pillow doll, stickers, murals, cups, door signs and more – some of which you can even take home with you, in addition to the Kakao Friends welcome gift pack (valued over $599). Surround yourself with the adorable characters as you dig into the Kakao Friends-themed afternoon tea set, which consists of a selection of savoury items, along with desserts such as the Instagrammble Ryan orange macaron and Apeach strawberry bavarois.
Book Hyatt Regency Sha Tin's Kakao Friends staycation package via KKDay.
Hyatt Regency Hong Kong, Sha Tin, 18 Chak Cheung Street, Sha Tin, Hong Kong, p. 3723 1234
5. Chope: Dine Out to Help Out 2.0
Missed out on Chope's first round of "Dine Out to Help Out"? Don't worry – here's another chance for you to contribute to Hong Kong's F&B industry, which has been heavily impacted by the pandemic. The "Dine Out to Help Out 2.0" campaign has gathered over 60 limited-time restaurant offers, such as buy-one-get-one-free deals and enjoying $100 off the total bill. Participating merchants include Somm and MO Bar from The Landmark Mandarin Orienta; eateries inside the newly renovated Le Meridien Hong Kong, Cyberport; and other trending restaurants around town. And here's one more incentive: the top diner who's fulfilled the most reservations before 31 August will win a grand prize of a meal for two (worth up to $2,000) at Somm. Get booking, Honeys!
Find out more about Chope's "Dine Out to Help Out 2.0".
Sweet deals in Hong Kong: July edition
1. Alibi – Wine Dine Be Social x Chloé: Perfume-inspired afternoon tea
Embark on an extraordinary sensory experience at Cordis' Alibi – Wine Dine Be Social, as the restaurant launches its summer afternoon tea (from $598 for two) in collaboration with Chloé. Inspired by Chloé's Nomade Eau De Parfum Naturelle, a classy and radiant perfume with jasmine tones, the afternoon tea revolves around the themes of nature and elegance. Find its savoury items in a decorated wooden box, with our favourite being the Hand-dived Scallop Ceviche, Ikura, and Bergamot, a refreshing appetiser to whet the palate. Next, indulge yourself in the range of desserts presented on the golden high tea stand. We especially love the Ruby Chocolate Raspberry Choux, as the slight sourness of the berries balances out the richness of the chocolate. Complement your afternoon tea with a glass of Sunset Elegance mocktail – a cheeky cocktail version is also available for those who feel like adding a shot or two! Lastly, don't forget to pick up your complimentary sample of Chloé Nomade, too.
Alibi – Wine Dine Be Social, Level 5, Cordis, Hong Kong, 555 Shanghai Street, Mong Kok, Hong Kong, p. 3552 3232
2. Two Moons Distillery x Room 309: Five Flower Tea Gin cocktail pop-up
Missed Two Moons' limited-time release of its Five Flowers Tea Gin some time ago? Fret not, as this popular flavour has made its grand return this month! To celebrate its comeback as a permanent core product of the local distillery, an exclusive series of cocktails made with Five Flowers Tea Gin is available at Room 309, as part of a mystic crystal-themed pop-up until 23 July. Drawing from the healing qualities of five flowers tea (a traditional Chinese herbal remedy) and crystals, the experience is designed to be a thorough journey of relaxation and rejuvenation, from body to soul. First, let your natural aura and energy guide you to a random crystal from the blind bag; this crystal will determine your cocktail. Next, use the "flower of life" crystal grid to harness the power of your crystal.
For those who wish for self-love and romance, the Rose Quartz cocktail ($160) is for you. One of our favourites, this pink drink is made with pear juice, house-made ginger cordial, yoghurt froth, and Campari salt sprinkles. Citrine ($160), a yellow concoction, gives a boost of positive energy and prosperity. Aventurine ($160), a symbol of courage and opportunities, is a more daring choice on the menu. Crafted with kale juice, natural sugarcane, and green chartreuse, this cocktail is refreshing and we'd recommend it to acquired drinkers. Finally, Clear Quartz ($140) signifies purity and, as a G&T, allows you to most directly enjoy the floral characteristics of Five Flowers Tea Gin.
Room 309, 3/F, The Pottinger Hong Kong, 74 Queen's Road Central, Central, Hong Kong
3. ifc mall: "Cake & Bake" Sweet Treats Trial Passes
You know what they say – there's always room for dessert! So, gather around, dessert lovers: ifc mall is treating you to a sweet promotion, in collaboration with ten cake boutiques and bread specialty shops, available until 25 July. The campaign offers four different "Sweet Treats Trail Passes" (each $125), with which you can enjoy delectable confections at up to 40% discount. Each pass includes a curated trio of cakes or pastries, along with an eco-friendly gift. Participating stores include Dalloyau, Paul Lafayet, Le Salon de Thé de Joël Robuchon, Cova, Lady M, and more. Satisfy your sweet tooth with viennoiserie, petit gâteaux, shokupan, crème brûlée, fruit tarts, among many other treats on offer.
Purchase the ifc mall "Cake & Bake" Sweet Treats Trial Pass via Klook.
ifc mall, 8 Finance Street, Central, Hong Kong, p. 2295 3308
4. Green: "Fruitealicious" Three-course High Tea
Nothing beats some juicy, refreshing fruits to quench our thirst under the hot weather, so head to Green in Hotel Icon to enjoy its new "Fruitealicious" Three-course High Tea (from $398 for one; $698 for two) for a fruit-tea summer! Using seasonal fruits such as Thai mango, French coconut, green apple, lemon, and dragonfruit, the feast includes 12 items, including savoury starters, choice of a main course, a spread of treats, and freshly baked scones served with house-made jam. You can add on a free-flow sparkling wine ($108 per person) or champagne package ($268 per person), too. Our favourites on the menu are the Lobster Bisque, and the signature Roasted Argentinian Grass-fed Tenderloin, served with truffle mashed potato and red wine gravy. We hope to try the Oven Roasted Barramundi, Blue Mussel with White Wine Tomato Broth next time!
Find out more about Green's "Fruitealicious" Three-course High Tea.
Green, Lobby, Hotel Icon, 17 Science Museum Road, Tsim Sha Tsui East, Hong Kong, p. 3400 1300
5. Hyatt Regency Hong Kong, Tsim Sha Tsui x Dettol Hong Kong: White Camellia Summer Staycation
Soak up in the summer vibes at Hyatt Regency Hong Kong, Tsim Sha Tsui. To mark the launch of the new Dettol ProSkin White Camellia and Onsen Minerals Shower Cream, the hotel is teaming up with Dettol Hong Kong to present a white camellia and summer-themed staycation package (from $1,270 per room per night). Until 30 August, you can enjoy a comfortable stay in "Beauty in the City" white camellia-themed rooms, which are adorned with Japanese-style bamboo lamps, watercolour paintings of the flower, an onsen-inspired bathtub setting, and more. To complete the experience, be sure to try the White Camellia Summer Afternoon Tea at the Cafe, and take part in the White Camellia Perfume Making Workshop, too. The package also includes breakfast buffet; 15% off on dine-in consumption at the hotel's restaurants and bars; complimentary e-vouchers totalling $500 to be used at designated merchants at K11 Art Mall and K11 Musea; amongst other benefits.
Hyatt Regency Hong Kong, Tsim Sha Tsui, 18 Hanoi Road, Tsim Sha Tsui, Hong Kong, p. 2311 1234