From sunrise to sunset, Hilton Garden Inn Da Nang has you covered
Just under two hours away from Hong Kong lies Da Nang, a captivating coastal city in Central Vietnam. To fully experience its beauty, I resided in the Hilton Garden Inn Da Nang, a beachfront property newly opened in May 2023.
In search of an alternative to Mainland China for a weekender? In under two hours, you can touch down in the chilled out coastal town of Da Nang – even closer than Thailand or Singapore – making it the ideal destination for a quick getaway from Hong Kong. With beautiful beaches stretching as far as the eye can see, enticing local cuisine around every corner, and vibes more relaxed than my cat on a Sunday, it's no surprise that Da Nang is one of the most popular honeymoon hotspots in the world. While I travelled solo this time, I still had my fair share of R and R – thanks to the wonderful hospitality of Hilton Garden Inn Da Nang. If you'd like to experience Da Nang's unique mix of nature, culture, and modern living, Hilton Garden Inn Da Nang is an excellent retreat for you to soak up the city's charm. Read on to find out more about my stay!
My review of Hilton Garden Inn Da Nang
A brand new property on the coast
Newly opened in May 2023, Hilton Garden Inn Da Nang is the first oceanfront property in the Hilton Garden Inn (HGI) line and part of the Hilton Honors guest-loyalty programme. While this hotel offers modestly appointed facilities compared to other luxurious Hilton brands, it more than compensates through its prime location and breathtaking surroundings – all 234 rooms come with scenic views of the renowned My Khe Beach and its cerulean waters.
During my stay, I noticed that the hotel welcomed a diverse demographic – from families and kids, to young groups of friends and middle-aged couples. (I hear that even pets of up to 10kg are allowed!) By accommodating guests of all ages, Hilton Garden Inn Da Nang demonstrates its ability to meet the needs of all types of visitors. Delivering the top level of comfort and inclusive services, Hilton Garden Inn Da Nang provides tremendous value for both leisure and business travellers alike.
A convenient location
Upon arriving at the Da Nang International Airport (which was small but surprisingly neat), the Hilton team arranged a seamless transfer for me to head to the hotel by car. The journey took only around 20 minutes, passing by the Tran Thi Ly Bridge (and the iconic Dragon Bridge in the distance). I also had my first glimpse of Da Nang life: masses of motorbikes streaming past local coffee shops and a few beach clubs – and still far more laidback than the metropolises of Ho Chi Minh City and Hanoi.
One of the benefits of staying at Hilton Garden Inn Da Nang is that the renowned My Khe Beach is just across the road. What's even better is that the hotel is actually built on a slightly quieter stretch of the beach. Positioned a short walk away from where people would head out for water sports and photo ops, it remains unaffected by noisy crowds while still allowing easy access to the ocean and beach clubs.
In addition to party venues, there are plenty of seafood restaurants nearby. (We went to Lang Ca, as recommended by the Hilton team. It had an endless display of fresh seafood – including isopods!) I'd also suggest exploring the streets and alleyways that went further inland, where you may find unique architecture such as the Da Nang Cathedral (aka the Pink Church). The UNESCO-recognised Hoi An Ancient Town is also just over half an hour away – perfect for a day trip.
Views for days!
I stayed in a spacious King Guest Room with Balcony on the 23rd floor. It was bright, clean, and airy, featuring warm oak tones and functional designs. The bathroom was equipped with premium Peter Thomas Roth amenities; whereas the balcony had a chair and foot rest, making it the ideal workstation – as long as you're not too distracted by the scenery!
The views from the hotel balcony were breathtaking at both day and night. In the morning, the sky and sea appeared as one vast panorama, with the curved coastline visible to the right; mountains and the distant Linh Ung Pagoda could be seen to the left (which you can visit, BTW – just hail a motorbike using the Grab app!). By 6am, I could already see many locals enjoying an early start, swimming and fishing at the shores.
The beach activity picked up again after 4pm, with the ocean taking on an inky darkness after sunset. Buildings and LED decorations began lighting up the city. As night fell, I took in the soothing mix of sounds from the crashing waves and downstairs traffic from the calm of my room.
If you're an early riser, you're in luck – Hilton Garden Inn Da Nang offers an unobstructed outlook of the sunrise from its rooms. That being said, do go up to the yoga terrace on the rooftop (Level 28) to gain a 270-degree view of the magnificent sight while partaking in a morning yoga sesh, or sweating it out at the indoor Fitness Centre adjoined to the terrace. Just make sure to check the weather the evening before, as the sunrise is not visible when it's rainy or cloudy (don't make the same mistake I made!) Bonus: the deck is right beneath the gigantic "Hilton" LED sign, which lights up at 6pm. Apart from yoga, you can kickstart your morning (or wind down your evening) with a dip in the infinity pool, complete with a jacuzzi and sunbathing deck, on Level 27. Recharging your body and soul has never been easier!
A noticeable effort towards sustainability
Sustainable tourism is all the buzz nowadays, but unfortunately, implementing meaningful change across vast global operations seems to remain a challenge. That's why I was pleasantly surprised to see how visible efforts under the "Hilton Travel with Purpose: Conserve to Preserve" scheme were. Some initiatives included: the room's electricity switching off automatically when unoccupied; solar panels installed to heat the pool during cooler months; using sustainably sourced local products (such as coffee from Dalat) to reduce the carbon footprint from transport; and replacing the thick guest services directory with a digital copy, accessed via QR codes in the room. Moreover, certain toiletries were only provided upon request. Among them, the dental kit and its packaging were all made of plastarch (plastic cornstarch), which was biodegradable and compostable. The pen on the desk was 100% recycled fibre, too!
Leisurely all-day dining
My three meals a day were all generously taken care of by the team at Together & Co., the hotels' all-day dining concept, during my stay at Hilton Garden Inn Da Nang. Encouraging a vibrant social dining atmosphere, Together & Co. offers a thoughtful curation of local specialities and international cuisine, with my personal faves being the Da Nang-style Sweet and Sour Soup with Anchovy; Grilled Grouper with Scallion Oil, Green Banana, Turmeric Puree, and Brown Rice; and the super refreshing Rice Paper Rolls with Pork Neck and Prawns. (We had a go making our own rolls in an interactive workshop on the last day, and it simply consolidated my love for this dish because of how healthy and easy to make it was!)
The sumptuous buffet breakfast at Together & Co. was also one of the highlights of my stay. In addition to the usual continental offerings like cereal and pastries, there were quite a lot of Asian-style options, including congee and seaweed soup, fried rice and noodles, and even a live pho station. I spotted several Vietnamese specialities too, such as the rambutan and longan in the fruit section, as well as traditional cakes from Hue (Banh Truyen Thong) of Banh Nam and Banh Bot Loc.
For drinks and light bites, I turned to the T&Co. Lobby Lounge and the T&Co. Rooftop (next to the pool on Level 27). From the simple black coffee with a dash of sugar (which I was simply addicted to), to the Coconut Coffee and the Salty Coffee, Vietnamese coffee got me obsessed and was my handy (and tasty) energy booster throughout the trip. On the evenings, the rooftop bar was the perfect place to unwind with a cocktail or a pint of local craft beer in hand. I remember gazing toward the spectacular sunset behind Dragon Bridge and the sprawl of low-rise buildings, enchanting hues of the afterglow spilling across the skies over My Khe Beach and Son Tra Peninsula… At that moment, I wished time stood still.
"Brighthearted" hospitality – even beyond the walls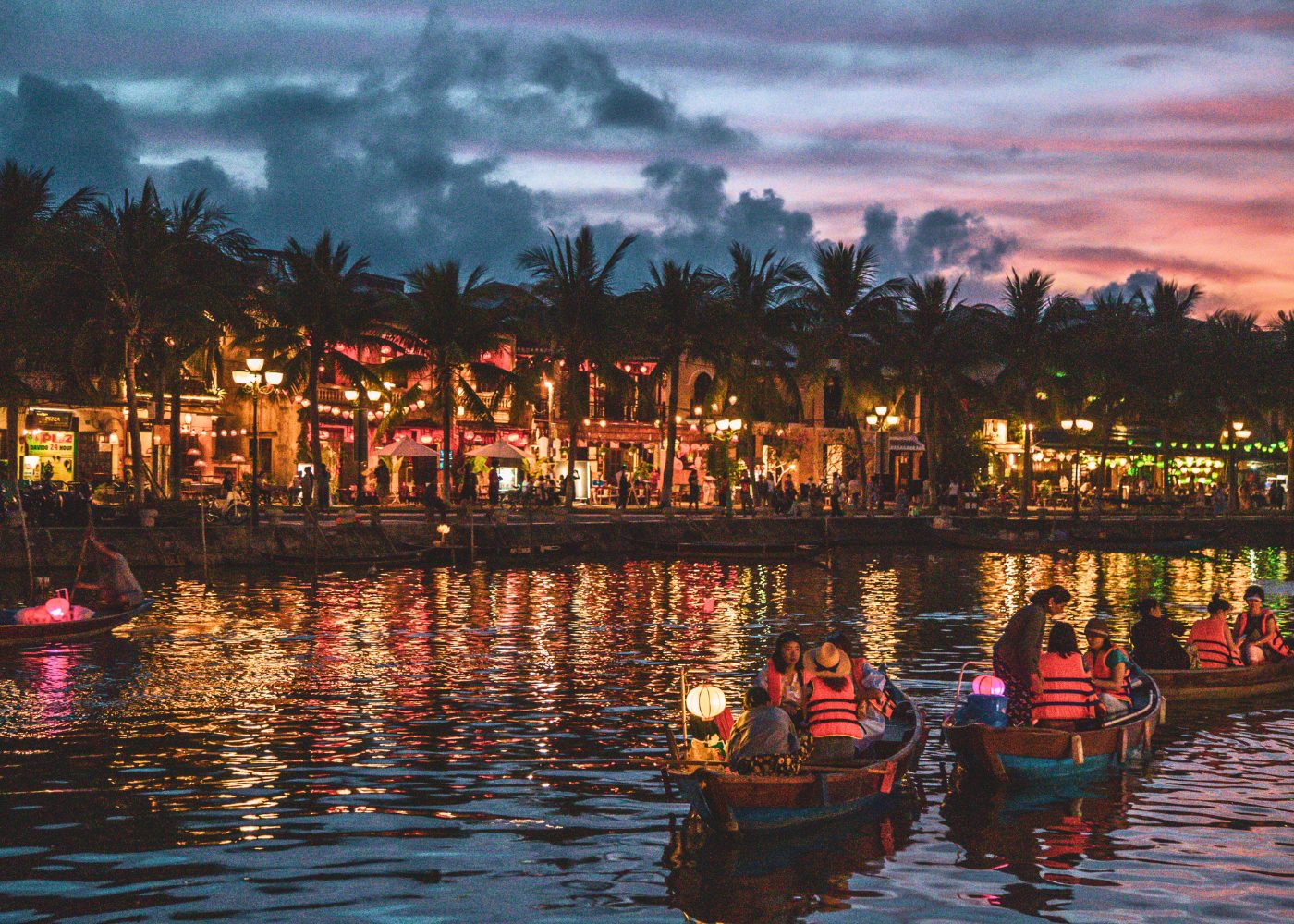 On top of its picturesque location, immaculate accommodation, and eclectic dining options, my stay at Hilton Garden Inn Da Nang was truly brought to perfection by the Hilton team, who delivered the signature "Brighthearted" hospitality for the entirety of my visit. Not only did they give caring and thoughtful service, they also showed a genuine passion for Da Nang and were dedicated to showing me the city's appeal beyond the hotel walls.
Perhaps this was the magic of Da Nang: the warm welcome, generosity, and sincere kindness. I felt it not just inside the Hilton Garden Inn Da Nang, but in every experience I had in the city – whether rocking on a basket boat at Bay Mau Coconut Forest, crafting lanterns in the Hoi An Ancient Town, or bargaining with the vendors at the Night Market.
Or perhaps it was the beach. The beach where I felt the sand soften and crumble beneath my feet as the waves gently arrived at my ankles; where I found rare moments of clarity and calmness, my thoughts swept away by the ebbing tide.
Hilton Garden Inn Da Nang, 96 Vo Nguyen Giap Street, Man Thai, Son Tra, Da Nang, Vietnam, p. +84 236 3780 000